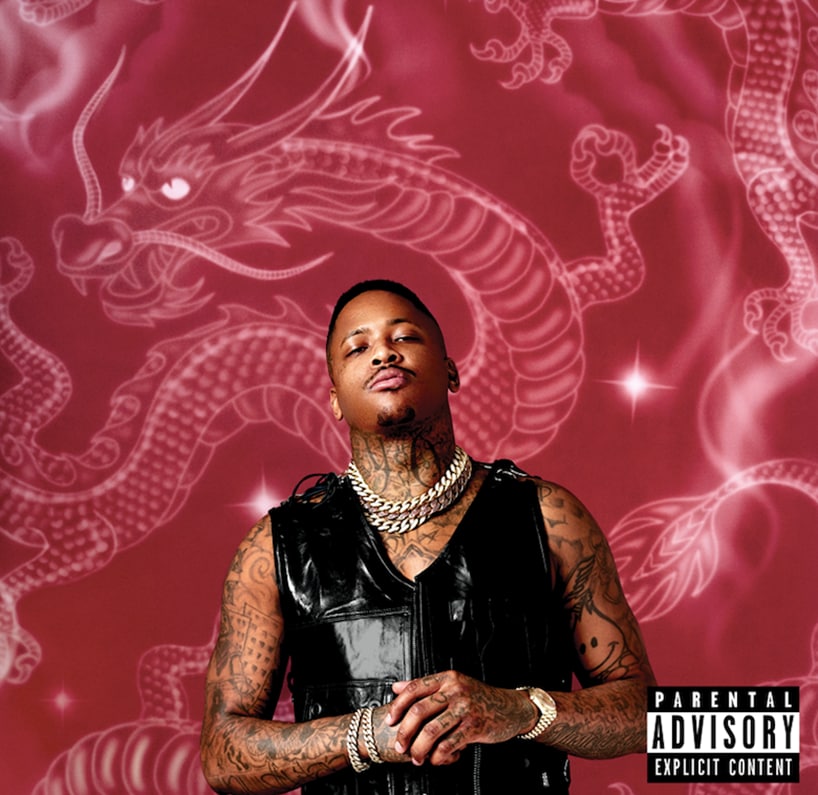 Downtown Los Angeles is by no means the focal point of the city, but it'll do in a pinch. The Wednesday after the election, November of 2016, a clot of protesters choked off the streets around City Hall. This was not the kind of protest that has a bill of speakers or even a particularly sophisticated way of disseminating plans through text message; it got dark and just sort of happened. People wore masks and climbed light poles and burned flags and hanged Trump in effigy. A teenager in front of me held an elegant homemade sign that said "THIS IS VERY BAD." In the midst of this gathering, YG's voice was everywhere: "FDT" pounded out of parked cars and through portable speakers.
YG was already one of the city's biggest rap stars, but his anti-Trump screed kept popping up: at the massive march through Downtown the day after the Inauguration, at the Bradley terminal at LAX on the day they announced the travel ban. It became an anthem. This was not the first time he had engaged with the capital-P political world: he'd already developed a working relationship with Compton mayor Aja Brown to bring his hometown food, school supplies, and other charitable relief, and his music had long had its own sort of political bent, scoffing at prosecutors' gang codes and scrounging for bail money. But this was the first time he seemed to exist in the same universe as, say, Anderson Cooper.
"FDT" appeared on Still Brazy, which came out in the summer of 2016. The album didn't sell very well but it's something approaching a masterpiece. It starts with a suite of songs that could have come out of those Detox writing camps in the early 2000s, moves into joyous G-funk revivals that taunt YG's would-be assailant, then into things weirder or more obtuse or more Bay-inspired, before he gets overtly political in the last trio of songs. It was comprehensive survey of styles and ideas — YG as omnivore. The Trump-YG connection was in some ways an accident of timing, but it took an album that pulled musical cues from across eras and Californian crevices and gave it an elevator pitch.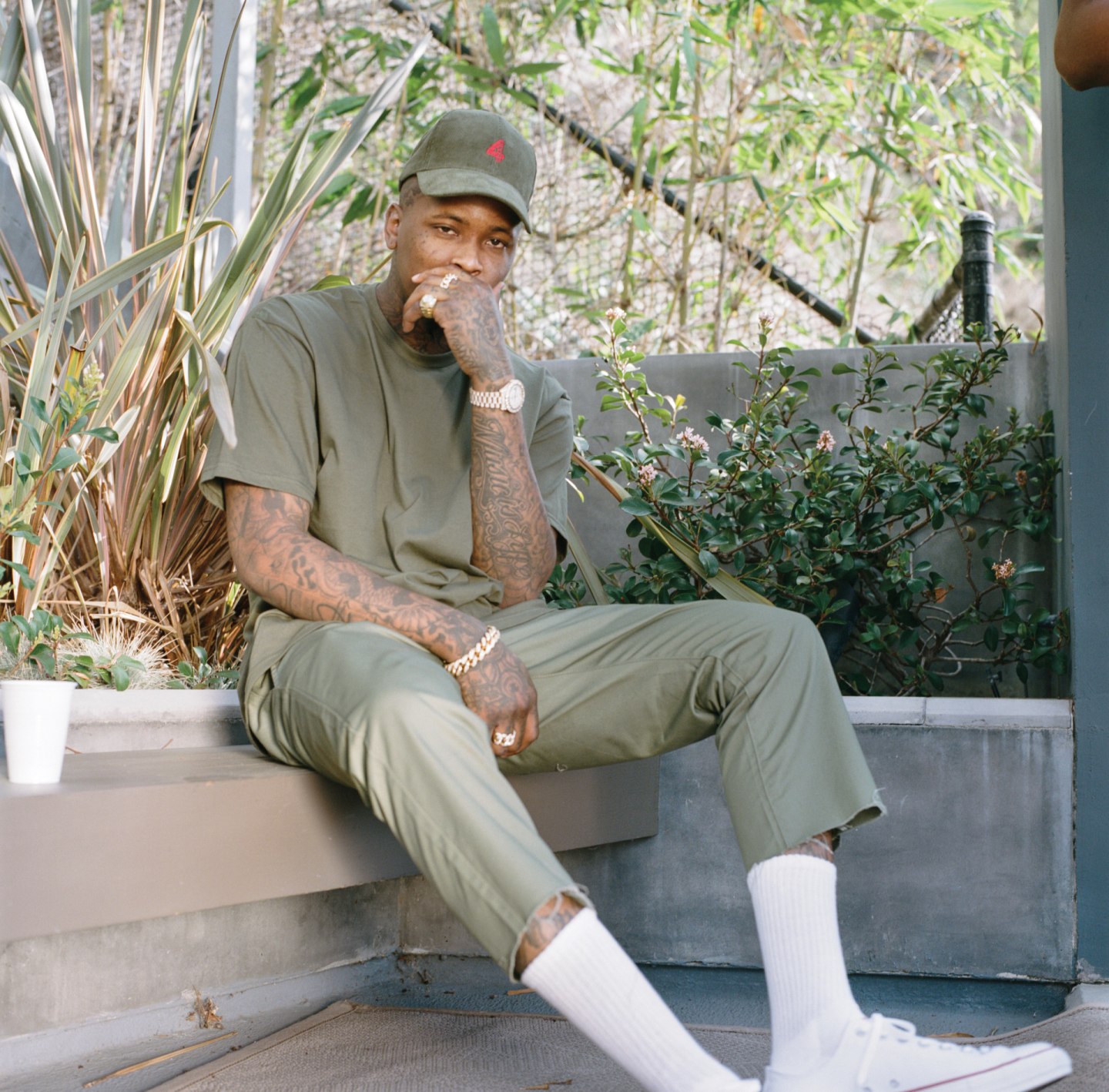 Stay Dangerous, YG's third album for Def Jam, sounds and feels very little like Still Brazy. Unlike that record, the new album has a narrow field of vision, and almost no one-off experiments in production or vocal style. Its final third is darker and occasionally self-eviscerating, but it's defined by its first half hour, which is almost uniformly up-tempo and propulsive in a way that might help reintroduce YG to radio stations in St. Louis or clubs in Raleigh. It finds him reunited with DJ Mustard, his longtime friend and collaborator who sat out on Still Brazy because the two had suffered a falling out. Stay Dangerous is not shameless (well, having Nicki Minaj and Big Sean parachute in comes close), but it is calculating and far less ambitious, musically speaking, than any of YG's prior work, which tended to be either movement-defining or transcending.
Until 2016, every YG record found him in the midst of (or, more often, on the leading edge of) an era-specific stylistic movement. There was jerkin'-era YG; there were the mixtapes that mutated that trend by blending it with more classicist street rap; there was his Def Jam debut, My Krazy Life, which was the definitive ratchet album and helped chart a new course for mainstream rap after the Lex Luger-era maximalism began to wane. (For the record, My Krazy Life debuted at No. 2, behind only the Frozen soundtrack.) Still Brazy and, it seems, the split with Mustard broke that streak. But YG's personal life was spiraling at the same time: the birth of his daughter and that assassination attempt colored everything, and so the fact that the beats came unmoored from time and place was fine, because Still Brazy was grounded in birth and death and Trump. Stay Dangerous rolls back that change, losing that omnivorous appetite, but fails to find any potent wave to ride or to create one of its own.

Stay Dangerous tries to thread a very stubborn needle, attempting to give YG a commercial jolt without mortgaging his identity or credibility.
It's still more than intermittently successful: YG and Ty Dolla $ign sing gravely about the power of the pussy ("Power"), YG taunts the President and the police before calling Michel'le ("10 Times"), YG and Quavo seemingly encourage you to have sex in very nice hotel lobbies ("Slay"). But it's difficult to read YG's narrowing scope without seeing some commercial subtext: in recent years, he's struggled to make national radio rotation without Drake's help, and while Mustard has mostly left in-the-weeds rap prospecting behind for the pop world, YG hasn't quite become a bankable star outside of Los Angeles. Stay Dangerous tries to thread a very stubborn needle, attempting to give YG a commercial jolt without mortgaging his identity or credibility.
When it comes to identity, few songs could be more representative than "Too Cocky," which feels significant because it's basically a jerkin' song. Almost a decade ago, YG was once again inescapable: at the very beginning of the Obama years, jerkin' gripped the city (and high-school lunchrooms, and MySpace, and etc). The music was sparse and not at all self-serious. It was part of the lineage that sees rap, on a fundamental level, as dance music, and YG was one of the scene's biggest stars. The places obsessed with songs like "Pussy Killer" looked little like the crowd at the Women's March, but YG's obvious grassroots popularity in 2009 set him on a course that would eventually land him that Def Jam deal. This is the first time that one of his major-label songs has recalled, in such an obvious way, his musical beginnings.
"Big Bank" aside, this is not a compilation album of would-be radio hits from Def Jam writers' camps; most songs are believable as YG songs. And despite being only 28 years old, YG is about to enter his second decade as one of L.A.'s most popular rappers, so it makes sense that he's no longer creating or attempting to translate the city's most cutting-edge sounds. No one wants an album where YG tries to bite what Rucci or AZSwaye or Drakeo the Ruler is doing. While in the past he's led, or at least exemplified the most exciting new waves in the city, he's now slightly behind a crop of young artists –– the aforementioned three, along with the likes of Shoreline Mafia, or the sadly incarcerated 03 Greedo –– who make rap that's grimmer and muddier than most of YG's catalog. None of which is to say that YG hasn't been hugely influential over L.A.'s most recent generation: there are young rappers like 1TakeJay whose devilish wit and danceability owe plenty to YG.
That's the arc of things, though: pioneers forge new ground and then the next wave reshapes it. It's up to the pioneers to find a way to stay up to speed –– in rap, that's often achieved by translating styles for a broader audience, for taking the slang or perspective they once had to strong-arm into hip-hop culture and sliding it into pop culture writ large. Unfortunately, Stay Dangerous only occasionally hits on that ideal middle ground between innovation and universality; there are times, like on "Handgun" or "Bulletproof," when YG's voice feels overpowered, secondary to the proceedings.
That said, there is, intriguingly, some musical growth from YG himself. Compared to his jerkin' days –– or compared to "Toot It and Boot It," which introduced him to most listeners outside of L.A. County –– YG's voice is now much more expressive, his rapping more dexterous by several orders of magnitude. Where he used to rely on feel and rhythm (his verses sometimes sounded like he was gutturally nudging dancers more than reciting specific rhymes), he's now able to sell songs on charisma alone: "Suu Whoop" is not a particularly effective single, but quips like "'YG, don't you got a daughter?' / Yeah, I'm a gangbanging-ass dad" and "'How you feel about the hundreds being blue?' / Nigga, I ain't mad" make it a prime example of YG as master entertainer.
When the album fails outright, it's when YG and his producers do bend too far toward where rap radio is right now: "Can't Get In Kanada" could be a demo from the Culture II sessions. But when it succeeds, Stay Dangerous features some of YG's most piercing, morally sophisticated work: see the wrenching closer "Bomptown Finest" or the third verse of "Deeper Than Rap," where he bats his decaying faith around with his grandmother.
Stay Dangerous is a transitional record to its core. Six years from now, will YG have figured out some new way to be on L.A.'s leading edge? Will he have retreated into reliable-veteran mode on an indie somewhere? Will he be back on Def Jam's shelf, where he was before Jeezy willed him onto the release schedule in the first place? Taken optimistically, Stay Dangerous seems to suggest that YG is going to figure out a way to blend new styles with old ones, and his experiences with the ghosts of Cali rappers past, in a strong, strange alchemy. For now, he's only part of the way there.