Listen to a new FADER Mix by Embaci
A truly inspiring mix that could very well help you through a rough patch.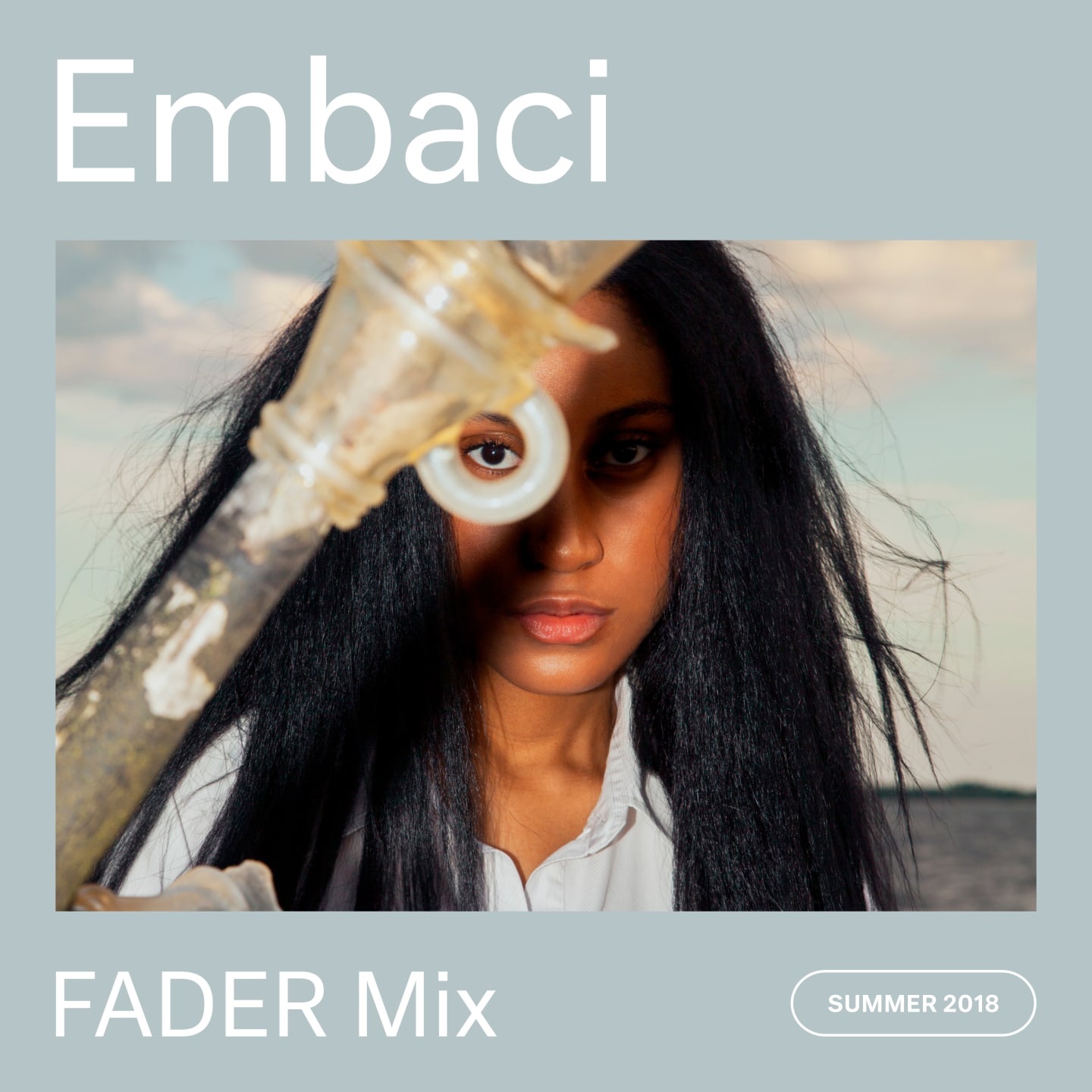 The longstanding FADER Mix series presents new, exclusive DJ mixes from our favorite artists and producers.
The planets have been up to some bullshit lately, which can maybe explain why I've been feeling down-as-hell and more uninspired than usual. I've tried different tactics, to various degrees of success, but one unexpected, feel-good solution appeared in the form of this week's FADER Mix. It comes courtesy of Embaci, a New York native who makes deeply affecting experimental music layered with angelic vocals informed by her classical training. She put together a mix that originated from her intuition that "everyone just needs to feel more motivated right now." And she did the damn thing. The mix's 40-ish minutes begin with a truly inspiring speech from Instagram sensation Amber Wagner and then heads to some brilliant places, with sounds from FADER faves like Toxe and Lotic. Thanks Embaci!!! Listen to the mix below, and read on for more about her approach to music-making.
What do you imagine people doing while listening to this mix?
Celebrating their senses. I made it while I was on the plane and felt everyone just needs to feel more motivated right now hence Amber Wagner (@jstlbby) ♥.
What music or artists do you turn to for inspiration when you're working on projects of your own?
I work spontaneously. Late at night, I improvise a lot. When I intentionally try to turn to something/someone for inspiration I typically don't like the result. I work with people I'm the closest to. A close collaborator of mine is Zari who makes these insannneeeeee visuals that always leave me feeling excited and resurrected.
Is there a track in particular that stands out?
The moment Annie Lennox sings the word "horizon" while Diego Navarro's "Habitat" plays alongside her.
A lot of your work has involved collaboration. How has that informed your approach to music- and culture-making?
I used to never have many friends to collaborate with. I would always do things alone. I write my songs and work on the production of my own music. The goal is to collaborate while not compromising our ideas. Now, I develop a song or idea up to the point that I know it's ready to be shown to someone else.
When my friends or other musicians show me something they'd like to work on together it can be exciting. It's hard for me to work with people I've never met before, though. Many of the people I collaborate with are the same people who feel like my family. Like, the amount of trust I have with some of them is at the level that there is no room for pride or discretion. I've learned that sometimes not every song and thing is meant to be on my own. Either way, especially now, I just want to create the ideas in my head, put the work in for it, and enjoy.
You went to an arts high school in New York. What did you learn there that has stuck with you? What did you have to unlearn from there?
I learned a lot in music school but to be concise and direct I'll stick to I learned "classical training "(arias, theory, ear training, vocal technique ,and so on). Everything I thought was "extra" and unnecessary to learn then, I'm grateful for now. School was never the place I displayed my "personal creativity," if that makes sense. I would audition for things and NEVERRR get in. So I guess I also learned how it felt to be declined a lot 3.
But I was never offended because even I knew it made no sense for me to be the "star" of those things. It wouldn't have been honest for me to be. At school I would learn all this technical stuff and then go home and write songs on Audacity, sample birds on my roof, and sing my heart out... but my training in school always seeped into everything I made. Still does. I don't want to unlearn anything.
Tracklist:
The Bulgarian State Television Female Vocal Choir, "Kalimankou Denkou (The Evening Gathering)"
Amber Wagner(@jstlbby), "It's all up to YOU❗️So wht YOU gonna do?"
Toxe & Embaci, "sorry honey island e dj edit"
Trina, "Answering Machine"
Sebastian Ruslan, "sæglópur"
Dasychira, "scrumpy"
Dj Misha, "Ballet Danzantes de Fuego Pura Pasion"
Diego Navarro, "Habitat"
Annie Lennox, "Into the West"
Abdul Karim Mubarak, "Waqafat Hurufi"
Thoom, "حركت السكوت (No Speech)"
RULEZ, "FKD UP"
WHY BE, "SMILE (NO HEAD YB MIX) - E+E"
DEFENSA, "MM x Suda x Destiny"
Kamixlo, "Mi Sabor"
Dasychira & Embaci, "Talons ft. Embaci (Baby Blue Remix)"
MORO, "MY LOVE DONT COST A sHIT"
Chino Amobi & Elysia Crampton, "Children of Hell"
TELETHON RUNNER, "EMBARRASS YOU"
Eartheater, "C.L.I.T."
DJ Darien, "Pizza"
Arca, "「AALIYAH」x あいのうた"
Cadet Sisters, "Lord How Come Me Here"
Lotic, "Love and Light"
Embaci, "Hymnal Pine Heart"
Aphex Twin & Brandy, "Never Say Jynweythek (Embaci Quick Mashup)"
Yves Tumor, "Pressure (Subcutis Version)"