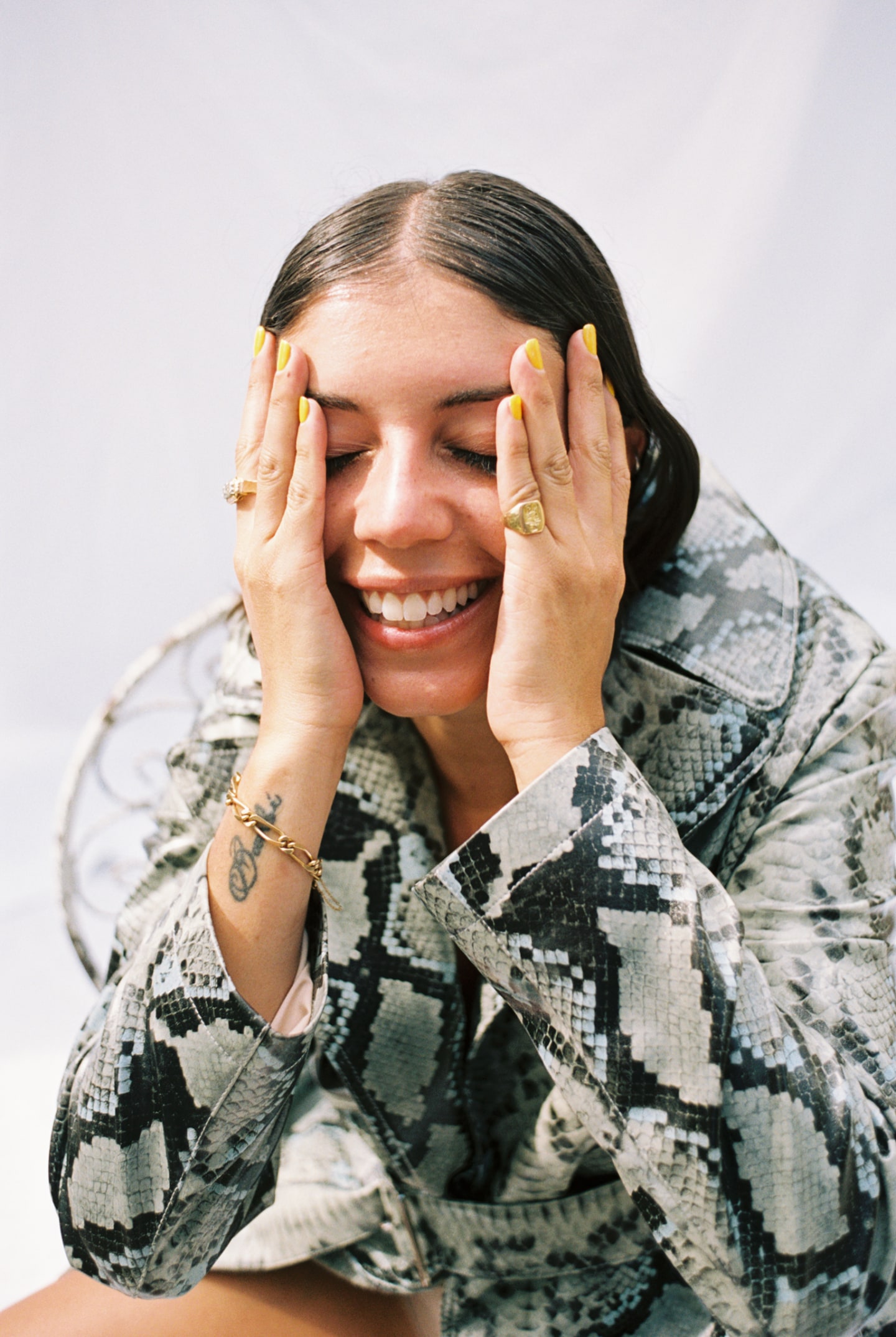 Finding a pair of pants with a proper fit is a universally grueling process — even for Miaou founder and designer Alexia Elkaim. "I'm short and round," she says with a laugh over the phone. Elkaim was never a denim girl, but she took the matter into her owns hands anyway: she was going to create a pair of pants for herself, something she could wear everyday, something that actually fit her body and felt retro and romantic. That pair of pants grew into Miaou, the ultimate cool-girl line of flattering-as-hell pants with an ever-growing cult following.
When we chat over the phone, Elkaim's at Miaou's L.A. Arts District headquarters. It's a punishingly hot day and the office has no air conditioning, but Elkaim's committed to the work as she busily prepares for her line's second fashion week show, set for September. She's has come a long way since Miaou's launch in the summer of 2016. Back then, she was essentially a one-woman operation, carrying rolls of fabric on her back while running around New York City looking for patterns with hopes of creating something novel. Now, she's cooly leading Miaou and its team into its next chapter with retailers like Opening Ceremony — and, soon, ubiquitous department store Nordstrom — carrying her designs, as well as a collaboration with Carel, the French shoe line Elkaim describes as a household name in France. It doesn't hurt that every bright-eyed model and musician, from Bella Hadid and Paloma Elsesser to Jorja Smith and Lady Gaga, are routinely seen rocking a head-to-toe Miaou fit, either.
The hype behind Miaou is very real and justified. The pants feel uniquely tailored, and yet somehow, as if by magic, fit any and all body types for those willing to dish out for the moderately eye-raising prices. Elkaim designs for herself, pulling from both her L.A. and Parisian upbringing. The line encapsulates the effortless style of Elkaim's teenage influences like Brigitte Bardot and Françoise Hardy, taking denim's utilitarian appeal and elevating it through quirky details. Miaou's flared silhouettes, funky prints, and metal grommets looped with a dangling chain or rope belt keep things kitschy and light, a reminder that the act of getting dressed can and should be fun. What started off as a one-off pair of denim pants has grown into full-fledged company, and with Elkaim's easy grace at the helm, it's only the beginning.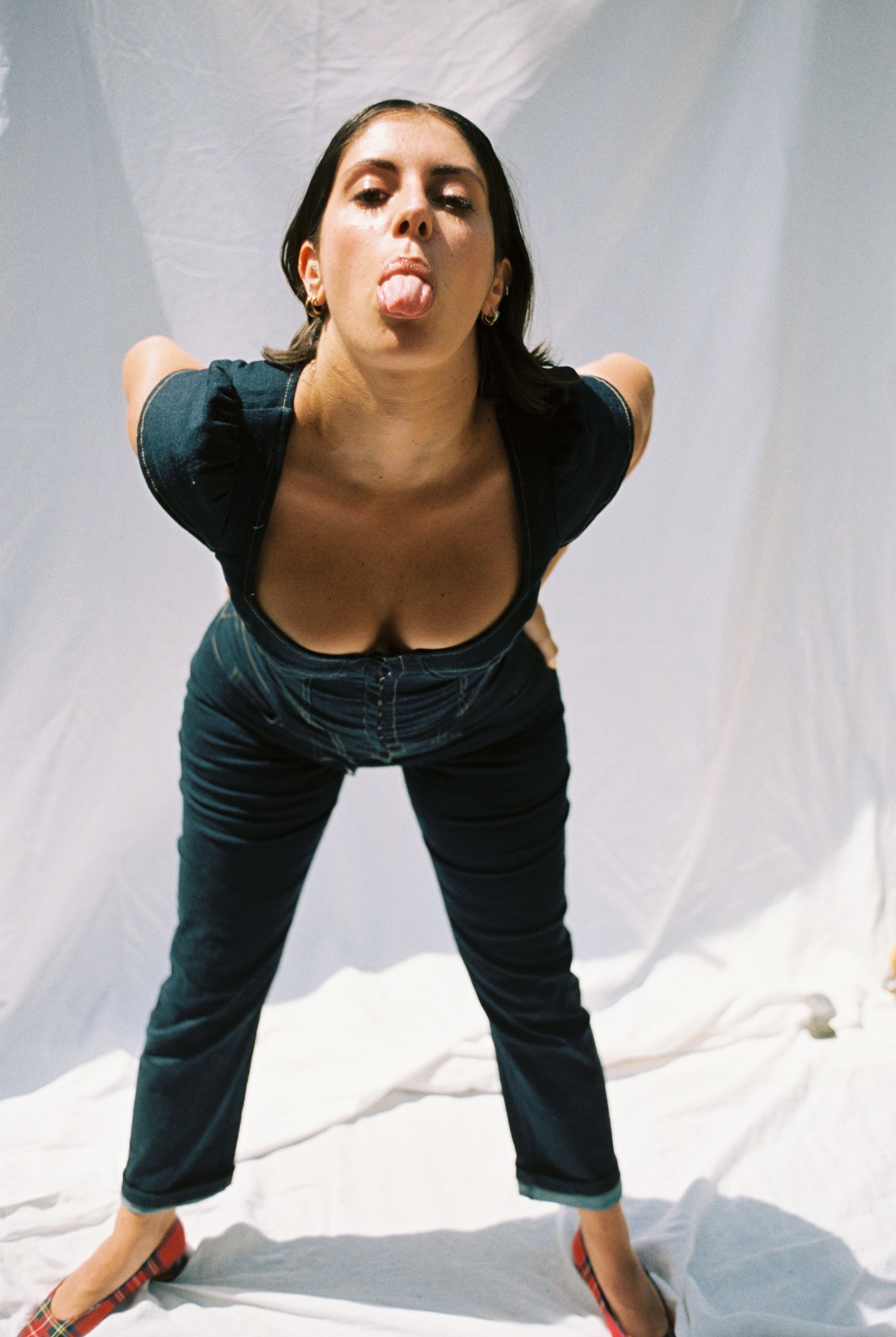 What was your background in fashion before starting Miaou?
I was in school in New York studying the business of design at Parsons, working in magazines as a glorified intern doing music consulting for V Magazine and CR Fashion Book. I finished school and I got a "real job" doing casting, where our clients were brands and our job was to tell their story through casting people. It was certainly formative in the things I would later do for Miaou. During my breaks, I'd go to Midtown and work on my passion project, which was to make a pair of jeans for myself that were special, novel, and fit my body.
I find jeans quite boring. I'm such a vintage girl — my aesthetic has always been dresses and romantic, sexy shapes, and I never saw that in denim. I thought, Why not make a pair for myself that I wear all the time? I didn't have any intention other than that. I made [the jeans] in another size because I wanted to take pictures of my friends in them. I was taking a lot of photos in college and it's a hobby of mine. I shot a bunch of my girlfriends at my house, and I was like I should just pitch this and see what happens. I pitched it, and then CR and Vogue picked it up. By then I had made a few pairs of pants and created an [online store] and I sold them all. I thought, Oh, I have a product. I quit my job and started my company.
That's really interesting that you weren't a denim girl.
I don't consider Miaou a denim brand. It happened to start with a pair of pants, which emulates what Miaou is: versatile, kind of retro, sexy. To me, it felt out of personal need. There was a void in the market for pants like that. It's evolved over the past few years — there's a lot of novelty. A lot of contemporaries brands today are embellishing jeans like GRLFRND and FRAME. There's a lot of prints and embroideries.
What was the turning point for Miaou?
When you get sales, it makes what you're doing real. It authenticates it. For me it was definitely sales, press, celebrity placement. Seeing a celebrity wear it was crazy for me because I really only had one pair of jeans at the time. It was wild to see it on Bella Hadid or someone like that, which I hate to say, but those girls are like billboards. Seeing it in stores was really remarkable for me. Seeing it in Opening Ceremony, which was a store I used to shop at growing up. I was really humbled I was in there. It was funny how naturally it happened, too. I met the buyer and we started talked about how much we like cats, and it was around the corner from my house, and I had a little bag with my pants, and she thought they were cute. It was less daunting of a process than I thought, and it made me feel like I could really do it.
It has been really wild for outside observers like me to see the response to Miaou from celebrities and normal people. Everyone is so vocal about how much they love the fit and how they feel tailored to your body
I'm my fit model, so it's very touch and go. If it fits me, it's fine. I have crazy proportions and I think that it lends itself well. I'm short and round [Laughs]. I have really big hips and a really big butt, but I have a small waist and it's somehow worked out okay. I make up to size 12. I want to make bigger sizes. It's important for a contemporary young brand to include as many sizes as financially possible. I think it would be very different if I had a proper denim fit model.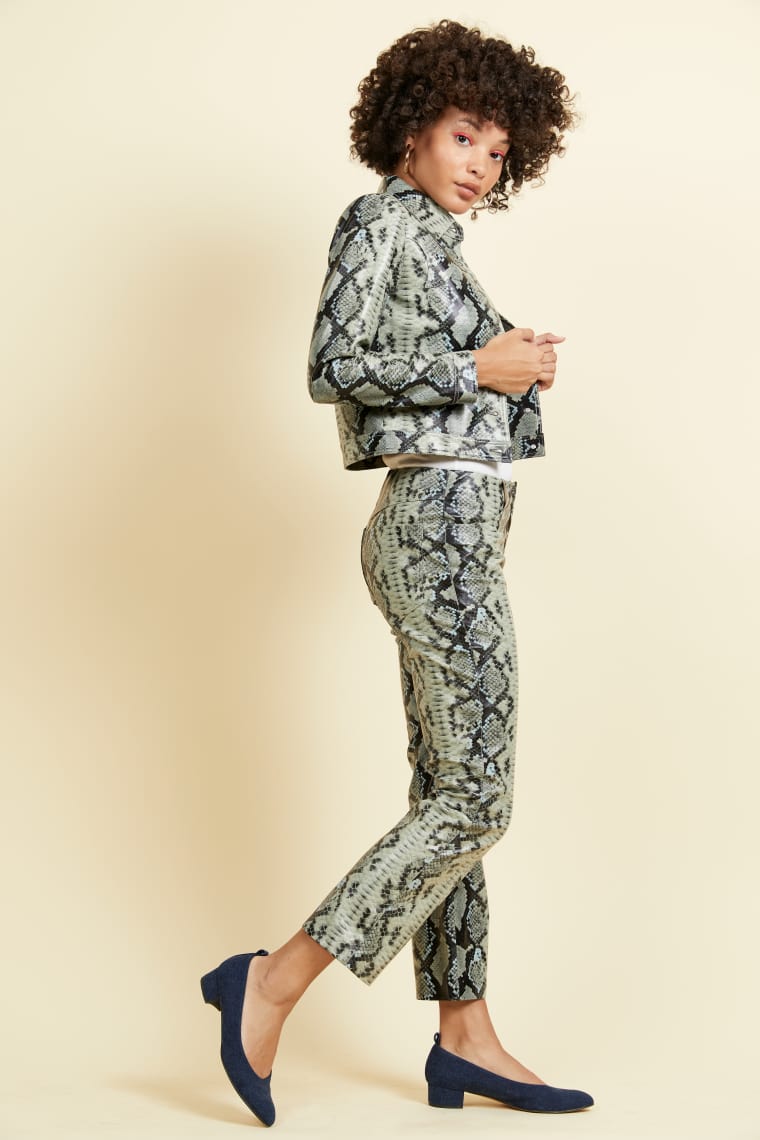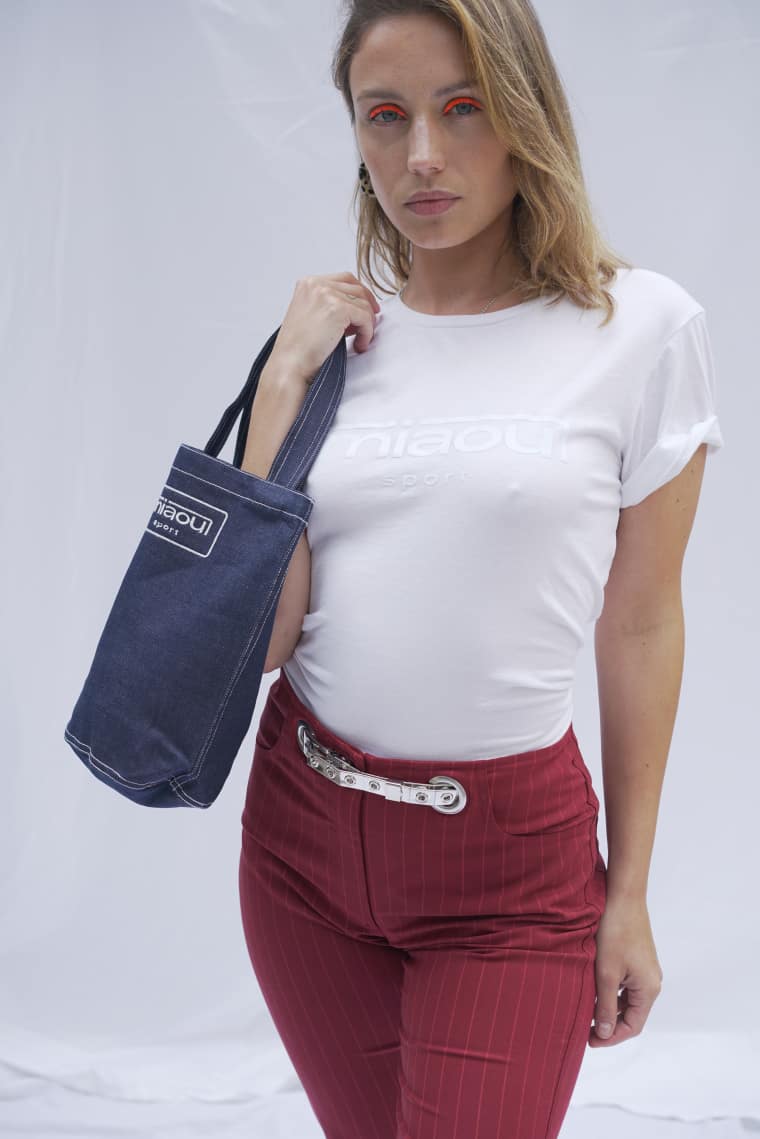 What are some of the things with creating denim that people outside of fashion don't take into consideration?
Denim is a science. There's washes, shrinkage tests. It's a very technical space of fashion design. It's the hardest garment to make, and it's also a community — there's such a thing as denimheads, people that speak denim: the weight, the wash. Honestly, it's not even something that I partook in. For me it was more like, This feels nice against my skin, this would be so yummy as a pair of pants. Going into washhouses full of people who are experts is something where you have to know what you're getting into. It's all math. It was a really big headache for me at the beginning. Now, we stick to one denim and we have our patterns set, but it took a good couple seasons to get it right.
I know that you grew up in both Los Angeles and Paris. How did those two very different places influence your own style, and what Miaou came to be?
I feel American with my French friends, and I feel very European with my American friends. I was raised listening to French music and watching old French films. I was a big nerd, watching movies all the time and downloading movie soundtracks. Growing up in L.A., there was a lot of vintage. I'd go to flea markets every weekend with my stepdad, who's a designer, so there was a lot of influence from what I was seeing.
I don't consider Miaou a denim brand. It happened to start with a pair of pants, which emulates what Miaou is: versatile, kind of retro, sexy.
You've managed to create this feeling of anticipation around new releases that's very much like streetwear drops. Why did you choose this format?
It's the only way for clothing brands to survive. A long time ago, I was advised by somebody in fashion, "If you like a store, everytime you go into that store you want to see a new thing. Otherwise, the store loses its importance." I took that advice and applied it into the company. If I'm going to sell things online, I should be dropping products as frequently as possible. It's the same way magazines create their content. You want to be stimulated and see new things. The streetwear formula of having drops has proven to be successful. In the case of Miaou, it's great because we have carry-over styles. Girls know what they want to buy and what to expect. There's always newness and things to come back for.
You've been teasing more from Miaou Sport. What can you tell us about this part of the line?
When I was designing [for my fall runway collection], I was very inspired by the Parisian woman and the '90s. It's very feminine and mademoiselle — all the silhouettes were these tailored, sexy blazers, which speaks to me personally because I do dress in that way. I design for myself — I don't know how scalable that is, but it's my process. I wrapped the whole collection, but then I was thinking how there was this whole other side to me that was missing. I wear sneakers everyday, I like to wear sweatpants, and I exercise a lot. I put in all this athletic wear that I wear and I mixed it in.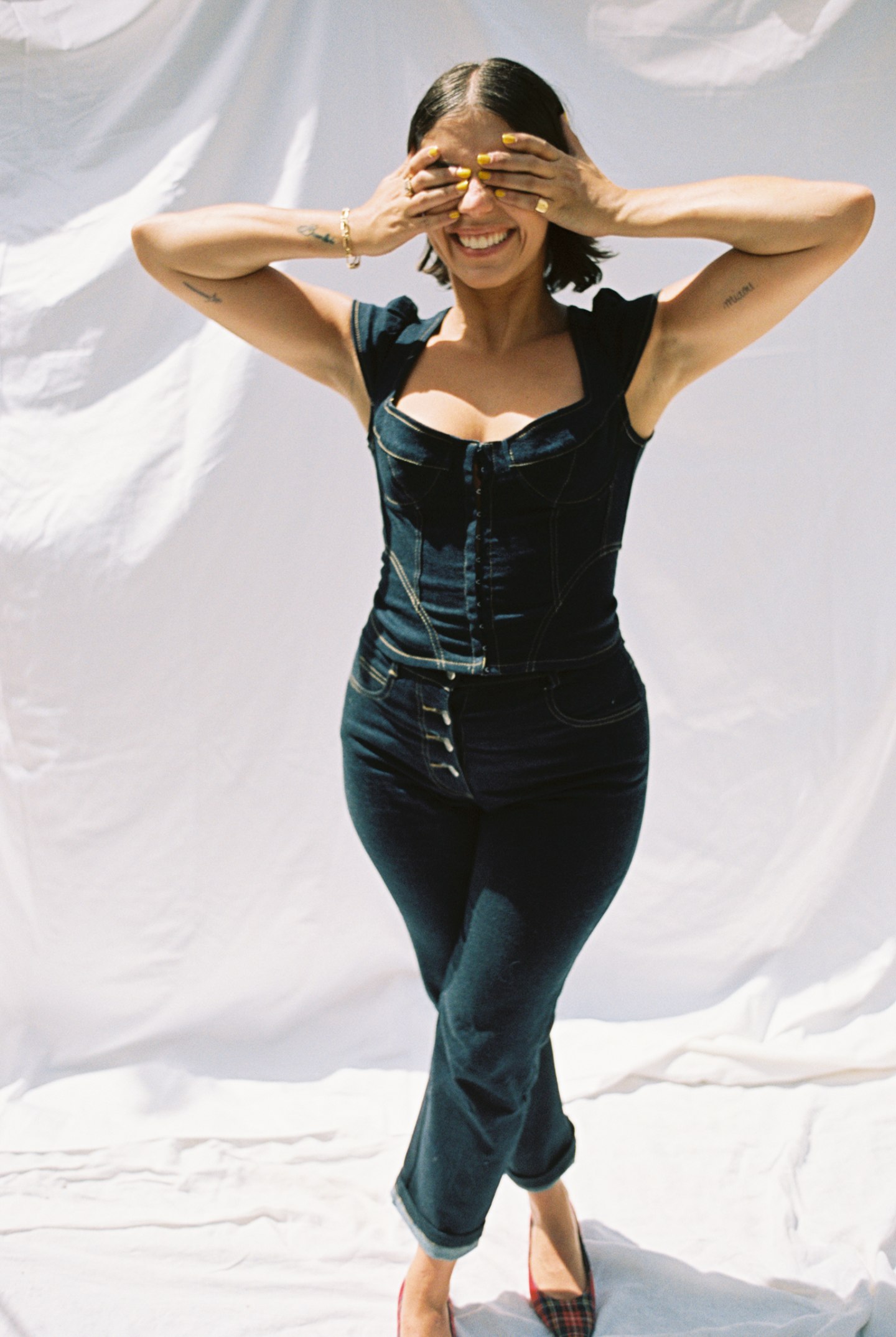 Since Miaou isn't really a denim brand, what can we expect from it in the future?
More sports stuff, more dresses. I'm elevating it a little bit. I'm taking more time with my collections and moving a bit more away from jeans because I just don't feel too attached to denim. But there is denim — that's not leaving. We're starting Miaou Vintage soon. It's vintage I've collected over the years that [I'll be launching] very soon. I'm carefully finding pieces [for the upcoming vintage line] that to me are very Miaou.
Would you ever see Miaou having a brick-and-mortar store, or do you think that concept is in the past?
I don't think it's in the past. I do want Miaou to have its own brick-and-mortar eventually. Establishing yourself as a brand and having your own space is important — it's just about finding the right time and place to do it. I'm old-school. I like going into stores to try things on because I really like shopping. Also, I know how to shop for myself, which is what people are wary of when they go into stores. The challenge today for brands is how do you get people to want to shop in the store, and part of Miaou's brand DNA is bringing people in and being inclusive. These are all things I want to include into the prospects of having a store. Or a few stores, why not? An empire.