If you're reading this that means you are at least somewhat online, which means you've definitely already fallen in love with singer/songwriter Doja Cat's new video for "Mooo!" The catchy tune about being a cow went viral over the weekend, and with good reason. Not only is it hilarious, it fucking SLAPS.
Over the phone, Doja broke down how she made the song and video in 12.5 hours, and why she's happy so many people are finding joy from it.
Where did the idea for the song and video come from?
I got this costume for an upcoming tour that I'm about to go on in September. I cheat sometimes and I like to wear my costumes beforehand on Live when I make music. I had this top from the costume on and didn't know what to sing about, but the shirt was so ridiculous that I was like, "Maybe that would be cool if I just made a song about cows." I thought "Nobody's gonna care about it." It's just funny. It sounded kind of cute. I came up with some mooing harmonies.
How did you make the beat?
I had a sample that my friend chopped for me the night before. He's coming out with an album, and he sampled Wes Montgomery. He sent it to me and I opened it in Logic and put a beat on top of [the sample].
What was the process of making the video?
The video only took about five-and-a-half to six hours. I stayed up till like 3 a.m. It was a pretty crazy process trying to get the sheets on my wall. I actually pinned up sheets over my mirror in my room. I had those sheets for like years because when I was a kid I was obsessed with green. I hadn't used them for so long, but they're the perfect green for a green screen. The lighting was totally shit. I just clicked some gifs — it's really hard to find good cow and cheeseburger gifs. It took me about two-and-a-half hours to do that. The editing wasn't anything, only because it's not like an incredible quality video, so I wasn't stressing too much.
How long did it take overall, for the creation of the song and the video?
I started the song at about 2:30 p.m. and finished the video at about 3 in the morning.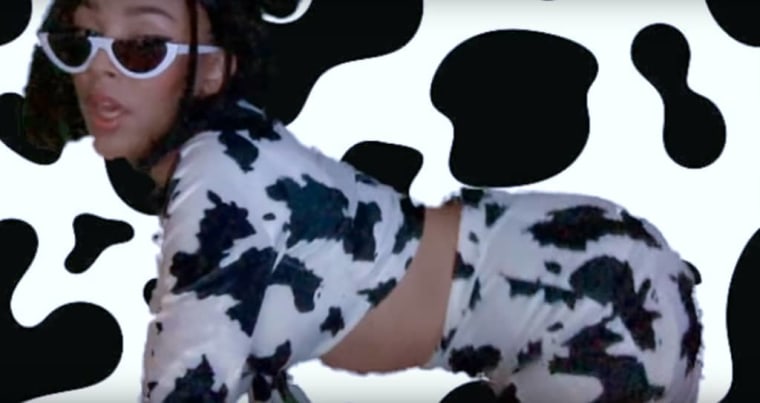 How does it feel now that the video is viral?
It's crazy. I mean its cool that people appreciate fun stuff. I feel like music is really serious right now. There's a lot of political stuff going on. I needed a break from that kind of shit. I make serious music, love songs, and moody stuff sometimes, so this was just a huge break from that and I'm glad people took it in a great way. I'm really happy its making people happy.
Have you ever made another song like this that's just fun and quirky?
Actually it's one of like four that I've made. I made a song called "Suck My Dick." I also made a song that's all about video games called "Nintendhoe." It's pretty crazy, you should probably give that one a listen. I thought THAT song "Nintendhoe" was gonna go viral. The hook is incredibly annoying but in a good way in my opinion.
You've obviously gotten a lot of new fans that are exploring your discography, but are you working on any new projects?
Yeah we're working on the second album, and that should be coming out next year. I don't want to say too much, but it's really cool that this took off right before I go on tour in September. It's great promotion for sure.