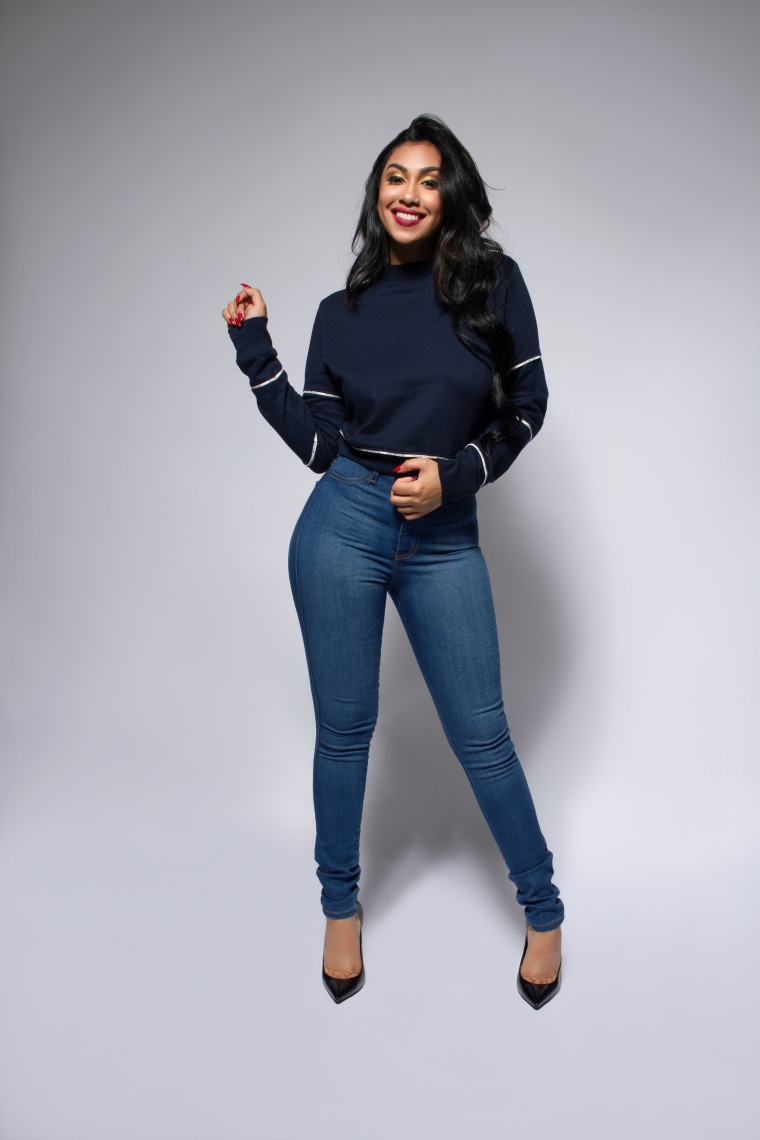 There's nothing like a good scorched-earth breakup song, and Queen Naija has two of them. In June, the 23 year old Youtube celeb-turned-musician released "Medicine," a hooky R&B anthem directly addressing a cheating partner and inspired by her very public breakup with ex-husband and YouTube-co-star Chris Sails. Her follow-up, "Karma," is in the same vein — equally confident, addictive, and pissed off. Leave it to a social media celebrity (who are typically masters of the confessional arts) to revive heartbreak R&B.
On her self-titled EP that was released at the end of July, Queen Naija explores a few different themes outside of the breakup with a tight collection of songs that bodes well for her future. The day before her project dropped, the singer stopped by the FADER offices to talk about her new music and what people don't understand about her yet.
Was the success of both songs — "Medicine" and "Karma" — something you anticipated?
"Medicine" was basically made to confirm to my supporters on YouTube what happened in my marriage. They wanted to know was I leaving or not. I didn't want to say anything because the first time after the cheating situation happened, I stayed. I felt stupid. But then it happened again privately and I didn't want everyone to be like, I told you so. So instead of talking about it, I told them I'd write a song about it. Once I saw how crazy it went outside of YouTube, I was like, Okay, I need to take music more seriously. I've always wanted to sing — I've been singing since I was three. I knew it was going to happen somehow, but I didn't know how.
As a YouTuber, you've shared so much of your life with people. Is it different sharing your life through music?
It's all the same. The only difference is, online, I'm talking and you can see my personality more.
Did you have any reservations about sharing a story that was so personal?
At first, I did. Before I dropped it, I was like, Okay if I drop this song, I can't go back to my relationship because then I'm going to look stupid after dropping a whole song about leaving. I had to really fight with myself, sit down, and be like, Am I finally done? Once I decided that, I dropped the song. That was a big step for me.
Have you heard from your ex about it?
Not about the song, no. I've heard him singing it. I don't know if it's to be playful, or sarcastic...I don't know. He ain't really showed any bitterness about it.
We've heard two songs from about being wronged and getting even. Are there other areas you'd want to explore in your music?
I do have love songs on my new EP, and a song dedicated to my son. I keep falling in love. I don't believe that, when you get your heart broken, you automatically stop believing in love. I still believe in opening up and being vulnerable. Love is necessary in life, and if one don't work out, that doesn't mean the next one can't.
I saw that you met Kehlani recently—
That's Bae-lani. My fanbase is crazy. They know I love Kehlani, and one day I said, "I love Kehlani" on Twitter, so they started spamming me and her. She DM'ed me on Instagram and said, "Pull up to the studio session, we could talk and chill." She gave me a lot of good advice and said she already knew me because she'd seen me a lot on her Explore page. That was really cool.
I've seen people online say things about you like, "Oh, she's just a Youtuber." What do you make of that sort of criticism?
Oh yeah, I get posted on The Shade Room a lot because The Shade Room loves me. In the comments, people will be like, "Who is she? She's just a one hit wonder, keep the youtubers where they belong." They don't know — they're going to have a rude awakening.
I saw The Shade Room posted the video of you singing "And I Am Telling You I'm Not Going" and killing it.
People be like, "She can't really sing." That's because, on "Medicine" and "Karma," I'm singing in my lower register. On the radio, they're not going to play some Whitney Houston stuff, so I have to sing vibey now. Don't let that fool you. I grew up singing in church, so I can blow some tunes.