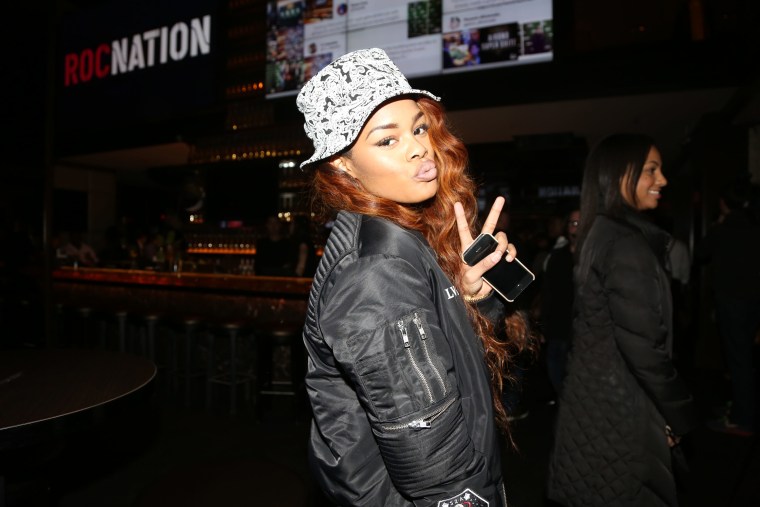 Want to feel old? Think back to where you were when you found out that Drake has a son.
That was 78 days ago. Pusha T's big reveal kicked off the summer's most anticipated music rollout: five Kanye-produced albums in five weeks. But after the front-end of those releases got clogged up with Dragon Energy and MAGA hats, and the rest stretched out across midnight listening party after midnight listening party, the last album, the grand finale meant to prop up a lesser known artist atop the shinier aura of her label-mate predecessors, was instead met with fatigue and lost interest.
Which is a shame, because Teyana Taylor's Keep That Same Energy (K.T.S.E) is really fucking good.
It has a little bit of everything you want in a modern day R&B album: Teyana's perfectly raspy voice, which whispers on the high notes and growls knowingly on the low ones. She's a married, grown woman admitting vulnerability in her relationships, in what she wants, and in what she can reasonably ask for, always honest about her baggage. There's a song that oozes with hushed sexiness as she hurries a lover into bed that can't help but make the listener confident they can do the same. Over classic Kanye beats there's an ode to three-ways sung with Ty Dolla $ign, an earnest thank you note to both her daughter and mom, a shout-out to her hometown of Harlem, and an honest reckoning with the people who never really had her back. Plus a voguing banger with Mykki Blanco. She does all of that in under 30 minutes.
And it's this good despite the fact that it had to contend with the haphazard and rushed rollout of someone else's grand summer plan. How much bad planning by men has overshadowed women's careers? The day of its release, Taylor went on the radio and said she actually didn't like it that much. There were too many mistakes, she said. Songs were missing. Her verses were shortened or cut out entirely (and that shit was personal because one was a verse about her daughter, Junie). Samples on songs she'd been working on for nearly a year weren't cleared in time. Taylor said she hadn't even heard the finalized version before it went live on streaming services, and then when she did, in addition to all of the missing pieces, she also thought the song sequencing was wrong.
Over the weekend of its release, Taylor and Pusha-T, the president of her label GOOD Music, each recalled their terse post-release conversations in various radio interviews. Taylor told him off for how him and Kanye wronged her, then announced that the album would be updated. A new, correct, Taylor-approved version replacing the old wrong one. But that announcement, too, would be edited. A couple of days later, resigned, Taylor took it all back and said K.T.S.E would stand as is.
For her first album release in four years, Teyana Taylor was scammed. The insistent trickle of confusion and distraction means that when we talk about this album we can't just begin and end by saying that it's actually the best release of the summer.
———————
This week, Taylor performed at New York's Playstation Theater in Times Square, where she shared the bill with Jeremih. Onstage, Taylor shared how most people responded when she said she wanted to go on tour, "When my album dropped everyone asked me, 'How you gonna go on tour your album's only 22 minutes?'"
Here's how she did it: For the first 20 minutes, wearing Namilia motocross pants, she played a medley of songs primarily from her 2014 album VII, which I'll admit I never listened to before but wish I did. Taylor's an astute dancer, maybe the best singer-dancer-rapper working today (as anyone who's seen the "Fade" video already knows), and she pops with such quick precision it's almost alarming to watch. Between three outfit changes, she brought out and gave a lap dance to the model Winnie Harlow. She sang the extended version of "Never Would of Made It" with all three verses; the first for her mom, the second for her daughter, the third for everyone in the crowd. And during those verses Taylor's mom walked out with Junie, her two-year-old granddaughter. The three generations stood on stage together, and Junie sang along to the chorus. It was a live mother-daughter duet.
Taylor's energy was ecstatic the whole time, she even jumped into the crowd within the first ten minutes. But towards the end of the show she paused and talked to the audience of New Yorkers, from the city where she grew up: "Y'all from New York, y'all already know how hard I been grinding."
The truth is Teyana Taylor is an overachiever. She's been in the music business for over a decade, but still somehow remains underrated. In 2006, at 16, she choreographed Beyonce's "Ring The Alarm" music video. A year later, she appeared on My Super Sweet 16. A year after that, she released her most recognized work up until now, a cocky song called "Google Me" (Google it).
Between then and now, Taylor designed what was at one point in 2013 the fastest selling sneaker in Adidas history, back when Kanye only had Pastelle. She went into labor and gave birth to a baby at home, on her bathroom floor. She opened a '90s-themed nail salon in Harlem. Teyana Taylor has been working.
The people who knew knew, especially in New York. Taylor cried at the concert as she remembered everyone asking her how she could possibly go on tour off of such a short record. They forgot VII. They forgot how much she's actually done before this. They forgot that, she's not your average showgirl. Taylor paused, "But then I come to New York and y'all know every single word."
It turned out they would be the second-to-last audience to see her show. Today, Taylor tweeted that she was cancelling the rest of her tour, "I've been extremely mistreated on this tour so on that note i will NO longer continue to stay on the #LaterThatNightTour because if I do ima end up knocking this nigga out," she wrote. Followed by, "@Jeremih Lazy, sneaky, jealous, conniving, selish, lame ass nigga! Don't ever try to play me Petunia! They come to see me then 80% of the room leave after MY SET! work my ass off every city, every night! You've done nothing this whole tour but act like a DIVA in ya princess chair."
That was true in Times Square, where it felt as if at least half the audience was there just for Taylor, with the crowd noticeably trickling out by the time Jeremih started performing. She left it all on the stage; he simply kept leaving the stage, first bringing out Tekashi69 for two songs, followed by a solid 10 minutes where he sat on a chair meant to look like a throne and listened to a string of his hit hooks, not even singing along. The superiority of Taylor's performance couldn't have been more obvious, her work ethic and talent rising above the nonsense that surrounded her. One day we'll start the conversation with just that.