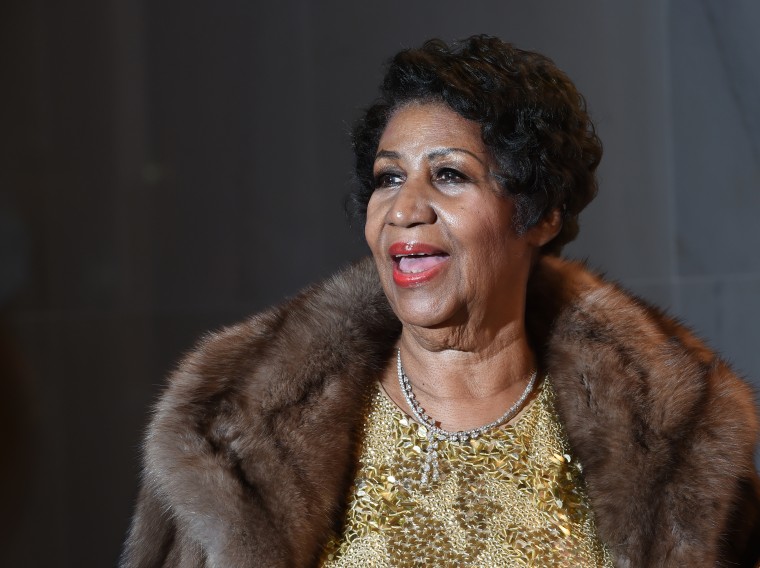 Aretha Franklin passed away earlier today and the Twitter tributes flowed in. The most memorable of which included video footage of the Queen of Soul, spanning her entire career, where we can literally watch her grow in excellence. So below, we've collected eight of her most memorable live clips, starting in 1964 when she was just 22-years-old, that keep popping up on our feeds, and are certainly worth watching at any time, but especially today.
"Tiny Sparrow," 1964
A 22-year-old Aretha Franklin sings "Tiny Sparrow" in 1964. The song is originally by Peter, Paul & Mary, but the way Franklin sings it here, with her gentle strength, is probably better than they've ever done it. It twinkles.
"I Never Loved A Man (The Way I Love You)," 1968
Here Franklin sings "I Never Loved A Man (The Way I Love You)" at a 1968 concert in Amsterdam that's become known as The Legendary Concertgebouw Concert. A recording of the night was released on DVD in 2010, and Franklin performed this song third to last. She's sweaty, vibrant, emotional, and the crown hangs over the stage and onto her every word.
"Don't Play That Song (You Lied)," 1970
On the the Cliff Richard show, It's Cliff Richard, Franklin played "Don't Play That Song (You Lied)" while at the piano. Her voice shines, twisting and turning to each note. She's looking amazing in what looks like a leather choker and big swinging hoops.
"Something He Can Feel," 1976
Bruno Mars posted this link without comment. Franklin's singing "Something He Can Feel" on the Midnight special in 1976 wearing an amazing beach-ready light blue beaded halter top with matching flowy pants.
"Ooh Baby Baby," 1979
In 1979 Aretha Franklin and Smokey Robinson, who grew up in the same neighborhood in the North End of Detroit and knew each other since the were kids, appeared on Soul Train together. During the brief interview Robinson says he first learned of Franklin's powerful voice when he heard her sing at the piano, when she was just four years old. Soon after, host Don Cornelius asked Franklin to sing one of Robinson's song. She starts on "Ooh Baby Baby" and they continue into a gorgeous duet.
"Touch My Body," 2008
At a 2008 concert in DC, Franklin covered Mariah Carey's "Touch My Body." She was feeling herself. Sadly there's only a low quality one minute clip of it, but still, just wait till she brushes her hand through her hair — there's truly nothing better.
Wall Street Journal interview, 2014
The Wall Street Journal interviewed Franklin four years ago, when she was 72 years old and released her most recent album, Aretha Franklin Sings the great Diva Classics. In it, she calls auto-tune "ridiculous," compliments Taylor Swift's gowns (and nothing else), and offers "no comment" on Nicki Minaj.
"(You Make Me Feel Like) A Natural Woman," 2015
At the 2015 Kennedy Center Honors, Franklin sings "(You Make Me Feel Like) A Natural Woman" while President Obama wipes away tears and Honoree Carole King absolutely loses her shit.