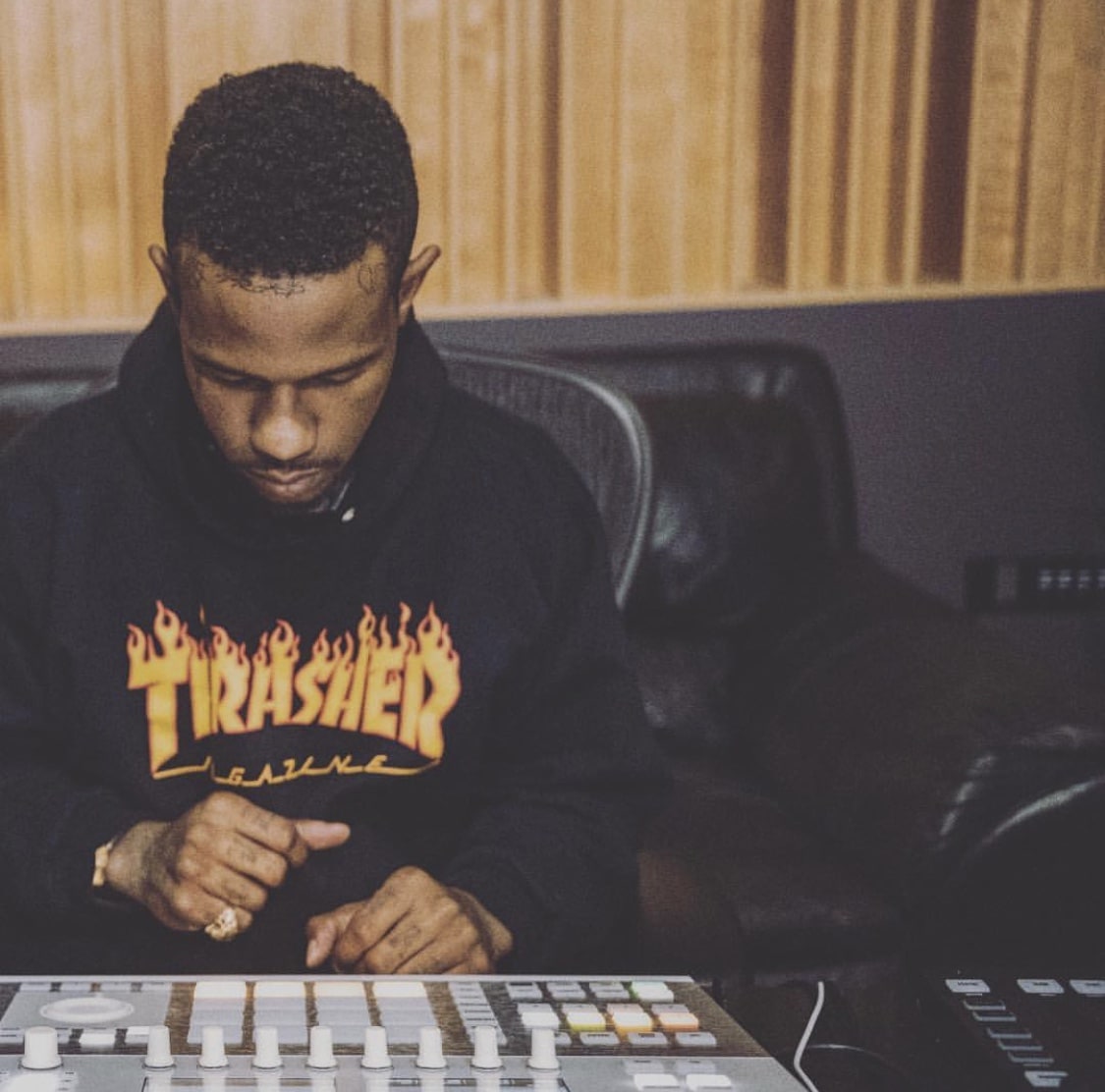 At one point, during the first few years of this decade, Lex Luger's productions were inescapable. Beginning with Waka Flocka Flame's "Hard In The Paint," the Suffolk, Virginia native went on a spree that altered the sound of rap's mainstream, bringing its minimalist, aggressive elements to the forefront. In that era, his productions were felt just as much as they were heard: his drum patterns would shake your chest, his synth lines rolled your shoulders.
Lex Luger never stopped working, but, over the past five years, the producer has experienced ups and downs in his career and in his life. At the height of his popularity, overworked and drained out, he took a step back to spend more time with his children. More recently, following a public dispute with his former production partner Southside, he spent time in an inpatient program after a long struggle with addiction.
Over the phone from his studio in Virginia, the 27-year-old sounded relieved to be on the other side of some difficult experiences and excited about the work he's been doing, which includes new music with Lil Yachty, Quavo, Waka, and an unnamed "ATL legend" who's rarely heard from. More than anything, he seemed happy to be focused on doing what he loves again.
Tell me a little bit about where you're from.
I'm from Suffolk, Virginia — a real small city, man. We have a WalMart, but we don't even have a mall. We had to go 25 minutes to Chesapeake just to get any excitement, so I was in the house or with my friends kicking it in the street. I had a lot of time to fuck around, and I used it to make music and study DJing and mixing samples. I was goofing off in high school, but when I came home I was making music every night. Linking with Waka [Flocka Flame] on MySpace was why I became who I became.
How did you get into making music and producing?
I played drums in the church that my parents would take me to. Later, I was online and reading magazines that producers did interviews in, and I was like, OK, I need this program this keyboard. My parents weren't gonna buy me that shit, and I wasn't doing anything to get money to get it. My uncle he had done his thing in music in the past, so he went and bought me an MPC. I started learning it — chopping up samples and recording. I put so much money into that one MPC, because I had to get a turntable and speakers. It was sort of a waste when I figured out I could just do this shit on Acid Pro. I think Pharrell was the first person I saw using Acid Pro or Logic, or some shit like that. Then my homie Blackman brought Fruity Loops to my attention, and after that it was over, bro. I was cooking up maybe 12 to 20 beats a day.
I'm 27, so I grew up on Limewire, Crack programs, proxies and all this shit. It made me tap into who I was as a human being. People looked at me different because I had this talent. I tapped into that and figured out who I wanted to be, and what I wanted to leave for my children.
After contacting Waka on Myspace, how did you get to Atlanta?
We were talking for two or three weeks over the phone, and then he was like, "Yo, I think I got one." It was "Hard in the Paint." He sent it to me and I was like, "Yeah, I think that's it too." So I'm like, Man I gotta get down there. We had to scramble up the change and talk to [Debra Antney, Flocka's mom] to make this shit happen, and it happened. I drove down there with three of my homies, and we went to Deb's house and kicked it with Waka. I met Southside, Wooh Da Kid, OJ da Juiceman for the first time. They would have this cookout at Deb's house every Sunday — everybody went there to eat, real family shit. I got to be a part of that, and that's what popped it off — me being cool and just talking with everyone. The relationships just felt right.
I had my daughter back at the house and we were struggling, so I took that chance and ended up staying out there for a fucking month. I did what I had to do, came back, did what I did for my daughter and my girl, came back there to Atlanta, worked out there, and then pumped out Flockaveli. It was tough, but that shit was great.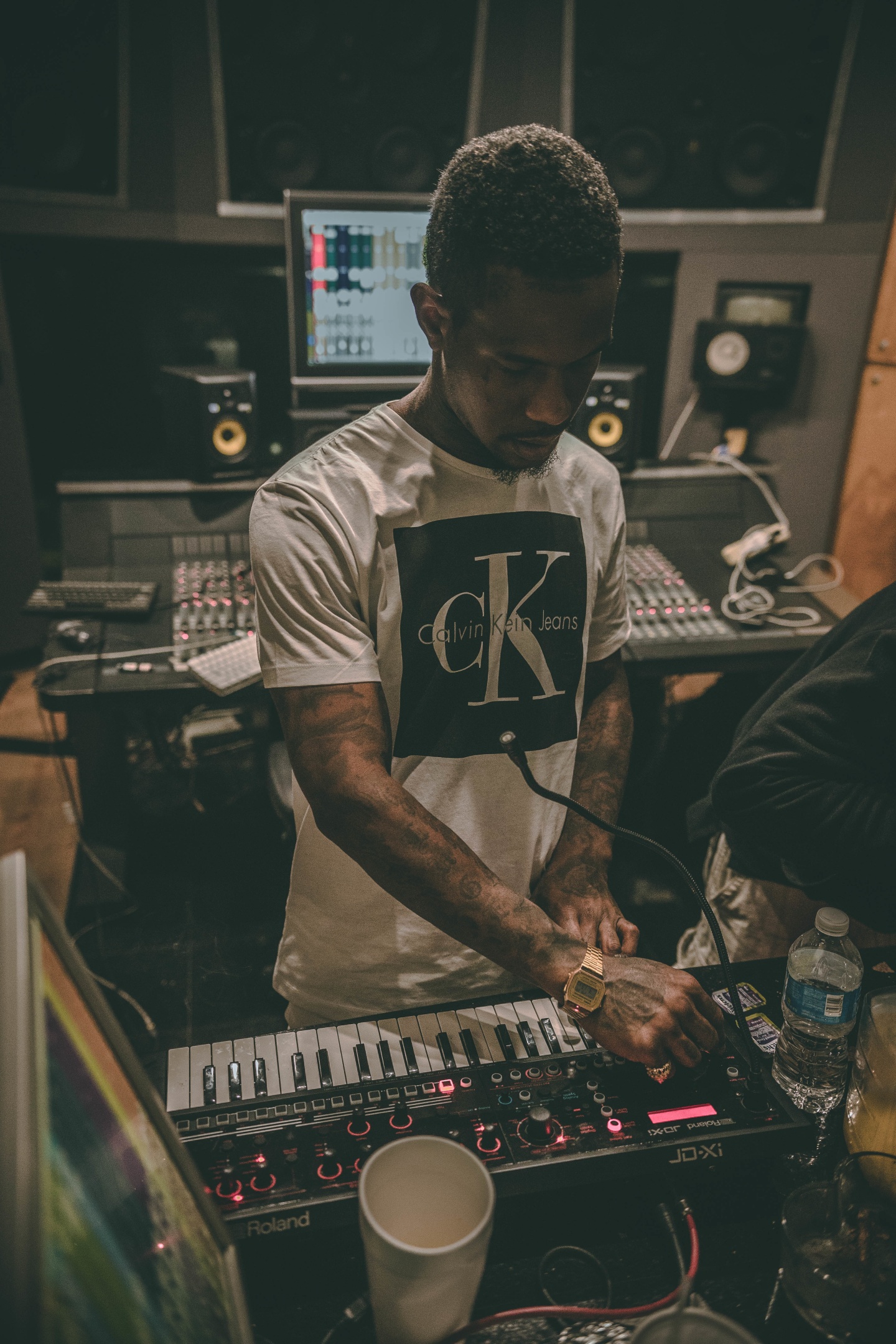 How did 808 Mafia form?
Waka had bought Gucci Mane's old mansion. And all the studio stuff was in there in the basement —I think it was Zaytoven's old shit. We just kept all of that in there and set up the computer. When I came back to Atlanta, Southside picked me up. Waka was doing a show or something — I don't even think he was in Atlanta — but I was kicking it with Southside and we immediately started cooking up. The first beat we made together was "Bustin' at Em'." We came up with the name 808 Mafia, and he brought TM88 aboard. I didn't really dig the name, though — I kinda distanced myself from that.
What was it about the name that made you distance yourself?

I didn't like "mafia"—you know what I mean? At the time, I just felt like "mafia" was frowned upon in certain households. I wanted to have my shit, too. I had a vision for the way I wanted to see my family, and what I wanted to show people.
So much was happening in Atlanta rap at that time. What was it like to be in the middle of that?

I need to make a movie. Coming from where I'm coming from, Atlanta was nuts. I had to grow up fast. Everyday it was get up, get dressed, maybe go and get an outfit, do the interviews, try to get more interviews, meet with who you can, go to the studio, link, play beats, come back home, fucking make some more beats, fuck around in the meantime. You might go have a drink, have shorty, play a video game — but not long. You go back to working, and that's 24 hours a day, over and over again 'till you perfect that craft of becoming a star producer or rapper. Atlanta taught me that. It was hard work, but it paid off.
In 2011, you had the sound of the moment. What were you noticing around that time?

I was young and moving really fast, so I feel like I wasn't even conscious some days in some moments. That feeling man is a rush — like a drug. I was trying to be bigger than what I was, so I was working ten times harder. I wasn't sleeping, so I would lose it and just kinda drain out. My beats would sound shitty. I couldn't perform.
It was getting bad, so I started to get back to me, backing away from production and being in the house with my kids more — taking them to school every day, coming home, doing what I can with my girl. I would cook up on the side, I put a studio in the house and was working whenever I felt like it. I'd pick the kids up from school, they'd do the homework, watch a little TV, play around, go to sleep. While they sleep, I might cook up a little bit more or go out to the club, just enjoy life. That's what I was trying to get back to, because I felt like a robot.
You had to rearrange your priorities.

Yeah, because at that time — when I was smoking hot — everybody was calling. They all want this sound. It's like, Alright, cool, I can do all of this, but then I'm missing out on my daughter's first day of school. I had a hard time balancing it because I was going hard at the music thing, so I completely let go of music and was doing good with the family. Now, I'm 27 and learning how to balance both at the same time.
Was there a point where you started to get tired of your own sound?
I just have this image of a has-been — people come to my house and it's like, "Yeah, you remember him?" "A little bit." I play my beats and they still sound the same. I just didn't want to be that guy. I wanted to keep elevating it. I really was stuck. Me and Southside call it "the recipe": You hop in front of the computer and you got these sounds that you go to every time. You get some keys, bass, or a lead, and make a melody. You add drums, and it's the same recipe — it just sounds different because of the melody. I just got tired. I just felt like my fucking brain — my whole life — was on loop.
I remember how prevalent your sample pack was for every up-and-coming producer at that time.

There's a sound kit for any producer. They sample these guys' drums and get out on the internet and it's a pack of thirty or forty of The Neptunes' snares and kicks. My generation took those and mixed-and-matched them up. I would take the D-Block drum kit and snare and mix it with a Shawty Redd 808 bass or an old Quincy Jones hothead loop. At first, there was no official Lex Luger drum kit that I put out — people just chopped my sounds up, or sounds that I already took from someone else.
Now, I'm selling my own shit that's like my sounds, but tweaked a little bit — more futuristic. It's a good feeling and it's a bad feeling. Let's say I used the Drumma Boy Kit. That shit changed my life, bro. It made me put food on the table for my family. So if I'm doing that for a certain kid, that's fucking great.
Last year, you were supposed to do a beat battle with Southside but it never came about. What happened?
I'm going to keep it one thousand. I was going through this dark phase, just drinking and doing drugs. Emotions were everywhere. Having a fucking phone and social media is not the best thing with drugs and emotions and drinking. I would vent online late at night, fucked up — just voicing my opinion on that forum. Folks got wind of that. Southside's a real one so he hit me up. We talked about it and I'm like, "Yo, we brothers, so let's capitalize off this." He agreed. We both agreed to do a beat battle. That's what I wanted to do. I wanted to have a battle with him, Mike Will, Metro, and whoever else is popping. Me and Southside had made our own Instagram videos. Like I got a hundred bands and put it up. Both of us had did that. That video, it kind of, like, soured — it went the wrong way. As brothers, me and Southside — there's shit in between but I would never speak on that, bro. That's just brother shit.
Right. It seemed a little more heated than you're making it sound.
Yeah. It was, but that's because I'm not in Atlanta. It would've been different back then. He would've just pulled up at my house. That's just how we came up in our houses, how both of our parents raised us. We just got a certain understanding, all of us.
It wasn't that easy. It became "I'll fly out there, I'll do this, I'll do that." People on the internet talking; I'm pretty sure people was asking him about it. People were asking me about it. It's different when everybody can see you, like all eyes on me. What am I gonna do? Both of us were dealing with that pressure behind closed doors. I didn't know how to handle it. Like I said, I was going through a dark time between drugs and drinking and a certain addiction also, so I wasn't thinking straight. I was saying a lot of fucked-up shit and it went a long way. So it was a humbling experience, you dig? We haven't spoke but I posted a picture, he put a comment to show love, so that's where it's at right now. It's positivity. We moving in the right direction.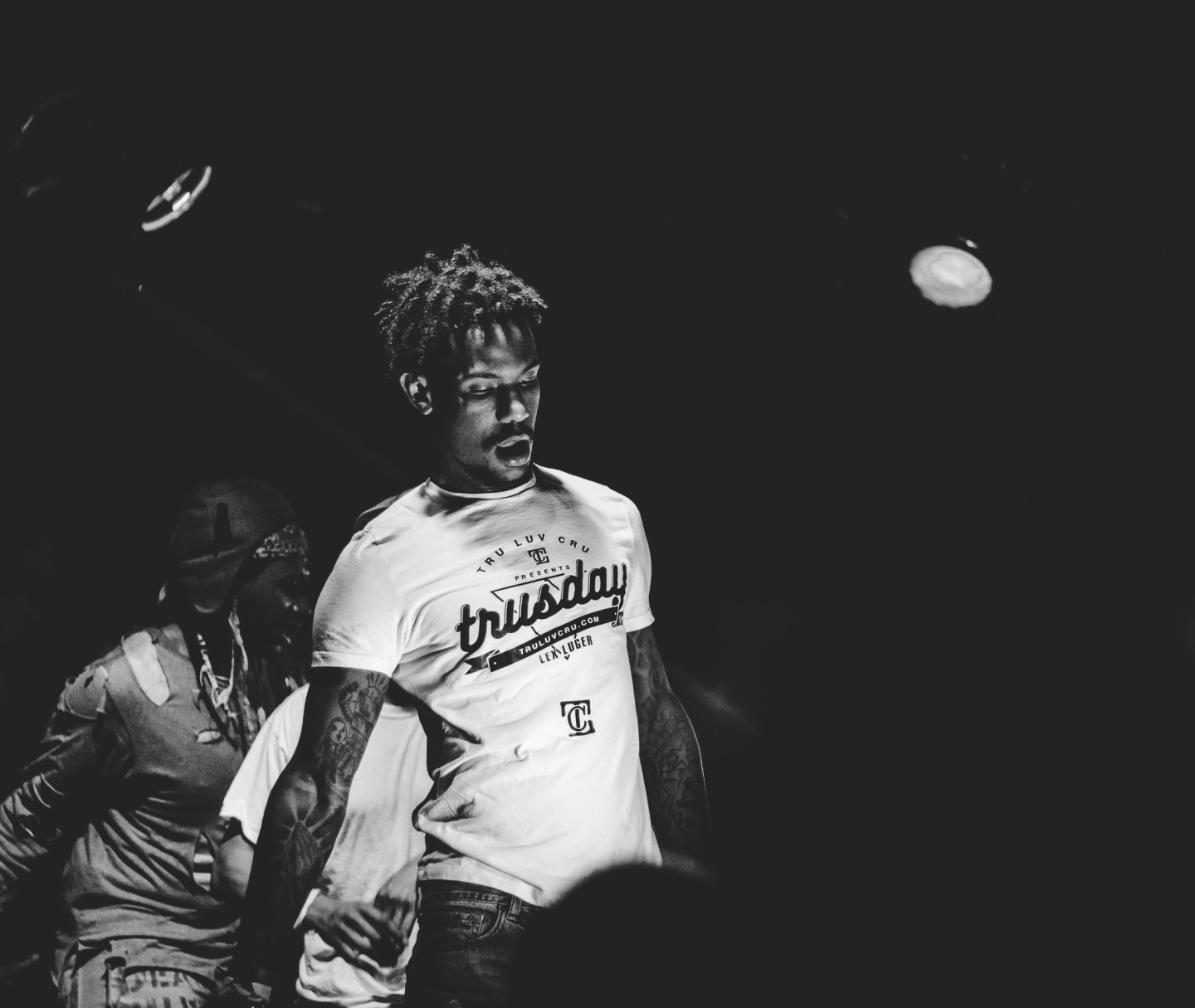 In terms of dealing with addiction, are you on the other side of that now? How did you get through that?
Yeah, bro, I really was on that shit. Like Xans — five, six a day. Drinking. I was coming to the engineer's studio just fucking wasted. Ecstasy, mollies, whatever — I was on that shit. It got to a point where my body couldn't handle it, and then I still didn't give a fuck. I still was there mentally. Then it got to a point where I couldn't take it, physically and mentally. I blacked out one time — I don't even remember the exact moment or time, but I woke up and I was in a hospital. And, not like a regular hospital — not like a psych ward, but, just like when you're kinda outta here. When you lose it, bro. You're staying for a week or two, or however long your crazy ass needs. [Laughs]
The drugs took a hold of me, bro, mentally. I thought motherfuckers were trying to kill me. I was paranoid like shit. So I sat in there for a week and had to completely sober up — get a grasp on life and understand what's going on. I got outta there, hooked up, and now I'm back on track, man. That's what it took for me really to quit. Been sober about a year, dude.
Man, congratulations. That's really big.
I got out of there, and don't get me wrong, I hopped back on the shit, but not like that. It wasn't recreational. That shit was a ritual — I would wake up and pour up, take some Xans, and I would go in, and that was it every day. I didn't sleep for like three, four days. I would close my eyes and still be awake. It was a real tough time. It had my mom crying and shit, bro. It really ... That was fuckin'....what the fuck am I doing? She had to come in that hospital. We got visits like twice a week, so she would come in there, man, and...It was really deep.
You know what's real, though? They evaluate you in there, so once I was done and getting discharged, the doctor was like, "The first day when you came in here, you just kept sitting down." And I was acting like I was making a beat, but nothing was there. That's how I knew I had got looped out, ya dig? I was doing that every single day, so that's all my brain knew.
How do you even begin to go back to sitting in front of the computer and making a beat after that?

I would come back in there and cook up like, "Man, I can't. This shit don't sound right" — or I just wouldn't say shit, but I knew it wasn't sounding right. It was like jogging. I broke my ankle recently and now I'm good, but I had to do ABC exercises, walk on it, and take a rest. I didn't suck, it was just that my mind wouldn't go and look for those sounds like it would have, so I had to train it and find inspiration again.
Where did that inspiration end up coming from?
My girls are seven and eight, and I got two sons that's three months and a year. My girls love music. Shit comes on the radio, They love Cardi B. They love Nicki. They don't really know the difference right now, but they figure it out sometimes. They understand what I do. They see the plaques and shit, but they don't hear it, so I'm not really cool like that to them.
That's my inspiration, and seeing these young cats out here do it too. The way they cook up and the ambition they have, they're so fuckin' hungry. They just wanna get it, bro, and they got these new ways of seeing shit that I can't understand sometimes. I feel like I'm getting old, but I chill around them and try to understand that wave.
What producers are you listening to right now?
I love Pi'erre [Bourne]. Tay Keith, I like him too. The shit he did on Drake's album — just the bass line and the drums, that shit is so dope to me. Metro is always the shit, bro. That's the young homie. He's always lit. I like what Mike Will is doing. DJ Mustard, too. Building those artists, branding them, making them household names, changing music — I like that shit, on some Dr. Dre shit. CashMoneyAP too.
A few months ago, Waka teased the cover for Flockaveli 2. What was the process like of getting back into that pocket with him?
I was going through my shit and we would always FaceTime each other. He'd be like, "What, bro? You trippin'." Like, really sonning me, in a sense. I had to look back and look in the mirror like, "You know what? You right. You fuckin' right." That helped me grow. I was sending him beats on and off, but the relationship wasn't here. I don't even think he was giving them a chance. But we had some more conversations and I told him I went through what I went through with the drugs. We talked about real shit. Eventually, we linked up and had a show together in Atlanta. That was our first time seeing each other in maybe three or four years.
That was it right there — that shaking of the hands, me looking him in the eye, he looking me dead in my eye, and we choppin' it up like that. Not even about music. It was all on me, so it was as easy as I wanted it to be. I had to put the ego aside, just man up, and realize shit. He respected that over anything, so it was easy. I just had to get my shit right.
Was it more difficult to rebuild your relationships with other artists that had soured?
I ruined a lot of relationships, and I kept a lot of them too. Me and Waka are like brothers, but with other artists it's not that easy. Shout out to 2 Chainz. he kinda had to talk to me too — like, "Man, you was tweakin', lil bro. I couldn't really fuck with you at the time." That's what he told me, and I had to respect it. I was like, "You right, but I'm in a different position." Sent him the records and it was all love. I be sending him shit on and off, but it is kinda difficult sometimes, 'cause like I said, I gotta put the ego aside and be the real human being. It's not just fuckin' artists, rap niggas trying to make paper. These are real dudes.
It takes a bigger person to admit when you're wrong.
Right, that's all, bro. It's easy and it's not easy sometimes.