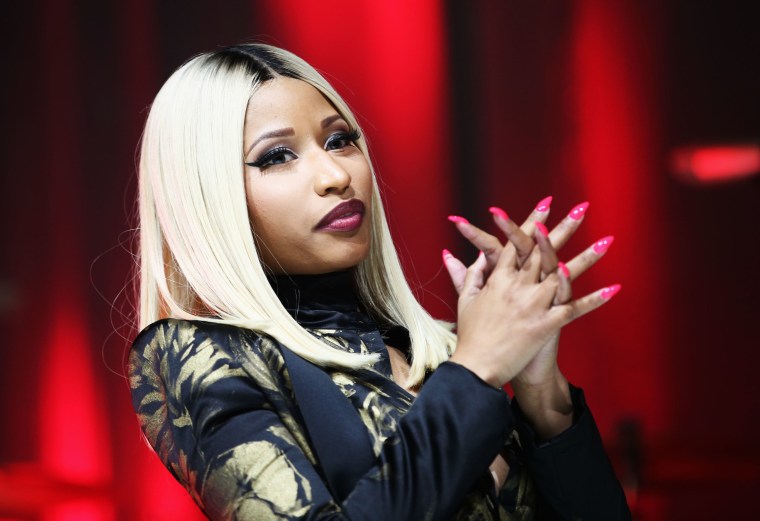 Nicki Minaj continued her unorthodox promo cycle for her new album Queen on Wednesday by ordering her fans to cyberbully a Billboard writer. The person wrote an article on the shifting dates of Nicki Minaj and Future's NICKIHNDRXX tour – while the European dates will go on as scheduled, it was announced that the North American dates will be shifted to May, without co-headliner Future.
Minaj wrote on Instagram: "Barbz get me the name of this writer then hit them & tell them this is one black woman they will not bully into a corner by FRAUDULENT SHAMING TACTICS." She also said the writer was "in the running for #CockSuckaOfTheDay award on #QueenRadio."
Many publications went with the line that NICKIHNDRXX's North American tour had been cancelled presumably because HNDRXX a.k.a. Future is no longer on the dates. Minaj, however, thinks that editorial decision is spiteful. "My album was originally going to drop in June which would've given me 3 months of tour rehearsal," Minaj said on Instagram. "However, I was still writing & recording up to last week."
She added: "I can't rehearse 4 WEEKS for a tour I originally planned on rehearsing 3 months for. I give my fans QUALITY. I write & co produce my own music. Therefore, I can't rehearse while I'm WRITING & RECORDING my album."
"The narrative they are trying to create is disgusting," Minaj said near her post's end, adding "But I must say, I'm enjoying this." Read her letter in full below.