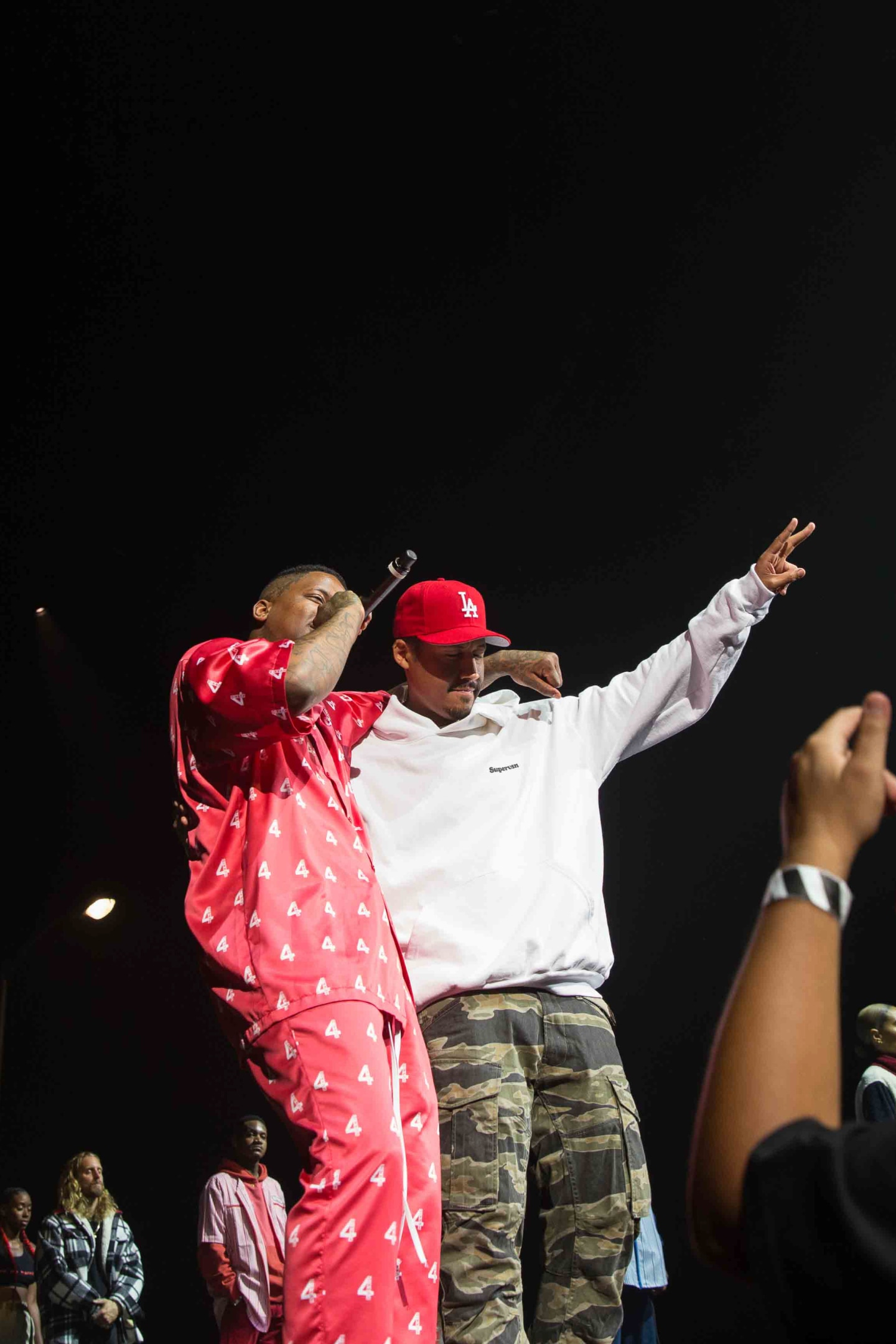 On a Sunday night in August, crowds of young and dressed-to-impress Los Angelenos flocked to downtown's Microsoft Theater, shades of red appearing in flashes as a sea of bodies made its way into the stadium. Inside, fans of Compton rapper YG took their seats for a special hybrid fashion show-concert, the event celebrating the new collection for his 4Hunnid clothing brand as well as the release of his third studio album Stay Dangerous. Music, fashion, and sports industry bigwigs like Diddy and Russell Westbrook filled the front rows, an indication of the event's magnitude.
YG — best known for his infectious, Mustard-produced, party-ready anthems and honest narratives depicting life in Compton — hosted one hell of an event. The fashion show came first: models sauntered from door to door of the runway's mock homes (a set designed to replicate a Compton block) in bold, car culture-inspired jumpsuits, billowing button downs, black and navy chinos, and accessorized handkerchiefs. Next was a live performance of his new album, but before he jumped into the first song of the set, a proud and excited YG, dripped in a silky red two-piece, announced that the cut and sew-produced collection would soon be on sale at Barneys. He also introduced the line's co-owner and creative director, Gavin Mathieu, to the crowd.
Though 4Hunnid is now being introduced to the fashion big leagues, the brand — its name, the same as YG's label imprint, and a neologism meaning "forever one hundred" — has been around for over two years, and is more than just a foray into clothing. On a sunny Sunday afternoon in Silverlake, Mathieu gave us a closer look at the origins of the 4Hunnid brand, and the lifestyle it's building.
Tell me about yourself.
I'm from Los Angeles, California, a self-taught graphic designer. I was always drawing, and I was also throwing parties as a young kid. I started a movement called "Just Be Cool," and worked with artists like Dom Kennedy, who I grew up with. Then, I started managing musicians like Overdoz, J*Davey, and THC — I had the city buzzing. That's when YG and I met up, around 2012.
What was the first thing that you and YG worked on together?
Although I started in graphic design, I had an understanding about building brands. I saw [that] JBC could be a lifestyle that Dom [and] these other artists could adopt, share with people, and build a movement. That attracted YG to what I was doing. He was like, Yo, dude is creative and he can move things. When he came to me, he was like, "Yo, I need some merch." At the time, merch was nowhere close to where it is now. It was super played out in terms of putting somebody's face on a shirt and wearing it. I was like, "Look, I don't think that's the wave." So, I created this whole 4Hunnid brand concept because he was always yelling, "YG 4Hunnid!" I pitched it to him has a brand concept with a logo, and he was like, "This is dope."
What is your role for the brand?
At one point, I was the creative director and brand manager. We hired people to help, so now I'm just the creative director. Me and YG handled a lot of the business. Because we're creative partners, I [also] dabble in and out of his music. With him, and the other artists on the label, I help direct them, conceptualize, and keep them all focused.
I used to own a retail store called YOUth, and it was on Fairfax. When I closed that store, [YG's FADER] cover was the first project of me going full-time with the brand with 4Hunnid. Those pieces in there — the plaid shirt, the maroon shirt — were the first 4Hunnid samples that nobody ever really knew [about].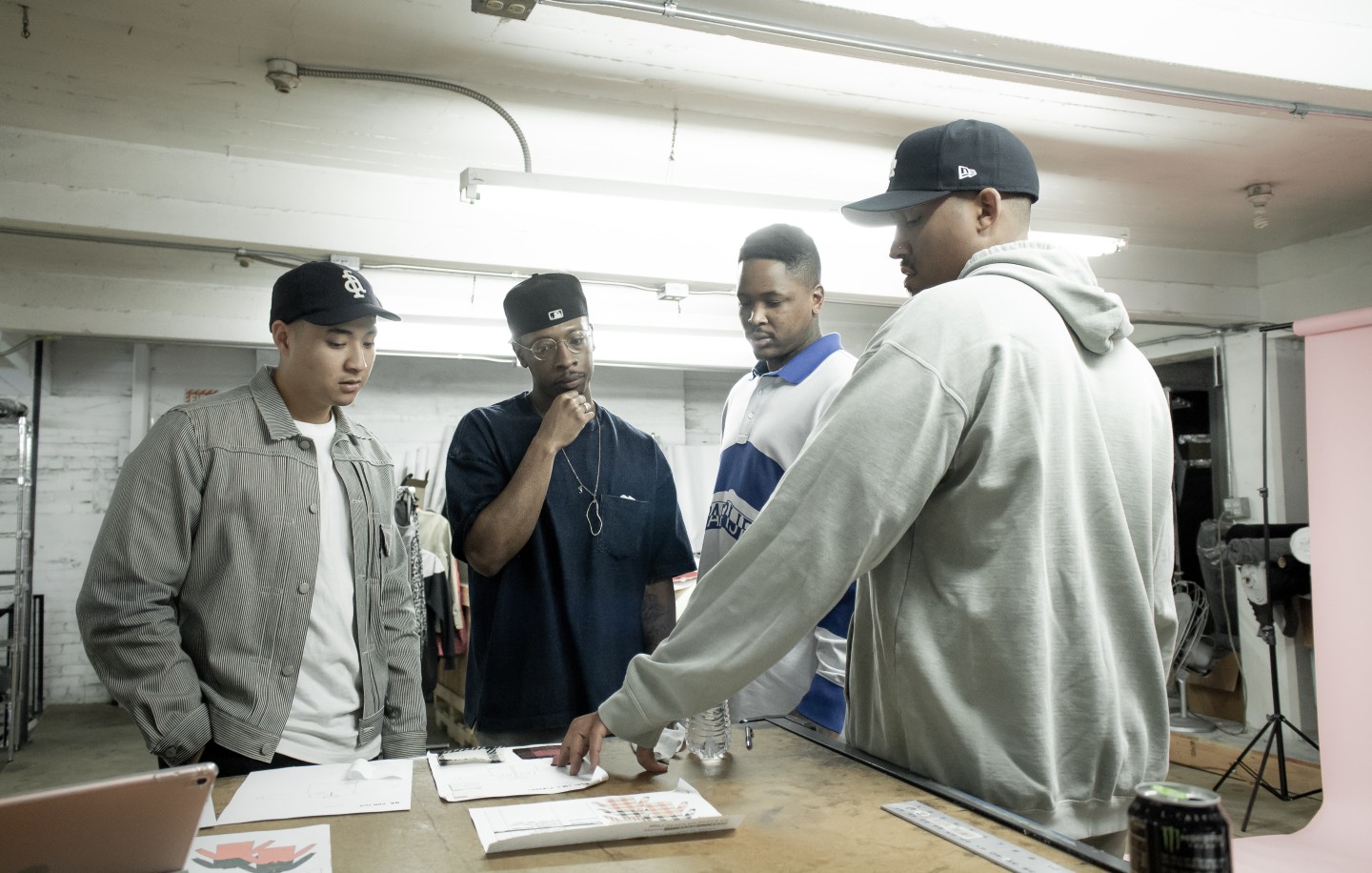 What is YG's role in the brand? What does he call the shots on?
As another owner of the brand, he's involved in all of the business and financials, [as well as] the creative side. He's involved heavy in the creative because he's passionate about fashion. He's [also] super into digital marketing — people don't know that. He does a lot of buying our ads. He's really into that, and it shocks people. All the time, he's like, "Yo Gav, I got so-and-so on the line. Let's talk to them about this." We spoke to all the digital marketing companies and figured it out, and he was super hands-on.
I saw on Instagram that you said YG always wanted to be a model. Is that true?
Yeah. He always wanted to be accepted in this world. It's partially a joke, but partially serious because he's so who he is to the extreme that people don't think he can be anything else.
How does a brand go from doing merch and being sold at Zumiez to doing a cut-and-sew line for a high-end retailer like Barneys?
The initial vision for the brand was always premium, high-end fashion — to be respected on that level. If we didn't start there, it's because we didn't know how to. We didn't necessarily have the resources to manufacture at that level. [Over] the last three years, we just were tweaking things and figuring it out from a manufacturing standpoint. Three years ago, when we started, there weren't as many brands like OFF-WHITE and Fear Of God — those brands weren't really feeling Barneys at the time. When we started the brand, it was more focused on building a movement, and as soon as the opportunity came, it was like, "Yo, let's do it."
This isn't the first time a high-end retailer has embraced street culture, but YG also represents gang culture. How do you get that into a place like Barneys? What challenges did you face?

I think that's why I stepped in. Telling that story, and highlighting the beautiful things about it — loyalty, authenticity, triumph, overcoming, diligence. You don't choose that. 4Hunnid means that where we come from and where we're going... there's a destination, but we're going to stay true to who we are throughout. We're always going to be these people, and we're never going to switch up. That's why it was important for us to take that to Barney's.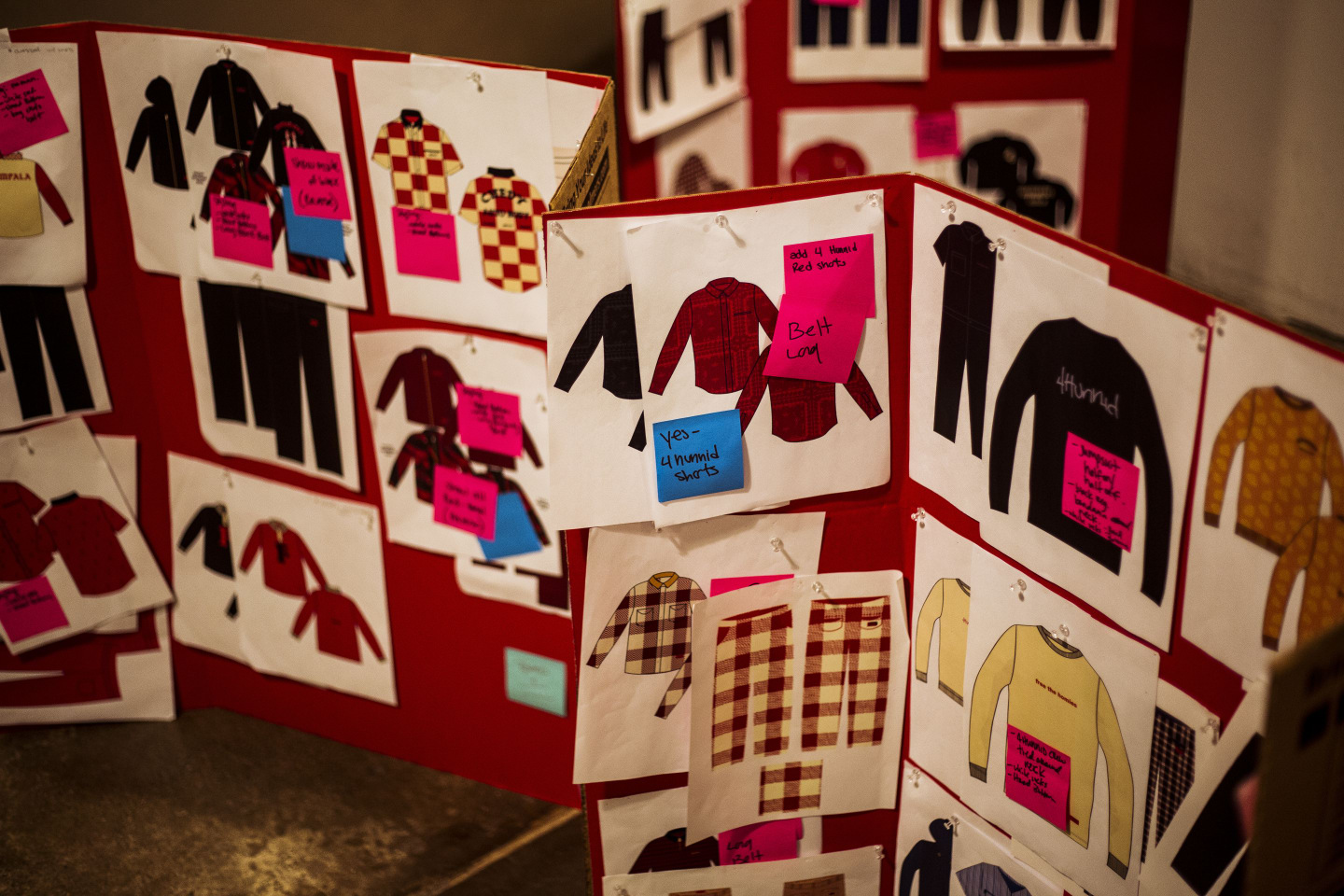 Who are the people who helped make it happen?
There's our dude Dan Maynard, a big distribution and sales guy. He introduced us to Chelsea [Sutrisno], the head buyer at Barneys, and Jay [Bell], a black dude from Barneys. We had a meeting. We worked hard to present ourselves at that level. They saw it, and they respected it. I don't know if he wants me to share this, but Jay hit me on the side on an email, and he was like, "Yo, you make me proud, what y'all doing." For us, that was a moment. Me and YG dreamt about this from day one.
Do you have experience making high-end clothes?
I went to FIDM for a semester. I was never into school. I had a lot of understanding about screen printing and embroidering — I used to screen print my own tees as a kid — but I was just able to find people and be like, "Yo, you're good at this? This is how I want it." I had a really clear vision about how I wanted it and was able to find people that could manufacture and speak our language. It was about finding people who do what they do well.
Where do the clothes get made?
Some stuff, overseas. But the majority of the cut-and-sew was made in L.A.
What are some challenges you faced?
Technically, we did an 80-piece collection in one month. That in itself was a crazy and very ambitious attempt. Having never done it, we ran into [challenges] like finding the fabrics, [and then] a week later it's sold out. We learned so much in the process, and now we have to go into production. It was intense.
When did you start working on it?
In May — that's when we first had our meeting with Barneys. We showed them designs and CADs, and we started making the samples when they were like, "We like these and these and these." We knew we were going to do the fashion show, anyways — to be a part Barneys' big drop event at their Beverly Hills store with all the top brands. We were trying to pitch for that, but we only had a month to do it.
Do you have a favorite piece?
The plaid Buffalo jacket. It has a red corduroy collar and a sherpa lining on the inside, with really nice buttons on it. It's beautiful.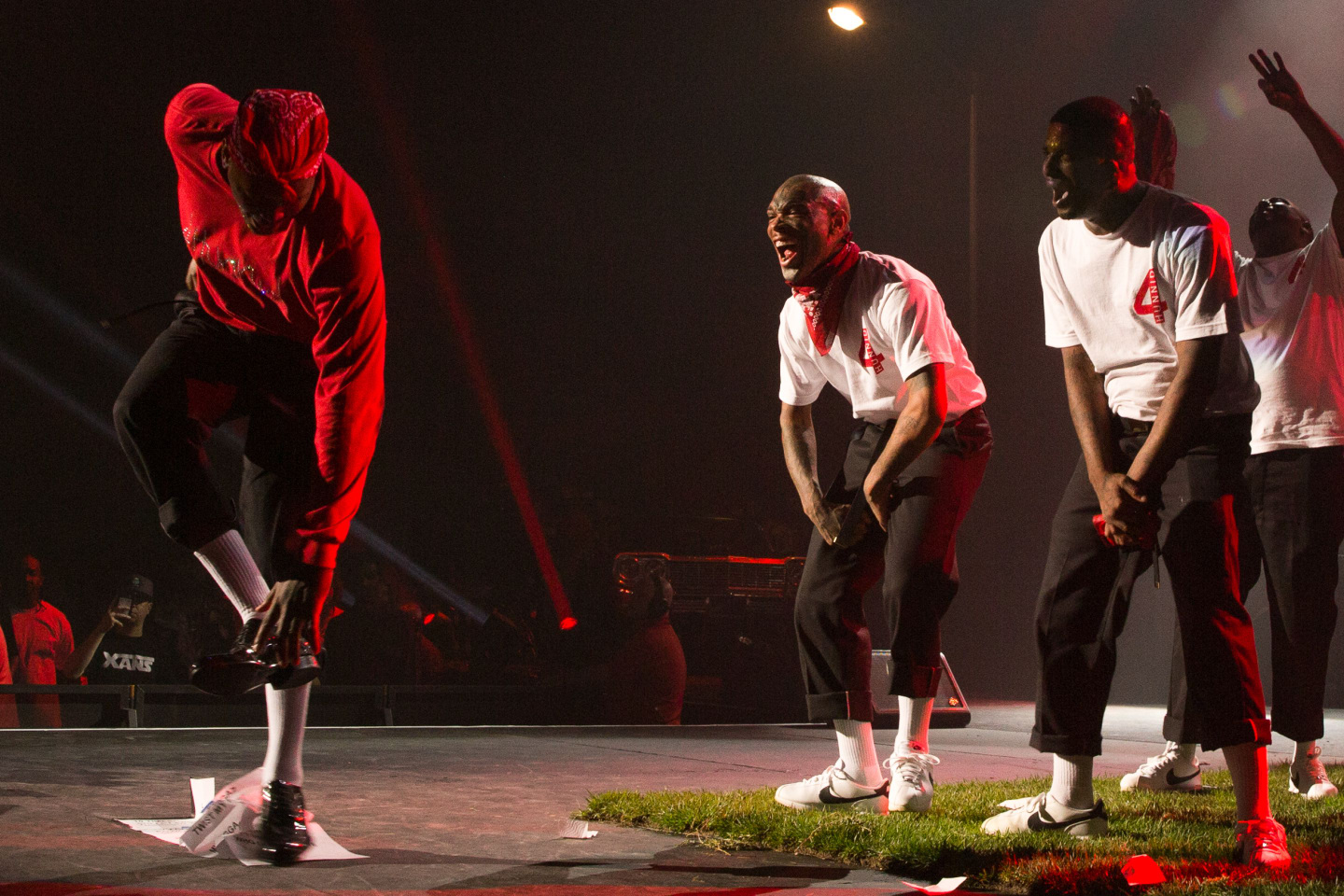 What were some inspirations for the collection?
Gang and street culture — not as much contemporary gang culture, but the OGs. That's where you'll see the hard bottoms and some of the baggier chinos that we did. We pride ourselves on being gentlemen, too. That's something about YG and myself that people don't know about. If he hires a woman, he's like "Let me walk you to your car." It's important for us as men that come from that culture to represent that. Some of our taglines say, "Members Only." It's this idea of a gentlemen's club. You'll see pieces in there like the silk button-down shirt had these waitresses on it that were technically representing the gentlemen's-club idea. There's a shirt that says "Homies Automotive" — YG's heavy into car culture, we all are. You'll see the 1964 Impala shirt that has a checkered collar.
The presentation was like a play, then a fashion show, then a concert, all in one. Is there anything you can share about how it came together?
We've always had this idea of this 4Hunnid block, a euphoric, fashion utopia — think Wakanda in Compton — all these young, black men dressed fly in hard bottoms and shit. We wanted to recreate that — a really rough exterior with these tailored pieces walking through it. The intro of Stay Dangerous, with the homies in jail, was something we were really proud of. You heard the sounds of the block: police chases, helicopters, kids laughing in the background, liquor, homies smoking Newports. That whole world is what created these pieces. We wanted to just play it and really submerge people [in it].
How were the models cast?
Some of them are the homies. A lot of them are locals. Some of them are emerging models. It was more about having a look of all the people in L.A. On a high fashion level, certain body shapes make fashion look good on the runway, especially because people were so far back and we knew it was a big stage. But it was important for us to represent all different colors and shapes and sizes.
Is there anyone else who was particularly crucial to all of this?
Our designer Charlie C. Picasso, he's a young legend in the making as well. Our stylist, Brookelyn [Styles], is an awesome stylist. She's been on the whole brand since day one. Me and her worked really close together to make sure that, throughout, this feeling and look is felt and represented.
Who would you want to collaborate with for another collection?
We have some cool collaborations coming up. We actually snuck a piece in there from our collab with FourTwoFour. We have huge respect for everybody doing it. Obviously Jerry Lorenzo, obviously Virgil [Abloh]. Waraire Boswell is the big dude that I look up to. I've known him since I was in high school. A black, heavily respected suit designer.
Last year YG called 4Hunnid "a lifestyle." What are you envisioning for this to become in a way that's unconventional?
What I try to do is get people to focus on what's happening now, and really look at it for what it is. We have a record label with Kamaiyah, and we partnered with Mustard. We have a fashion company in Barneys. YG is one of the biggest West Coast artists. We have a political voice. Fuck Donald Trump. [For us] to get the [Colin] Kaepernick line fixed in EA Sports... We already represent that [future]. The world will look back and be like, "Damn, y'all did that for twenty plus years."