Listen to a new FADER Mix by DJ Wawa
A calm focus, kinda like throwing some CBD into your morning coffee.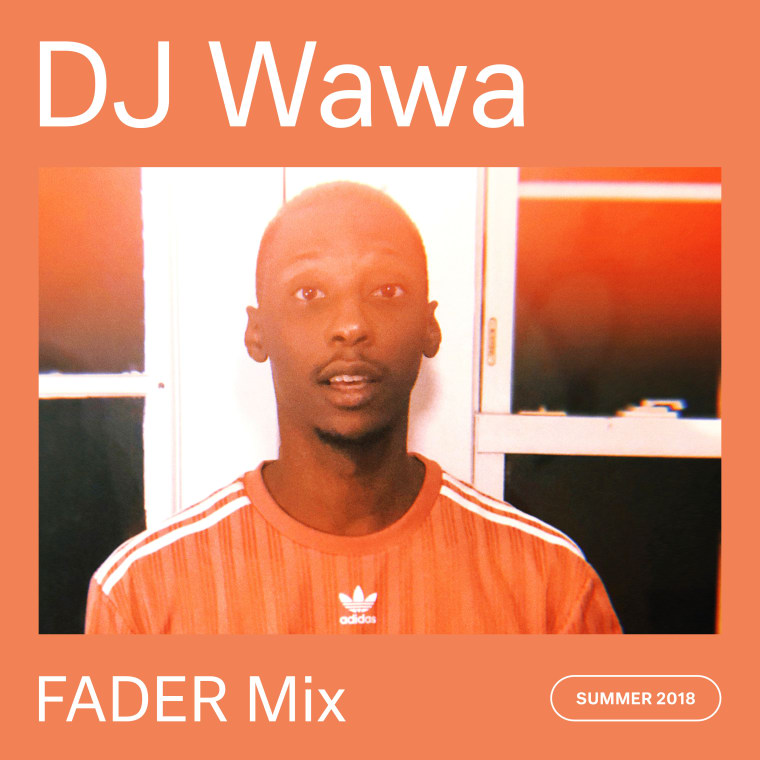 The longstanding FADER Mix series presents new, exclusive DJ mixes from our favorite artists and producers.
If you've been out and about in Brooklyn, you've likely run into DJ Wawa — a bright, enthusiastic DJ and thrower-of-parties who is as generous behind the booth as he is on the dance floor. Over the past few years, he's cemented himself as a local fixture, with a deep love of underground music of all styles and geographies ."No matter what happens with DJ Wawa, I'll always know that the dance floor will be a place that I can find love and healing and give back that same energy," he says. Unsurprisingly, his FADER Mix delivers on that ethos — an hour of thoughtful grooves that you can just as easily two-step to as you can buckle down and do some homework or something. A calm focus, kinda like when you throw some CBD into your morning coffee. Listen below and read on for a positively inspiring screed on supporting music and dance culture in your community.

What do you imagine people doing while listening to this mix?
I hope people are sitting in their most comfortable and creative spaces and feel inspired to put their heads down and get to work. Finding time and space to be creative can be difficult when we have to do things like pay rent, work a 9-to-5 to take care of ourselves, or any number of things we have to do to survive in this world. Even better if you're listening to this mix while hanging out with a friend or a partner and reading or drawing or taking creative photos. A chill but productive vibe, something you feel it'd be nice to share.r.
Is there a track in particular that stands out? Why?
There are so many tracks on here by artists I love and am inspired by but that Cherushii track has a special place in my heart. Cherushii is one of the people we lost in the Ghost Ship fire in Oakland on Dec 2nd 2016. She was also someone who I talked to a lot about music and supported and played shows with while I lived in the Bay Area and she was just such a special person. She'd been a member of the rave community for like 10+ years at that point, way before a lot of us knew anything about anything. She had tracks and live mixes on CDs from like 2004. She was so beautiful, smart, talented and extremely under-appreciated. She was colorful and fun and bubbly. Gracious with her time and an inspiring figure. I reminisce with friends in the Bay about her a lot when I see them. We talk about how she would encourage us to throw parties and how she would always be down to teach you something if you'd just ask. She helped a friend of ours learn how to DJ vinyl just because she wanted to cultivate a healthy scene by teaching people who expressed love for the music and who were good people how to do what she did. She is sorely missed by the people she left behind and I bring her memory with me every time I touch a turntable or step into a booth.
What music or artists do you turn to for inspiration when you're working on projects of your own?
Right now I turn to the artists and DJs who i'm surrounded by in Brooklyn who are throwing great parties with a clear message of inclusion and creating safe environments for POC, LGBTQ, and people who identify as women. But specifically if we're talking about producers at the moment I love what Powder, object blue, Bergsonist, Violet, Lauren Flax, AceMo, Turtle Bugg, Olin, and DJ Lycox are doing right now. I think each of them have gotten me through mental blocks or times when I wasn't really interested in listening to music, whether that be because fatigue, depression or a lack of motivation.
You've been living and working in New York for a while. How has nightlife culture changed in recent years?
Woof, it has changed a lot in the few years that I've been here. It's really easy to point to a time and be like, "Wow, the scene was so great then." There are a lot of things that can affect the way a party scene changes and evolves and I think in New York the last couple years have really been shaped by the Ghost Ship fire and what happened in the immediate aftermath of it. The New York Times and everyone else had their "opinion" of what people in the underground should do in the aftermath and spread a lot of unwanted attention on a community in the middle of reeling over a literal tragedy. But these "journalists" weren't interested in our future they were just trying to sell some papers. So they wrote these articles, made everyone and their mom aware of the underground which did nothing but attract unwanted attention from police.
Fast forward almost two years later, there hasn't been a proper warehouse rave in maybe a year? Now cops didn't shut down our parties because they were worried about our safety, the powers at be just don't want to end up in another headline. Do we do everything we can possibly think of in light of those events and a desire for our own safety and the safety of our friends and loved ones as we can? OF COURSE. But effectively whatever was underground has been forced to the surface.
So now you'll have a very in-demand legend-in-the making Wata Igarashi play an eight-hour set at a place like Nowadays, which sounds great but Nowadays is a big club and they have to sell tickets because of their day-to-day overhead costs. So what do they do? They market these shows that the rave community is foaming at the mouth for, but to anyone and everyone who has ever bought a ticket for anything at the venue. Rave and underground by nature are meant to empower POC, women, and the LGBTQ community but when events like this are mass-marketed, you have these two walks of life coming to a head. I'm not saying I want to keep a Wata Igarashi show to just me and my friends but raving as a culture is political in nature and respects a certain etiquette that you can't learn in spaces like this simply because they revolve around money and bringing in as many people as possible rather than cultivating a community. No shots at Nowadays — that club sounds fantastic and is an incredible place to dance and listen to music. This problem has nothing to do with any one establishment.
That being said, I am still exhausted from an incredible boat rave thrown by the Sublimate x Lost Soul crew, so all is not lost. Experiences like that, surrounded by a community that makes me feel comfortable, that appreciates not just the music but the bringing together of so many marginalized people and allows them to dance and interact together exclusively, are becoming few and far between.
Outside of that, places like Bossa Nova Civic Club and Mood Ring have become so important. Mood Ring is always free entry and Bossa Nova Civic Club only costs money after midnight on Fridays and Saturdays. And these spots constantly have world class DJs like Juliana Huxtable, LSDXOXO, Umfang throws a party every month, Pure Immanence have turned Wednesdays into the biggest techno night of the mid week. Exile, School of Hard Trax, Hot N Spicy, Distrikt 1, Dominion, Friendzone,Xio Ma, Synthicide, Long Count Cylce, Lost Soul Enterprises, Sublimate, Gardens, Jack Dept with Volvox and John Barera, my own party In The Dark and so many other parties by locals are the heart and soul of the scene at the moment.
It's been so beautiful to watch my friends who I met going to parties here go from just being a fan and a dancer to throwing and DJing their own shows, pulling in world-class talent and in some cases going off to play Berghain (shout out NK Badtz Maru). Also shout out Discwoman's Frankie Decaiza Hutchinson, who has taking over the booking duties at Bossa and has been absolutely smashing it. These people are the heart and soul of the NYC dance scene and it's constantly an honor to be in their presence
In what ways can people contribute to their local music communities?
Oh, that's easy: GO DANCE. Seriously, dancing is so important to the local scene. Seeing dancers on the floor feels good for everyone and will help you feel more comfortable especially if you're new. Go have a good time and provide positive energy. For anyone who may have felt weird about my previous answer I can say this: we all take up space, but take up space responsibly. Be someone that spreads positivity with your words and your actions, give back by learning how to DJ and throwing a happy hour and sooner or later you'll be playing after 10pm. Don't just tip the bartenders at your local spot — talk to them, befriend them. Befriend the other regulars and go check out the underground scene. Be a person who contributes with your mind and your body. Treating people with love and respect, getting to know people that look like you and people that don't look like you. Sharing tracks, movie tips, sharing skills with one another. I've found friends, love, support, and peace on the dance floor. No matter what happens with DJ Wawa, I'll always know that the dance floor will be a place that I can find love and healing and give back that same energy.

Tracklist:
Entro Senestre, "Rose Gold"
Cherushii, "Far Away So Close"
Earth Boys, "Myrtle Music"
Violet, "Togetherness (Original Mix)"
Avon Blume, "Factory Tides"
Olin, "Locked"
J. Tijn, "Mood Bin"
Bergsonist, "Fidel Gastro"
Shanti Celeste, "Moved"
DJ Lilocox, "Fronteiras"
Peggy Gou, "Hundred Times"
Lauren Flax, "Sequenc_tial Discord"
Galcher Lustwerk, "Wristbands"
object blue, "(time to) WORK"