The who's who of neoperreo, reggaeton's freakiest offshoot
Plus the premiere of a brand-new Tomasa del Real video.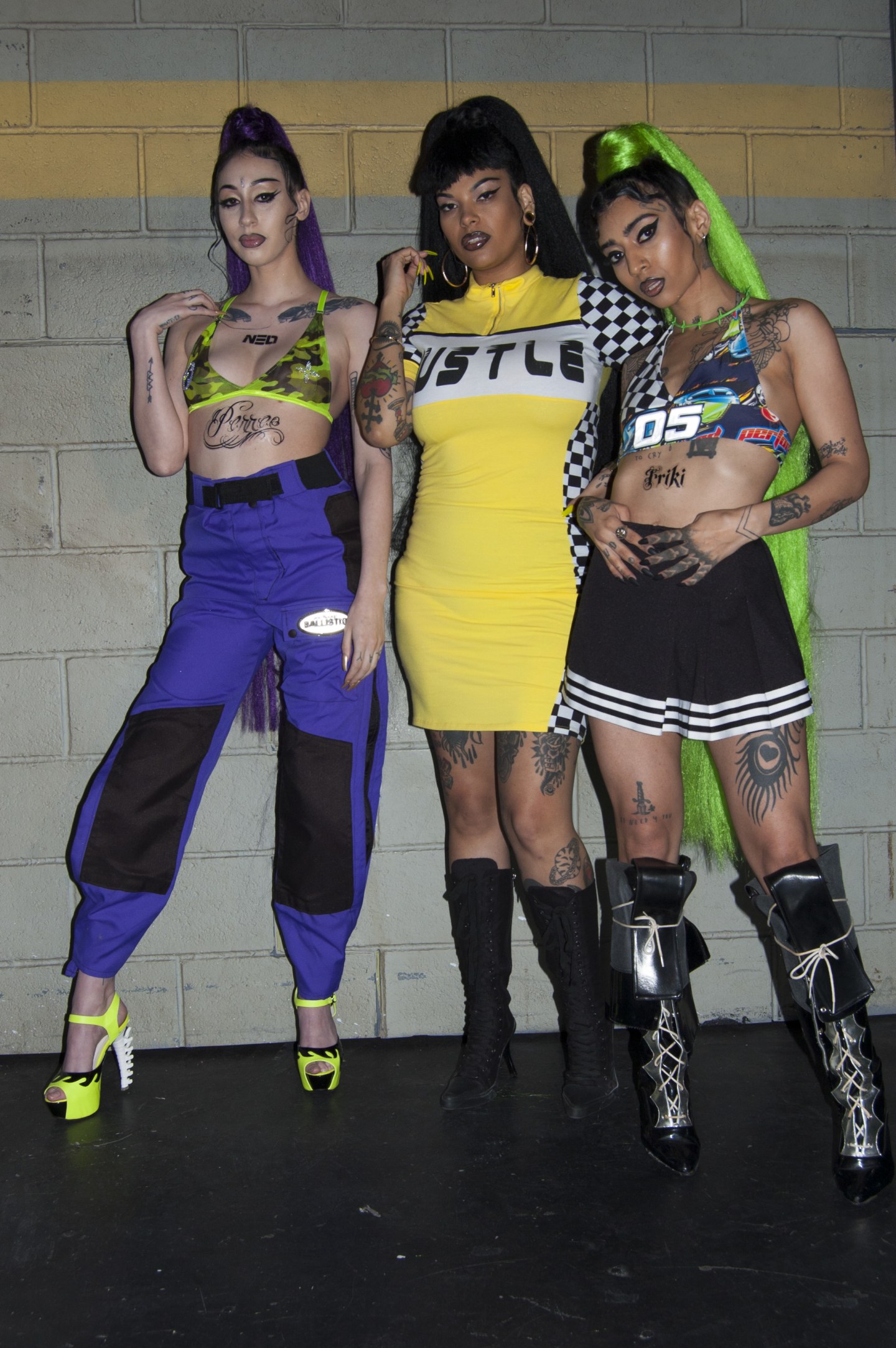 Over the last few years, the blissfully raucous world of neoperreo has moved from obscure corners of the Latin American underground to brighter spotlights in a bid for global dominance. Few people predicted such a potent future for a genre born out of the D.I.Y. experiments and bedroom recordings of independent artists tinkering with the bounds of reggaeton and electronic sounds, but neoperreo has easily hooked in massive audiences.
One of the leaders thrusting neoperreo forward is the genre's very own matriarch, Tomasa del Real, who almost didn't realize the firestorm she ignited when she first coined the term a couple of years ago. A Chilean tattoo artist-turned-musician known early on for inventive homespun productions, del Real had been trying to describe her music in an interview when "neoperreo" abruptly popped into her head.
"It just slipped out," del Real remembers. "People would ask me, 'Is it reggaeton? What is it?' And I said, 'Well, it's definitely perreo, but maybe it's a new form of it. It's neoperreo.' "
A banner had been propped up, and music makers now found themselves in each other's orbit. Anyone who felt their music belonged to neoperreo could trade beats and business know-how from London to Chile to Mexico to Berlin, and the style quickly blossomed.
Neoperreo is entering a new phase these days. It's recognized widely as artists like del Real spread its gospel across continents through giant parties and blowout concerts. This weekend, one of their biggest showcases is being presented by Red Bull Music. It features del Real, her producers RIP Txny and El Licenciado, Chaboi of L.A.'s Late Night Laggers, and Spain-based artist Ms. Nina in her first-ever U.S. performance. I spoke with all of the artists about the event and whether the neo-perreo revolution has arrived. Read on for more on all the artists, their take on the neoperreo revolution, and a special premiere of Tomasa del Real's "Perra Del Futuro" video.
"For so long, Latin pop labels wanted to sell us these Disney love stories that I had never experienced before, my friends had never experienced before," says Tomasa del Real. "These stories were so crazy and after a while it was like, 'No, no, nothing ever happened en el muelle de San Blas!' This isn't real! Did it sound nice at one point? Yes. Did we enjoy it? Yes. But it didn't reflect anything my generation actually lived."
That's why she's always embraced the parts of reggaeton and urbano music that aren't afraid to get downright dirty and honest. "Reggaeton and urbano reflect how we treat each other, what we do at parties, how we let loose sexually," she says. "The narratives change and let us deal with who we really are — even the dark parts. Now, I feel like even more things that used to be hidden are coming out of the underground, and I think that's beautiful."
In her own songs, del Real is rambunctious and rowdy, and she doesn't shy away from establishing her sexual agency. Her videos never appear too glossy, still embracing a D.I.Y. aesthetic, and she happily projects the bold inhibitions of the underground. Still, her platform has grown exponentially: She signed to Nacional Records and released her latest album Bellaca Del Año. And, perhaps more important to her, connections in the broader music industry are allowing her to bring more artists into the fold to ensure that neoperreo keeps growing.

"It's so important to me to keep more people who are different, who are new entering," she says. "You don't have to be a man with money to make reggaeton now. All of us freakys are doing it and we're getting paid for it. Soon, the weirdos are going to have mansions as big as Daddy Yankee. We're breaking the doors open and we're all coming in."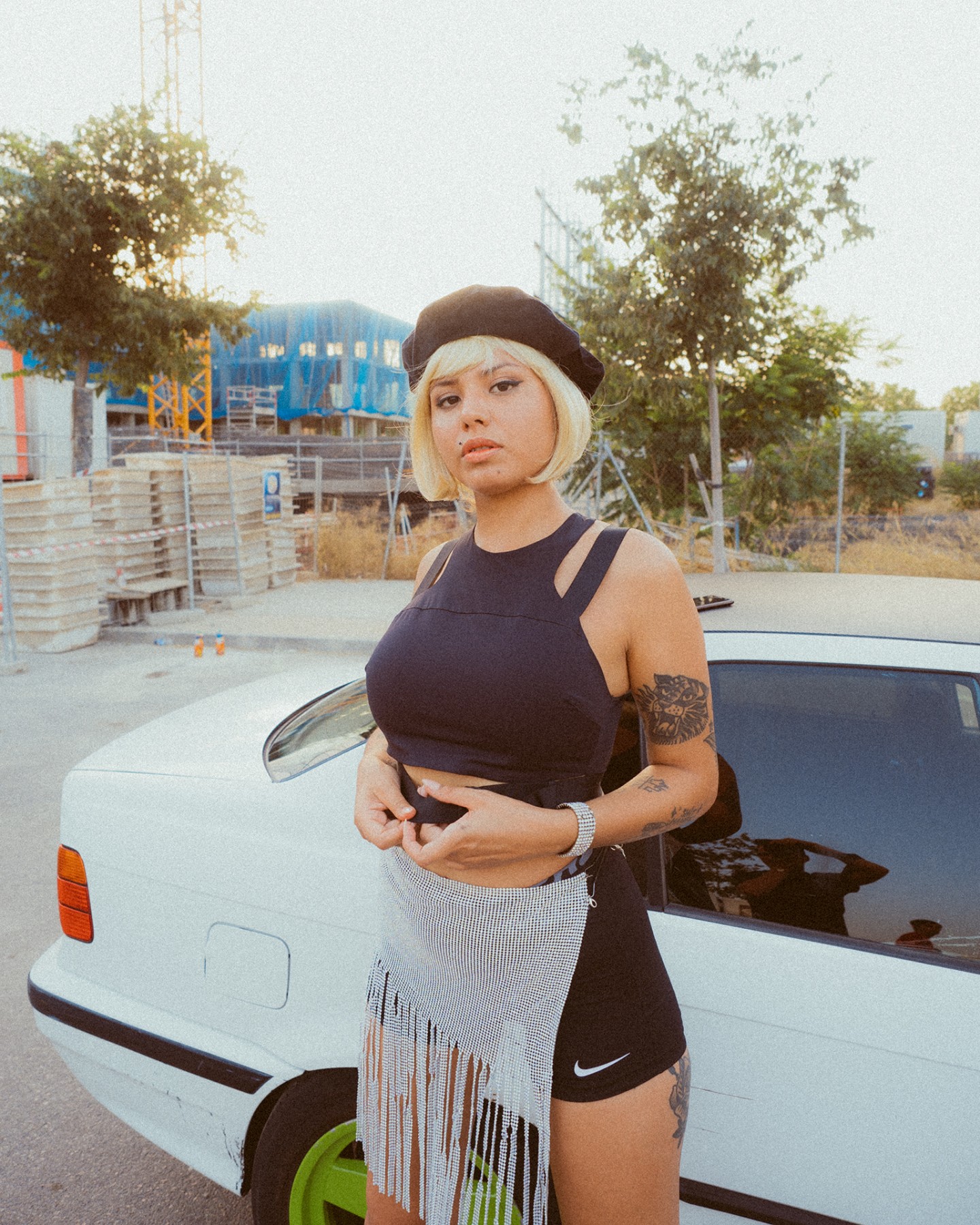 Immediately after wrapping a tour in Mexico last week, Ms. Nina flew to Los Angeles on barely any sleep and proceeded to melt like a popsicle in the summer heat. "But I'm so happy and excited to be here — this is such a huge step forward," she says.
She's not overstating things: Her trip to L.A. marks her first time she'll have played in the United States. It's a significant debut for the artist, who was born in Argentina and has built her music platform from Spain, and it's been a long time in the making. Earlier this year, the Los Angeles crew Late Night Laggers tried to book her for a show, but visa issues complicated the performance. Now, everything is finally coming together, and Saturday's event means she'll finally be able to showcase her work before an American audience.
What she brings to the stage is perreo that somehow manages to be hard-hitting and languid at the same time, driven by forceful beats and her laidback vocals. Ms. Nina actually got her start as a net artist, whose cyber-inspired pop art drew thousands of followers on Tumblr. Her music shares a similar spirit to the art — provocative and D.I.Y., and completely rooted in the digital era.
"This neoperreo thing revolves entirely around the Internet," she says. "I think a lot that my life wouldn't have existed if I didn't have Youtube. So the entire evolution of this is incredible in that it can bring us new music and that a generation can upload their work and be heard, and eventually travel across the world, like I did."
Her assertive, sex-positive lyrical content also places her alongside the many women in neoperreo taking the reins from men, who have long dominated genres like reggaeton. "It's wild that there are women like La Zowi, Bad Gyal, La Favi, Tomasa, girls who are breaking the taboos from before and saying, 'I'm a woman, I want to sing, I want to feel sexy, and I want to say this in a song, and that's fine,'" she says. "It's something incredible to be able to smash barriers and announce, 'If I want to sing about sex in a song, I do it.'"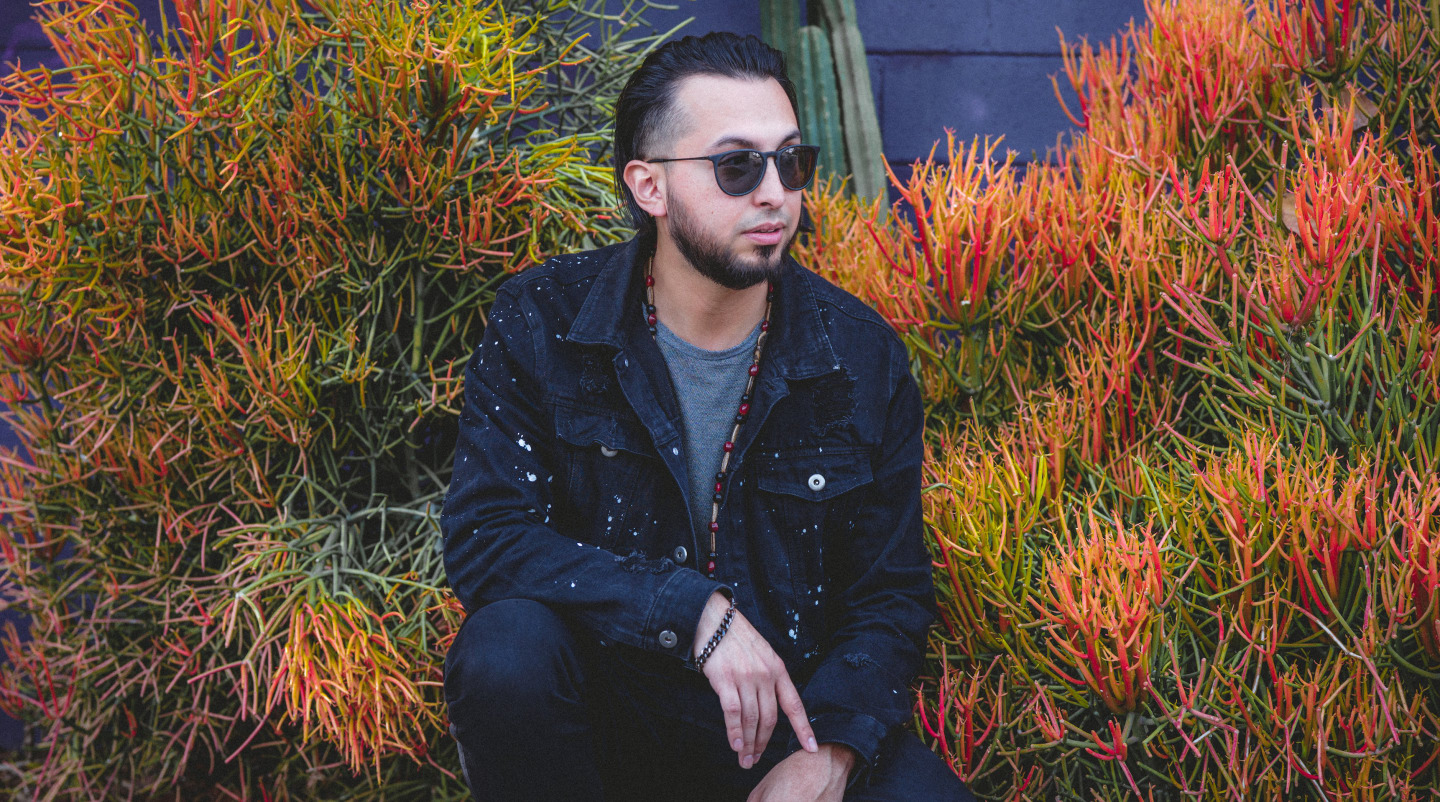 Born in Mexico City and raised primarily in L.A., Chaboi's influences have always been a stunningly weird kaleidoscope of sounds. He was a hip-hop head and played in punk bands as a kid, but for a while, he largely avoided the Latin music his parents blasted in their home. Then he got into electronic music. "I wasn't a raver, but I slowly started opening up to that kind of world with like UK bass and dubstep," he says Eventually, he came head-to-head with the myriad Latin styles bubbling up around the electronic universe — moombathon and Latin house and deconstructed dembow beats. "I started to reconnect with so much of the culture."
Eventually, he throttled directly into these sounds by helping to form the Late Night Laggers, a crew that rolls about five DJs deep and has been putting together massive Latinx club events in the Los Angeles area since 2013. The group has quickly become one of the most commanding forces heralding neoperreo into the West Coast. Earlier this year, they tugged del Real stateside for a recent U.S. performance. Now, the crew is propping up Saturday's event and making sure the world gets acquainted with the neoperreo artists making waves globally.
"There are so many artists now who are infusing the reggaeton sound, and they all sound completely different," he says. "For this [Red Bull] gig, we're excited because it's kind of 'who's who' in the leading voices of the neo-perreo movement, and it's the first time L.A. is going to get to see a full lineup like that."
Plus, the event is also an opportunity for Latinx kids to see representation outside of what's on the radio or who's in popular culture. Part of the Late Night Laggers proposal has been to rep Latinx culture while exposing people to the burgeoning trends of Latin America. "These are artists who started in their bedrooms and in a couple of years have been able to travel the world," he says. "Being able to bring someone who wrote their own stuff and got here because of the music, and not necessarily because of the label or whatever, is important because it shows what's happening out there."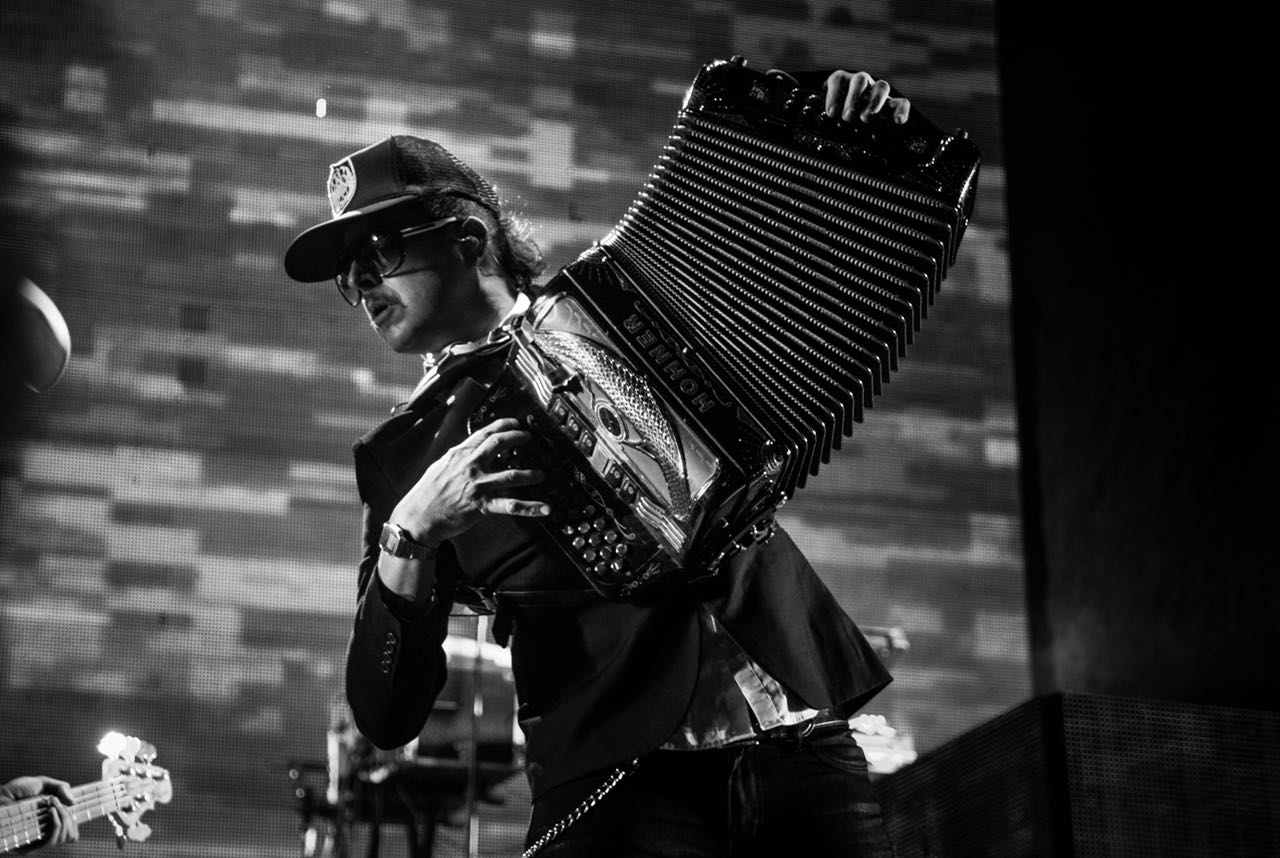 On a recent August day, El Licenciado is milling around his Los Angeles home, trying to find a quiet place to talk. "The crew is all here!" he explains cheerfully. "Jamez just got here, Tomasa just got here. Everyone is here at my house, so I just need to go somewhere so I can hear better."
That his house has become a makeshift ground zero for a big neoperreo event is hardly a surprise. The Mexican musician, producer, and DJ, known widely as a member of the Grammy-nominated rock band Kinky, has become a connector of sorts in neoperreo, producing music for artists like Jamez Manuel and del Real. He met del Real in Tijuana a few years ago, and she quickly caught him up with what was happening in the her realm.
"She started telling me about this movement that she'd been leading and she showed me these artists, who are really a network of people from all over," he says. "I was fascinated by everyone, and I thought getting involved would be amazing."
El Licenciado hopped into the studio with del Real, TXNY, and Jamez Manuel, and they came up with "Toto," one of the raunchiest, most tongue-in-cheek highlights on del Real's new album and a song that highlights El Licenciado's interest in regional beats and traditional rhythms. It was a huge deal for del Real that El Licenciado could share his expertise as a longtime producer and industry insider. She describes him as the mastermind and professional backbone of so many facets of neoperreo. But to him, working in neoperreo represents the cusp of what's new, and it's a way to find inspiration and energy in emerging talent.
"For me, so much about working in music is staying excited about discovering new sounds and new genres and new musicians," he says. "I love looking up at the huge, consecrated artists who are leaders on the charts or whatever, but for me, it's so important to look at the underground and find the stuff that's happening in the most hidden corners of cities or countries that people might not expect."