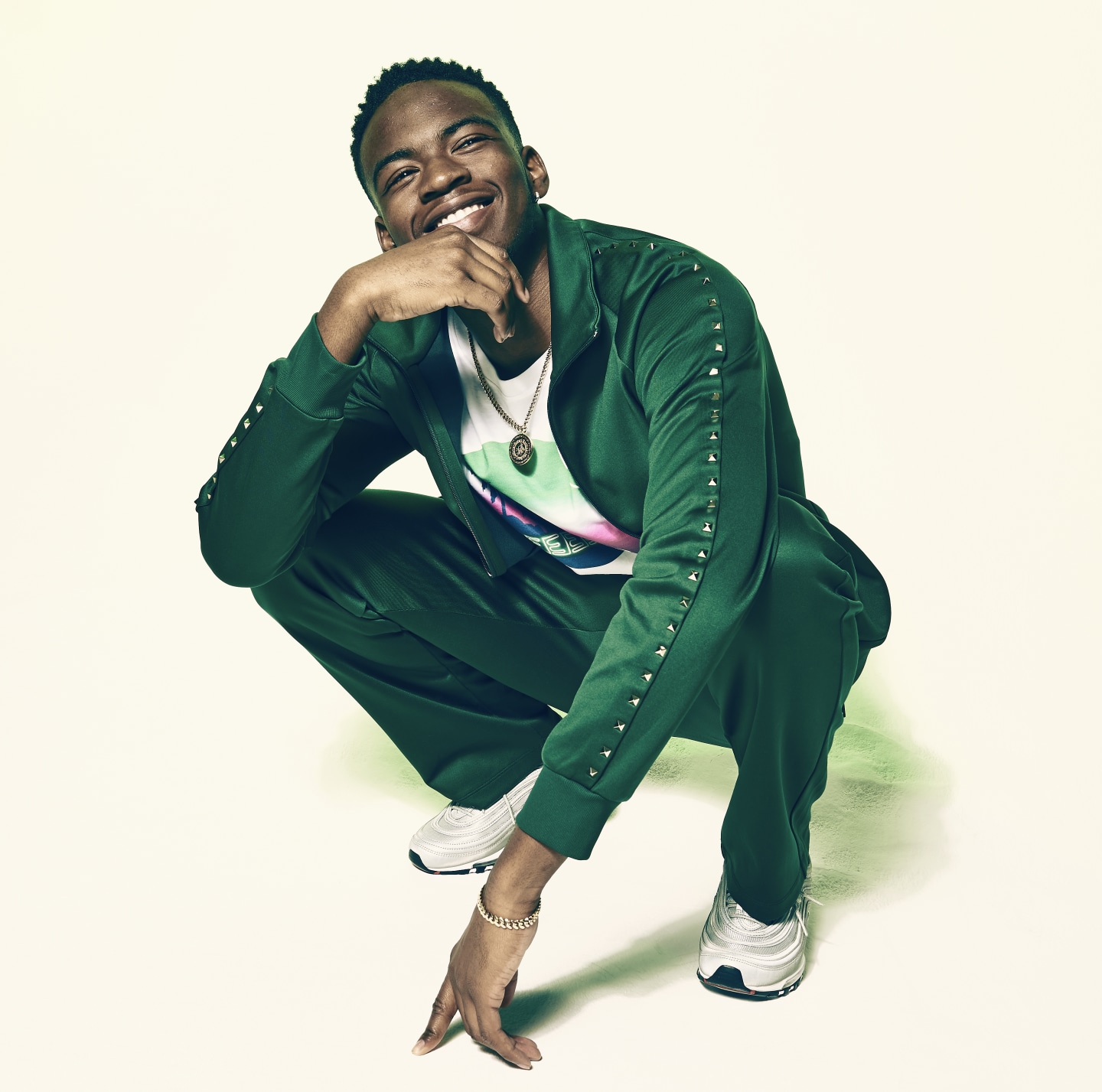 Not3s knew his success made his family proud when his younger twin brothers started calling themselves "Coins" in honor of him. His moniker isn't strictly related to cash — rather, it's a reference to musical notes as well as a command to literally take note of him — but breakout hits "Addison Lee" and "Aladdin," as well as the bona-fide pop smash "My Lover," have yielded enough success that he's since moved out of his family's home. The three songs fit into a genre that nobody really has a name for yet; a mix of Afrobeats, grime, and U.K. rap, some refer to the sound as "Afro Bashment," while others prefer "Afro swing." Lately, he's been hanging out with his pet dog AP, who he refers to as "my son."
Speaking from Beats 1's London studios, where he had just finished hosting a show alongside Julie Adenuga, Not3s is keen to talk about his latest release, Take Not3s II. "I wanted to experiment with different sounds, play around and just have fun," he says of the 10-track project. Read on for our discussion about his music, Not3s's arrest in 2016, and the Metropolitan police's treatment of young musicians in the U.K. drill scene.
---
Was Take Not3s II's "Nigerian Eagle" inspired by time spent there?
Definitely. Nigeria is in a lot of this project. "Palm Wine" is named after a drink out there, and "Nigerian Eagle" is me talking about my heritage — but it also has a kind of Ruff Sqwad kind of bounce to it. That old-school grime feel.
Your parents are originally from Nigeria, but you first visited there at the end of last year.
It was amazing — it felt like a homecoming for real. Until you're capable of witnessing everything yourself with your own naked eye, you wouldn't know what it's truly like to be there. I want to show people that, yeah, there's poverty there, but that's everywhere in the world. Why don't we try and highlight the good things that are going on in our countries? When I'm there, it actually feels like I'm meant to be there — like I've been there my whole life.
Take Not3s II is a mix of different musical styles. Is there an overriding message that runs through the project?
Don't lose your focus. I'm trying to get that to stick in people's minds, because it's so easy to get off track — to lose your mind and feel like you don't have anything, or do something stupid on the basis of the area that you live in, and the people that are older than you telling you to do these things. I'm talking to people that are exactly like I was. People that don't know where to go in life and don't know what to do.
When do you feel like you were lost?
When I got arrested. It happened in 2016, four days after my birthday in April. I'd just turned 18. If I was 17, I would've got a slap on the wrist — but because I'd just turned 18 it was even worse. I'd just been kicked out of college too, but it was a wake-up call. It made me feel like I've actually got a reason to be on this earth, and it kept me going to the studio a lot — that's all I was doing.
How do you keep your focus now?
Just knowing that there's a lot of people around me that I've gotta help.They've been around me from when I've been blocked out by everyone. I'm giving my people hope and making sure they can see that there's things that they can do in their life to benefit their families. I've got a lot to lose, and I don't want to lose it.
What's your take on what's happening in the U.K. drill scene, with YouTube removing videos on police orders?
I think it's wrong. Fair enough, they're young kids and they're talking about a lot of crazy stuff, but it's nothing new. There are musical icons who have sung about drink and drugs. Why don't we ban that kind of music? Banning the music kids are making in an attempt to get themselves out of their situation is wrong. The artists that have been successful from that scene — their music changes from what they were talking about before to what they're talking about now. They're talking about money and girls and clothes because these are things that they're going through now. Why not try and find a way of putting change in people's pockets so they can change their family's life?
Did your music provide an escape for you?
It did. If I didn't pop off the way I did, I'd be doing the dumbest things. You've got to remember: I got kicked out of school, I got arrested for something stupid. That's the route I was going down. It's important to pay attention to all the black kids out in the block — or light skin or white kids in the block — that have gone through everything that we've gone through. Look at me, look at people like J Hus and Giggs. All these people have changed their lives through making music, and through talking about the life they were living. Banning music pushes people into doing things for money that they shouldn't be doing, which is even worse. You've taken someone's escape route away from them. It's just gonna cause more chaos.
Your rise has coincided with genres like grime, dancehall, and bashment becoming increasingly mainstream. Does being a pop star appeal to you?
I've always just wanted to be the biggest thing possible. Pop is not a dirty word to me. A lot of people see it as such, but it don't make sense. I want to be a popular star — why not? [Laughs] I want to be able to make music for the masses, and go to different countries and do stadiums in different countries — in Africa, Asia, South America, everywhere in the world.
Do you view the music you make as different to a classic pop sound?
When Justin Bieber's making songs like, [sings] "Is it too late now to say sorry?" The production behind that song is similar to what the Afro artists are doing —but you'll call them Afro Swing just because they're young black boys making music. You're trying to box it in a sub-genre rather than put it in the category where it deserves to be. There's songs that are Afro Swing songs that get more streams than some of these pop songs — so why can't you just call it pop music? At the end of the day, it is popular music.
"Addison Lee" was your first song to really blow up. Did you ever have any concerns that you would struggle to eclipse that single?
None whatsoever. I just made that song because it was banter. Once it got all the views and streams and stuff, I was like, "Wow, that's sick. I can't wait for them to hear everything else."
You come across as being super confident. What scares you?
Going to other countries to perform was something that I was a bit worried of, because obviously all I've done was grow up in ends and perform in my area — doing block parties [London areas] Manor House, or Stamford Hill or Hackney. I didn't know what the vibe would be. I went to Russia for the World Cup and I had a performance there; as I was performing "Palm Wine," I realized everyone here is just trying to listen and understand.
What's next?
More music, I don't think I'm releasing Take Not3s III — I might, I don't know. I have a lot of features with different artists coming up. I might just drop an album anytime. I don't know when I want to drop my album but I just want to feel like there's a lot more ears, more people that will check for an album. I'm putting all my stories in there and trying to get my voice heard.
---