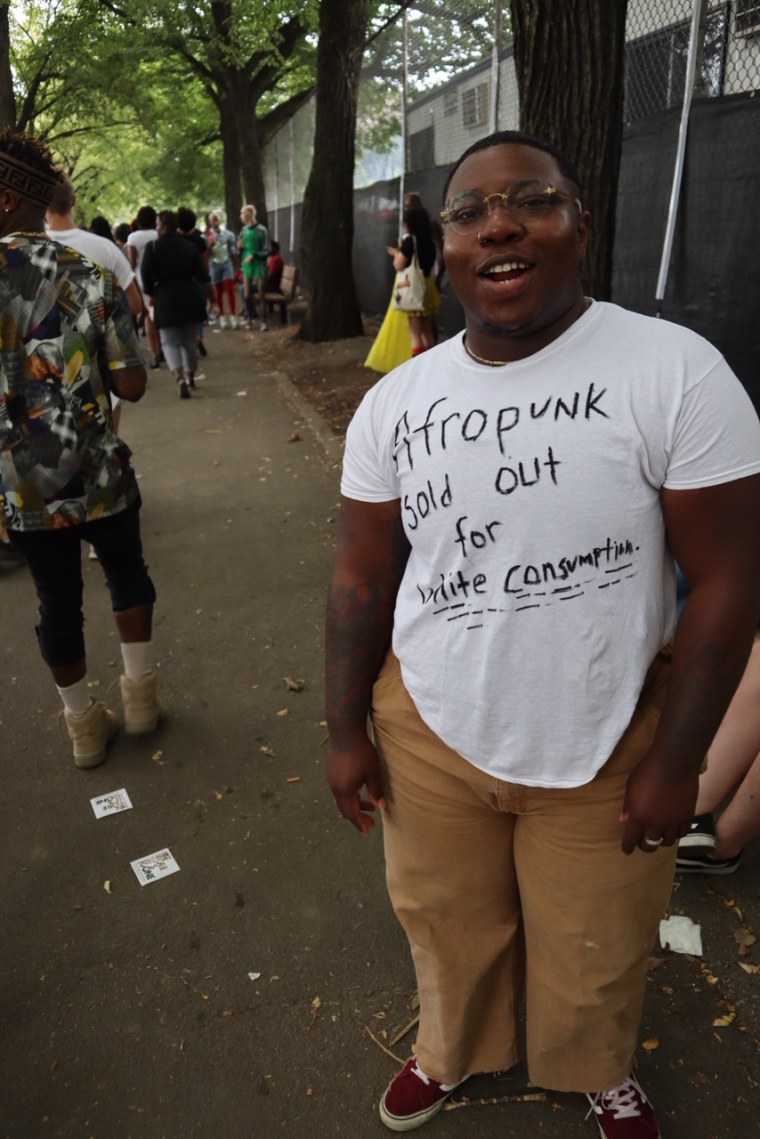 Three Afropunk attendees are accusing the festival of unfairly removing them from the event's VIP section. Festival-goer Ericka Hart said in a tweet on Sunday that the festival's security allegedly removed her, her partner Ebony Donnley, and their friend Lorelei Black from the show's backstage area due to a message written on Donnley's shirt which read "Afropunk sold out for white consumption."
Hart detailed the incident in a series of tweets on Sunday, sharing that they were removed from the premises shortly after being confronted about the shirt's message by festival co-owner Matthew Morgan.
"The owner [Morgan] came up to my partner and said "what's this?" while pointing at his shirt and then says "well why are you here?" leaving no space for dialogue," Hart shared with The FADER via email. "He then walks away and goes to security, whispers something to them, returns and I ask "what's wrong?"
In an email to The FADER, Hart elaborated on her tweets. She said that after asking Morgan why they were being kicked out, that Morgan responded, "This is my house. This is MY house. They have to leave." After attempting to get an explanation from the security who were escorting her from the premises, she said they met with another security guard who said "Well, you did this to yourself."
The shirt's message, Hart said, was the opinion of her partner Donnley, and is one that she believes reflects the feelings of many black attendees. "[Its] an experience many Black and POC long time participants have been feeling," she said. "If Afropunk is for Black people, about resistance and really standing by their hashtag #speaktruthtopower, why would this T-shirt be an issue? How is it "power to the people" and also "his house?""
The FADER has reached out to representatives of Afropunk for comment.
Read tweets below.
Representatives of Afropunk released a statement on Tuesday September 4 regarding the incident. Read below.
We are living in incredibly challenging and oppressive political times. As Black people, we face overwhelming confrontations—systemic racism, social injustice, disproportionate rates of incarceration, higher health disparities, and the ravages of the HIV/AIDS pandemic. We are under attack.
The AFROPUNK platform was conceived to celebrate Black excellence and create a safe space for Black folks who are marginalized men and women, gender non-conforming, and those considered other by white heteronormative powers that be. We give our AFROPUNK community a voice, a platform and a space to express themselves and be their authentic and unapologetic selves.
Being activists is hard, uncomfortable, and sometimes complicated. There was an unfortunate incident at AFROPUNK Brooklyn with Ericka Hart and her partner/friend Ebony Donnley, and friend Lorelei Black were asked to leave a backstage area of the festival which was for talent and working staff. The couple/friends were escorted back to the VIP section where they stayed for the rest of the evening. We have great respect for Ericka and Ebony and would never kick them out of AFROPUNK.
We are sorry that Ericka and Ebony feel mistreated. That was not, nor has it ever been, our intention. We have supported Ericka and her activism for many years. We celebrate her voice, her activism, and her Black body. She is a part of our AFROPUNK community.
Established in 2002, AFROPUNK's staff is diverse and comprised of many queer Black people. We support Brooklyn and our Brooklyn community. We encourage creative expression—even when it criticizes AFROPUNK. We do not want to fight each other, we want to partner to fight oppressors. Though methods may differ across the spectrum—we will be more vigilant than ever to continue to lift each other up, not tear each other down because we are all AFROPUNK.
AFROPUNK is not a non for profit, we are socially responsible business, a platform and a vehicle that supports other Black-owned businesses globally, through our SpinThrift festival markets we support 250 Black-owned craft makers/vendors, 120 Black-owned restaurants, and food truck owners annually. We contract 2,000 plus Black people to work our events and have a core staff of 25 people who work year-round in our offices in New York, Joburg, Atlanta, Paris, and London. The head of site operations for our festivals is a Black woman, our head of production is a Black man, our head of sales is a Black Queer woman, our Chief Content Officer is a Black Queer man, we have put 50,000 people through our Earned Ticket (free tickets in return for community service) program and we exclusively work with Black-owned safety companies worldwide to keep our community safe. This is unheard of in the festival and live entertainment space, a business that is dominated by major conglomerates.
We believe in the right to agitate, resist and speak out. We genuinely believe in provocation and the freedom of ideas, but we also believe in civil discourse. AFROPUNK is not perfect and the people who work and run AFROPUNK are not perfect, but we work hard and do our best with the resources we have at hand to give back to our community.
This post was updated on Tuesday September 4, 2018 at 1:49 p.m. EST to include a statement from representatives of Afropunk.