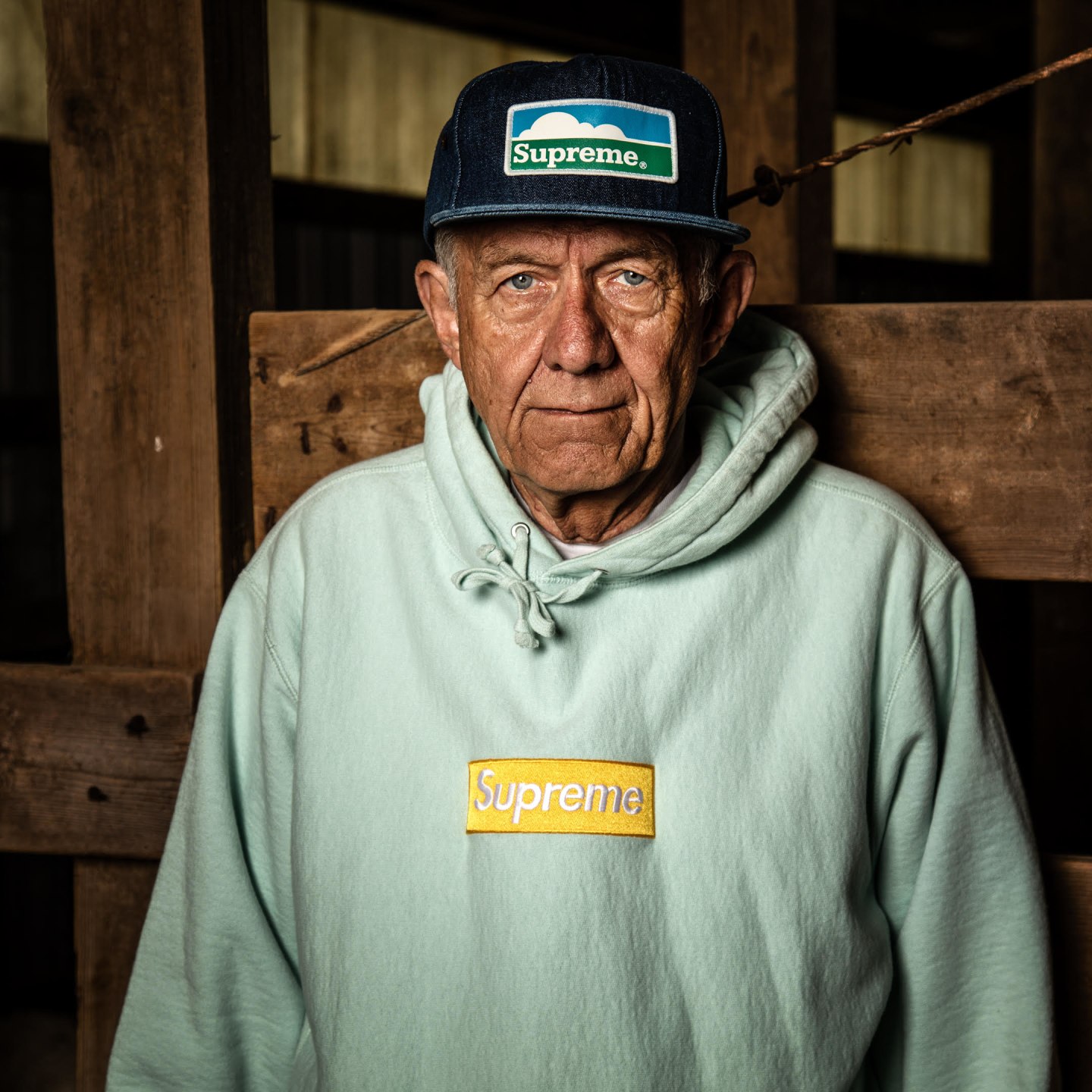 It began, of course, with a hypebeast.
"It" being an unofficial Supreme lookbook featuring rugged, older, real-life farmers dressed up in full Supreme looks sitting on old tractors, on bales of hay, poking out of barn windows. Farmland, a bacon, ham, and sausage brand founded in 1959, unveiled the photos on Instagram just minutes before the second Supreme drop of this fall/winter '18 season, on August 30. They were an instant hit. Google searches for Farmland shot up. In just five days the company went from not having an Instagram account to having almost 14,000 followers. The comments were euphoric: "Dannnngggg ~ grandpa on some next level shiiit." "Too much Sauce!!!" "Fucking inferno! This clap-back will live in infamy."
The 'hypebeast' in question is Nick Navetta and it all began because he really wanted Supreme's Madonna T-shirt, which was scheduled to release during the first drop of the season, on August 23. So it was Monday night, August 20, and he was browsing the upcoming release when he noticed a hat. It used the Farmland logo, but replaced the pork brand's name with Supreme.
It's likely that no one would've noticed the connection, "We sell bacon and ham and breakfast sausage so we tend to focus on consumers who are a bit old than your typical streetwear consumer," says Megan Thomas, Farmland's senior brand manager. But Navetta, who's in his 20s, is a senior social strategist for a branding agency named Doner and one of his clients is, it turns out, Farmland. "This is one of the few times that my online shopping habits actually did something for me," he says now. "I told anytone who would listen."

By Tuesday at 1pm, he'd managed to gather Doner's creative team and come up with a plan. "When Nick came to me, I immediately sounded the alarm," says Marcus Collins, Doner's Chief Consumer Connections Officer. By 4pm, Farmland was on the phone. "They didn't know what Supreme was," Navetta says. Normally, they'd send out a cease-and-desist for this kind of repurposing of their logo. But Navetta was able to convince them otherwise with some unexpected insider help: someone he was working with at Farmland had a college-aged daughter who loved Supreme. "She caught wind and was like we gotta do this," Nick says. Farmland dedicated a budget and Doner finalized ideas by Thursday, the day the hat came out.
Step one was a tweet. After pretty much only ever posting about bacon and meats, on Friday morning Farmland posted a picture of the hat with the caption, "Hey #Supreme, that logo looks super familiar. We missed the drop – what do you think about sending a few our way? #FARMLANDxSUPREME." That was August 24. Seth Rogen retweeted it, as did over 4,000 other people.
Phase two was shooting a lookbook with real farmers, to be released ahead of the following week's drop. Initially Farmland's budget included enough for roughly six to nine looks. After the success of the first tweet, though, they doubled down and expanded it to 12.
So Navetta reached out to a friend who runs a sneaker and streetwear consignment shop in Ferndale, Michigan, called Loose Canon and looked through all of the Supreme clothes they had in sizes large and extra large, asking them to hold it for the shoot. Most of the pieces were from past seasons, though. He and his team were able to land the brand-new Farmland/Supreme hats because they were all on their computers at 11a.m., ready to click buy. Navetta was also able to snag one t-shirt from that first August 23 drop, which all, luckily, shipped in time for the shoot on Wednesday August 29, the day before the second drop.

Doner found the local Michigan farmers using Farmland's connections, "One of them couldn't stop laughing the whole time, but when we told him we were about to shoot, he put on a straight face," says Navetta, impressed. Navetta styled the whole shoot and the farmers never questioned his outfit choices, either. "When I put the shoulder bag on one of them I thought we were going to get a little bit of pushback, but nothing," he remembers.
There was a barbecue on set during the shoot and Navetta remembers one of the farmers wearing a box logo hoodie while eating a fresh piece of bacon, nearly dripping grease all over it, "I almost had a panic attack," he laughs. "But we made it through."

The photos went live the next day and ended up all over Hypebeast and HighSnobiety. Neither Farmland nor Doner has heard anything from Supreme, but fans have been reaching out to Farmland directly asking if there's any official Farmland merch to buy. Now, it no longer matters if it says Supreme or not. They say hats are coming and more merch might be on the way, "We're happy to help us introduce our brand to a new audience of streetwear-sporting bacon lovers," says Thomas from Farmland. Yesterday, I noticed a vintage Farmland hat on eBay for over $250.
As for all the Supreme clothes Doner still has, Navetta's boss Marcus Collins jokes, "We're going to do a Hunger Games duel to see who in our office keeps everything."

We've reached out to Supreme for comment and will update this if we hear back.