Listen to Exploded View's "Dark Stains"
New wave, new album! Obey comes out September 28 on Sacred Bones.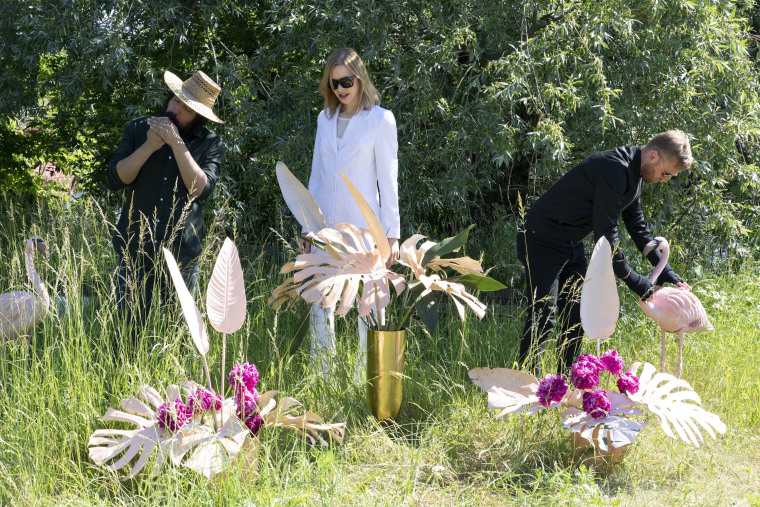 Y'all remember Anika, the new wave dub album Stones Throw put out a little while back? Of course you do, it was like Nico on a Lee "Scratch" Perry remix of "Temporary Secretary" — unforgettable.
Annika Henderson, the artist behind that project, has a three-piece called Exploded View, featuring Hugo Quezada from Robota and Martin Thulin from Crocodiles. Their second album, Obey, recorded in Quezada's hometown of Mexico City, comes out September 28 on Sacred Bones.
Today we're premiering "Dark Stains," a chaotic, sinister partner to their recent single "Sleepers" — if that one was the sky, this is underground. A buried hunk of metal run into by a rototiller. Life! A banger! Below, a note from Annika about the track.

Born with the baggage of our forefathers or alternatively, the blessings of our ancestors, we are the sum of our parts, of our experience; results of our birthing. Nature and nurture; we were slid down a shoot, to end in a mystery realm, gifted or burdened, chance will decide.
Dark stains is a song about a body who sees in themselves the errors of the past, yet flaunting behind the veils of inheritance, fails to take full responsibility for the present; that which they are, the movement of their own hand, in the here and now. "But we can break this..."
To what extent can we break the cycles, repetitive patterns deep engrained, that we were born with? Can we trust to be protected by the cotton beds that we were blessed with? Or restricted forever more by the ceilings that we came to earth beneath? Nothing is permanent. This too shall pass.
Tour Dates
OCT 19, 2018 DALLAS, TX NASHER SCULPTURE
OCT 20, 2018 AUSTIN, TX THE PARISH
OCT 22, 2018 TUCSON, AZCLUB CONGRESS
OCT 24, 2018 SAN DIEGO, CATHE WHISTLE STOP
OCT 25, 2018 POMONA, CA THE GLASS HOUSE
OCT 26, 2018 LOS ANGELES, CA THE ECHO
OCT 28, 2018 SAN FRANCISCO, CA RICKSHAW STOP
OCT 29, 2018 PORTLAND, OR MISSISSIPPI STUDIO
OCT 30, 2018 SEATTLE, WAVERA PROJECT
OCT 31, 2018 VANCOUVER, BC FOX CABARET
NOV 01, 2018 CHICAGO, IL THE EMPTY BOTTLE
NOV 02, 2018 DETROIT, MI DELUXXX FLUXXX
NOV 03, 2018 TORONTO, ONTHE GARRISON
NOV 05, 2018 MONTREAL, QCSALA ROSSA
NOV 06, 2018 BOSTON, MA MIDDLE EAST
NOV 08, 2018 BROOKLYN, NY ROUGH TRADE
NOV 09, 2018 PHILADELPHIA, PA PHILMOCA
NOV 10, 2018 NORFOLK, VA CHARLIES AMERICAN CAFE
NOV 11, 2018 WASHINGTON, DCDC9
NOV 12, 2018 HARRISBURG, PA THE CATHEDRAL ROOM