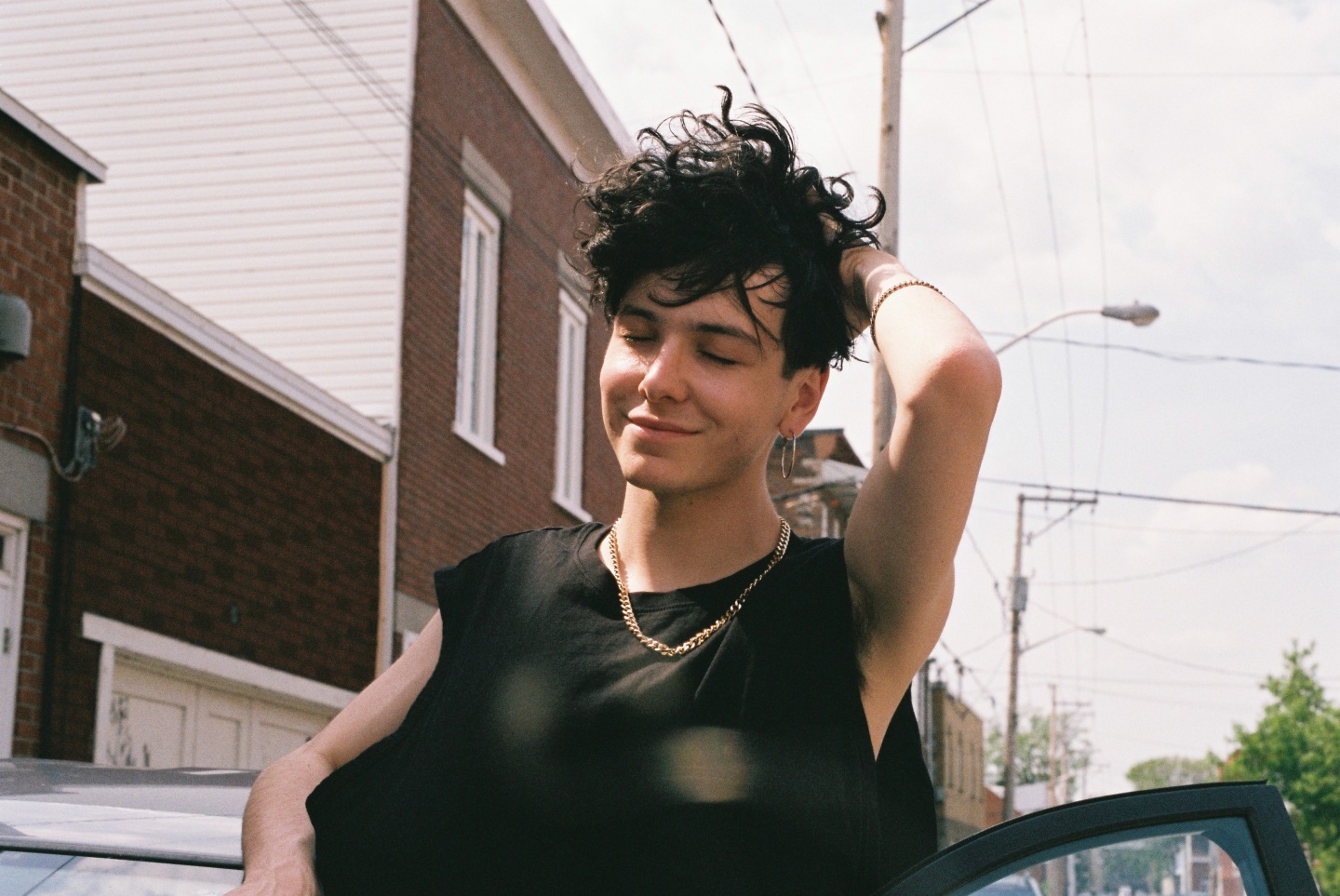 Hubert Lenoir's debut solo album Darlène isn't simply a debut solo album. The 24-year-old Quebec City artist's latest project spans an 11 song LP as well as a book, written by Lenoir's romantic partner and creative collaborator Noémie Leclerc, and Lenoir would have taken it even further with a bigger budget. We talked about it last month in a Toronto bar – Lenoir wore a baseball-style "Quebec" shirt, a fuzzy leopard print bucket hat, and a single hoop earring. With his makeup, he looked like a new romantic for the streetwear era, and it all connects when Lenoir tells me about Darlene's chief influence: "Purple Rain was this whole thing that I had in mind," he says. "It's a movie and it's an album. There are so many great pop songs, but also very, very, very sophisticated."
Dubbed a "post-modern opera" by Lenoir, Darlène is about love, ambition, and arrested development, and loosely follows a young, disillusioned suburban woman in Quebec City's Montgomery Falls who falls in love with a suicidal American man. Lenoir calls the story a "kind of total biography" of his relationship with Leclerc. "I would say it's our story." But the music doesn't slouch when it comes to scale. For example, there's the opening combo of "Fille de personne I," "II," and "III," three songs of strut-worthy, brilliant glam rock; "Wild and Free" delivers the listener a Burt Bacharach-worthy lounger, and "Momo," the by-turns soothing and exultant jazz-bop which The FADER's got the exclusive video premiere of below. Darlène's a wild, passionate listen, a nominee on the shortlist for the 2018 Polaris Prize, and a strong contender for the top award.
Lenoir's performance on vocal talent show La Voix earlier this year made him a controversial figure in Quebec, but also established him as professional at pop showmanship. He stormed the stage in May with "Fille de Personne II" and brought androgyny and flare to a stage known for its traditionally milquetoast adult contemporary performances. "I was like, 'Let's just go there and fuck things up,'" he tells me. "Let's just go there and do the exact same thing I would do in a venue at 1:00 a.m. in Montreal." At the song's climax, he exposed the tattoo on his left buttock, an ejaculating fleur de lis, his partial nudity a nod to Prince's performance of "Get Off" at the 1991 MTV VMAs.
Unwillingly, Lenoir became the flashpoint for a debate on televised indecency and gender. "I don't care for labels," he says, clearly ambivalent how his local fame in Quebec City has changed his life. On one hand, he's unable to dress as flashy as he likes without getting recognized, yet on the other, his audiences have embraced his art in substantive ways: "I play new songs and they're really hyped. I play instrumental songs that go for twelve minutes, where people are really listening. So, it's perfect."
Watch the video for "Momo" below, and read The FADER's interview with Lenoir on Darlene's creation, inspirations, and more.

Darlène encompasses both an album and a book. What was that creative process like?
We were all very together in the process. We were living in a small apartment, that we're still living in Quebec City. I would wake up in the morning, and listen to music. I would try to listen to two hours of new music a day, that's where I found some jazz stuff that I loved, some old Stax recordings, Motown that I didn't know, stuff like that. Then I would write in the afternoon, and she would write the whole day because it's longer to write a book than music.
At the end of the day, we would talk about it and just share. She would make me read the chapters, and I would maybe help her thinking, "maybe it should go this way, maybe this is too long." I would just play her stuff on the piano and guitar and she would also give me ideas for lyrics or just telling me, "This is good," or, "This is less good." So, it was collaborative a lot, but we were master of our own discipline.
The writing [took] like five, six months. Being a person that is writing on a regular basis I accumulate tons of ideas. But I said "Fuck these ideas." I just wanted to start new.
Is that where the idea of an album narrative came in?
I wouldn't say that because the songs are not that narrative. I would call it a concept album, because the themes are like soulmates to the book.
Being back in the band before, I was kind of jaded about the way of releasing music. People were recommending me to release the classic four-song EP which kind of goes in the opposite way of my philosophy of reading and writing music. I just want to make something that matters. It can sound pretentious but I just wanted to make a work of art that's going to be relevant in 10 years.
I'm thinking about it right now but maybe it's from the fact that I was listening to so much music from the past and some stuff that was more like cult stuff, psychedelic recordings...
Like what?
[There's] a record called A Trip Through Hell, by the CA Quintet, it's a late '60s psychedelic rock. I was very, very inspired by soul stuff – Brenton Wood was very influential for me. I have this ideal, this vision of a kid of my age in 25 years [who] is starting to make music, and finds my record. I was thinking in this way instead of just being on the edge of what's hot.

"I want to set the example that if you don't come from necessarily this hip place, you still can do it."
Stuff that endures for you, whether it's music or literature or movies, does it have any common thread that you can identify?
It's maybe a bold thing to say, but I would say it's beauty. I'm only interested in that. Don't get me wrong, beauty is not necessarily a 40-piece orchestra, perfect neat. I think that the album Gimme Danger by The Stooges is beautiful.
[Beauty] is hard to find, sometimes it can be disguised. Me and Noémie, we were watching a lot of blockbusters from the late '90's or 2000's. Much of them were with Natalie Portman, like Home Is Where The Heart Is and Anywhere But Here. Movies that can be called cheesy, but that was the thing, that's what we enjoy about it. I think it's beautiful storytelling. I was listening to tons and tons of jazz, stuff that Quincy Jones has put out in the '70's. Beauty is the truth, it's the ultimate ... and it's impossible to find it, but that's what I'm interested in doing. Being aware of what is not real beauty, [and] just finding the true beauty.
How did Darlène's premise develop into what you and Noémie eventually released?
I would say it's our story. This is what the book is about: We had to break away. We were living at our parents' house and we were craving for something more. We were living in neighborhoods like middle-class and not artistic, and wanted to be artists, wanted to make something. This rage of wanting to make something kind of comes from that. This pretension of making something that could be a masterpiece with no budget. I wish I could set an example for people who doesn't come from Toronto or Montreal. I see so many actors, people, their parents were from artistic places so it was quite easy for them to follow that path. Which is good too, but I want to set the example that if you don't come from necessarily this hip place, you still can do it.
Art is blind, it doesn't look at your background. You can make something that is awesome and going to stand above. I come from a middle-class family and for a while the only music or art culture that I had was pop culture. It's part of my DNA for all time. Even though I'm into more avant-garde stuff or listening to or any type of shit, I'm still going to watch TV for the rest of my days. I'm so attached. I'm subscribed to Kylie Jenner on Instagram and I just look at her photos. That's just me.
Many people reading this aren't going to be from Canada. So I was wondering if you could talk about what it feels like to be an artist from Quebec, making music that's going out to the rest of Canada. Or, phrased another way, what is it like to be known in Canada as a Quebecois artist?
Well, I would say that I love Quebec culture, but I see it as just part of being true to myself. It shouldn't be a restriction, I'm just human being making music. For me, the only language that I react to is music. I won't say that I don't care for French, because I care, but I don't care for English either.
In Quebec, people say my album sounds nothing like an album from Quebec, because we have these singers that are really more like country folk singers. Music is the most important stuff, so I believe that even when I'm singing in English, I'm still French. It's still a really big part of my DNA. Same thing with an Italian filmmaker making a film in English, it's still an Italian movie, you can still feel by the plot, you feel that. I'm myself, and it's always going to influence my music.