Lil Tracy is getting better
After experiencing loss, and a recent near-death experience, the cult hero looks to emerge on the other side as a finer version of himself.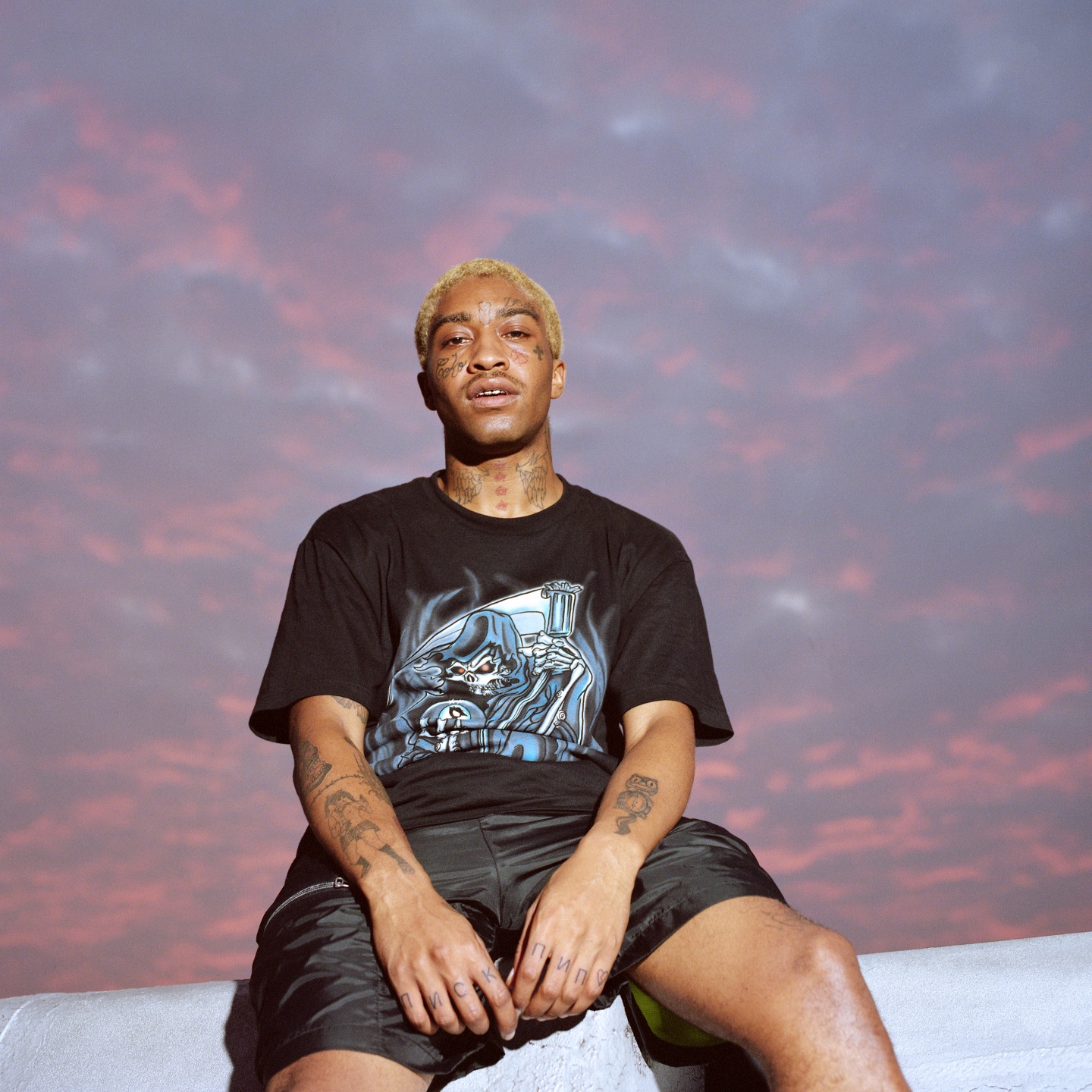 Lil Tracy is well known for quickly deleting tweets and songs, and changing his performance name often. These might seem like the actions of an erratic artist but, inside his third-floor Brooklyn apartment on an especially humid late summer afternoon, he's shy and calm. In the otherwise dark living room, Tracy is practically beaming as he sports a pair of neon green Nikes and a freshly-bleached buzz cut. "It's mad hot," he says, apologizing as fans blow the stifling air around. When the temperature in the apartment gets to be too much, he suggests heading to the roof, leading the way up and sitting close to the edge of the five-story building. "I come up here alone a lot," he says quietly. "I like to think here."
Lil Tracy was born in New Jersey as Jazz Butler to musicians Ishmael Butler and Cheryl "Coko" Clemons. As a member of Digable Planets, his father won the Grammy for Best Rap Performance by a Duo or Group in 1993. His mother, as the lead singer of SWV, had multiple singles hit the Billboard Hot 100. One of them, "Sunshine," was dedicated to Tracy. Though both of his parents were huge contributors to '90s R&B and hip-hop, Tracy says he wasn't aware of their accomplishments growing up: "I kind of don't remember much. I was just a kid. I didn't really know they were famous until I was older."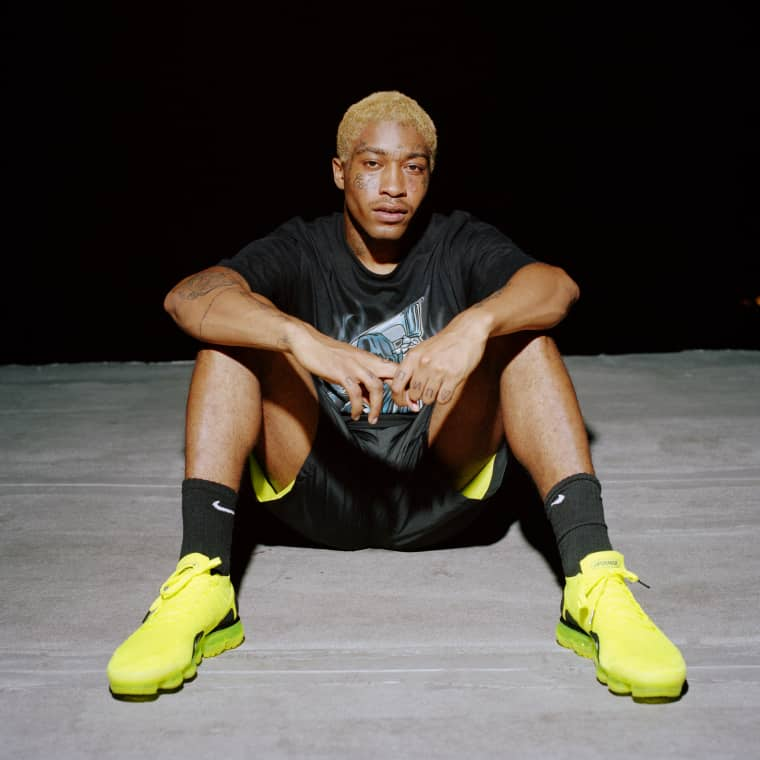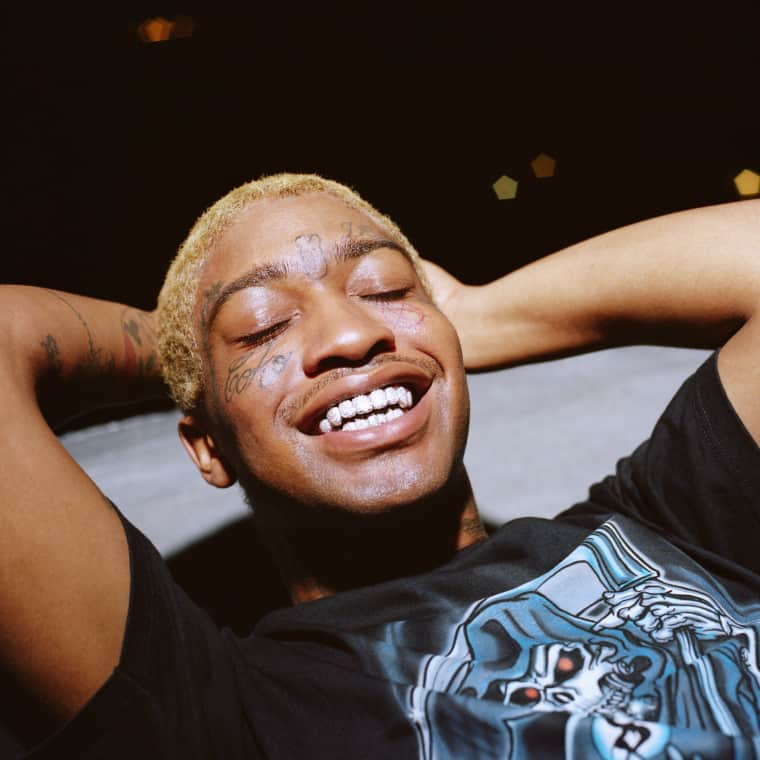 When he was a baby, his parents split. His father headed to Seattle, and Tracy and his mom moved to Virginia Beach. "Whenever I'd get in trouble, my mom would send me to Seattle, and when I would get in trouble there, I'd get sent back to Virginia," he says. Even though he found himself back and forth between two homes, Tracy spent the majority of his upbringing in Virginia Beach. "Virginia is just boring as fuck," he laughs. "It's just bland. No one is pushing to get out. You either work, you're military, or you get shot or something." Passionately involved in skateboarding and graffiti, Tracy describes his childhood as one full of rebellion. Perhaps it was this rejection of authority that led teenage Tracy to choose to move out and live with a group of friends in a tent in a Virginian forest, where he kicked off his musical career. "I started making music in that tent," he remembers. "I used to steal a lot, so I had this shitty ass mic and a Macbook. I would go to McDonald's to charge it, and then record in the tent."
With no plans for the future, Tracy figured he'd eventually stop living a nomadic lifestyle and go back home. But his music soon began to gain traction. Nedarb Nagrom, who was already producing for the emo hip-hop collective GothBoiClique, reached out to the young rapper online and invited him to Los Angeles. Once in L.A., Tracy quickly joined the ranks of the GBC (which now houses artists Wicca Phase Springs Eternal, Coldhart, Horse Head, and many others). Influenced by Chicago drill as much as they were by early 2000s emo bands, GBC connected through Tumblr and SoundCloud long before they met in person. "It's so weird that I moved to L.A. with them, since I knew Wicca Phase before Nedarb knew who I was," Tracy says. In L.A., he met the late Lil Peep, who would become both his close friend and frequent collaborator. "The first day I met Peep we made a song without question," he says. "Never in my life have I connected with someone like that. Literally the first day we met we recorded "White Tee" and shot the video." Tracy and Peep laid down some definitive tracks together, releasing a slew of singles alongside their melody-heavy, sample-laden collaborative mixtapes castles and CÅSTLES II.
"I haven't been living my best life and I'm trying to change it."
Sitting on the roof, Tracy shows off his freshly tattooed knuckles, adorned with Cyrillic script in bold, black ink. "It means 'Soul of Peep' in Russian," he says. It's one of many tattoos Tracy has in tribute to his friend, including a Peep candy in the middle of his forehead, and a bright red anarchy A on his face. "Gus taught me a lot," he says, "I miss that nigga." Just months after Lil Tracy left GothBoiClique under circumstances he prefers not to discuss, Lil Peep tragically died from an accidental overdose of fentanyl and Xanax. Tracy recalls that when the two were still on precarious terms, Peep came to him, asking him to make a song together. "I wasn't sure if I wanted to," Tracy explains, "but Gus said it would be the biggest thing we'd ever do. He looked me dead in my eyes and said, 'Bro, please. This is the last song we will ever do together.'" That song was "Awful Things," which now sits at hundreds of millions of streams per platform, and even peaked at No. 79 on the Billboard Hot 100 last December.
Despite being a foundational figure of the so-called niche genre emo rap, Lil Tracy is quick to dismiss the label. "I fucking hate that shit. It sounds so dumb. Emo rap," he scoffs, "I hate when people try to put me in one category." When asked how he would categorize his own music, Tracy pauses to think: "If I had to had to classify it, it probably would be with a word that doesn't exist yet." Perhaps that is the only way to properly define Lil Tracy's music, since the mixture of influences and sounds range from experimental electro, to trap, all the way to country. It was his country-rap fusion track, "Like A Farmer," that most recently propelled Lil Tracy into the spotlight. "I made that shit by accident," he says, laughing hysterically. "I was drunk as fuck and doing a farmer impression all night — no offense to, like, actual farmers." Surprisingly, it was "Like A Farmer" broke Tracy out of his niche GothBoiClique fanbase. Last month, he announced the upcoming release of the SINNER EP, his first project of 2018. "With everything that has been happening the past couple years, I haven't been living my best life," he says. "And I'm trying to change it. It's basically me calling myself out."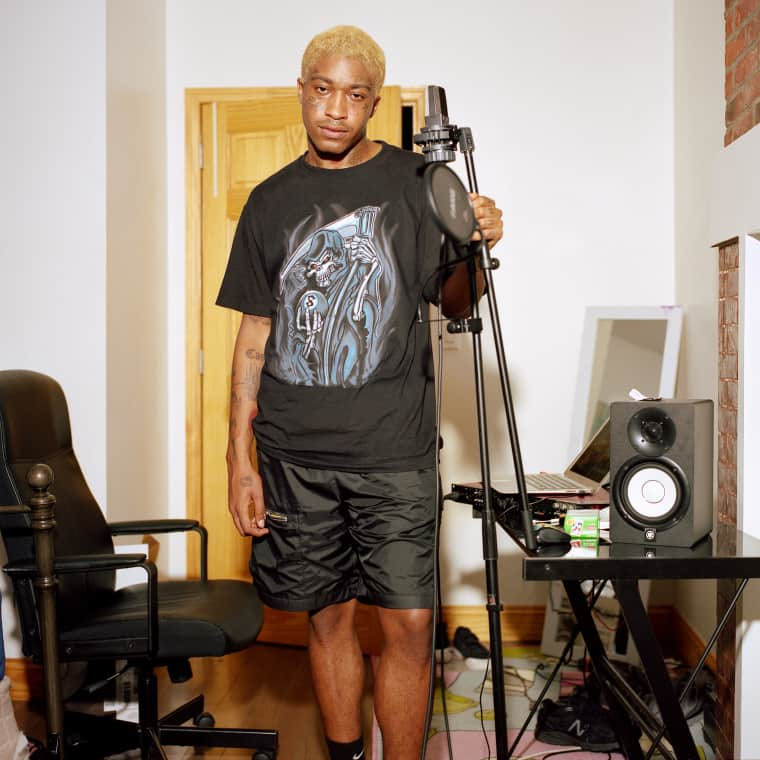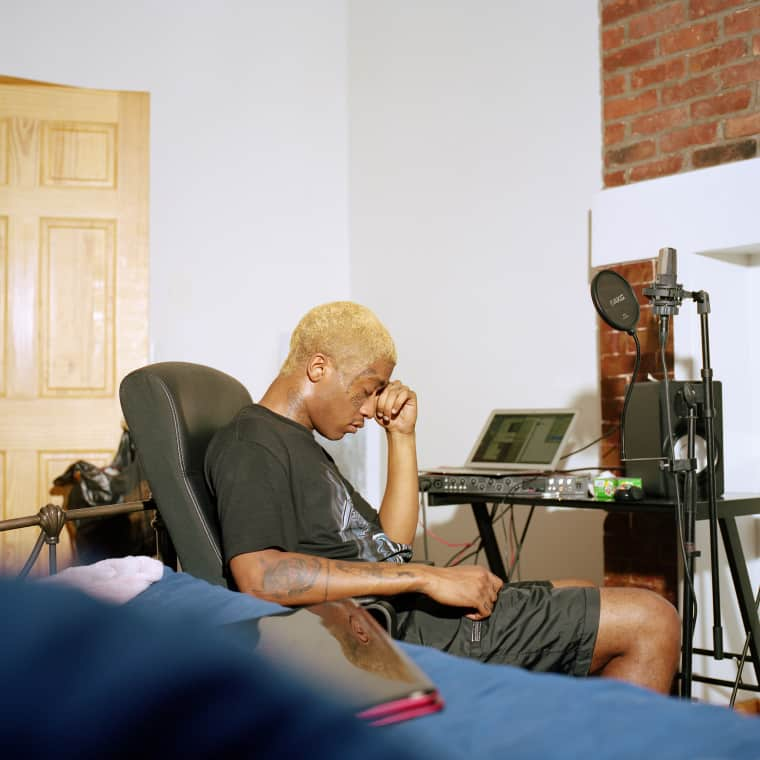 The announcement for the EP came just weeks after Tracy had a drug-induced heart attack. Doing small amounts of cocaine one evening, Tracy unknowingly drank someone's THC-infused lean at his apartment, mistaking the clear liquid for Sprite. Later in the night, Tracy went to a bar in Brooklyn, and, after a couple of shots, he began to feel as if he was having a seizure. He attempted to run home in the dark, struggling to stay on his feet, when a group of fans drove by, screaming his name. Tracy ran up to the car and explained that he was having a heart attack. The bewildered fans drove him to the emergency room. "I don't know what would have happened if they weren't there," he says. "It was kind of depressing. I just feel wrong since it's happened. But it makes me want to work more. It made me want to work on this EP. If I didn't have the heart attack, I'd probably be fucked up somewhere right now." Tracy says that, after the harrowing near-fatal incident, he's now opted to live a sober lifestyle.
2018 has been a difficult year for the young artist, who has dealt with loss, his own mental health, a frightening heart attack, and more. Despite this, the future looks incredibly bright, and the young artist affirms that it's never too late to better yourself. On a path towards improvement, and with a career that only will grow exponentially, Tracy just wants to clear up one thing — his name isn't just Tracy anymore. "Now, it's Lil Tracy, or Tracy Minaj," he laughs, "the Lil is back on again." Perhaps it's a change for the better.