Listen to a new FADER Mix by BADSISTA
Take a global journey with the Brazilian artist and producer.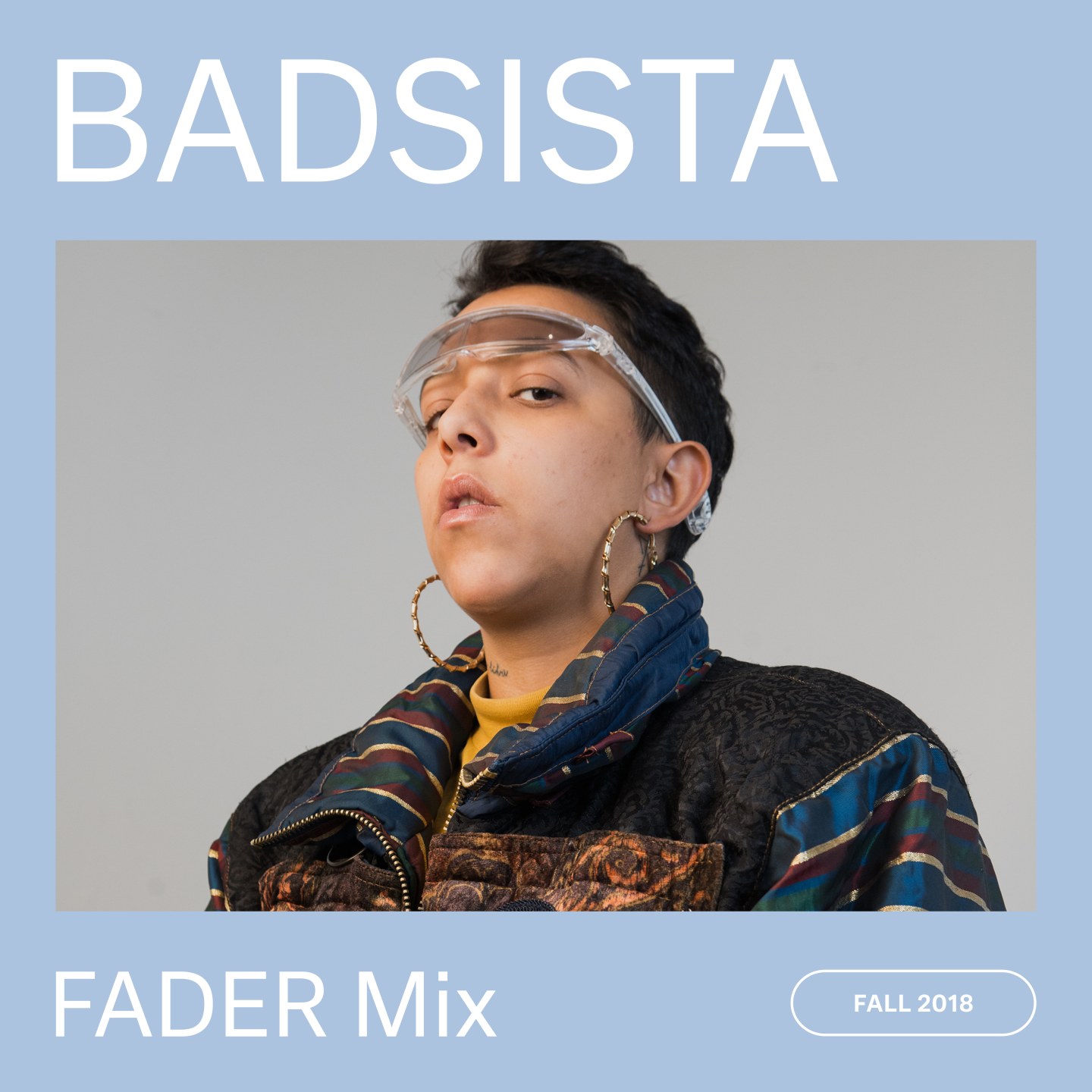 The longstanding FADER Mix series presents new, exclusive DJ mixes from our favorite artists and producers.
BADSISTA began her music career in an emo band, which maybe explains her penchant for translating deep emotion into hard-hitting music. On this FADER Mix, the São Paulo artist and producer delivers a truly energizing journey, blending carioca funk with deconstructed club tracks and beyond. The result is an hourlong mix that literally changed the course of my day. Listen below and read on for more about BADSISTA and her take on São Paulo's evolving music culture.
What do you imagine people doing while listening to this mix?
Walking down the city by bus or subway, playing need for speed or smoking weed with your friends.
Is there a track in particular that stands out? Why?
I think "Bring Screamo Back" because bring back parts of me when I was 15 and matches with who is BADSISTA nowadays. Now I see that everything makes sense. The angry, melancholy and exhaustion translates very well what we've been through the past months in the city.
What music or artists do you turn to for inspiration when you're working on projects of your own?
I'm inspired by people around me that I feel connected with. I feel comfortable to open myself and let me contaminate. The "New" that make me be myself in different ways, day after day, talk after talk.. And find a common point between various musical guetos. Be your own musical gueto. Pininga, Jup do Bairro, Linn da Quebrada, Evehive, JLZ. Artists that go beyond the the proposed because in our life it always had to be this way and rarely you have a second chance.
I read that you were once in an emo band, influenced by bands like Paramore. How did that inform you as you made the switch into production?
At that time, I used to like writing the lyrics and arrange the songs on the guitar. I had an opinion about everything during rehearsals or recording sessions. I was already producing without knowing it. In the other hand, I've always been a nerd, I loved videogames and computers, even taking years to have one. Be aware that it was possible to do everything myself, my computer and I, opened a new portal in my life. Just like the band did years ago. Everything is a part of whole thing and transiting in different places and environments increases limits and opportunities.
A lot of American and European artists have built their fame and success on appropriating from sounds and cultures that originated in Brazil and elsewhere. What was it like to witness those exchanges? How did that affect your approach to your own art?
Let's face it: it's not happening for the first time and I doubt it will be the last one. Artists with colonizer's blood who can take an adventure into this kind of culture without experiencing the real life, enjoy results with a lack of difference when compared to black and/or gueto artists. Many situations make us angry sometimes… Seeing how their white middle/rich class bodies can experiment, try, fail, feel revolutionary by showing gentrified gueto culture in their hands… They're not the great discoverers. They're just late about a thing that were already happening before they came. Be humble. Give a big up to these gueto artists. Always make them feel your love and support because without their beautiful art, none of these European and American artists would be making money and being successful. But now, our history is different. What's so easy for them, is like a dream for us. Each difficulty looks like a 5-meter high obstacle and we take more time to climb it. The difference is that the world guetos are bubbling with creativity, so it's easy to adapt and reinventing itself. This is the high technology of a gueto body. Coming from nothing but wishing everything. We're no longer serving co-stars realness. What is ours, is ours. We're the protagonists of our own stories.
How has Sao Paolo's independent music scene changed in recent years? What do you wish to see?
When the access to technology became easier, the plurality of artists showed up in the independent scene of Sao Paulo. Especially, since last year we're able to see this results. Me and my girls are some of them. Watching them looking for new stuff, experiencing, taking a risk is amazing. This is what I wanna see from now on. Setting new boundaries in this big chaos that is living like a pulsating body in this crazy fucking city.

Tracklist:
Kablam, "Plague"
Mc Cajá, "Foi Tão Bom (A capella)"
Mc Mr Bim E Mc Lekão, "Beat Envolvente (Dj Wallace Nk)"
SCRAAATCH, "Dont Talk To Me [demo V2]"
The Prodigy, "Breathe"
Mc Moana, "Os Faixa Preta Vão Passar (A capella)"
Ariel Zetina f. London Jade, "Addy"
Landr, "Ayuda Grammatica"
BADSISTA's Interlude
Kelela, "Frontline (A capella)"
BADSISTA, "Se Você Quer, Tome"
Get Face, "Buddha Vs Sugur (Get Face Edit)"
Ossia, "Tumult (Lurka Remix)"
Linn Da Quebrada, "Muito + Talento (A capella)"
Lsdxoxo, "Floorgasm Dub 01 (No Angel)"
Asquith, "The Conditioning Track (North London Mix)"
Mc Durony, "Não É Força É Jeito (A capella)"
BADSISTA, "Mtg Da Pussy"
BADSISTA, "Na Onda Da Babylon (Instrumental)"
Kid Robin, "No Se Sienta Un Cxlo Mi Niño"
BADSISTA, "Machooka (Quero Q Bota Na Xota Hj Só 1 Pokin)"
BADSISTA, "Loka In Berlin"
BADSISTA, "Bring Screamo Back"
É O Megatron, "Dj Carlinho Da Sr (A capella)"
Neana On The Track, "Jawbreaker"
Dj Delish, "Men Are Doomed"
Rebola Pra Frente E Pra Trás (A capella)
Xuxa, "Lua De Cristal (Sample)"
Toni Moralez, "Dont Want No Boyfriend"
Keiska, "Angel (Sample)"
Quest?onmarc, "Hellraiser"
Draag, "Deathpill"
O Surto, "Zaroia (Sample)"
Jasmine Infiniti, "Whucarez2"
Evanescence, "Lithium (A capella)"
Sirr Tmo, "Push Da Button"
Debt Stalker, "Noxious"
Dan Bodan, "Fortress Europe (Ybdg Extended Mix)"