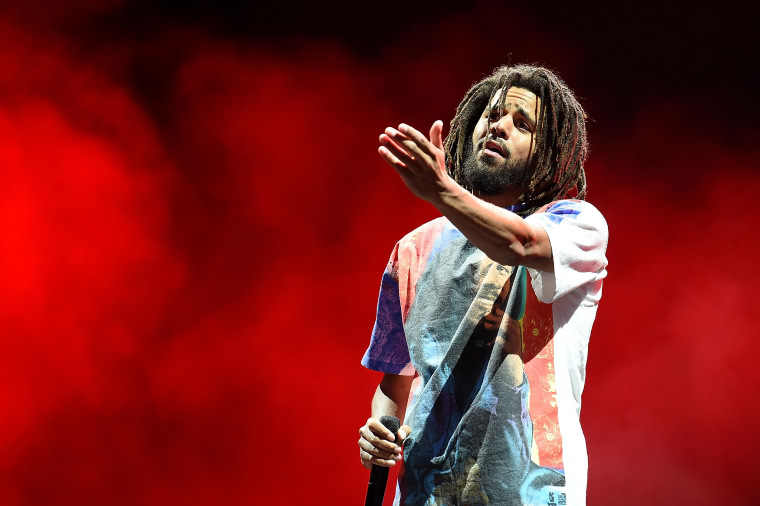 J. Cole has spoken about his political beliefs and motivations as part of an in-depth cover story with Billboard. Cole, who rarely speaks to the media, also chatted about his music, his opinions on fame, and his recent criticism of SoundCloud rappers including Lil Pump. However, it's his take on the 2016 election that might elicit raised eyebrows. Cole admits to writer Dee Lockett that he didn't vote in the election, saying he had little faith in Hillary Clinton as a candidate.
"Hillary Clinton wasn't somebody that was motivating me to go vote," Cole said when asked why he didn't participate in the election. "If it was Bernie Sanders, I would've showed up and voted. I would've been the first one in line, no bullshit. No disrespect to Hillary."
Cole is then asked if he will vote in 2020. "It depends on who they put up there," he responded. "Trust me, I hate to be a person who's even promoting that I didn't vote. Actually, with Trump in office, I love that America gets to see the truth. If Hillary Clinton was in office, it would be the most fucking disingenuous shit because everybody would be thinking that everything's cool because we got an incredibly qualified female president. Which would've been amazing on so many levels. But all the shit we see right now would've still existed; it would've just been quiet. And I prefer this shit to be out loud. I prefer an honest America. I prefer the world seeing that, yes, we're a country that is dumb enough -- no disrespect -- [that] we got duped into electing Donald Trump."
Earlier this month Cole was forced to cancel his Dreamville Festival due to Hurricane Florence. He subsequently unveiled an initiative to aid victims of the storm in his hometown of Fayetteville, NC.