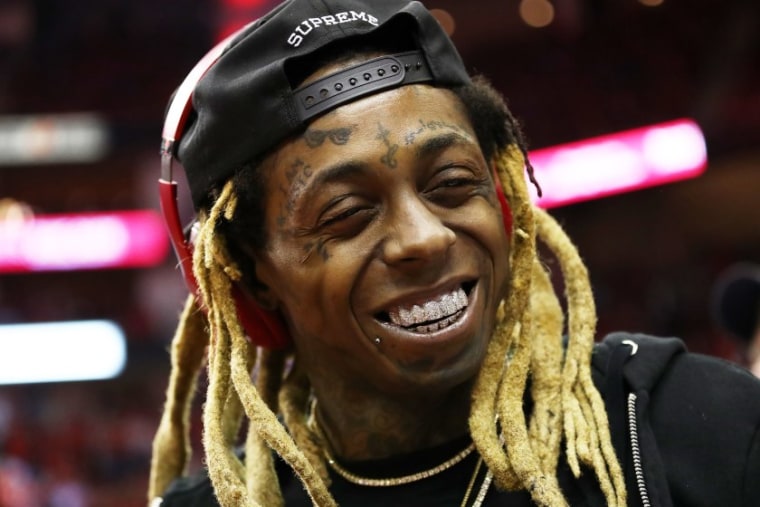 Lil Wayne has finally dropped Tha Carter V. The long-awaited album was released on Thursday night and clocks in at a bulging 23 tracks long. Guests on the record include Kendrick Lamar, Nicki Minaj, Travis Scott, Ashanti, Nivea, and Snoop Dogg among others.
The album has strong Carter family ties. Wayne's mother, Jacida, delivers a spoken word feature on the opening track and appears throughout, meanwhile his teenage daughter Reginae appears on "Famous." Notable production credits include appearances from Zaytoven, Metro Boomin, and Swizz Beatz. DJ Mustard has a writers credit on "Open Safe" but is not listed as a producer at the time of writing. Closing track "Let It All Work Out" samples Sampha's "Indecision." "Dedicate," meanwhile, features a sample of Barack Obama talking about Wayne.
See Tha Carter V's's tracklist and production credits below, via Spotify.
Tha Carter V
1. "I Love You Dwayne"
2. "Don't Cry"
Produced by Ben Billions, Z3N
Featuring XXXTentacion
3. "Dedicate"
Produced by Manny Galvez, Roc & Mayne, Louie Haze
4. "Uproar"
Produced by Swizz Beatz, Avenue
5. "Let It Fly"
Produced by Sevn Thomas, Dirtwork
Featuring Travis Scott
6. "Can't Be Broken"
Produced by Ben Bilions, Thomas Troelsen
7. "Dark Side Of The Moon"
Produced by Bloque, Jonah Christian
Featuring Nicki Minaj
8. "Mona Lisa"
Produced by Infamous, Onhel
Featuring Kendrick Lamar
9. "What About Me"
Produced by Johnny Yukon, DJ Frank E
Featuring Sosamann
10. "Open Letter"
Produced by Johnny Yukon, DJ Frank E
11. "Famous"
Produced by Sake Pase, Lasanna "ACE" Harris
Featuring Reginae Carter
12. "Problems"
Produced by Zaytoven
13. "Dope Niggaz"
Produced by R!o, Kamo
Featuring Snoop Dogg
14. "Hittas"
Produced by Jayones
15. "Took His Time"
Produced by Freewaytjay
16. "Open Safe"
Produced by Mike Free
17. "Start This Shit Off Right"
Produced by Mannie Fresh
Featuring Ashanti, Mack Maine
18. "Demon"
Produced by Cool & Dre, 808-Ray
19. "Mess"
Produced by Infamous
20. "Dope New Gospel"
Produced by R!o, Kamo
Featuring Nivea
21. "Perfect Strangers"
Produced by Mannie Fresh
22. "Used 2"
Produced by Metro Boomin, Prince 85
23. "Let It All Work Out"
Produced by Jordan, Reefa, Myles William