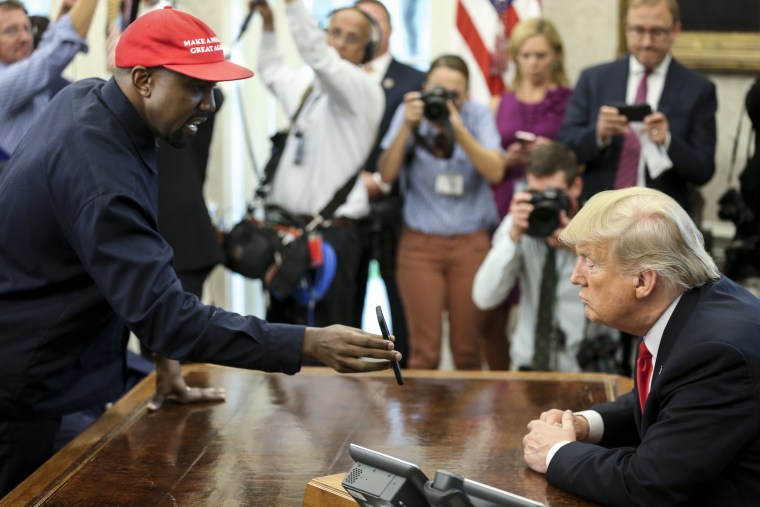 Kanye West met with President Donald Trump on Thursday to discuss topics like manufacturing in Chicago and jobs for formerly incarcerated individuals, but their summit soon veered into other territory.
According to tweets from reporters present and videos from their meeting, West falsely claimed Trump "stopped" an impending war between the United States and North Korea "on day one." This lie has been often repeated by Trump without evidence and debunked by former administration officials.
West has openly discussed mental health issues after revealing his bipolar disorder diagnosis earlier this year – the cover art of his new album ye contains text reading "I hate having bipolar disorder It's awesome." However, West claimed in the meeting with Trump that he was mis-diagnosed and that he was simply "sleep-deprived."
When discussion turned to the 2016 presidential campaign, West said that he "loved" Hillary Clinton but felt alienated "as a guy" by her slogan "I'm With Her" because he didn't have a lot of "male energy" in his household as a child. (Public records show that he donated $2,700 to Hillary's campaign in 2015 and $15,000 to Democrats in 2014)
West says the MAGA hat he wears "gives him power" to make up for that.
On the criminal justice front, West brought up the issue of stop-and-frisk and said he "doesn't think" the practive helps. Trump claimed to be "open-minded" about the issue, but earlier this week called for West's hometown of Chicago to begin utilizing the practice.
The meeting ended with Kanye embracing Trump and saying "I love this guy right here.