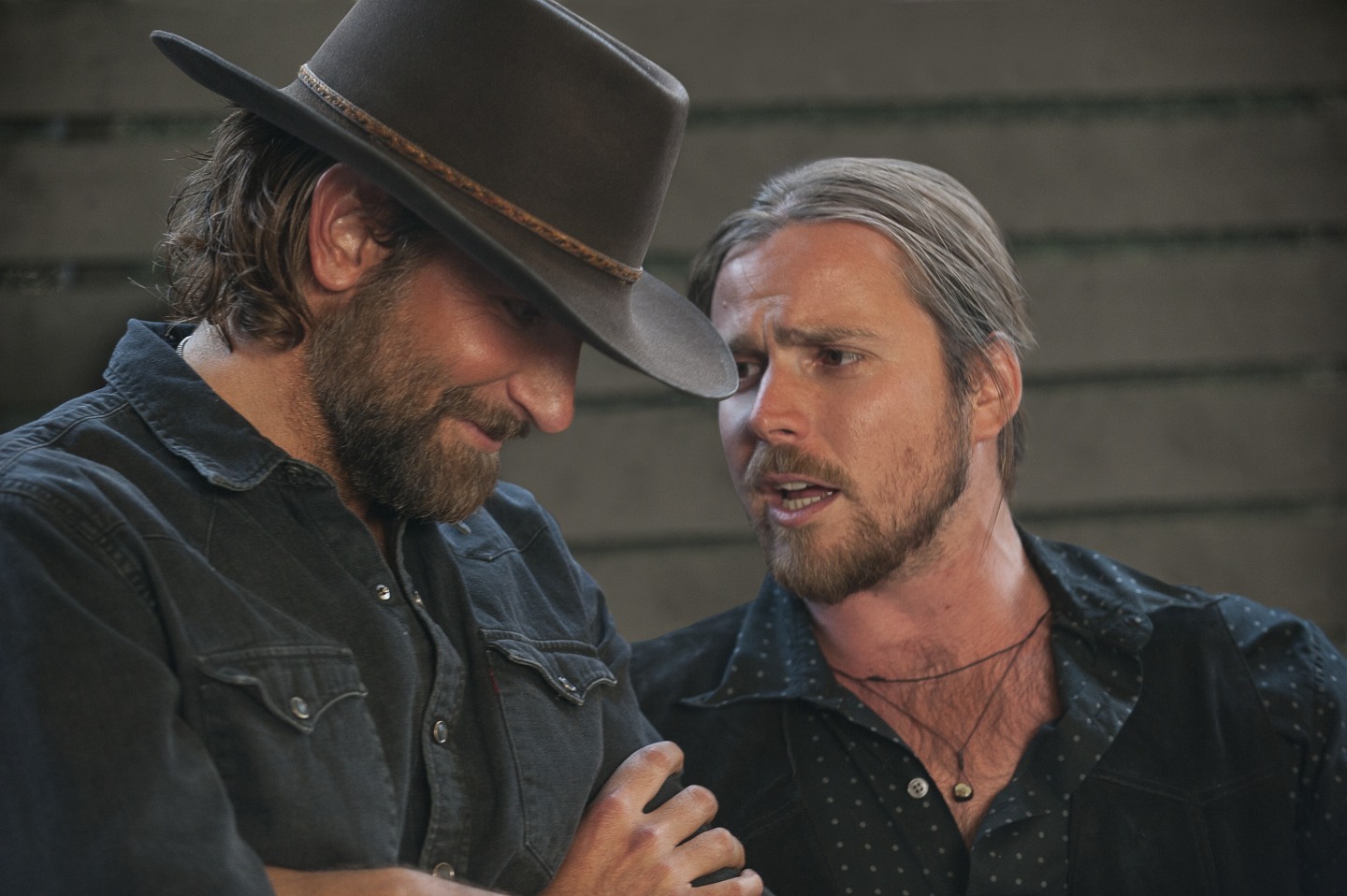 When it came to the herculean task of crafting original music for Bradley Cooper's remake of A Star Is Born, the director turned to a murderer's row of music's most prolific songwriters. Chief among them was Lukas Nelson, the 29-year-old son of Willie who's blazed a path for himself as the frontman for Lukas Nelson and the Promise of The Real (who appear in the film as members of Cooper's fictional band) and as a guitarist for Neil Young.
Originally hired as a music consultant, Nelson wrote and produced the bulk of the film's soundtrack, closely working with both Cooper and Lady Gaga. Along the way, he forged a creative bond with the superstars, Cooper basing his character Jackson Maine off of Nelson's mannerisms and Gaga co-writing with him for her 2017 hit "The Cure." After two years in the creative trenches, the typically reserved Nelson has found himself in the middle of a cultural phenomenon, as A Star Is Born has become a critical darling and a box office success, the film's soundtrack set to debut at No. 1 on the Billboard 200. Don't expect success to faze him, though: "While I appreciate that it's getting recognition, I'm just proud that it's a good piece of art."
A Star Is Born is getting incredible praise. It must be rewarding to finally get it out into the world.
It feels great to get it out there. It feels beautiful to be a part of something we've all worked so hard on. The fact that people really like it is a good feeling.
You and Bradley hit it off after a happenstance meeting.
I met Bradley in 2016 right after Desert Trip, which I played [as part of Neil Young's band]. Bradley caught us there and called me afterwards. I went over to his house and we began working together. We definitely got along. I liked his approach to working hard. I grew up in a family of hard workers, and he seemed like a brother to me. We connected pretty quickly on many things.
When Cooper told Eddie Vedder he was going to remake such an iconic film as well as sing and create original music, Vedder told Bradley he thought he was crazy for even attempting it. Were you apprehensive about how it would turn out as well?
I wasn't really thinking about doing anything but doing a good job and appreciating the opportunity that came to me. I wasn't thinking about how it'd be received as much as just making it good when we were working on it.
How did the process begin?
There wasn't really a set process for any of this stuff — that's what I loved about it. It was more like, "Hey, how are you feeling? Wanna get together?" I was on the road a lot of the time too, so I had to leave and come back a lot. In the studio, sometimes Gaga would be there, sometimes Bradley. It was a fun and creative experience where everyone was giving 150%, even if they weren't [physically)] there. It was a no-ego situation. We'd write all the time, whether we were in a session or not. There were also times when during a writing session we'd have a bunch of writers working together.
Did you look at the script beforehand to get a sense of what these characters would sing?
I read the script and knew the story, but when it came to writing the songs, it was more just me writing for myself — feeling how I felt about life, and relating to the character. I wasn't writing for anyone but me, and that's what makes for a good song. I worked on every one of the songs except for the really poppy stuff. The music you hear on the soundtrack was played by my band, and I produced those songs with everybody.
Is there a song you're most proud of?
"Shallow" is a great moment. I think it's Bradley's best vocal performance. I'm also proud of "Music to My Eyes." Although it's a smaller part of the movie, it's great. He does a great job vocally with that song, and lyrically I love it. "Is That Alright?" is a song I wrote and brought into the group of writers and reworked with them, so that was my baby. I loved how that one came together.
You also appear in the movie as a member of Jackson Maine's band. Did you know right off the bat you'd be in the film as well?
I was originally hired as a musical consultant, so writing and being on screen didn't come till later. We naturally evolved that way because we were all hanging out together. At the same time, Bradley was watching me playing and my mannerisms, and took a lot from that for his character. [He was also inspired by] our heroes like Neil Young and Jim Morrison. Jackson Maine is a mix of the rock-and-roll guys and the country guys.
The live performances were shot at actual festivals. Was it surreal to play in a fictional setting?
It's still [my band] — the name is different, but I'm used to being on stage with those guys. Every time I'm up there is a surreal experience, whether it's with Jackson Maine, Bradley Cooper, Neil Young, Lady Gaga, or dad. It's a special thing.
When did you realize you were going to pursue a career in music?
The first song I wrote was when I was 11 years old. It was called "You Were It." It was a good song, and dad actually recorded it and put it on [2004's It Will Always Be]. He was really proud of me, and that made me feel like…OK, I have a gift here for writing songs and this is something I'm good at. I kept honing my skills and never looked back.
When did you realize your dad was the legend that is Willie Nelson?
Dad was always dad to me. There were moments when I was young when I understood we were in the entertainment industry. What I was struck by was that many people from all walks of life all over the world really loved him — not just as an entertainer, but as a person. It made me really proud that he's beloved by people.
Has Willie seen the movie?
My mom and dad and everybody went and saw it one day. He loved it. He's very proud.
What do you make of the Oscar chatter about the film?
I respect the fact that it's loved by the industry and my peers, but I don't think that anybody who creates art creates it for that reason. While I appreciate that it's getting recognition, I'm just proud that it's a good piece of art. There a lot of things that get awards and recognition that suck, in my opinion — and I don't believe this sucks. I'm proud of it regardless of whether it wins any awards. It's a good piece of art and it's meaningful. There are a lot of themes in the movie that are relevant to our times, and I'm proud to have helped make this film.