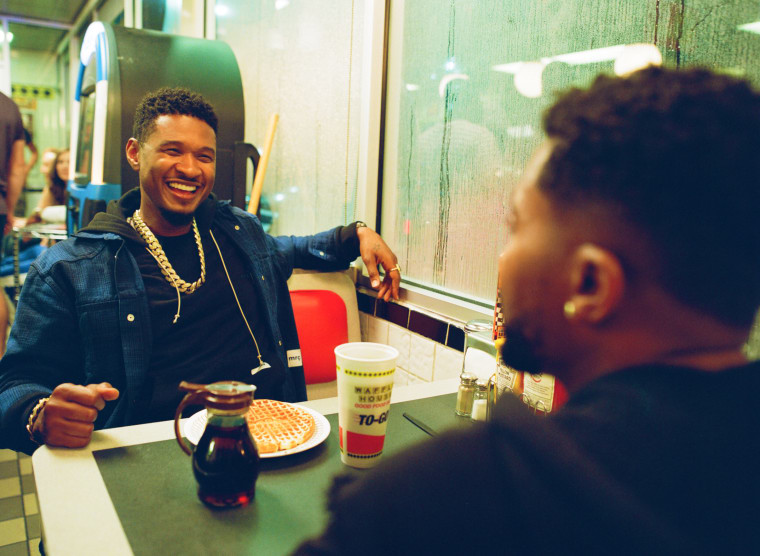 On the eve of his 40th birthday weekend, R&B legend Usher dropped A, a surprise project produced entirely by keyboard genius Zaytoven. The eight-track release is a tribute to their home city of Atlanta and also features fellow natives Future and Gunna. Usher sounds nimble over Zaytoven's beats and clearly has a lot to get off his chest. The FADER spoke with Usher on Thursday night, who was getting excited for a three-day celebration of his album release and his milestone birthday. He stressed that this project should be enjoyed for what it is — a spontaneous collection of songs that just felt good to put out. He's working on his next full album without a hard timeline right now and these songs came out of an exciting and unplanned week-long sprint in the studio.
I know you worked with Zaytoven on "Papers" from Raymond v. Raymond. What was the initial idea of getting back with him to record this project?
I don't know, but I can say this. For every relationship that started as a one-off, it led to something bigger that's what made the success that happened with it. If I go back to the first time that me and J.D. [Jermaine Dupri] got together, it was a remix for "Think of You." And my next album he did "My Way". And that relationship grew to become Confessions, and so on.
[Zaytoven and I] were working on my project, my future album, actually. And we started working on songs, had great combinations between the first two, three, and we kept going. You know, "Let's take another week to do it." And then it was like, alright.
So we were on the third day. It was the third day when we said,"You know, let's take the rest of this week." Another five or six songs popped out of that. He was like, "Man, this feels so good and the energy of what this is feels really in the moment." I don't want to wait another month or a year from now to release these songs. I really want to be in the moment.
That's how he and Gucci Mane make their songs, too: really rapid fire. Is that something that you had wanted to happen?
I like the way that sounds, "rapid fire." As long as it's fire, you know. I don't want to be rapid, I just wanna ... I love to be rapid fire, and that's when I feel it happens. I mean, there's an amazing buzz around it, man. And then all of the other people who've chosen to contribute, even if they weren't from the A. Like Virgil [Abloh], allowing me to pay homage to him and who he is as a designer through the art texture of the album. If you look at the artwork, you'll see that. But he's someone I respect very, very much, and wanted to do what "he does" with quotes for Atlanta because I feel like that is Atlanta. I feel Atlanta needs no definition. It just is what it is, exclusively loud, A.
"She Ain't Tell" from the new project really reminds me of "My Boo" — it has the same little background noises and the piano part. I thought of it like a sad sequel to a song about a perfect relationship. I was wondering if you thought about that at all?
I don't think that there's any way to not sound like what I've created in the past, but that wasn't the purpose. That wasn't the agenda. We really were just making music and ... Hey, yeah. There are tones that are always gonna sound similar and if it makes you feel that way then that's a great thing because that was a very successful album. Those were very successful songs, and, I mean, thank you for being able to recognize some of my past in my present. But I really did just wanna make music that felt fun. I did wanna make music that felt honest. I did wanna make music that felt in the moment and present.
I mean, it sounds really new for you still. I know from the last album and working with Young Thug, it does feel like a continuation of that in a good way.
Yeah, man. Atlanta offers a certain attitude and a sauce that I can't explain, and it is a little bit in "No Limit," it is a little bit in "TNT." I'm literally talking shit, man. I'm popping shit that I haven't popped, like really ever. And that's what being in the moment creates. When you have months and months to think about it and you begin to analyze all the people who you need to think of and what you want this entire project to work out, you'll lose certain elements of your spontaneity an incredible culture that just happens in the moment. I didn't give that space. I really was honest with the feelings, I was honest with the conversation and I was really in the moment. And I think Zay for that. I really do thank Mark Pitt for his direction in pushing me. Matter of fact, when I finished my eight songs, he was like, "I'm leaving the studio and not coming back so you don't change your mind." And I was like, "Let's put it out." And he's like, "OK, I'm gone." And then that became the reality that it was.
We originally were analyzing putting it out a little bit later this month, and 48 hours ago I was like, "Nah, let's put it out over the weekend." They still up driving like crazy to make it happen, and thank God it has, but it feels urgent. I mean, I just feel the urgency and I feel the energy of this. That's what I'm loving right now, man.
You mentioned being spontaneous and saying new things. I wanted to ask about on the song "Birthday." I know it became a thing in R&B a couple years ago when Omarion said "Eat the booty like groceries" and on this song you say, "Eat the cake 'cause it's your birthday," and I feel like I haven't heard a line like that from you in really ever—
I mean, it's about having double entendre or double ménage à trois, to prime this ménage-à-tranzas. You know? To be able to hear and enjoy what that is, have the cake or a cake. Enjoy it! We're create the words and shit, man. [laughs] We can have some fun. Let's have fun, baby! You know what I'm saying? You gotta enjoy it, man.
You know, I've spent time with many different people. I love the energy of the young rappers. I love the energy of young hopefuls that are coming up. But more than anything, I like hanging out with older people. There's two people that I hang out and I listen to the honesty of where they are. It's Quincy Jones and Harry Belafonte. These are two people who fearlessly just give what they felt. It was really just being in the moment and they gave themselves, you know?
I don't know if you recently seen Quincy Jones' documentary, but he really does break down how he really gave himself to his music. So much that he kinda lost some of his life, but there was such magic in it that was held in the music and held in the moment. From that I always just felt like, Yo, man, I love that freedom! That freedom created Off The fuckin' Wall, that freedom created "The Dude," that freedom created what he did with "Count" Basie and Frank Sinatra and was defining a time when black people didn't do shit with white people, that right there, that freedom is what I love. And that's what art is. That's what artistry is. That's what being an artist is. And maybe it's [turning] 40 that's kinda got me to be in that place where I'm like, "I wanna be in the moment! I wanna do what I feel! I wanna enjoy this shit! I'm not here to stress myself the fuck out and not enjoy it, figuring out how to please everybody. I just wanna enjoy it and have fun. Let's have fun!"