Kojo Funds is helping shape the sound of the U.K.'s black diaspora
An interview with the London artist on pioneering afroswing, his new project Golden Boy, and what the future's looking like.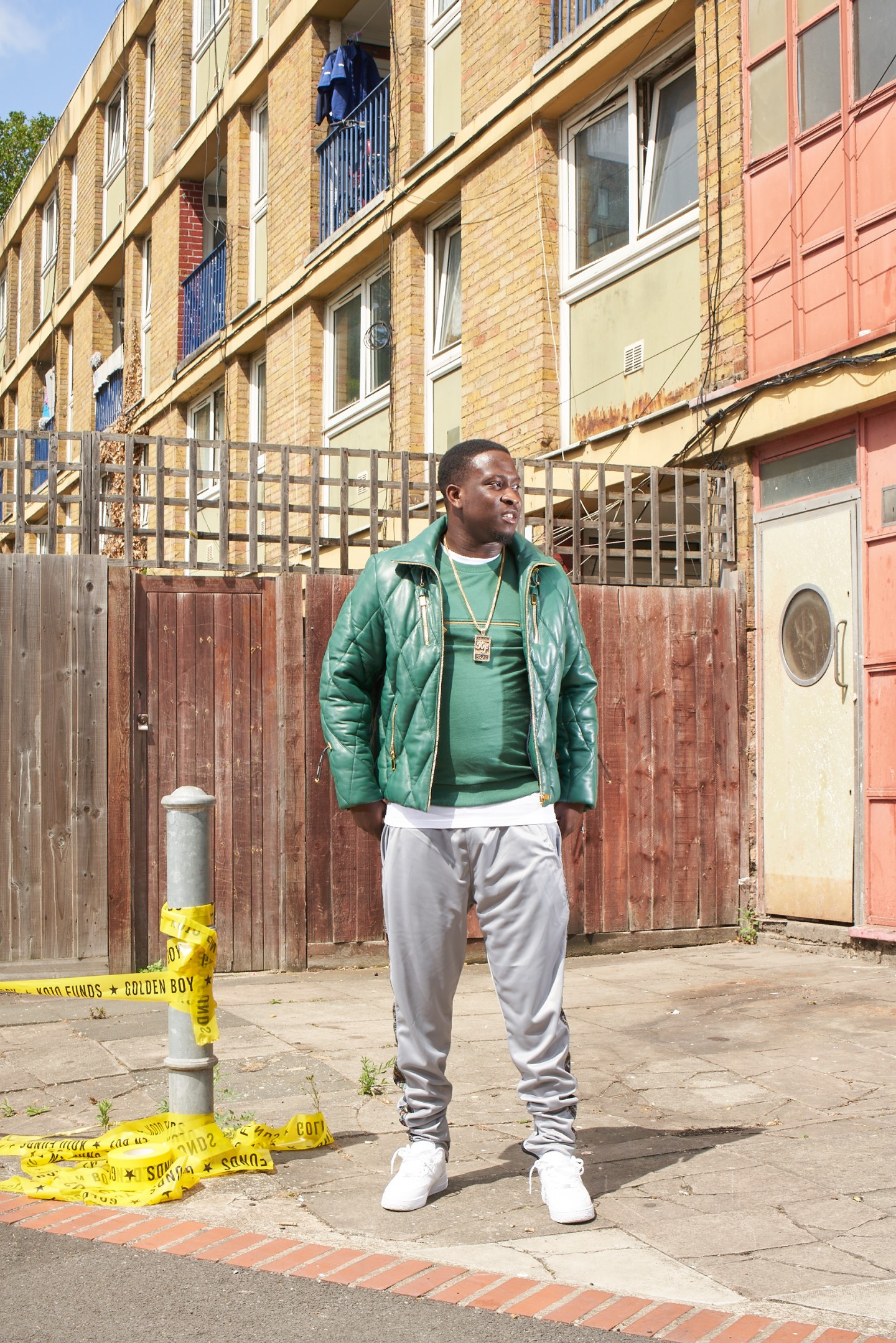 "No one better than me all I hear is blah blah/Young Kojo from the Eastside yeah I'm hot like lava," Kojo Funds spits on "Golden Boy," the opening track on his latest mixtape of the same name. Today, we're in East London's Café Bonnane, his local spot for a fry-up; keen-eyed fans might remember it from the music video for the 2016 single "My 9ine," in which the rapper and his friends walked around the eerily artificial area that has mostly been built up during the 23-year-old's lifetime.

"This bit didn't even exist when I was growing up, it's a new bit," the afroswing pioneer explains. "I grew up on the other side..it was difficult. When I was a kid, my mum was working so I could get certain things like trainers and that, but when she lost her job everything started going a bit pear-shaped, and I started entering the streets just doing bullshit. I'm just a normal young black kid innit, tryna be a human being".

Kojo Funds first broke onto the UK music scene proper in 2016 with "Dun Talkin," a menacing but characteristically buoyant tune featuring fellow London rapper Abra Cadabra; a year later, he was nominated for Best Newcomer at the 2017 MOBO Awards alongside Mabel and Yxng Bane, both of whom he's collaborated with on afropop bangers that expertly mix West African and Caribbean sounds with grime, pop, and rap to create the sound of the black U.K. diaspora.
Golden Boy further proves Kojo's versatility, as he dabbles in a variety of sounds, flows, and collaborations — from the upbeat summertime-party vibe of "Check" to the darker, grime-and-garage-infused sound of "Who Am I" and the straight-up reggae of "Song Cry," the latter doubling as an ode to the records his Dominican father used to play around the house when he was a child. Read on for my conversation with the Godfather of afroswing.
What did you do for fun around here?
Let's just say parties innit...we had house parties and barbecues all the time — we used to call them raves. They'd start in the day but go on for time, so we were active throughout the nighttime as well. It was fun, man.

What inspires your music?
Life. Life consists of family, friends, all the experiences that you go through. They inspire me to be great and make music. Without those things I wouldn't even be making music, because I wouldn't know what to talk about. Various OG artists inspire me — them living a stable life. I want that for myself.

What's your music making process?
I don't write. I just go in the studio, hear a beat...if it's not a beat, it's a topic that the mandem are talking about and I think, Let's just make it into music. I just hear that, lay some melodies down, and after I get the flows and put them together, I put the words in after. But I need my Hennessy my green leaves as well, you get me [Laughs].

How did you start making music?
2014. Me and my boys were just freestyling, and they were like "Rah Koj, you're kinda sick." I didn't take that serious, fam. One of my other boys had a studio, and he was like, "Come to the studio and lay some stuff down." I was like "Nah," but he kept on bugging me so I was like 'OK lemme just go'. I went in the booth, they played the beat, and I laid one track which became "Want From Me." He put it on SoundCloud and it got 1 million plays, and that's what started it all.

What did you have planned for your life before that?
I'm not gonna lie to you...obviously, man wanted to be a footballer, innit. But then certain things started deteriorating...my consistency and my work. I was proper good, but I didn't take it serious and I got involved with other bullshit and that was it. I don't know what I'd be doing without music.

You're commonly referred to as the godfather of afroswing. Right now, there are a lot of songs that are using that sound. How do you make sure your music is more than just trendy?

People say I'm a pioneer, and there are other people who sound like me who are tryna do what I'm doing. Then again, it's my role to show that I'm separate from these people by just trying different sounds. If I'm calling myself an artist, I should be able to do various kinds of music — within reason. When it comes to R&B, slow jams, the rapping and stuff...I have to show what I can do, and I've shown to the people that I'm different. There's only one Kojo.

Do you think U.K. music is in a strong position at the moment?
It's in a good position, but we're not there yet. American music is global. UK music is global to an extent, but we're still just starting out. Big-up to the Americans that are showing love and that, but we need to keep making good music.

Do you think it's a good time to be a U.K. artist?
100%. The opportunities are there man, the door's open, spotlight is on you.

What is your earliest musical memory?
My dad's a rasta, innit. When I was young, he used to play loads of reggae vinyl. I can't remember what exact reggae tune it was, but that was the first time I remember thinking, "Yo what's this? Music?"

Who were some of your favorite artists growing up?
Obviously Snoop, 50 [Cent], Jay-Z. Bobby Brown, and that whole New Edition sound. Sizzla, Movado, Vybz Kartel. The dancehall sound.

You've done a lot of collaborations. How do you choose who you're going to collaborate with?
I don't hit people up to collab. I like things to just happen. If it's meant to be, it's meant to be.

Who would you like to collaborate with in the future?
Ed Sheeran. He's got some flavor, but it's different.

You're half-Ghanaian and half-Dominican. Have you ever been to either country?
If I didn't go to Ghana, I wouldn't be Kojo Funds. I had to go there for 2 years when I was about 14, and whilst I was there I was just soaking up everything. The tongue-twist changed, my accent became a bit more fresh, but it helped. Musically, I became different and unique, blending African sounds with the British dialects. Just seeing life — real life — out there, the struggle there is mad. I've got things that people there have never seen in their lives. It opened my eyes to just be humble and thankful.

How do your different nationalities help shape your music?
It's just different cultures, innit, blending them all together. I haven't really seen my Dominican side that much, but I've got a lot of Caribbean friends. Just taking that in and absorbing the African culture that I already have — it influences everything I do.

Was there ever a clash? I remember in school the African kids and the Caribbean kids were always beefing about who's the best.
[Laughs] Back then, I never used to claim I was African. I even used to say I was Jamaican! They were the coolest back then. But now Africans are top. Caribbeans are from Africa man, we're all one.

Where did the name Golden Boy come from?

My uncle. I came from a very good family. All my cousins, aunts, and uncles went university and that; it's only me that ain't gone on that path. People say I'm smart, but education was boring to me. My uncle was like, "Listen, I've seen your life. From the moment you came out your mum, I knew you've got a story. You're special. You're the golden boy." We had a long talk that day, and everything that he said to me sat in my head for the rest of my life. That's why "Golden Boy" stuck with me. I was like, You know what, let me run with it. I did, and now we're here, but we've just started. You're gonna hear Kojo Funds' name for the next 20 years.