Molly Brazy doesn't want to go back to her old life
After leaving her hometown of Detroit for Atlanta last year, the 19-year-old rapper is balancing aggressive bars and personal growth.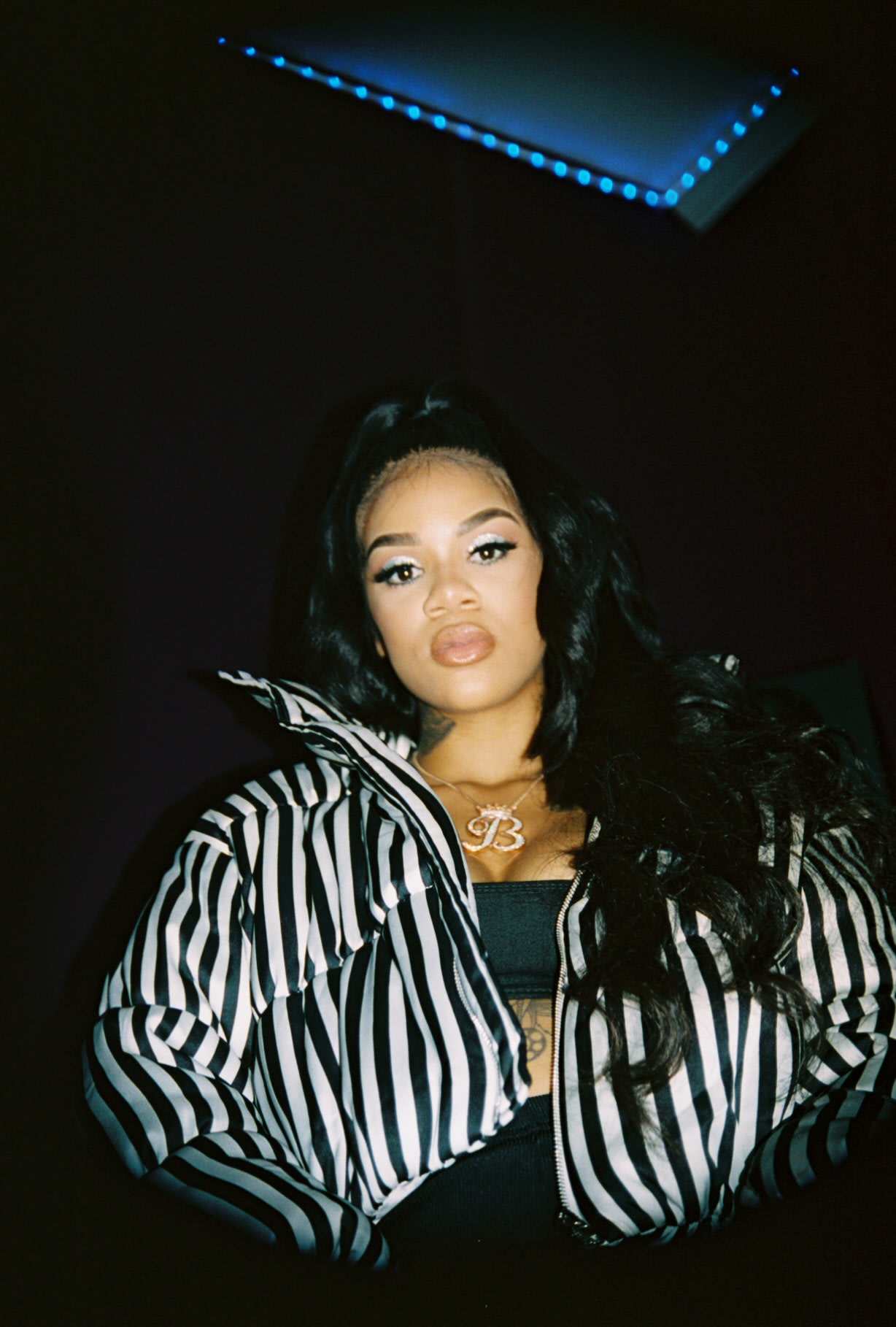 The FADER's longstanding GEN F series profiles emerging artists to know now.
For most of the past year, Molly Brazy has spent her time in a dark studio in a northeast suburb of Atlanta, illuminated by the colored lights strung along the corners of the floor. In the room, located in a business complex right next to a church, the 19-year-old rapper is dressed down, wearing a white T-shirt, black leggings and black slides. Her makeup, including glittery eyeshadow that matches her metallic nails, is a glamorous exception. Determined to change her life after leaving her hometown of Detroit last October, Molly is constantly either in the studio or writing raps at home. "[Living in Atlanta is] very, very different for me. I'm used to being on the block, pulling up to my friend's house and chilling on the porch or in the parking lot," she says. "Here I don't do anything."
Moving down South has isolated Molly, but she is convinced her life in Detroit, both the hustle and the hardships, have prepared her for the lifestyle of a rising rapper. She spent much of her time in Detroit alone, too. On "Look Easy," released in September, she references Jazz, her childhood confidant and, in many ways, her only friend. "I honestly don't know how to make friends," the rapper says with a shrug. This was especially true after her brother, and the boys she considered to be like family, ended up being sent to prison when Molly was a sophomore in high school. "When they just got stripped from me, I was out there on my own. So much stuff changed [during] that second year. I turned demonic," she says with a chuckle. "I hated everybody. I just felt like fuck everybody."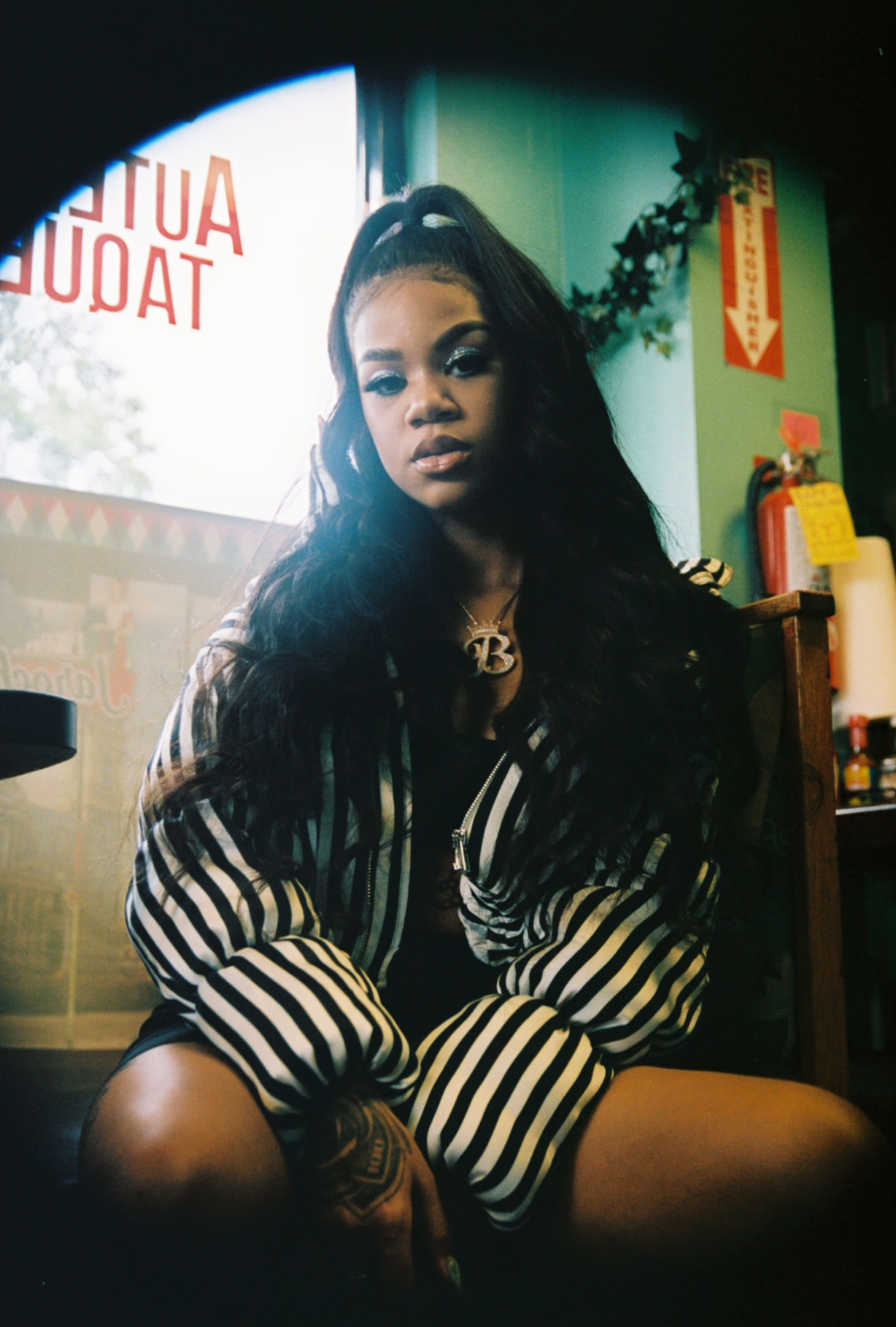 "I don't want people to feel like I was a gangsta so I have to be a gangsta all my life."
Counseling didn't work: She started fighting more and was eventually kicked out of school. While working at a hair salon, she began rapping, inspired by Nicki Minaj, and Detroit's Kash Doll, who she now refers to as her "big sis." She started uploading videos of herself freestyling to social media and promoters began calling her boss at the hair salon hoping to book her for shows. In 2016, when she was still performing in the auditoriums of Detroit high schools and hadn't released an official project, she was already hanging around artists such as Kash Doll and producer Zaytoven. Molly, who released her first two projects in 2017, believes she's destined for mega fame because of how easy it's been for her to gain recognition thus far.
From the beginning, Molly's raps have been indicative of her experiences growing up in Detroit. In her songs, she's candid about a life marred by violence and betrayal. Her narratives ultimately find her trying to make it out of tough situations, some self-inflicted and others a result of her environment. The violence she says she's working to leave behind has so far helped jumpstart her career. In "Pop Shit," released last November, Molly and her pose hold a man at gunpoint, the camera panning around the girls as they huddle, laughing and pretending to pull the trigger. That same year, in a viral video that led to a police investigation, Molly appears to point a gun at a toddler. Her manager said the gun wasn't real and emphasized that the teenager regretted making the video, but backlash ensued. She soon decided it was time to leave her life in Detroit behind.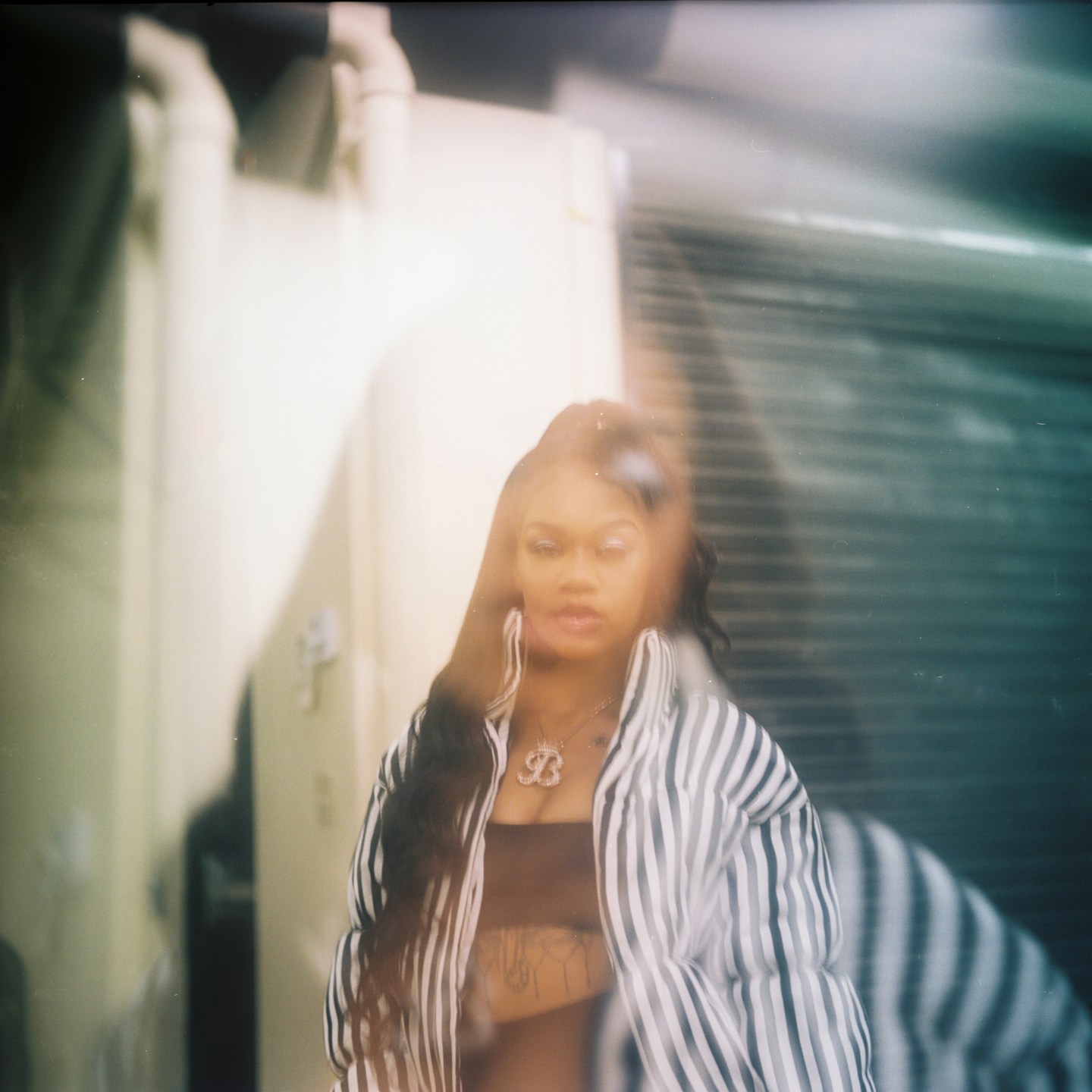 Sitting in the studio in Atlanta, calm and soft-spoken, Molly reflects on the image she's portrayed up until now. "It's so much negativity nowadays and I feel like I'm kind of a part of that because of everything that I started off rapping about. My life was just violent," the Detroit native says. "I feel like I've got a lot to accomplish since I'm out of that [situation]." Molly says she's in a different state of mind now and she feels compelled to reach out to people who might be living a lifestyle similar to the one she grew up in. "I do want to be a role model so I'm trying to shift into that lane." she says. "I'm a very good motivational speaker and I feel like I can talk to people to a point where they will listen."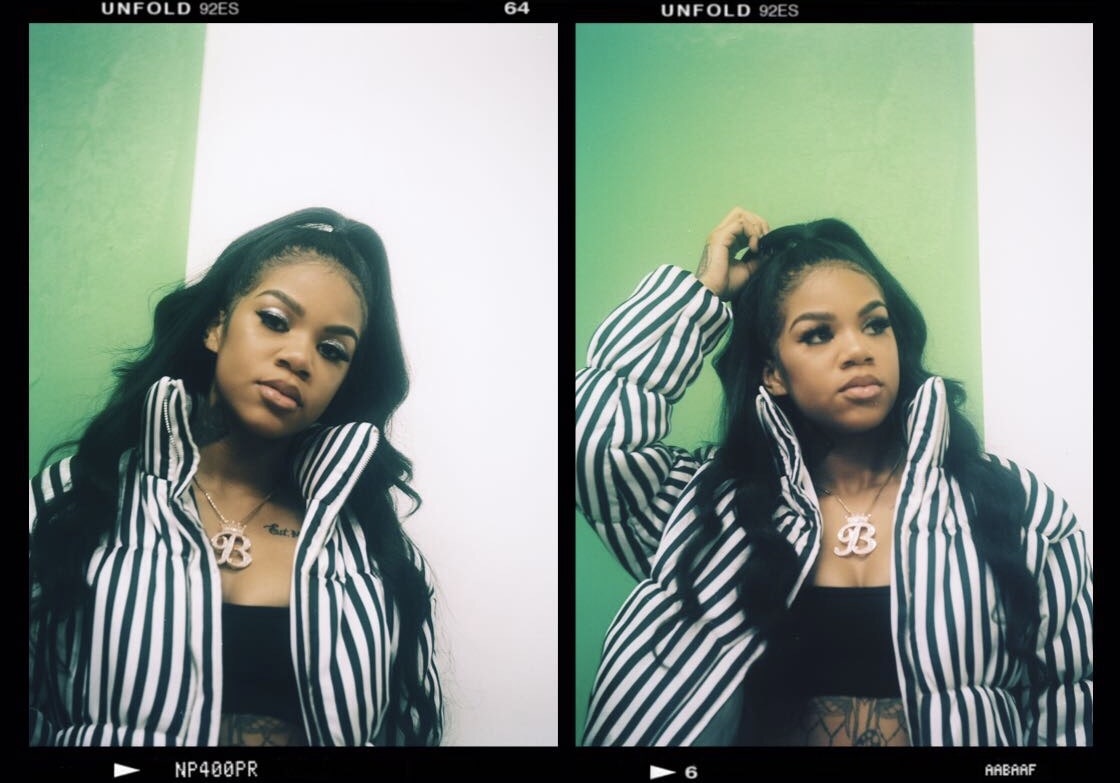 Don't expect the change to occur overnight, though. On the cover of Queen Pin, one of two projects the rapper plans to release before the end of the year, Molly sits behind a desk between two gold skulls and a bottle of Ace of Spades, pointing a gun towards the ceiling, in the same way she holds another gun on the cover of her debut Molly World. Her black buttoned-down shirt is open, revealing two chains, including a blinged-out "B" adorned by a crown. The bass-driven production and menacing lyrics are still ubiquitous on the new project, but on "I Wish" the rapper is at her most vulnerable, reflecting on the arrest of her brother and the death of her father before rapping, "I wish I could wake up every morning with a smile on my face, but it's so much pain."
Like many rappers, Molly faces the dilemma of evolving as a person while maintaining the authenticity and bold rhymes that first garnered attention. "Trust None," an infectious kiss-off to bitches, hoes, snakes, and fakes, was featured in an episode of HBO's Insecure, benefitting, in large part, from Molly's nonchalant delivery of bold lyrics about pistol whipping the teeth out of a hater's mouth. Part of her desire to change, however, stems from a hope that she won't have to return to the life she's rapped about in her music. "I don't want people to feel like I was a gangsta so I have to be a gangsta all my life. Naw," she says. "I just want to be the biggest star." A large smile spreading across her face, she adds: "Not the biggest female star, either. I want to be the biggest star. Period."