Every year the bar is raised for Halloween costumes and 2018 was no different. We have seen YG transform himself into Michael Jackson, Bey and Jay channel their inner Olympians, and Missy Elliott realize that when you're an icon you can actually just dress as yourself. Rihanna got into the spirit of things at a party in London on Wednesday night, donning a neon pink skeleton face for the evening, Meanwhile, Lupita Nyong'o looked to a '90s classic for her Clueless inspired outfit.
Couples costumes were a big look this year with Chrissy Teigen and John Legend turning to the British Royal Family for inspiration. They were joined by Bella Hadid and The Weeknd's Beetlejuice and Justin Timberlake and Jessica Biel sporting a Lego Batman costume.
You can check out all of those costumes, and more, below.
Chrissy Teigen and John Legend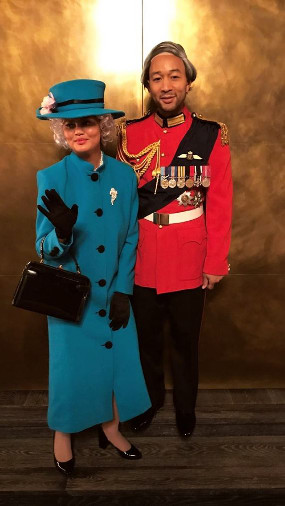 Lupita Nyong'o