Reflections from the Mac Miller benefit concert
Just seven weeks after his death, a sincere tribute concert proved there may be no single correct way to collectively mourn.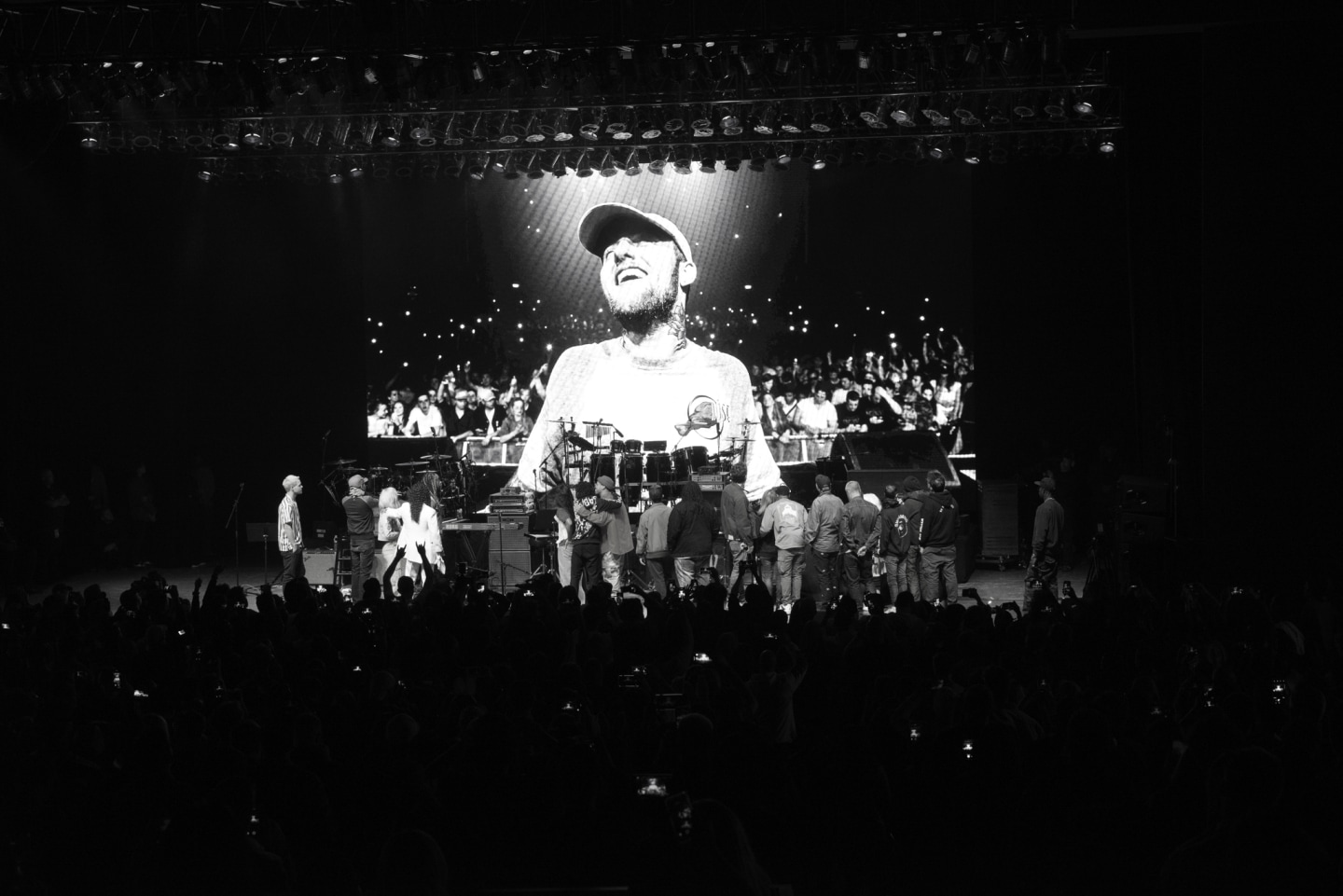 It was easy to forget that last night was Halloween. There were fans who showed up in costume — a pirate, a Clovers cheerleader from Bring It On, and more — but the energy at Mac Miller: A Celebration of Life, a tribute concert honoring the late rapper, was more ceremonious than festive. It didn't feel like Halloween at all. When Mac Miller, born Malcolm James McCormick, died at age 26 in early September, people flocked to social media to share personal stories commemorating his impact as an artist and as a friend.
The increasing norm of public displays of grief on the internet can be complicated. But in Mac's case the cycle of collective mourning online has felt sincere, fitting, and even necessary: he represented a generation that grew up online. His mixtapes made their initial waves through a network of independent music blogs that were especially influential at the time of his ascent. And he was an artist who dedicated his career to celebrating the work of others, through spirited collaboration and genuine friendship. Last night was a simultaneously solemn, glorious, and tender culmination of that public mourning, in the form of tribute.
It was dusk as fans lined up at the entrance to Los Angeles's Greek Theatre, a 5,800-capacity amphitheater that sits inside one of America's largest urban parks, Griffith Park. Mac Miller was scheduled to play a show on Halloween at the venue, in support of his fifth studio album, Swimming. Inside, a merch booth sold hoodies celebrating his birthdate with the phrase "'92 'Til Infinity" and airbrush tees featuring a characteristically cheesing Malcolm, the proceeds of which, like the tickets, would presumably go to the newly-founded Mac Miller Circles Fund, created to help youth from underserved communities explore the arts. With no DJ and tens of thousands of people tuned in via livestream, it was difficult to discern where the night would go.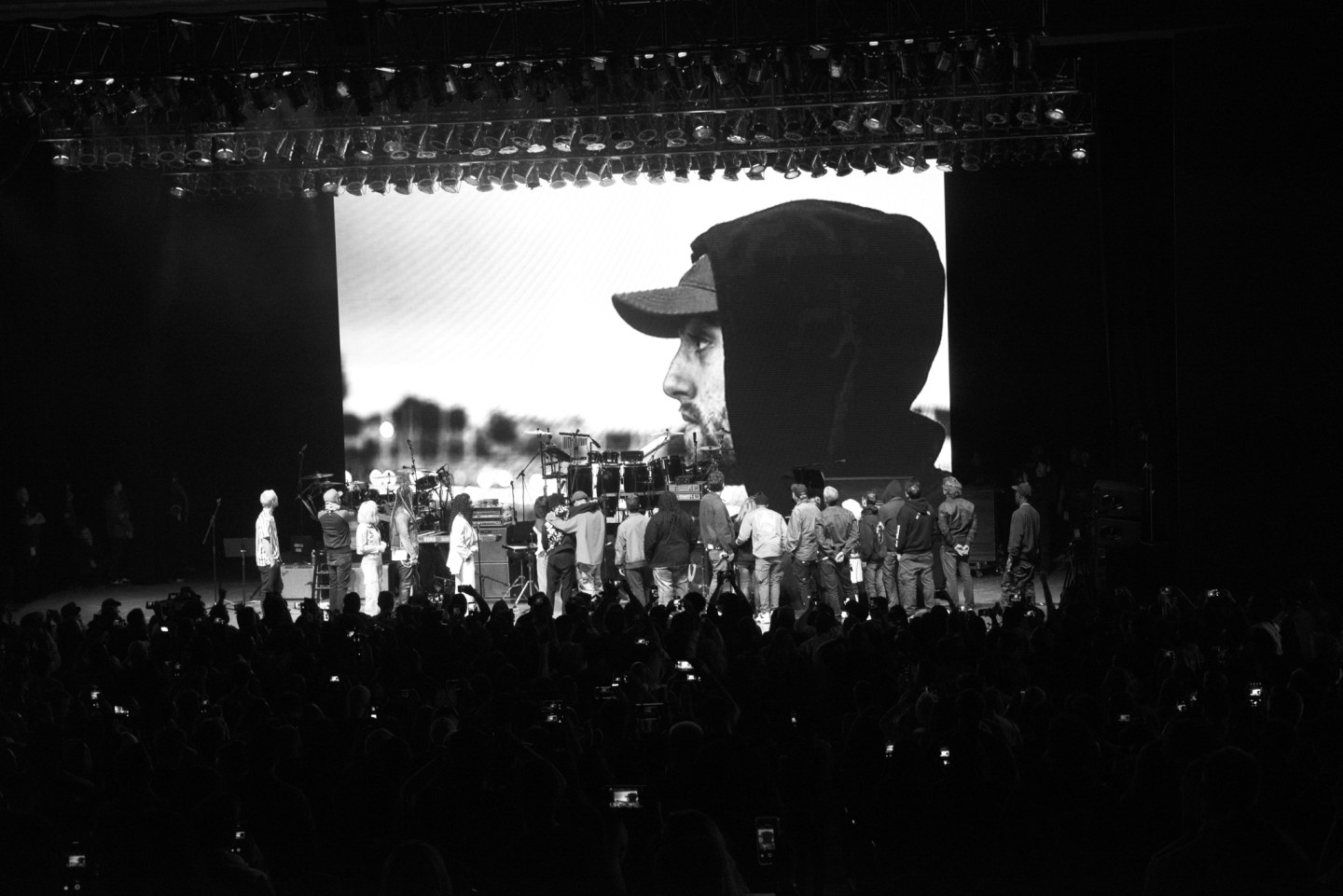 One of Malcolm's best and oldest friends, Dylan Reynolds, kicked off the night of performances by close pals and collaborators, all of whose careers Mac played a key role in. Njomza, a singer who's featured on Miller's 2016 album The Divine Feminine, performed a new song dedicated to Mac and asked the crowd to sing along to an anguished "I miss you." Earl Sweatshirt, who produced on and is featured on 2013's Watching Movies with the Sound Off, immediately reminded the audience that Mac would want people to be truly celebrating and ended his set by lifting spirits with Cam'Ron's "Hey Ma." John Mayer joined Thundercat onstage for a live jam version of "Them Changes," one of Mac's favorite songs.
Elsewhere, artists like Ty Dolla $ign, Vince Staples, Rae Sremmurd and Travis Scott danced and crowd surfed, using their bodies to radiate celebration, while SZA, Chance The Rapper, Anderson Paak, and Schoolboy Q's performances were sentimental, sprinkled with moments of heartfelt testimony. The lineup's most illuminating moments found artists out of their element, performing songs they worked on with Mac but that don't typically end up on their tour set lists, doing covers of his songs, choking up while expressing gratitude for his presence in their lives, or not being able find words at all.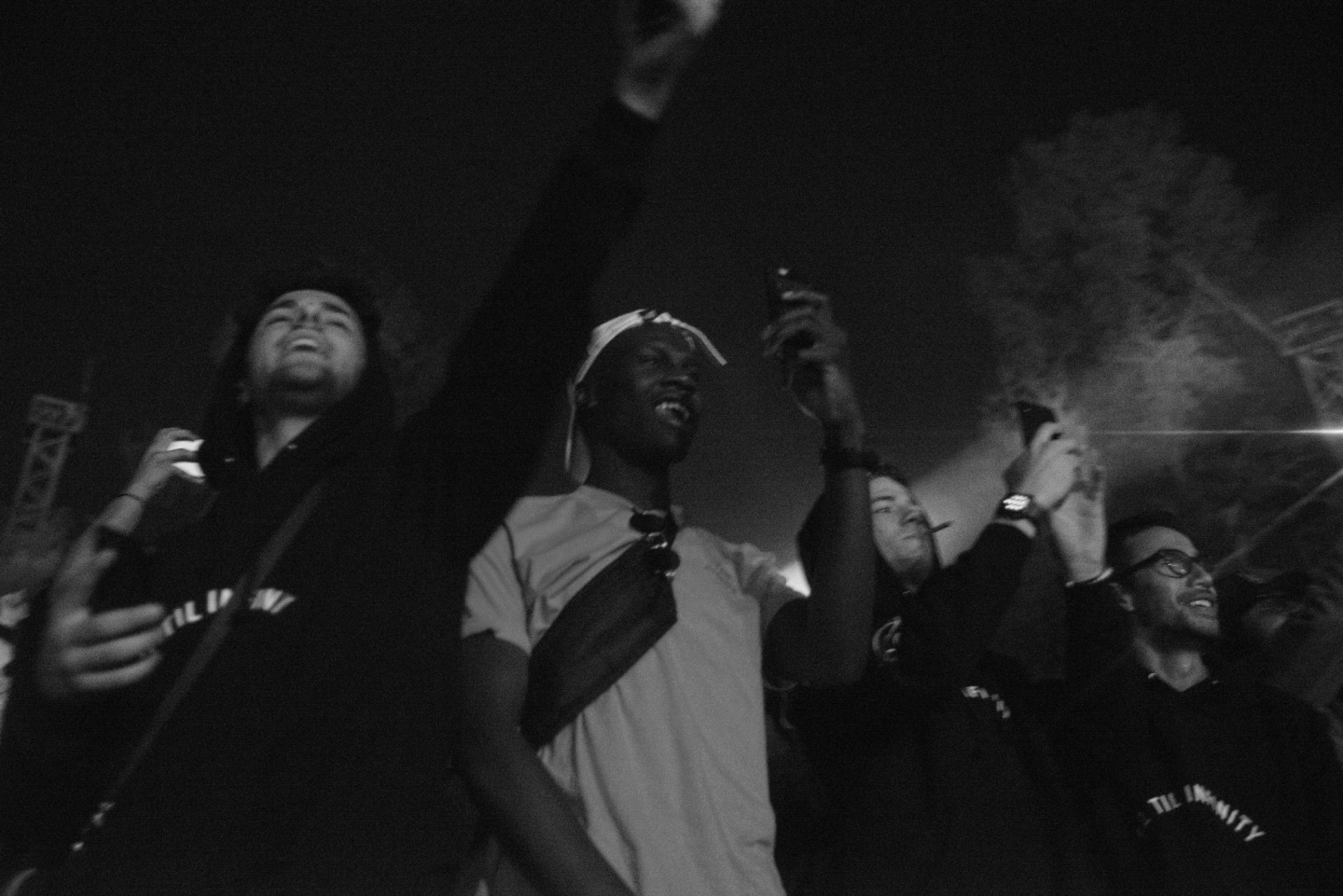 In between the performances, docu-style video played on three large screens: two on either
sides of the stage, and one centerstage. Behind the scenes footage of Mac at shows, at rehearsals, and at home with friends show a silly, goofy young man simply enjoying the life he considered so intently in his music — a display of that rare thing Mac embodied. It's something people around him noticed and gravitated toward.
"He motivated me in ways that I didn't know was possible," said Dev Hynes in another video compiled of messages from the wide, eclectic community of creatives that orbited Mac's personal life. "You were a really necessary and intelligent light," shared Donald Glover. "Why would you leave me? We had a system going, man," Pusha T joked reflecting on their relationship as workout buddies. "Man, I've been thinking about you lot. Like, almost every day. Does that mean I love you?" Jason Sudeikis asked in another clip.
Appropriately, a video of Mac playing an unreleased song on the piano soundtracked the evening's end. Whether or not you listened to his music or knew him personally, his impact is palpable, felt through the powerful testimonies of friends, fans, and collaborators over the past seven weeks. It's what made last night feel, at times, less like a festival and more like a repast, proving that there may be no single correct way to collectively mourn a loss or celebrate someone's life, but it feels good to try.