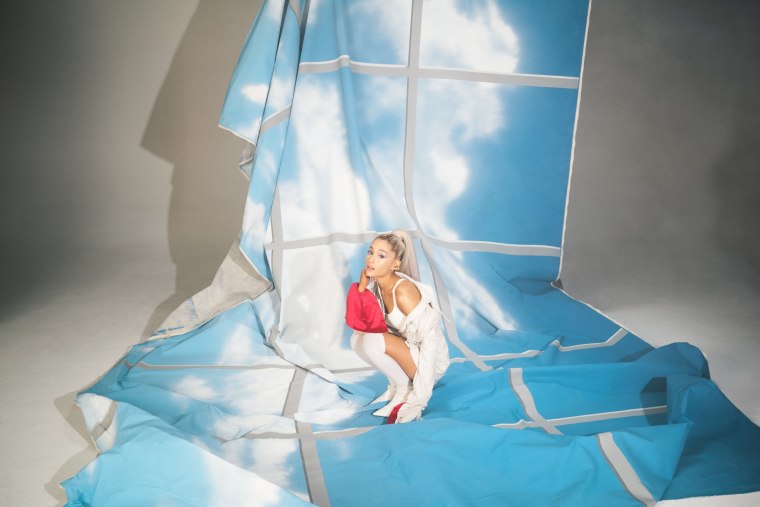 Ariana Grande starts off "thank u, next," the blistering title track of her next upcoming project, by standing in the sun, in front of her past dramas and relationships, by naming names. There's her ex-boyfriends Big Sean, Ricky Alvarez, Mac Miller, and her ex-fiancee Pete Davidson and short descriptions on what they meant to her. These lyrics obviously drew a ton of press, which Ariana knew would happen — the track's artwork is a smattering of different headline fonts like a Twitter thread gone berserk. But media circus aside, the track is a freaking banger about self-empowerment that is impossible to play just once.
The song reminds me most of "Knew Better (Part 2)," a SoundCloud loosie that Ariana put out in 2016. It's an intense sequel to a Dangerous Woman album track that features her lithely rapping about a breakup (likely with Big Sean): "Make a mistake, you better learn from it / Play with tea, you get burned from it." The song was released after her fans basically demanded it. Part 1 of the song seems like there's something dark at foot but it translates into the blissful "Forever Boy." Much like "thank u, next," "Part 2" is a sneaky annihilation of her lover and simulations centering of herself. It's one of my favorite songs of hers because it feels like she's holding nothing back.
Another common thread between "thank u, next" and "Knew Better (Part 2)," is the song's co-producer Tommy Brown aka TB Hits. He's a constant presence in her musical journey and is probably her closest collaborator. He's been with her since the beginning, crafting the soaring "Honeymoon Avenue," from 2013's Yours Truly, creating a sprawling scape for Ariana to let her young voice go crazy. He co-produced a bunch on her sophomore album My Everything and the bold followup Dangerous Woman, notably "Moonlight," a throwback-sounding goodbye to her old sound and a foil for a more mature album. Although most of this year's sweetener was produced by Pharrell and Max Martin's team of scientific hitmakers, Tommy was brought in at the finishing stages to co-produce a couple tracks on the project.
Those songs — "better off," "goodnight n go," and the now iconic "pete davidson" — have Ariana at her most vulnerable, and feel the freshest to me.
When I spoke to Ariana just before sweetener came out, she talked a bit about that last creative sprint. "There are parts of my life that they would love to know about," she said, "and hard times that I have been dealing with for the past year-and-a-half that [my fans] deserve to know about because they love me endlessly and care. I don't want to hide any pain from them because I can relate to their pain. Why not be in it together?"
From lurking Ariana's Instagram Stories, fans have concluded that her next project was made by Ariana alongside Tommy, and her friends and songwriters Victoria Monet, NJOMZA, and Tayla Parx. It's clearly going to be a project filled with lots of openness. History, and now the title track of thank u, next, has shown us Ariana makes some of her best music when she's at her most comfortable.