The grand return of Georgia Anne Muldrow
"It's a blessing to be a part of black music."
Jazz made a comeback. That was the narrative in the spring of 2015, after Kendrick Lamar and Kamasi Washington released their respective albums within two months of each other. Lamar's avant-rap opus, To Pimp a Butterfly, featured some of music's foremost purveyors of alternative jazz — bassist Stephen "Thundercat" Bruner, multi-instrumentalist Terrace Martin, and pianist Robert Glasper, among others — and was considered a harbinger for sonically challenging art. Washington dropped The Epic, a three-hour set of gospel-infused jazz, wistful soul, and 1970s funk fusion; critics lauded the record, and now he's the trendiest musician in jazz.
Georgia Anne Muldrow crafted similar blends long before Lamar and Washington ever did, yet her music has never been embraced in the mainstream marketplace, always considered too odd for mass consumption. But albums like Ocotea and Denderah — respectively released in 2010 and 2013 under the name Jyoti — predate the current wave of modern jazz, their meditative aura drawing direct lines to the cosmic spirituality of Alice Coltrane, whose recordings from the '80s and '90s have been reissued over the last two years. Muldrow admits that, as a teenager growing up in Los Angeles, she wanted to change music. "I wanted it to be more brainy," the producer, singer, and lyricist says over the phone. "I wanted it with all my heart, so when that shit starts to happen, you can't be an asshole about it, you gotta be like, 'Hell yeah!'"
She's stayed the course, carving out a nice career on her own terms; her 2006 debut, Olesi: Fragments of an Earth, introduced the world to her self-described fOnk, where fat bass lines and heavy drums mix into rich, head-nodding instrumentals, and on 2012's Madlib collab Seeds, she openly and acerbically dissed the agricultural Monsanto company and the U.S. government, her critiques coming from a place of love. She has a strong fan base: Erykah Badu loves her, and Yasiin Bey likens her to black music icons like Roberta Flack, Ella Fitzgerald, and Nina Simone.
Not surprisingly, Muldrow is thrilled by the renewed interest in jazz. "I don't care how that shit happens, we need breakthroughs," she asserts. "I'm very thankful that people are making jazz their own, and making it live in a unique way for them." On her new album, Overload, Muldrow scales it back and skews toward straightforward R&B rather than the esoteric alt-soul, funk, and hip-hop for which she's known. It's still undeniably Muldrow: "Blam" calls for revolution, and "These Are The Things I Really Like About You," featuring rapper and longtime partner Dudley Perkins, is all 1940s swing jazz. After years of being near the spotlight, it seems the world is finally ready for Muldrow's music. "People call me Auntie now," she says with a big laugh. "I'm thankful to be here, to be able to learn more each day, to be able to expand my mind. It's a blessing to be a part of black music."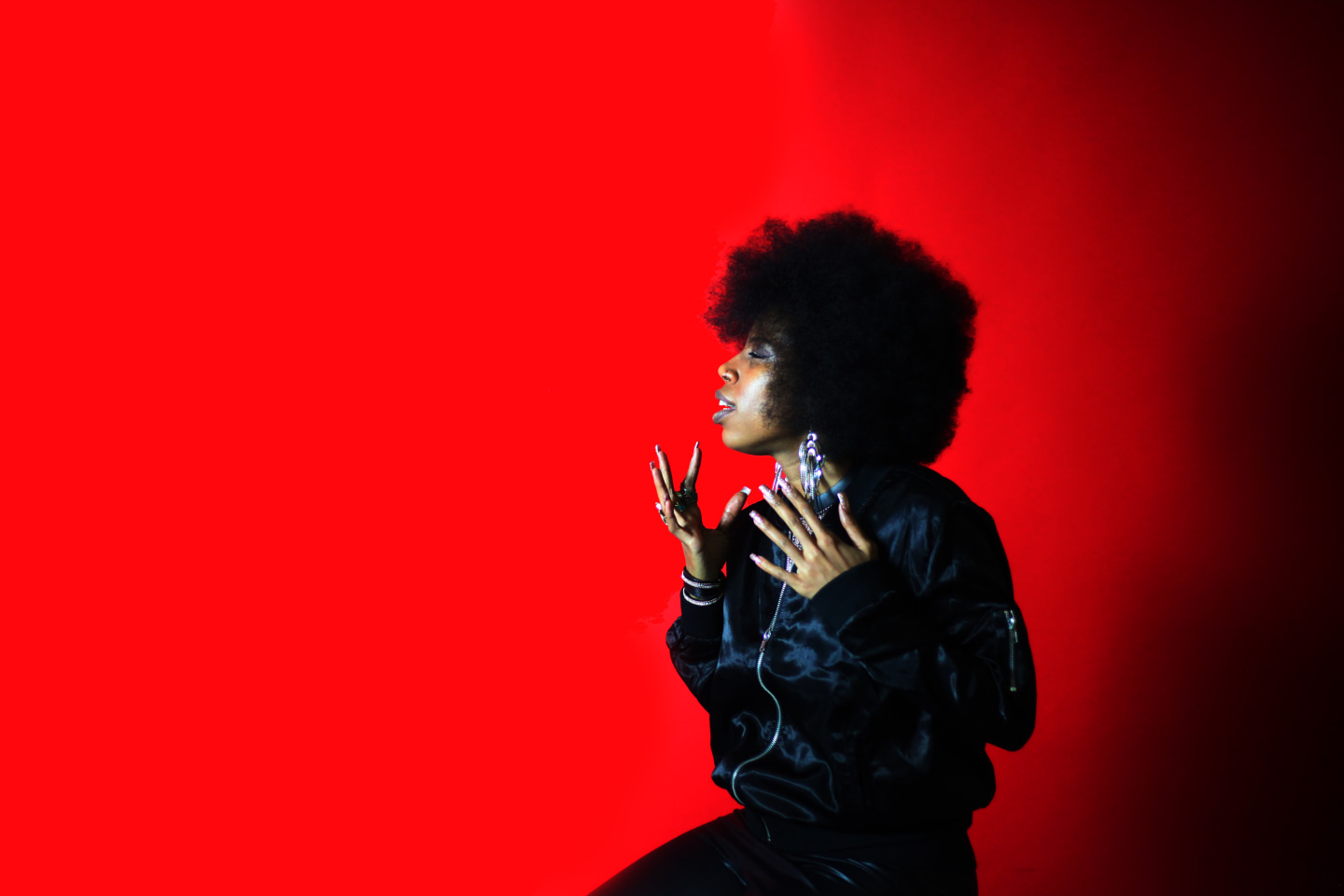 How do you feel about the praise you receive from your peers?

All I can be is grateful, you know what I'm saying? With anybody, it doesn't matter if they make records or ain't never made records, or they do something else for a living, I feel grateful that they gave my music a chance, because I know my stuff is left-field.
You're often compared with artists like Alice Coltrane and Nina Simone. How does that make you feel?

These are goddesses in the flesh. They mastered the things that I haven't become aware of yet. Alice is bad, not just alright. That ain't no easy listening. These are heavyweight people, and I want to be like them when I grow up. All Alice wanted to do was achieve unity. If anyone says I have the potential to be an architect the way she and Nina were, I'm honored down to the ground.
You're releasing this album through Brainfeeder, a record label launched by experimental producer Flying Lotus. How's the experience been so far?

The album is rooted in family, and when you create a record with someone, they become family, too. Initially, the record was 22 songs—that's a lot! Lotus was like, "Yeah, that's a lot of songs." [Laughs] Still, even though the final record isn't 22 songs, he let me present what I wanted. He took what was there. I really feel like he's in my corner.
What is the focus of Overload and what do you want people to take from it?

It's an experimentation of modern music. There was a lot of "Hmm, what would you do with a song like this?" I wanted to create something more straightforward to show these young cats that I know how to do these kind of songs. I'd finish the title track in, like, two seconds, but here's what happened around that song: my daughter loved it, she's 15 now, I think she was like 14 or 13 when we finished the track. Then I noticed that some of my friends who like all types of R&B loved it, too. The song went with the music they already have, ya know? It fit alongside the other music they have on their playlists and everything.
I think that's what gave me the resolve to keep on trying this modern sound. I saw just how much people gravitated towards it. Like "This is the kinda song. Black people." That's always my priority. I found I had to do things in a more minimal way. I want people to cherish the people they love, and think about what we can do to love each other better.