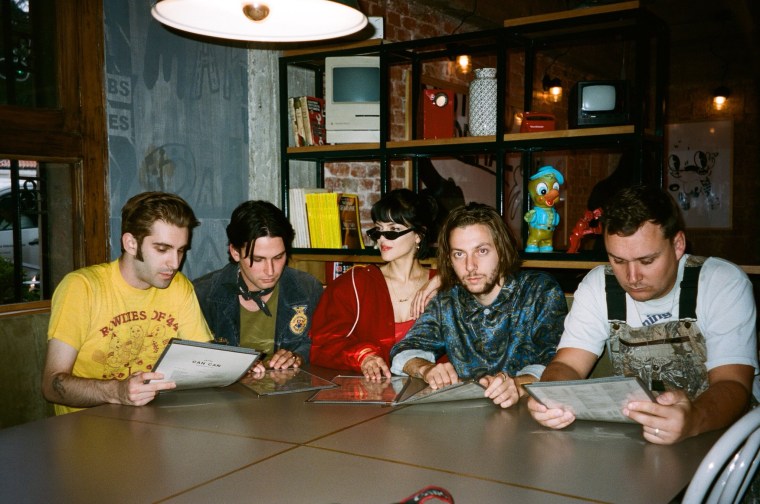 Two dreamy pop forces hailing from opposite sides of the U.S. have finally collided. Los Angeles' The Marías and New York's Triathalon have been fielding calls from fans to collaborate for a minute now, and for that, today is a special day. The FADER is premiering their joint single "Drip," a sublime, wavy piece of swimming-through-your-mind pop.
Triathalon's lush and bright synth work combined with The Marías velvety vocals make for glorious, body-melting moments. My brain was most tickled halfway through, when the pacing suddenly slows, and Triathalon hazy vocals drift through. It begins to feel like a completely different track. Yet, zoomed out everything still coheres tightly to together, like a two-toned ball of swirled play-doh. What can I say — the fans always know best.
Below, the two bands, who are currently touring, gush about each other:
"We first heard about Triathalon while on our first tour earlier this year," The Marías write via email. "As we were listening to their songs, they tweeted about us. It was kind of serendipitous. We had no idea what to expect from the collab, but honestly couldn't be happier. This was the first time that we had ever collaborated with anyone remotely. Our only wish was that they could've seen our excitement throughout the process, especially after they sent us the first beat. And now being on tour with them is a literal dream. Their live show is one of my favorites ever, and we feel lucky that we get to see it night after night."
"I first heard about The Marías on our last tour with Innerwave in San Antonio," Triathalon writes via email. "Someone from the show came up to me and was like, "You have to listen to The Marías they were just here — y'all should tour together." And then in the van I was just blasting them non stop and posting their songs on twitter. Kids starting commenting "collab" and then a couple months later The Marías were like — let's collab. From there we would just send ideas back and forth. No one really knew where the next person was going to take the song, which made the process really exciting. We're really happy how it all came together and now we're on tour with them... The whole thing feels surreal."
Upcoming Tour Dates:

11/7 - Denver, CO @ Marquis Theater*
11/9 - Dallas, TX @ Cambridge Room at HOB*
11/10 - Houston, TX @ Secret Group*
11/11 - Austin, TX @ Antone's Nightclub*
11/13 - Nashville, TN @ Exit/In*
11/15 - Raleigh, NC @ Kings*
11/16 - Philadelphia, PA @ Foundry at Fillmore*
11/17 - College Park, MD @ MilkBoy ArtHouse*
11/18 - New York, NY @ Gramercy Theatre*
11/20 - Boston, MA @ Brighton Music Hall*
11/21 - Montreal, QC @ Le Ministére*
11/22 - Toronto, ON @ Mod Club*
11/23 - Detroit, MI @ El Club*
11/24 - Chicago, IL @ Sleeping Village*
11/25 - Minneapolis, MN @ Amsterdam*
11/29 - Portland, OR @ Doug Fir Lounge*
11/30 - Seattle, WA @ Nectar Lounge*
12/1 - Vancouver, BC @ Biltmore Cabaret*
* = Triathalon