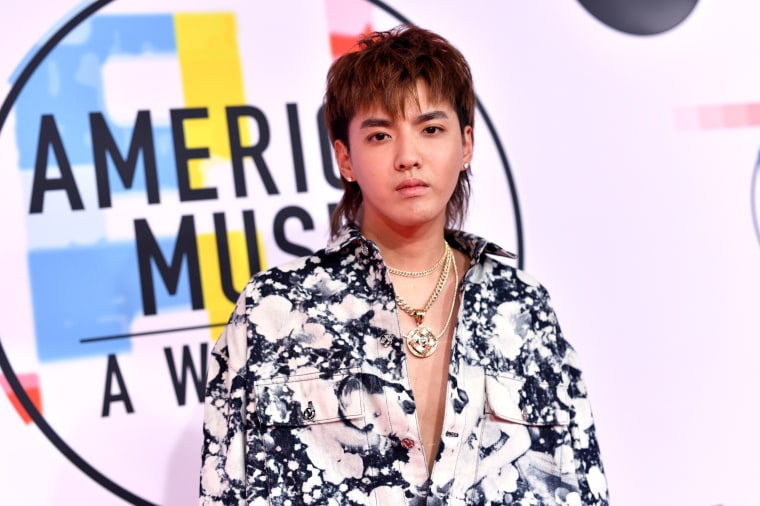 Kris Wu, the Chinese-Canadian musician and actor, dominated the U.S. iTunes Top 10 songs chart with music from his album Antares earlier this week following its November 2 release. Wu's music proved so popular it temporarily kept Ariana Grande's new single "thank u, next" off the top spot. However, it seems the sales were not quite what they first seemed.
Antares, which features production from Murda Beatz and Frank Dukes alongside the Travis Scott-assisted "Deserve," accounted for eight of the top ten best-selling songs on iTunes on November 5. Wu's sales ensured he took the No.1 position, too, which confused Ariana Grande fans hoping to see "thank u, next" in the top spot. Her fans subsequently launched the hashtag #kriswho to air their disappointment.
They were not the only ones confused by the success of the former member of boy band EXO and his album, released by Interscope Records. A source told Variety that Wu's tracks were not streaming in numbers comparable to his iTunes sales, causing industry insiders to suspect something might amiss.
The source suggested that the sales were acquired "fraudulently" and that both chart data providers Nielsen and Billboard would have to "suppress those sales numbers." The same source wondered if there was "a plan to game the U.S. system to gain traction in the U.S. and mobilize a new audience."
However, according to Grande's manager Scooter Braun, the reality appears to be a little different. Fans in China, where Wu has a bigger audience than America, were unable to purchase Antares until November 6, Wu's 28th birthday. Without access to the album for four days, his fanbase instead utilised VPN technology to access the U.S. iTunes and get hold of the album that way instead. Despite being bought by people in China, the sales figures were logged as if they had been in America.
"It was explained to he and I last night that because his release was held back in China for his birthday his fans went and got the music any way they could and that was U.S. Itunes," Braun wrote on Instagram. "Once the release in China took place the fans had their access."
"Billboard and Nielsen Music are working closely to ensure both the accuracy and legitimacy of the sales volumes being reported for Kris Wu this week," Nielsen said in a statement provided to Billboard on Wednesday.
The FADER has contatced Apple and Interscope for comment.