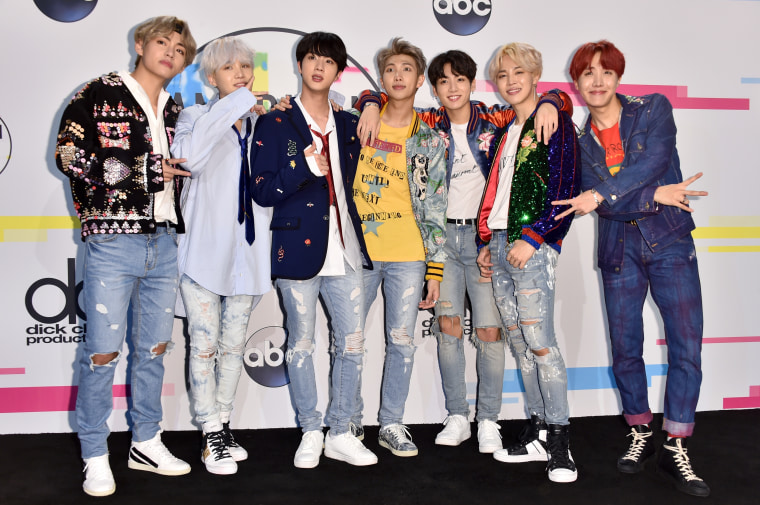 On Tuesday, BTS's management Big Hit Entertainment shared a statement on Facebook apologizing for the Korean pop group's use of imagery associated with Nazis, and for a shirt worn by one of the band members depicting the 1945 atomic bombing of Nagasaki.
BTS's appearance on a Japanese TV station was cancelled on November 11 due to the shirt, and soon after, Holocaust awareness group The Simon Wiesenthal Center asked the band and their management to apologize publicly for the Korean pop group's alleged use of Nazi symbolism and style at a concert and in a photoshoot.
In the photoshoot, which was posted on Reddit a year ago, a member of the group wears a camouflage hat containing the Death's-Head symbol worn by the SS, a paramilitary organization which managed the concentration camps.
The Center also pointed to a video of BTS performing with Korean singer Seo Taiji with flags "eerily similar" to the Nazi swastika. They had accused BTS's management and stylists of "denigrating the memory of the past," adding "The result is that on young generations in Korea and around the world are more likely to identify bigotry and intolerance as being 'cool' and help erase the lessons of history."
In its statement, Big Hit apologized for the Death-Hand's symbol photoshoot and claimed that a magazine had provided the offending hat. "We would like to offer our sincere apologies for inadvertently inflicting pain and distress to anyone affected by totalitarian regimes in the past by failing to strictly review the clothing and accessories that our members were made to wear."
However, Big Hit denied that the concert performance contained pro-Nazi imagery, writing "The performance is in no way associated with National Socialism as some observers have alleged, and in fact it should be noted that the performance includes creative elements that are designed to direct criticism against these very elements of totalitarianism."
Big Hit says the organization has sent a letter to the Simon Wiesenthal Center and would be reaching out to "associations in Japan and Korea representing those affected by the atomic bombings to provide explanations and apologies." Big Hit writes: "We would like to again offer our sincerest apologies to anyone who has suffered pain, distress and discomfort due to our shortcomings and oversight in ensuring that these matters receive our most careful attention."