Tierra Whack
With an iconic debut, the Philly artist proved she can build her own kooky universe. What will she do next?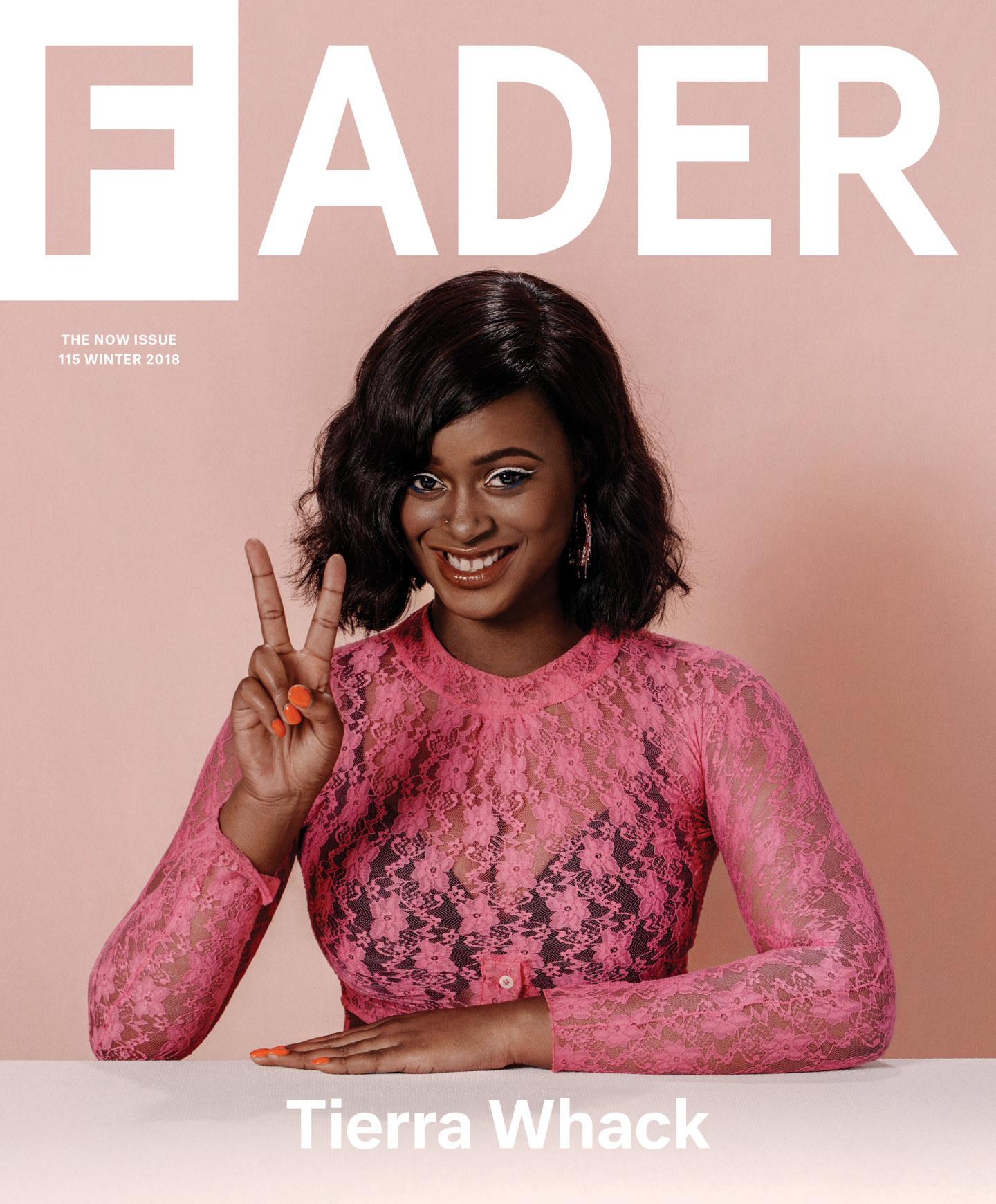 Buy a print copy of the Tierra Whack issue of The FADER, and order a poster of her cover here.
---
The noise coming from inside the Porta Potty is Tierra Whack. "THIS IS GREAT! I LOVE HOW IT SMELLS IN HERE," she screams, mocking my hesitation with an exaggerated, sarcastic whoop and stomping her feet like a human exclamation point. Twenty minutes later, she's yelling at me again, this time from a hiking trail in Philadelphia's north end, where she's bounding across a path of rocks leading over a shin-deep creek. "YOU CAN DO IT, ONE FOOT IN FRONT OF THE OTHER!"
The sun cuts through the trees magically, and rocks of all sizes shimmer as if sprinkled with glitter. It's a beautiful day for a hike. Except that no one warned me or Randy, Tierra's publicist, so we're panting behind her, pathetically trying to keep up. She seems to delight in our unpreparedness, an impish grin spreading across her face, kinda like it did back at the parking lot when she offered me a vitamin that turned out to be a cinnamon xylitol gum. Or when she shrieked watching Randy realize that she'd orchestrated to lock him out of the car. "This is nothing," she confesses later. "I'm chillin' now, I'm usually waaaay crazier than this."
If you're dressed like Tierra, who's wearing track pants and running shoes, with a black bandana over her head, it's an easy enough course, and one the 23-year-old used to run daily. "The real way to do it is to, like, run all the way from the parking lot, [through] the trail, and then all the way back," she says. Crushing the trail was a career-oriented routine she designed with Kenete Simms, one of her managers and her closest creative partner, to help her get in shape for shows, until the drill was put on pause earlier this year when things got too busy, too quickly.

In the late spring, Tierra had emerged as one of 2018's most lauded new artists, a lightning-in-a-bottle kind of superstar, when she released Whack World, a 15-minute, 15-song debut that was part visual album, part conceptual art project. The album painted her world as a Technicolor diorama, a fantasyland that imbues random-seeming objects with deep meaning. In one scene, the clip for the partly-metaphorical mourning anthem "Pet Cemetery," Tierra is surrounded by animal figurines and hand puppets as the camera pans around her. In another, for "Fruit Salad," her favorite song off the project, she wears a fat suit and lifts weights engineered out of grapefruits.
The project, released the same week as Kanye's Ye and accompanying Wyoming tour de hell, was a reprieve and quickly anointed her as the poster child of a kind of post-clout-era artist. She had arrived a fully formed visionary with a talent for not only rapping, singing, and writing, but also visual identity, marketing, and social commentary. It immediately earned applause from artists like Solange and Lauryn Hill, who selected Tierra to open for her at the Philly stop of her summer tour, and Andre 3000, who took her to lunch.
Some fans and critics interpreted Whack World as an intentional exegesis on Instagram culture. "I don't imagine I'll spend a lot of time listening to it a year from now. But as a way of exploiting a social media platform's limitations — and as a way of grabbing attention — it really is a monumental work," wrote Tom Breihan, in Stereogum. "Ms. Whack made a cohesive mini-album that can also function as a comment on streaming and social media," said Joe Coscarelli, in The New York Times.

That wasn't necessarily the case, says Tierra, who has only watched Whack World twice since its release and even then only because someone else hit play. "I just feel like it was a cool idea. So for people to take it and like it, like, 'No, it's more than that' — that's amazing for me. It feels good," she says, diplomatically. "That's what art is about: to create dialogue. Everybody deserves to have their own opinion."
Really, though, Whack World's format was a way to capture her different interests and styles, of which there are oodles. Nearly each track on the project embodies a completely original persona and sentiment, down to the voices Tierra employs — a cartoonish baritone here, a spastic, marble-mouthed rap there. "I have so much to offer and I think of so many ideas throughout the day, week, the month, and it was just a way to, like, say, 'Hey guys, this is what I have, I have a lot,'" she explains. "I didn't want to overwhelm people and that idea was the only way to make it make sense for me."
While she's doing almost anything — riding backseat in Kenete's car, lounging around at home, logging packages at the luxury condo where she says she still works weekends as a doorperson — Tierra's brain is in perpetual overdrive. "[Whack World] was cool and all, but I'm telling you, it was nothing," she says. It's only a fraction of what she's dreamt up so far. In fact, that wasn't even what it was supposed to look like, she says, unbothered, adding that she doesn't remember her original idea. Still, even for someone overflowing with ideas, following up a debut as iconic as Whack World can't be easy.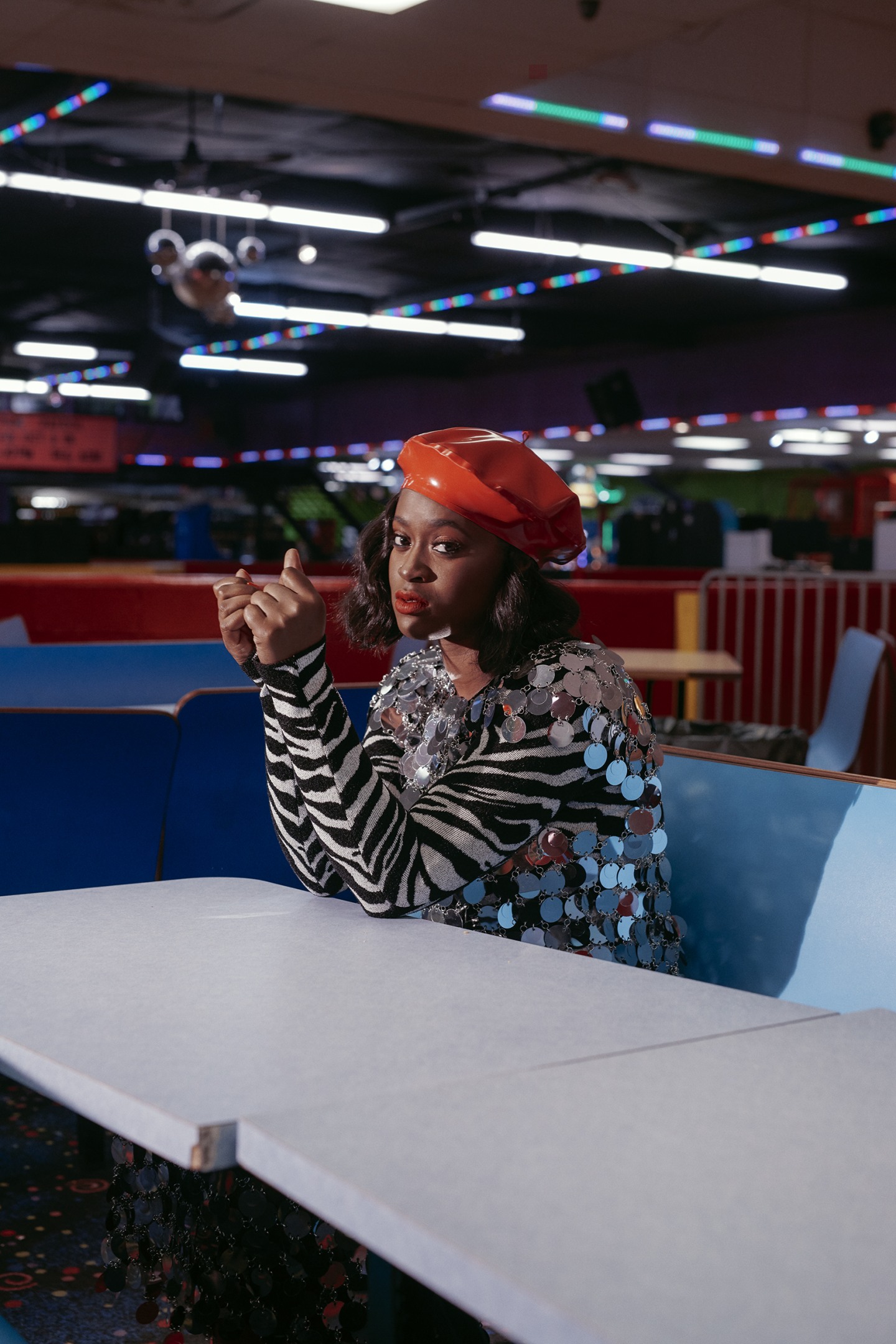 A couple of hours after our hike, across town, Tierra's jaw drops open. She's sitting at a table in a Center City Whole Foods, eating her staple meal of lemon-pepper wings accompanied by an over-sauced salad, when her former high school principal flounces by. It's as if the head of Tierra's alma mater, the Arts Academy at Benjamin Rush, has been plucked directly from the memory she had just been recounting and placed a few feet away, wearing a pale yellow sweater and holding a glass of some sort of chilled white. "This is crazy. So crazy," Tierra exhales.
This administrator in particular had been the source of some obstacles for Tierra, who was enrolled as a vocal major and fine arts minor and one of only a handful of black students in the predominantly white public school. "You'd think an art school would be creative and free, but it wasn't. She was more like a football coach," says Tierra. She'd felt misunderstood, her creativity boxed in. Her junior year, for example, Tierra and her crew had to lobby especially hard just to be allowed to perform a couple of songs from Sister Act 2 at a talent show. (They were successful, and Tierra landed the film's famous "Joyful, Joyful" rap verse, naturally.)
Apparently, news of Tierra's success has even reached the principal, who makes several laps around the store before approaching her former student. "Tierra Whack! I'm so proud of you," she exclaims, adding that she'd read about her in The New Yorker and posted the link to her Facebook. "The hearts kept coming in!" Tierra smiles and nods. The next afternoon, still replaying the encounter in her mind, she looks the woman up on Facebook and hovers over the Add Friend button for a minute before finally clicking it. "I can delete her later. I just need to see what she wrote about me."
"I'm gonna go create, and then whatever I get is what I get. I'll figure out a way to formulate it and package it." —Tierra Whack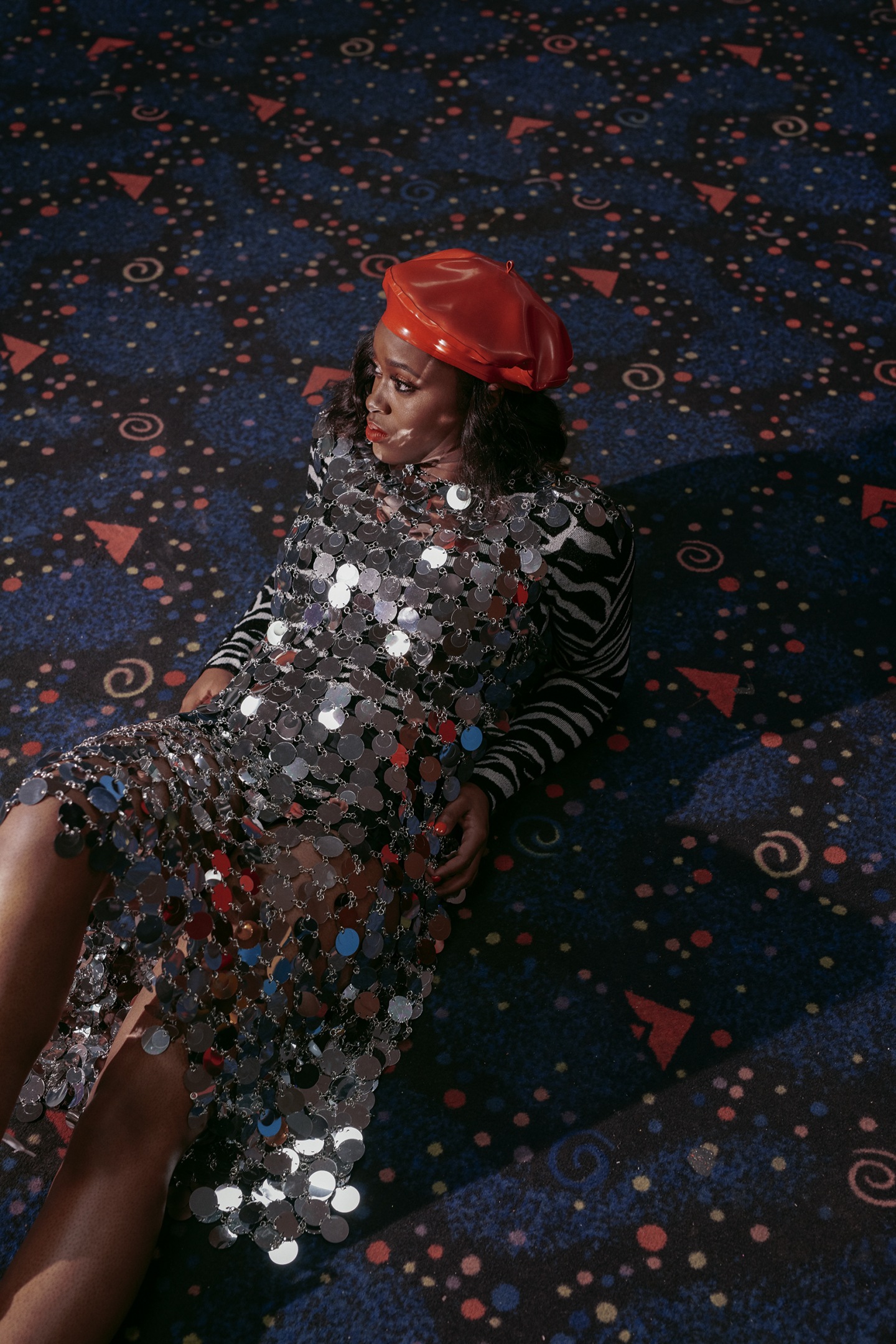 Though Tierra is clearly from a planet of her own, she arrived on this one late in the summer of 1995. She was raised in Philadelphia by her mother, who she often describes as her best friend. Her maternal grandmother and great-grandmother, Wilma and Mary Whack, lived close enough to help babysit Tierra and her two younger siblings. Lately, though, her family network has been growing, thanks to a cadre of relatives who've contacted her on Facebook, her favorite social platform, since the Whack name began to rise in stock. "I feel weird that I don't know [a lot of them], but I don't. It's weird too 'cause now I'm growing and people are like, 'I'm your cousin, I'm your aunt, I'm your this.'"
Her father, as she alludes on the country-lite Whack World song "Fuck Off," was mostly absent. "For so long you can spend your time trying to figure somebody out and trying to make something happen and then they finally just show you, like, 'I don't fuck with you.' Then, like, OK cool," she says of their relationship. "I'm one of those people that you don't gotta gimme a bunch of signs."
It isn't that life has hardened Tierra, but it has taught her a kind of existential pragmatism that doubles as survival. "I have a sick sense of humor. Like, I'm always laughing at my own pain. Sometimes, I can be crying my eyes out, wanting to die, and then I'll walk by a mirror and see myself and just bust out laughing," she says. At home, that meant torturing her brother and sister with pranks and lies. When they were way too young, Tierra remembers, she broke their hearts with the truth about Santa.

As a young child, Tierra was often teased for being dark-skinned. It's an experience that shaped much of her early life. She was quiet and shy, she says, until she learned to express her feelings through writing and practically transformed herself. "I couldn't tell you how I felt verbally but I could write it down. [I felt] almost like I couldn't find the words. I felt like in a box and kinda like I don't wanna talk or know how to talk," she says. Writing, and presenting her poetry to classmates, helped her to open up. "I can do this," she remembers thinking. "I can stand up to anybody, I can say what I wanna say, I can defend myself."
Around the same time, she'd become obsessed with Dr. Seuss, enveloping herself in the alternate realities he created. The combination of the illustration, rhyming words, and wacky storytelling immediately clicked with her and she fashioned herself in his image, conceiving imaginary worlds, their stories supplemented by a rhyming dictionary her mom bought her from Barnes & Noble. "Sometimes she would ask me, 'What rhymes with this word?' And we'd both put our heads together and come up with something," remembers her mom. "I know it was one that she wrote about a giraffe."
Not long afterwards, Tierra discovered TV shows like Mad TV and In Living Color and music videos by artists like Missy Elliott, Busta Rhymes, and Kelis; she began to nurture ambitions of being a writer or performer or some especially lucky combination of both. "I was like, Oh this is different. And they're being praised for being different and still being themselves." Her composition notebooks quickly filled up.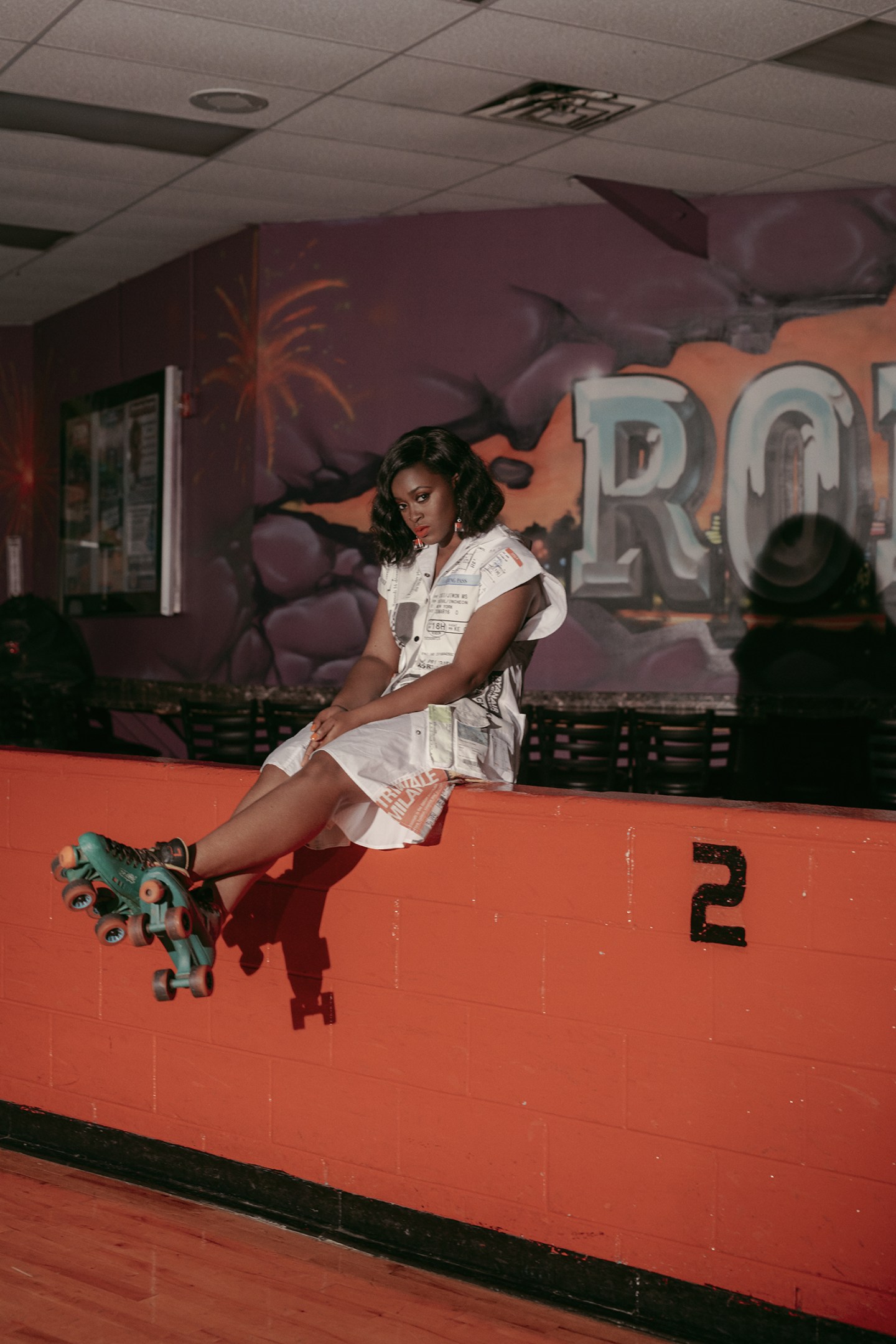 By the time she was 14, the street-cypher and rap DVD era in Philly was peaking. Rappers like Meek Mill were being catapulted toward national and global fame and helping to pioneer the stuttering flows that still influence the genre today. Spurred on by an uncle, Tierra turned her interest in poetry into an aptitude for rapping, which she did under the moniker Dizzle Dizz. One day, remembers her mom, "I saw a group of guys with a camera so I told her to get on and rap. She was a little nervous but I drove around the block, she got herself together, got out and started performing for the camera."
In that clip, posted by Philly music crew We Run The Streets, she goes nonstop for three minutes on a street corner, rhyming non-sequiturs before an audience of visibly confused grown men. She clearly had something, even if it came out as bars about "dookie booties and chocolate smoothies." Soon, she was buzzing locally and, under the management of We Run The Streets's founder, would rap anywhere someone would ask. In another clip, shot at a local radio station, she serenades Meek himself. When she declares herself a Dreamchaser, he daps her up and responds, "Let's get it, we ready to put you on." She was 16.
After a couple years on the freestyle circuit, Tierra hadn't managed to translate her hometown notoriety into a fulfilling creative outlet. "I wasn't really doing songs, I was just freestyling. I wasn't doing what I wanted to do. All I was doing was rapping in front of the camera and rapping on other [people's] beats," she says. "So many artists got stuck that way." On "Dizzy Rascvls," one of just a couple of songs she recorded as Dizzle Dizz, she is proficient but not especially striking. Its video, still on YouTube, has the bright colors and goofy teen energy of an All That skit.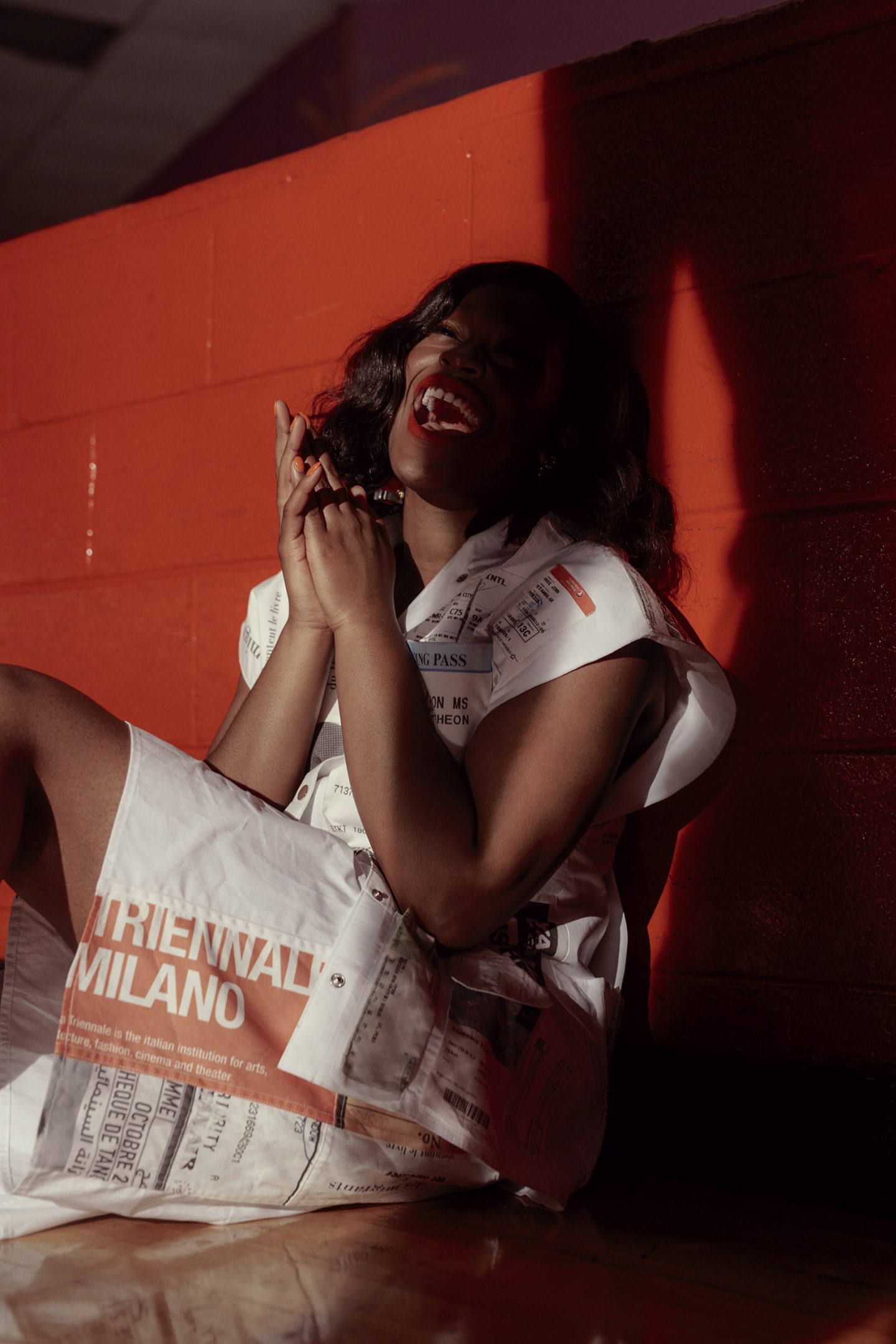 Tierra soon grew disillusioned, and depression followed. "I had a lot of pressure on me. Everyone was happy for me, but I wasn't happy. I just felt like I was selling myself short," she says, her voice cracking for a second. Coincidentally, Tierra's mom needed a change, too, and so the Whacks moved to Georgia. She finished her last year of high school in Atlanta, logged off, and began to incubate.
Nowadays, thanks to platforms like SoundCloud and YouTube, young artists can put their first recorded music online immediately and, for better or worse, have to do much of their artistic growth while under public scrutiny. But Tierra had the rare foresight to arrive at her sound largely in private. "I needed to go in my little cave and create, create, create until something sparked and I'm like, This feels right, I'm ready." She moved back to Philly and reconnected with Kenete, an engineer who'd offered her free studio time back in her Dizzle Dizz days. Together they masterminded a new sound for her, and then in 2015, Tierra resurfaced, reborn and using her real name.
At some point in the past year or two, Tierra signed a record deal with Interscope. She declines to answer any questions about the provenance of the arrangement or its scope, tensing up and saying only that "it just made sense for the time being." But evidence of some sort of support was in "Mumbo Jumbo," a single she released in late 2017. Its video, a twisted take on a dentist's visit that one of my co-workers likened to a Black Mirror episode, clearly had a budget. The song itself sounds like an expansion on some of the melodic ideas Tierra had begun to make post-Dizzle Dizz, but its lyrical content, literal mumbo jumbo, was widely interpreted as a take on the mumble rap era. For her, it was just a random idea.
Kenete, 31, acts like something of a journal for her, taking down notes of her ideas and remembering them because she won't. He also keeps track of her ideas, helping to encourage the ones that she might talk herself out of. "I just blurt out ideas all day long and he'll take note of everything and eventually he's like, 'Whack, you can do this now. We can do this,'" she says. "So the more and more exposure I get and the more people reach out, I'm able to actually get these crazy-ass ideas [that were] in my head the whole time. I can bring them to life. It's about growing up and taking those baby steps."
But Kenete isn't simply her manager; though he's reticent to admit it in public, he produced half of Whack World. When beat packs other people sent in weren't cutting it and one trusty producer was unavailable, he stepped in and created simple sonic palettes that let her wild ideas lead. "She works better from scratch. I was like, 'Alright, I've been an engineer forever, I can mess around on the keys and I understand all these programs anyway, so I can figure it out.' That was literally what happened," he explains.

"The more and more exposure I get and the more people reach out, I'm able to actually get these crazy-ass ideas [that were] in my head the whole time. I can bring them to life." —Tierra Whack
Tierra refuses to reveal any of her "crazy-ass ideas" or how she plans to follow up Whack World, in part because she doesn't quite know yet. In October, she headed to Tokyo for inspiration and to work on songs. She'd already had a bunch recorded — one sounds like Outkast in an anti-gravity room, another like a couple of Whack World songs strung cleverly together — but she is unsure what she'll do with them. "Whack World is like a gift and a curse. I don't wanna call it a curse but, like, now the pressure's on," says Kenete on a phone call from Japan. "It's like, if people have seen a human flying and he's like, 'Hey, I'm doing something next week,' people are like, 'Yo, he was just flying, maybe he'll be shooting lasers out of his eyes next week.' And then he comes and he just feeds people, it's like, 'Oh.'"
The next project may be a similarly inventive concept, or it may not, but it'll likely have another strong visual component. "We don't want it to feel or look like a music video, we want it to feel like a film or your favorite sitcom," says Kenete. And this time around, the songs will be full-length. "We ran into a lot of walls dealing with minute-records," he explains. "We weren't chasing radio play, but it's hard to deal with one-minute songs when it comes to playlists and things like that. They're like, 'Uhhh, it's a minute.'"
Tierra's process is driven by intuition, she tells me several times. She works and works and then, she says, makes decisions "when they feel right." With Whack World, "I was creating so much and I had so many ideas that were so different from each other," she explains, a hint of exasperation in her voice. "And then eventually I was like, 'OK, I have this idea, put it together.' It's like taking a puzzle and putting the pieces together. For [the next project], I'm gonna go create, and then whatever I get is what I get. I'll figure out a way to formulate it and package it."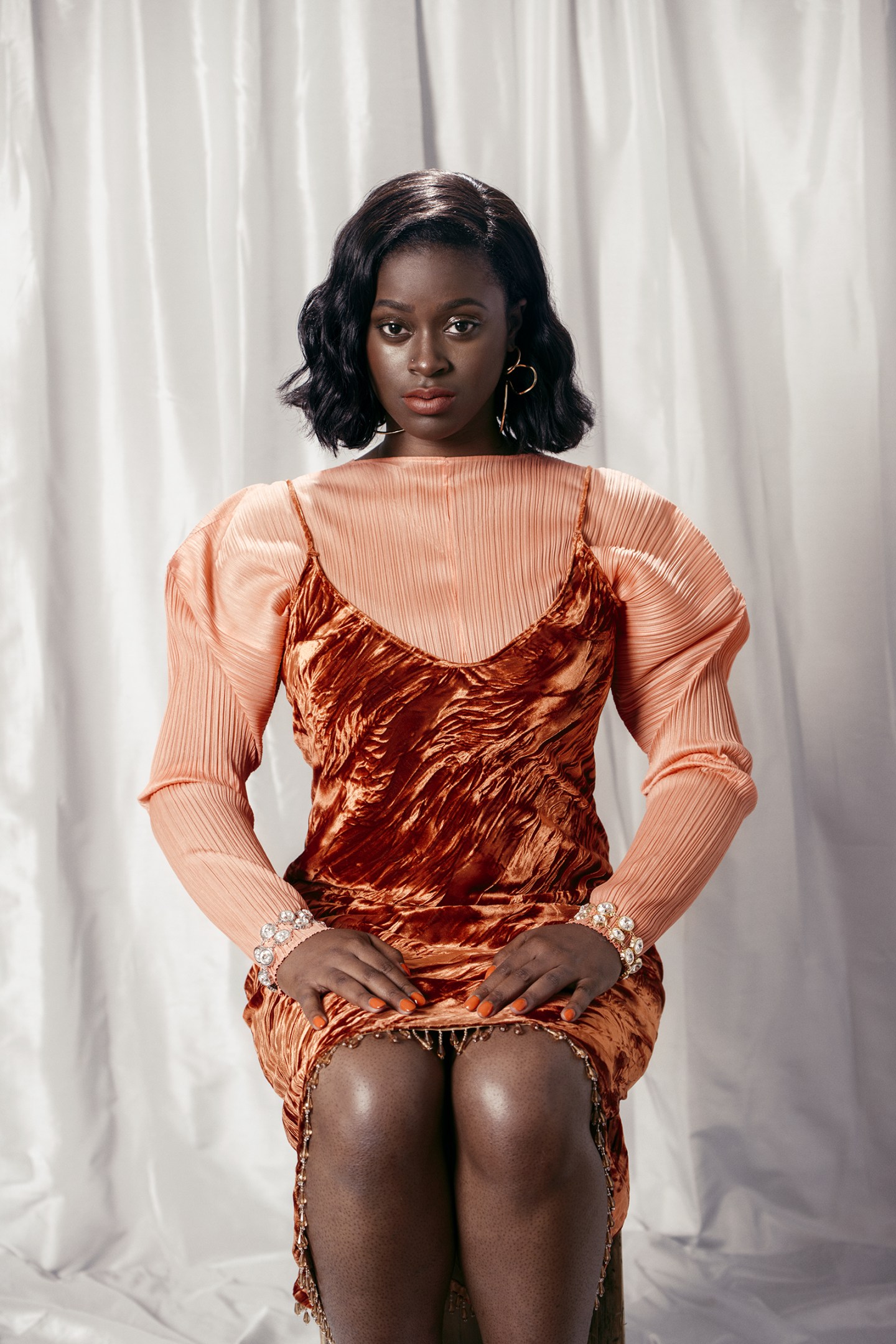 That's sort of what she did with Zach Whack, her friend and DJ, who is often photographed beside her in matching fits. She'd see him out and about in Philly and decided to absorb him into her crew. "I seen Zach in a few events. He didn't do anything specific. Like, he was good with Photoshop a little," she remembers. "I was like, 'You look cool. I like your blond hair and your eyes and you look really cool. I wanna be your friend.' And I just, like, made him DJ, found a job for him."
Tierra's DMs have been popping lately, but collaboration with producers and other artists, too, must feel right. "I might hear a beat from somebody else. I don't know. I don't really want that super industry sound. I don't care about names, I don't care about that shit," she explains. "I don't really reach out, it has to be organic. If we're in a studio setting and we're feeling the vibe, that's cool, we can make something. Like, I've been in a bunch of sessions with people I haven't made music with. Like, I just chill. I'm not forcing it. I don't DM people like, 'Yooo, I'm trying to get on a track.' I never do that, I'm never that person." Lately she's been in the studio with Meek Mill, longtime "the homie," and Donald Glover, who she describes as "mad funny" and "humble" and with a similar, unhurried outlook to hers. She speaks to Solange often, she says, talks to Macy Gray on Instagram sometimes, and calls Vince Staples a friend.
But it's been difficult to find time to be creative lately, because so much of her time is filled with the business of not making music: meetings, photo shoots, shows. And when she is home, she often finds herself binge-watching TV shows like American Horror Story and sleeping all the way in at the uptown Philly house she now shares with her mom and her two siblings, who recently moved back to the city to live with her. When I ask her what time she'd wake up if she didn't have appointments to keep, she pauses, looks me in the eye, and deadpans: "I wouldn't."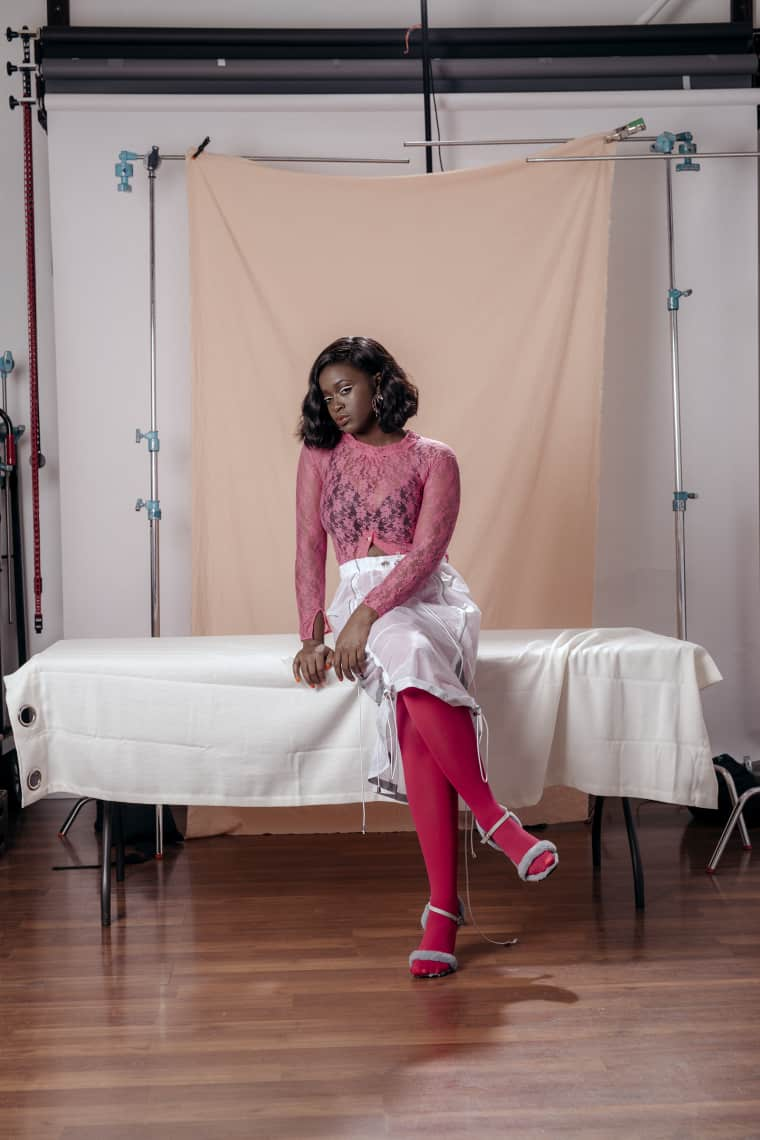 On a sunny, unseasonably warm Monday in the early fall, Tierra wants to go go-kart racing. So we pile into Kenete's Escalade and make the 30-minute pilgrimage to a Speed Raceway in neighboring Cinnaminson, New Jersey. She sits in the back seat, scrolling through Twitter and taking swigs from a bottle of Starkey, the lightly mineralized, Whole Foods-exclusive sparkling water she loves so much that she named her cat after it. "They're trying to figure out how to get me a sponsorship but, like, they don't really know how yet. It's the first time for them." So far, they've sent her a few cases and DMed a coupon for 15 free bottles. (Starkey the cat refuses most tap water and only drinks his namesake, Tierra claims.) Tierra doesn't drink or smoke, though she acknowledges that strangers think she's high most of the time. Her mind is escape enough.
The Speed Raceway is where Tierra likes to go when she isn't in the house or in the studio, she says, and where, once, after three sessions in a row, she got up the courage to get an actual driver's license. Inside the warehouse, she heads straight for the miniature arcade, bouncing from a large-format Pac-Man to Air Hockey to her favorite, a row of hoop-shot machines. On the track, she drives firmly with her foot on the gas, rounding corners nimbly and hitting flat stretches as fast the shaky go-kart will go.
The second time she laps me, she shoots over an encouraging, bafflingly earnest thumbs up. "Someone has to be the slowpoke, and it ain't me," she says later, helmet under her arm. Soon, the fumes make her lightheaded and nauseated, and Tierra retreats to a table off the side of the track to watch Kenete and Randy compete in one last race. Her eyes fix on the two go-karts, and she offers bursts of play-by-play commentary, as if to an audience no one else can see. "Damn," she says. "Everything looks so much slower when you're just on the outside watching."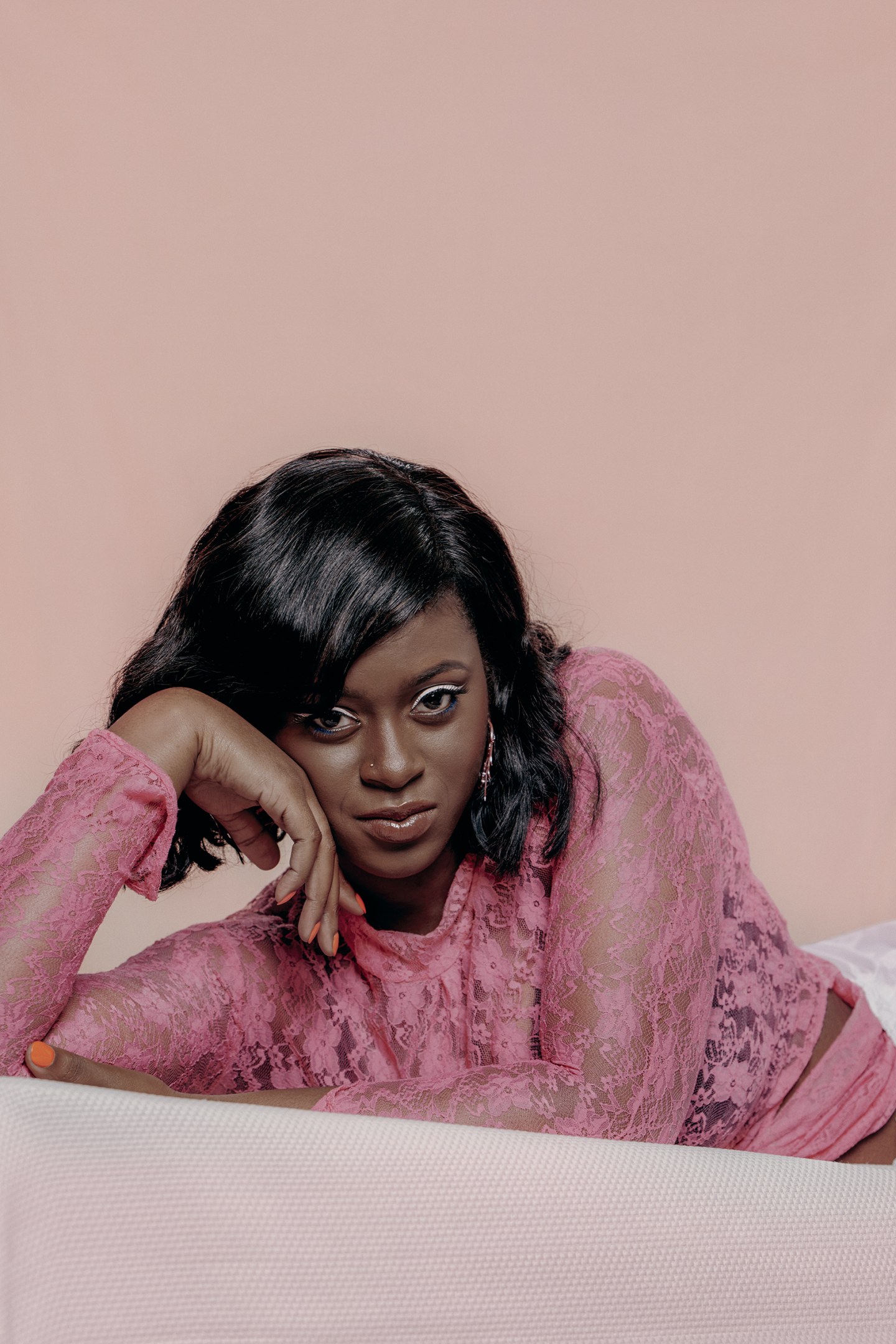 Make up by Camille Fleming, and hair by Joyce Koomson.