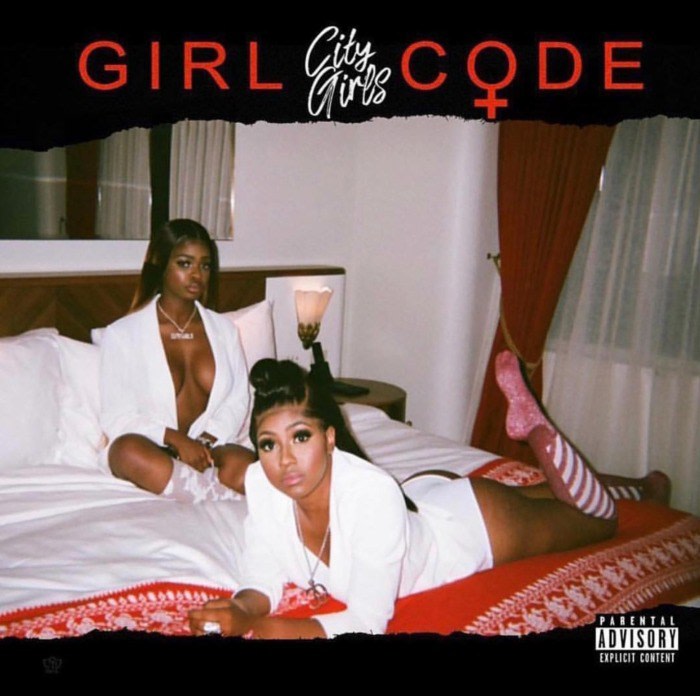 "Intro (#FreeJT)"
The opener to Girl Code — which I think has been the most heavily-anticipated album from the Quality Control powerhouse — is a big time banger for the ages. It opens up with a recorded phone call from incarcerated group member JT, and what follows is 3ish minutes of Yung Miami absolutely going off. As an eerie-piano laced instrumental rolls on, Miami gets into a zone and doesn't let up for a second, delivering a boss bitch sermon for y'all to take some notes from. While JT's swagger is absent on the track — save for some over-the-phone slick talk from jail — Yung Miami gets straight into her bag and carries the team Marshawn Lynch-style to the end zone. Lines like "Wait till my sister come home / We gon' really get these motherfuckers gone" will surely have you screaming #FreeJT. — WANDERA HUSSEIN
"What We Doin"
"What We Doin'" is perhaps the most explicitly functional song on the album, but that's not a slight: JT and Yung Miami's plan for a Friday night out helps shake up the formula of Girl Code. Their narrative starts from arm-twisting and cajoling and ends in celebration, dotted with details. The hook is a great example: "House super clean / fridge on full / baby with the grandma / bitch, I'm good / We could party all night, where we goin', what we doin'?" The obstacles they overcome and allude to on their way to the club give the song a richness, and will please any listener who knows how cathartic a night out can be after a tough week. It makes "What We Doin" both an obvious choice for the pre-drink/Uber playlist, as well as one that could subtlety build your spirit on the way to act out. —JORDAN DARVILLE
"Swerve"
The easiest of many ways for artists to control their listeners is to make instructional songs for them to jam to. Sometimes what they direct us to do isn't always in our best interest, but if the music sounds good enough, we usually adhere to their wishes. In 1992, Atlanta kid duo Kriss Kross made a whole nation "Jump;" in 2000, Ludacris urged us to throw bows at each other at parties; a few years later, a young Boosie Bad Azz and Webbie told us to swerve our cars in traffic. City Girl's newest project Girl Code has a couple tracks that follow this model. The first, "Twerk," along with an Instagram challenge from the Miami duo, is influencing people worldwide to showcase their best attempts at making something shake. The project's closing track — and one of its best — like Boosie and Webbie's classic, tells us to "Swerve." Unlike their Baton Rouge forefathers, Yung Miami and JT's version is more fit for cruising, as a calming flute loops throughout while their piercing, high-energy bars cut through. — LAWRENCE BURNEY
"Give It a Try" f. Jacquees
On the outset of "Give It A Try" it sounds like a song about jumping headfirst into love, with Jacquees sheepishly confessing that he's never "felt the feelings that I'm feeling for you" over a chilled-out R&B beat. That notion is quickly dispelled as both Yung Miami and JT say no to the fuckshit, each delivering a series of truly cutting disses in their respective verses. "'Cause all men the same, all they ass do is lie," JT says, delivering a sermon all of us needed to hear. "Give It A Try" couldn't have come at a better time, Venus is about to be out of retrograde, and we should all stay strong and remember that no man is as important as securing the bag. — OLIVIA CRAIGHEAD
"Broke Boy"
It is nearing the end of 2018, so I can say with confidence that all the boys I dated this year were officially Not Worth My Time. At this crucial junction of my dating life, I find myself wondering more and more the criteria I need to start checking for before I start investing time on lames. The boy having a lot of money is a trait looking increasingly appealing and mandatory! Obviously, I say all of this 95 percent joking, and five percent serious, but sometimes that five percent of me really needs to jump the fuck out and make itself heard. Cue City Girls' "Broke Boy," a true feminist anthem that will be, or at least should be, my mood for 2019. Over a drill sergeant beat, JT and Yung Miami say "If you a broke boy stay the fuck out my way!" with such admirable conviction that I'm inclined to start enforcing my own policy tomorrow. If only my pool of suitors wasn't already so small. — STEFFANEE WANG
"Panties an Bra"
Yung Miami and JT of the City Girls have become known for making strip club anthems about cracking cards and getting over on men but "Panties an Bra," the third track on their new album Girl Code slows down the pace slightly. Along with the Jacquees-featuring "Give Me a Try," the track is meant to be the City Girls version of a between-the-sheets moment. But, in true Yung Miami and JT fashion, the rappers bring their own personality to the classic structure. "Just bring that dick, a Plan B, and Hennessy," JT instructs on her verse. The song makes me wonder what the City Girls could bring to other classic song tropes. I'm hoping we get the City Girls Christmas album we all deserve. — BEN DANDRIDGE-LEMCO