Norway's Marie Ulven has been putting out sweet bedroom-pop songs into the world as girl in red since 2016. This past year, her songs and videos garnered an impressive amount of attention; Her most popular video on YouTube is a triumphant, declarative love song to girls titled, simply, "girls," and contains the cute-as-shit lyric: "They're so pretty it hurts / I'm not talkin' bout boys, I'm talkin' bout girls." It's currently sitting at a million views and counting. In the comments, girls and women from all over express their happiness of seeing someone so unapologetic and open about their sexuality.
Earlier this year, Ulven released her debut EP, Chapter 1, as girl in red, and today The FADER is premiering the video to her new single "we fell in love in october." Over a phone call, she explains that the track is actually a re-release of an old song, with newly added drums (because she didn't know how to add them in the first time). She's only sharing it now because fall is the season that makes her the most romantically nostalgic.
It's around 8 p.m. in Oslo, Norway, and I've caught Ulven still at school, taking our call in "this big ass room with a bunch of windows." She's a little concerned because exams are coming up this week. "I'm not really wholeheartedly going to the school, so it hasn't been really difficult [balancing] up until now," she explains to me, speaking fast, "Cause I have my exams at the moment and I have to make three songs by Friday and write a paper on it."
Her life, as she explains it, has been snowballing. She's excited about everything she's got to do because of the growing popularity of her music — including an opening slot for Clairo in Paris in September — but now she's a little nervous about what she'll release next. Sighing, she says, "There's not much to say other than hopefully, it's not going to be bad."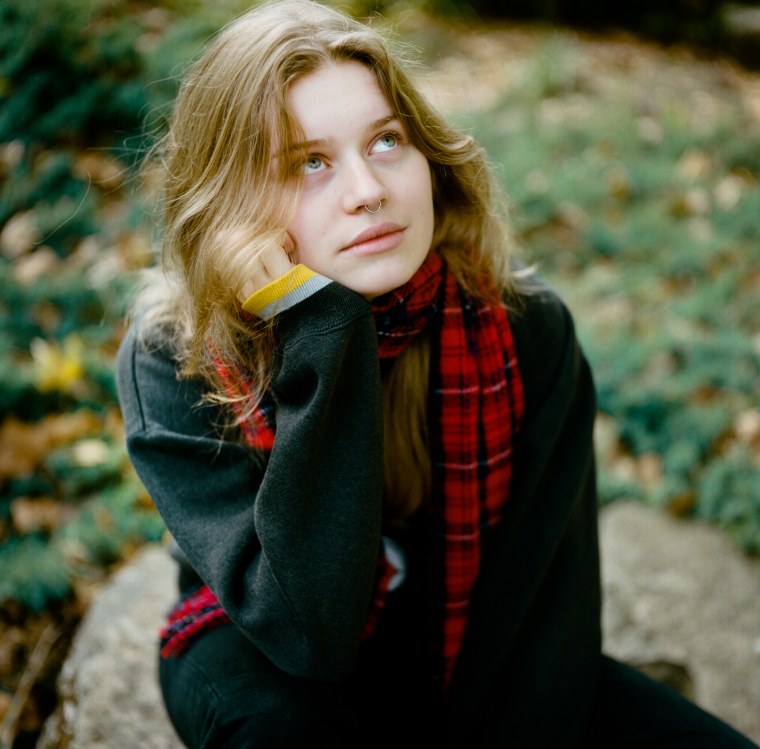 Tell me about the new song! Is there a story behind it?

I wrote in 2015, and it's basically the first song I wrote about a girl in the first relationship I had with a girl. I had broken up with my boyfriend and I'd been in this relationship with this girl and it's just me declaring my love for this girl. Just screaming, "My girl, my girl!" twenty times in the chorus and sort of just owning it because I struggled a long time accepting it, and there was so much shit going on with this girl, there was just so much drama. It's about when things have kind of settled and I'm like Fuck yeah, this is my girl. And you will be my girl. I don't know, I love this girl.
It reminds me of Rick Springfield's "Jessie's Girl" or something, but I would much rather hear this gay version.

I haven't even heard that shit!
Is this song gonna be apart of Chapter 2? Is there going to be a Chapter 2?

There's gonna be a Chapter 2, this isn't really apart of it. Because I love fall, fall has such a big sentimental meaning for me because of this relationship, and I'm releasing two songs on Wednesday, "We Fell in Love In October," and "Forget Her" which is basically about the same girl, so a double-sided EP. I was actually going to release it in October but because I'm doing it all my own, I procrastinate a lot, so it's coming out a bit later.
Do you know yet what Chapter 2 will be about?

I'm working on it right now and I feel like I want it to be a body of work and not just some songs that are collected. I'm not sure if I want to have a storyline; I'm still working on getting ideas. Right now there's not much to say other than hopefully it's not going to be bad.
Were you ever nervous at all to write or release songs about girls or were you totally comfortable and ready to do it?

I've been comfortable with my sexuality for a couple of years now, I know I couldn't see myself writing in a different way. I couldn't write it in a straight way or anything like that. It's the most natural thing for me to just write about girls so I've never really been nervous to put songs out like that cause I'm really open about it. And also, I didn't know anyone was going to listen. So I was like, Yeah I don't have anything to lose. I didn't really know that that many people was going to listen to it. Maybe it would've been different if I knew.
You'd probably be nervous?

Yeah, because right now I'm kind of nervous. Not because of myself, but it's such a big...this thing has been snowballing and changing so fast so it's kind of weird that when I'm writing a song now I know that somebody is going to listen to it. Because a year ago I could write a song and no one wouldn't listen to it.
I think it's a normal thing because I've spoken to several music friends who put out music and did well, and now they're like, Holy fuck, I don't think I can write music anymore. That's kind of how I feel, but I'm like OK, if this goes bad I'm going to continue writing and hopefully the next song after that goes better. So it's just not thinking it's the end of the world if a song doesn't do as well.

Speaking of music friends, I saw that you opened for Clairo in September. I was curious how the collaboration came about.

Honestly, it's like black at the beginning of it all in my memory, it's like something is erased so I really don't remember. But I feel like I talked to someone on her team in the DMs, and he was like, "Yeah let's try to make that happen." And then also, her manager contacted my manager and tried to get something to happen, and I was super down because I totally fuck with her music and I think she's super dope. So I was like Yes, this is the coolest thing ever!
I was watching videos of you guys on stage and y'all seemed to get along really well.

She was like, "For the encore, you should come on stage with me!" And I was like, I didn't even know what an encore was, so I asked her and she said that's when you go off stage and come on after, and so I was like "`Holy shit, yes!" So I was being her hype man and jumping around and screaming with a pride flag and being super weird. It was so much fun, it was really nice of her to bring me on stage.
Was that your first time performing outside of your country?

Yes. It was like my 10th gig or something. I've never flown to a different country to play, it was definitely an experience and I learned that I can't drink every night when you're touring. Even though it was just two days, I was wrecked on the way home. I'm going on tour with Conan Gray in March and I'm definitely not going to be drinking at all. I learned my lesson the hard way.