How Nia Wilson's rap group Girlz N The Hood is keeping her legacy alive
After Wilson's murder in July, the Oakland rap group she helped found is carrying on the work they started together.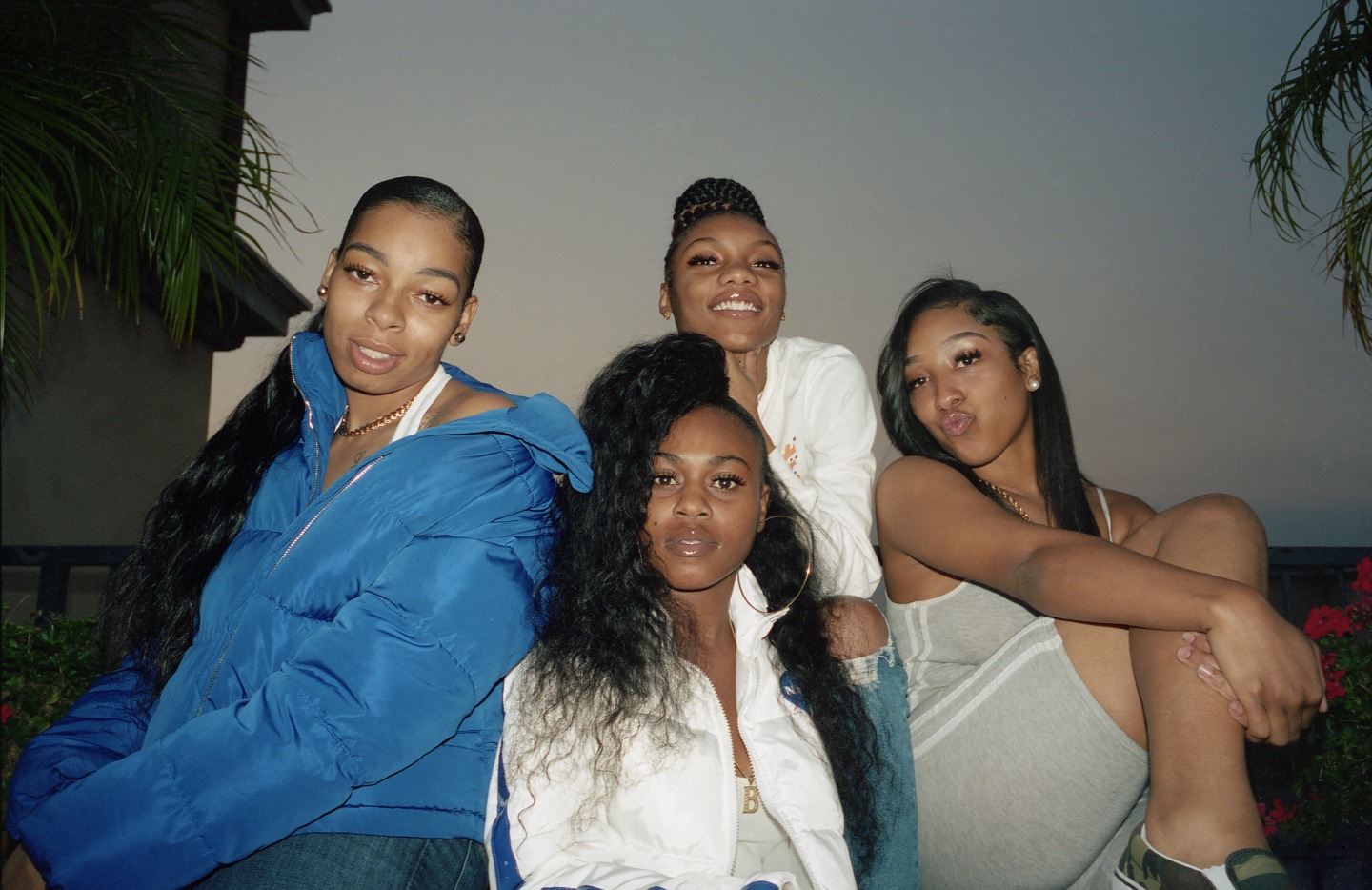 On a Sunday night in late July, news of an attack at Oakland's MacArthur BART station began trickling in online. The initial reports were that a young woman was attacked on the transit system's platform. Every detail that emerged after was heartbreaking.
Nia Wilson and her two sisters, Letifah and Tashiya Wilson, were transferring trains at MacArthur station when a man attacked Nia and Letifah, stabbing them in the neck with a knife. Letifah survived the wounds she sustained. Nia died at the scene. The attacker, who fled after the barbaric assault, was later apprehended and charged with counts of murder and attempted murder.
The next day, a public vigil formed at MacArthur station where hundreds of folks gathered around a sea of flowers, candles, and photos of Nia. Many who attended the vigil marched down the adjacent Telegraph Avenue into downtown Oakland in protest of the grim fate of young black folks in America. There, speakers blasted "Run Yo Mouth," a track Nia and her sister, Shi, made in 2016 as a part of their rap group, Girlz N The Hood. The track features an interpolation of a synth line from Rockwell's "Somebody's Watching Me" with flashy drums ushering in some brazen shit-talking bars. The whole song is unmistakably and thoroughly Oakland. Just like Nia.


In the months since, we've learned more about Nia and her personality: A pretty girl with a bright smile and a courage attested to by all who knew her. "My sister did not take no shit. She didn't care who you was, what happened, [or] nothing," Shi told me last week. Along with fellow Girlz N The Hood members Mylly, Shotta, and Ty, Shi spent many hours in August at her cousin Lee's studio finishing All 4 Nia, a mixtape in celebration and memory of their beloved sister, cousin, and friend.
The crew originally formed to serve as part-security, part-entourage to Oakland rap group Posse, a similarly slick-tongued group of young women who Lee was managing. Soon after, Girlz N The Hood decided to record music themselves and the diss track "Run Yo Mouth" was their debut. On it, Nia and Shi address two girls who came at them foul. "What made us really click is when it was really time to fight. Anytime anybody needed to fight, Nia was always ready," Ty explained. "We became cool off that. That's what everybody respected about [Nia]. Her loyalty. That's what made a lot of people [fall] in love with her."
Along with "Run Yo Mouth", All 4 Nia features nine other songs that carry a Bay Area mob energy occasionally cut with playful mischief. "So Wassup," a proper hyphy bop, stands out in the latter category. "107," on the other hand, is an above speed limit banger. Last week, the girls dropped a video for the titular track off their project, a heartfelt tribute to Nia filmed at MacArthur BART station. Both somber and celebratory, the song embodies the loyalty and resilience of Girlz N The Hood.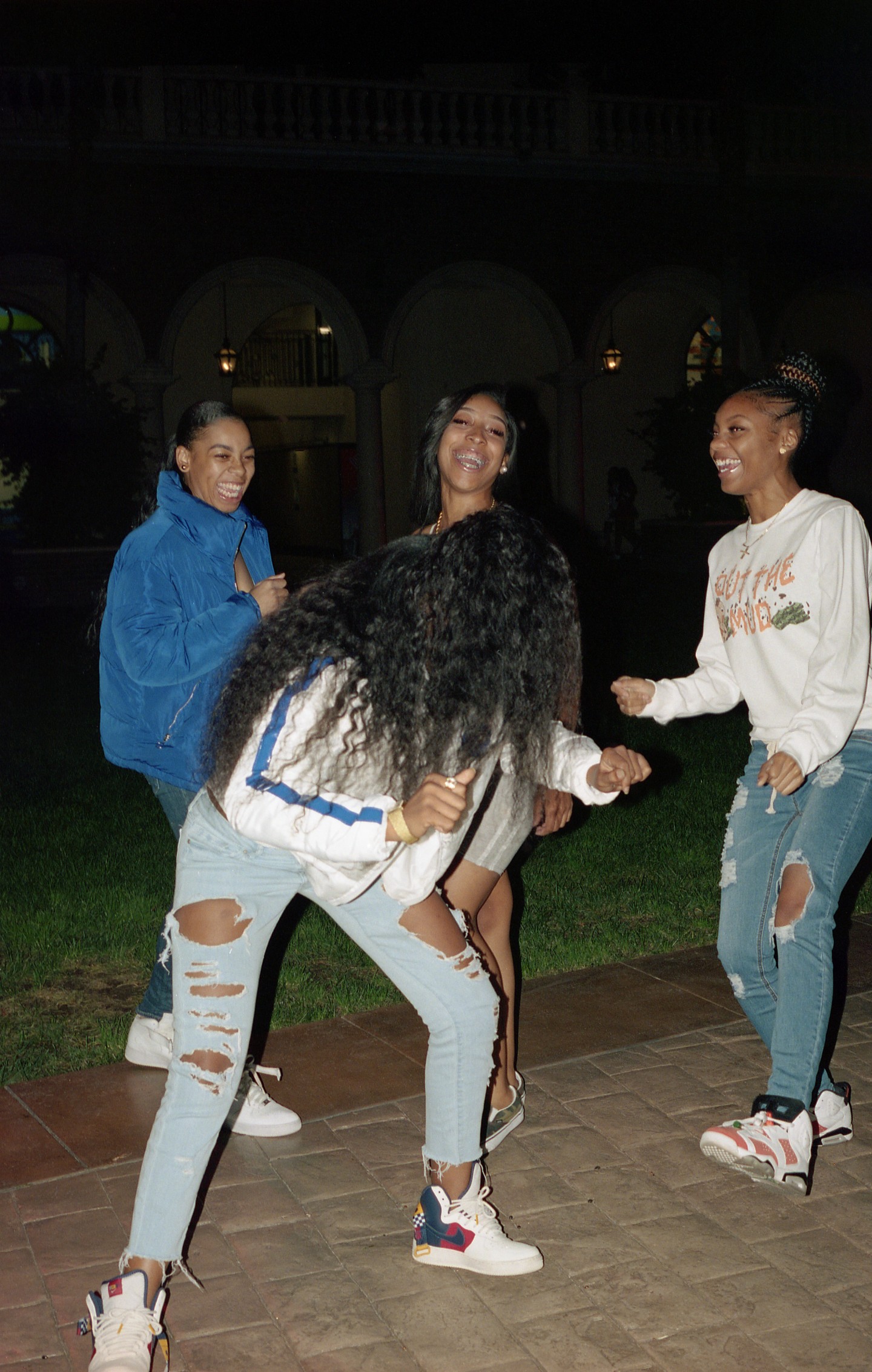 How did first you come together as a crew?
TY: The parties. The parties were the make or break situations. Because if I'm at a party and I'm with five other girls, me and all those five girls are going to walk out together. That loyalty ride with all of us. I got you. You got me. We gon' rock together.
How did these songs come together? Did you record them when you had time after school or work?
MYLLY: Whoever was here was doing the song. We was still a group but not all groups make songs all the time all together.
SHI: I never had the balls to go in there and record by myself. But with my family, I'm more comfortable because I get a different vibe than being by myself. Or being around weird people that's just gonna sit there and let me record by myself. Instead of having Shotta or Mylly here like, "Change that." Like, Ok this go better.
What are your approaches when you record a song?
SHI: I'm an emotional wreck, but I take it out through my music. [If] I just be goofy, I'm not going to sound how I want to sound. I have to be mad in order to put bass in my voice or something. Oh my sister, [Nia]? Let me tell you about her.
MYLLY: She's the pretty girl, she's the pretty one but her mindset...
SHOTTA: She's the one — ain't no question about it.
MYLLY: If you said this, you did this, she's gonna walk up to you and ask if you said this and did this.
SHOTTA: Facts. You're getting checked.
MYLLY: She was the nice one too. She could be nice. But she was the one not to play with.
SHOTTA: She don't show that [nice] side to too many people either. If she fuck with you, stay on that side.

Tell me more about your writing process.
SHI: We would hear a beat first, "Ooh this go stupid." Then as we listen to it hella times, we'll start thinking of something to write. Whoever write their verse first, we're finna go off your shit.
MYLLY: Me personally, I can't write without Shotta.
SHOTTA: I can't lie. When I'm with Mylly, my energy be different.
TY: I write by myself. I [write] these three verses and I'm about to bring it to the group and [ask], "Y'all tell me which one y'all like." From there on, that's how we go.
MYLLY: I'm the one that's like, "Y'all not about that old weak ass, fucked up ass attitude around me." I'm the turnt one. I'm always happy. I'm just jolly.
SHI: She's the problem solver.
How were you able to go to a studio and keep recording music again after Nia's death?
SHI: The last thing [Nia] was doing was trying to get in the studio.
MYLLY: Two days before that, we were supposed to come in and redo the video to "Fake Shit" and do another song but me living so far, I didn't have a way out here. So we didn't get chance to do it. But after, we couldn't let it rest because that's what she wanted to do. [Nia and I] called each other Turnt Cuz. That was our nicknames because we were always turnt up with each other. Me personally, I can't stay sad for too long. That's just not me. That's going to put me in an uncomfortable place. I have to get up, move around, do something with my life and get everything off my mind or else I'm just gonna be in a bad place. I'm not a person that can stay sad for too long because that's my Turnt Cuz. So I gotta turn up for her.
SHOTTA: Feeding off [Mylly's] energy. Her calling and texting me. Talking to her, she won't let me be sad for too long. Also, I've been through a lot. I've kind of emotionally been numb. I don't really even feel emotions like that. I done been through too much. It's too familiar I guess. Music was the last thing [Nia] was trying to do, why not keep it lit? On top of that, music is another way to release all that anyway.
TY: When she died, all of us were posting those pictures of her. And Lee, I think, one day had texted us and said, "I think we should put the group back together." It was kinda weird for all us for to be like, "Yeah," because somebody was missing out of the group but that's when it became All 4 Nia. That's how we came up with our mixtape.
You made 8 songs in the month of August. What was that period like?
SHI: It was to the point when we were spending the night at Lee['s] house and coming in here in the morning. Staying in the studio 'til three in the morning one time. Because it's deadlines that we have to meet. We'd get beats sent to us. We was writing at home.
SHOTTA: Coming in here everyday after class. Even if everybody wasn't coming.
MYLLY: It was to the point when I was getting off at 10:30 at night and coming straight here. Somebody was here so we finishing something, we starting something.
TY: I live in Sacramento. That should tell you a lot. It be killing me. When we do get into the studio, it don't be no playtime. Everybody get on everybody 'cause we're coming out here from so many miles. At the end of the day, we just try to remember who we do this for. I'm spending hella money on gas but this is for my patna who died. I want her name to be known.
Did it get easier to come together again after that?
MYLLY: Excuse my language but, hell yeah. It was fun.
SHOTTA: After we seen the progress, after we seen a whole song coming together…
MYLLY: Then we posted our little parts just to see people's feedback and we like, Oh they fucking with it. Let's keep doing it.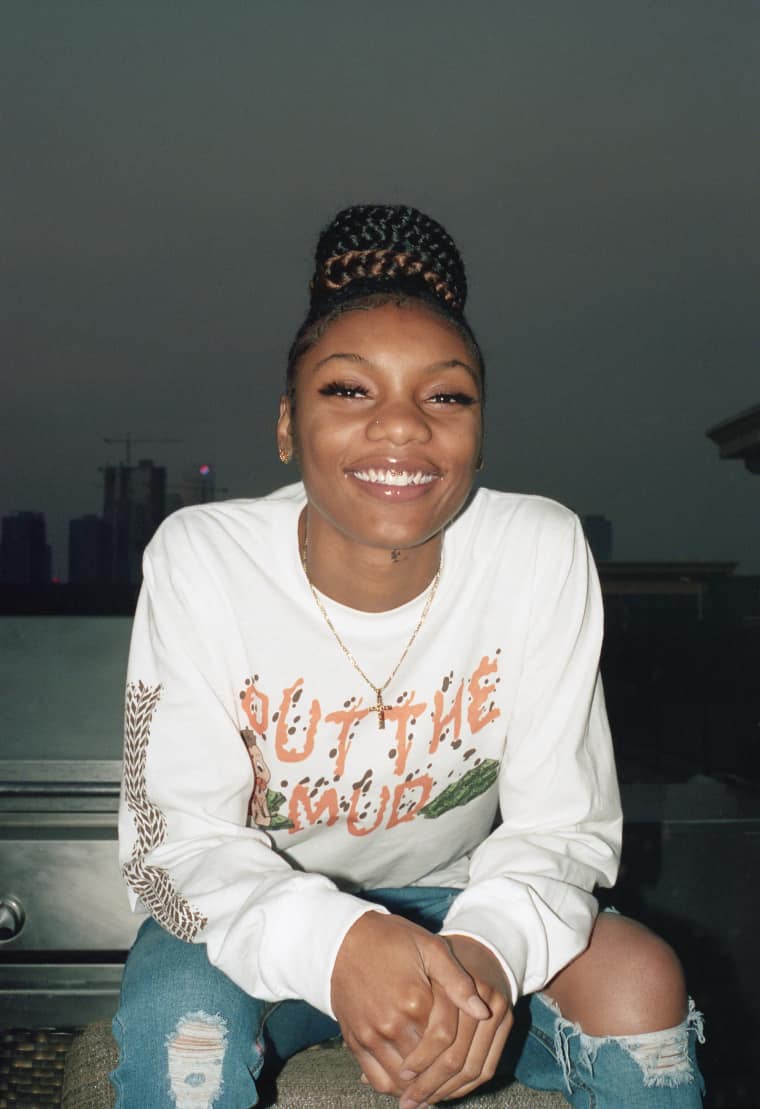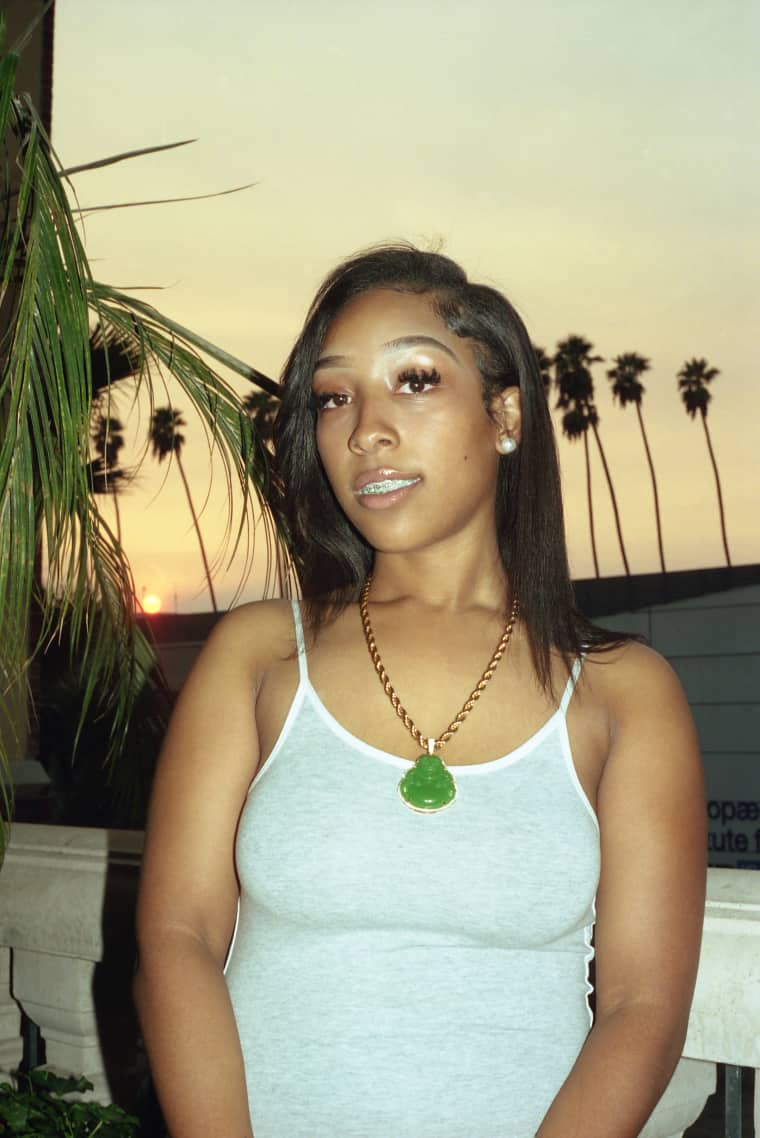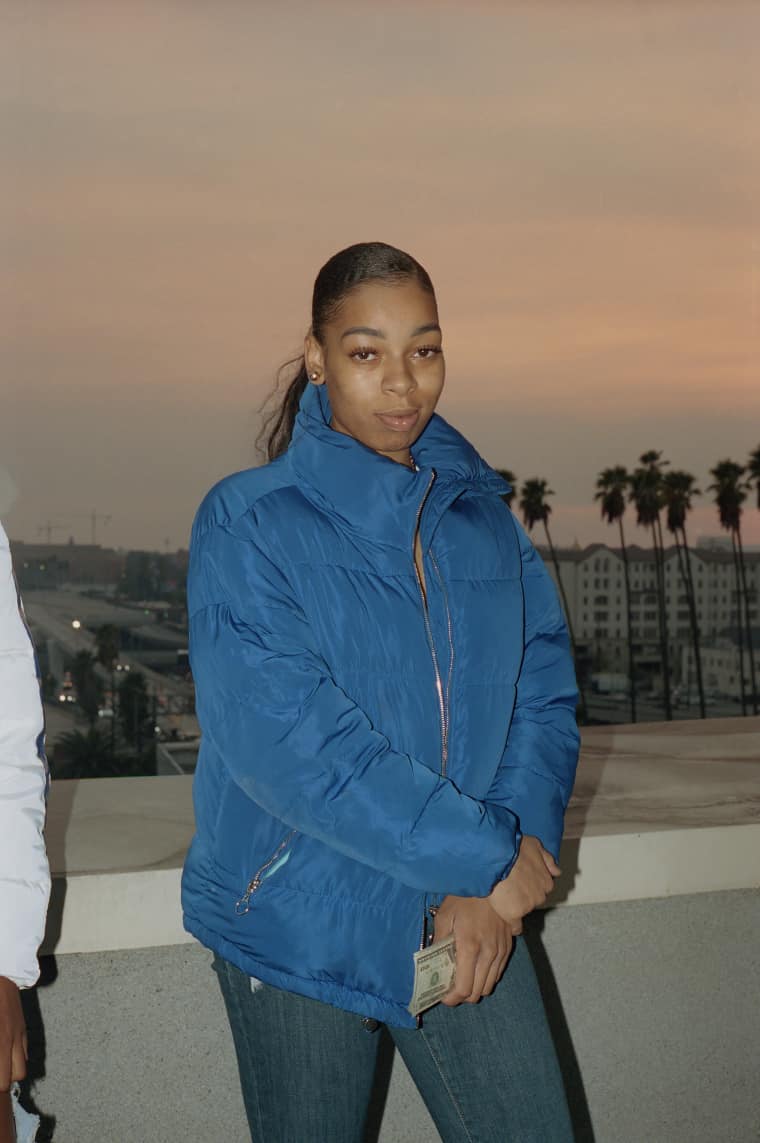 Did you think you'd be a rapper when you were younger?
TY: I remember me and my godsister making songs all the time and I would perform them in front of my mom. She'd always be like, "Y'all got this. Y'all could do this." It was like play-play. But for me, I always used to make songs. Even with my uncle Demario, he told me like, "Alright you could make this song for me and if you could perform it at Thanksgiving, I'll give you $100." I came up with a dance, I came up with a rap. I was so serious. That was everything to me. But never would I have thought this would've came. The way how it left and how it came back. The thought of [Nia] being gone is crazy to me. We already lost one partner — Nay. I never thought I could do this again with somebody else. That shook us. She was the first friend that I ever had that was that close to me ever die. I have never experienced that before. When that happened to me, I couldn't really think. That really threw me off.
MYLLY: I'm going to be so honest. When I was around like 7, I ain't have rhythm so rapping and dancing was not in my head. Around like sixth grade, it was this song that came out. It was a diss song. It was Young Curt dissing D-Lo and it was my favorite song and I used to rap it all the time. There was this boy. We called each other Day One. He was like, "Day One, [with] your voice, you're going to be a rapper one day." And I was like, "No I'm not. I can't sit down and put a pen to paper and think about what to say. I'm not going to rap. Like what am I going to say in a song?" That's literally what I said. And now I'm rapping. He did tell me that, and two weeks after Nia died, he died. Rapping is just in me now.
SHI: I was a singer and a dancer. I was a cheerleader. I played sports.
Was Nia super into music at an early age?
SHI: She cheerleaded too and played basketball. I remember her little basketball games in middle school. Her favorite artist who I'd always catch her listening to is Lil Boosie. She loved Boosie. I don't know what it is. She'd have her little white people songs too but most of the time she was on the hood, street type hype. People that actually went through stuff.
How about you, Shotta?
SHOTTA: When I was younger, I ain't think I was going to be doing music but I knew somebody in my family was. My uncle, he a producer. My mom, she used to rap. I used to see her late nights in the studio. She picking me up 2, 3 in the morning taking me home or I'm staying the night with my cousins 'cause we all go to the same school. I'm just staying there 'cause they're in the stu' late. She stopped rapping. My uncle still a producer.
I found out a couple years ago [that] my dad, he passed when I was a baby, he used to try rap or whatever too. So I'm like everybody rapping. My twin, I met her when I was in 7th grade and she died in 2016 but before she passed, that summer, we was in the house one day on some bored shit and that's around the time that everybody was doing the little [freestyle] challenges. We was writing them and doing them. From time to time, I'd pick a beat and write something in my notepad. But I ain't think I was going to be no rapper. I really think I sucked to be honest. After she passed, one of my favorite videos to watch of her, she was saying her little raps and I start fucking with it more. When she died that summer, that's when TiTi [and Posse] had the show in Sac. That's when we all really came together. We really was Girlz N The Hood. I had a cast on my arm 'cause I had got shot when my twin died. So I was trying to be in the back. I didn't want to be seen 'cause of my cast but then once that came off, I start coming out.
Coming in here on some cat shit, just start playing around with it, I started realizing like damn I'm actually kinda lyrical with this shit. But it's really some cat shit. This really was not planned. It was on some fun shit like to have fun together.
MYLLY: But now since it's started, I don't want to be hood famous. I want to be famous famous. I don't want to be famous at all. I just want to be rich. But you get what I'm saying? If I'm going to be famous, I don't want to be hood famous. I want to be famous famous.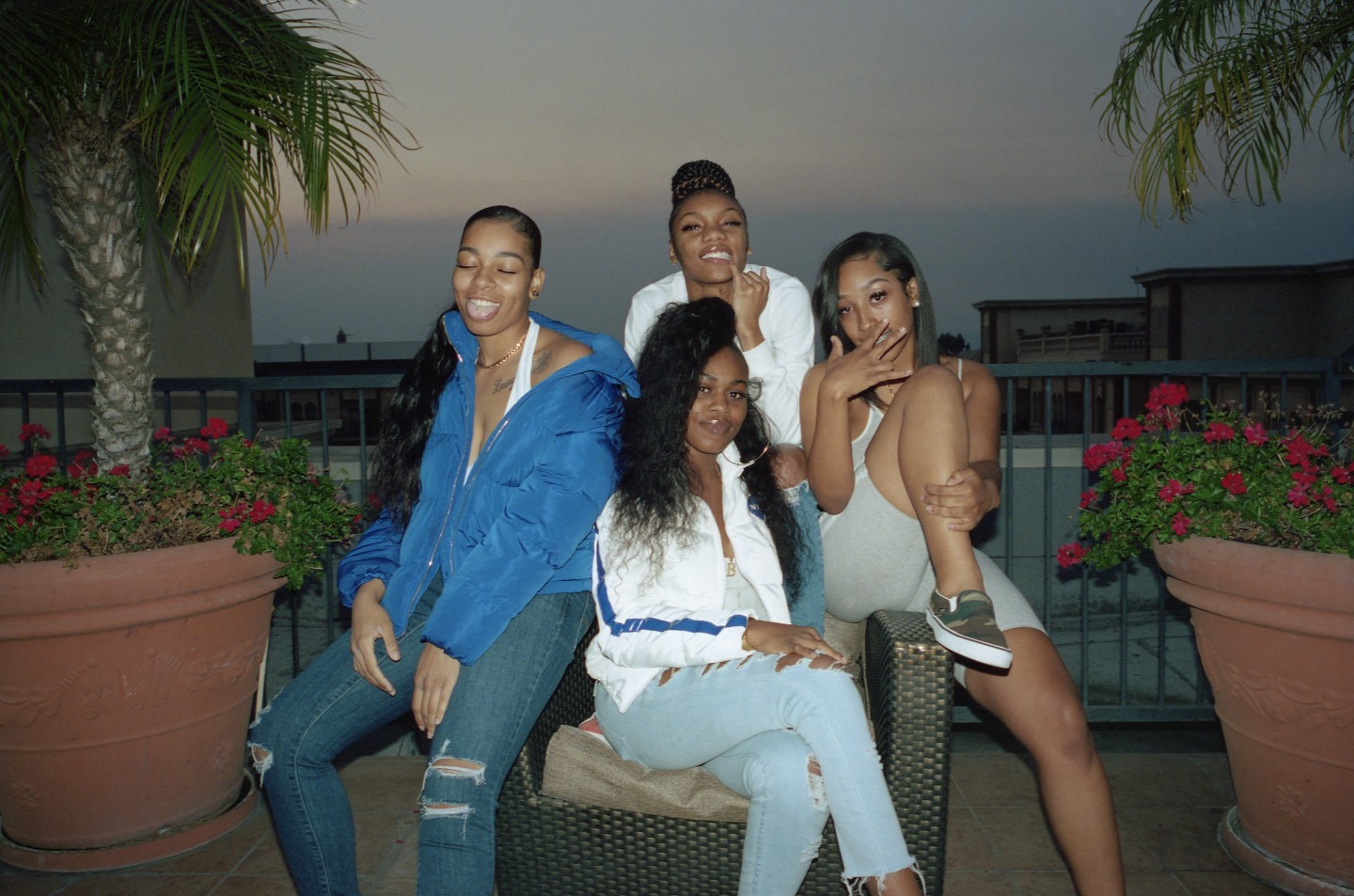 What motivates you to keep making music?
SHI: I have a son. Through that whole process when [Nia and Mylly] were doing "Fake Shit", I was [becoming] a mother and working. Then after my sister died, I was like damn this is the last thing she wanted to do. When I do this, I put my sister's energy into it. I know what type of person I am. I'm an emotional person so I'd rather talk about my feelings and my moods in my songs. Since my sister died, and it's all for Nia, I gotta put how she was like, her emotions, how she rolled with it, her street life thought into it. She didn't give no fucks. We two opposites. I cared. She didn't care. She was my voice. I didn't want to hurt nobody's feelings but she just don't care. If they wrong, they wrong.
TY: It was her loyalty to us that made me so focused on doing this. To see my patnas hurt, I didn't want them to go through that. We're all strong, independent black women. We could do this. We can get back in the studio and make music for her and get out there. Seeing how my sister and [Posse] make that music, and how far they got, I knew we could [go] farther. That motivated me.
What about music and recording keeps you engaged and challenged? Does it feel like an outlet for your emotions?
TY: Music actually talks to me. It helps me at my darkest times. It's crazy that somebody that you don't know, you could relate to them so much. That's exactly what music does to me. It helps soothe me. That's something that I need on a daily.
On All 4 Nia, it was more about my pain. I talked about John, the person that killed her. I talked about holding guns and shooting. It was more of my pain and how I felt. How he took my patna away and how I can't see her no more.
What do you want people to know about Nia?
SHOTTA: That she was never going to let up. She was forever at bitches necks, period. So that's what I'm gon' do. Not gonna let up.
TY: Keep respect on her name. Always keep her name live. Never ever doubt the love that she had for the people that she loved. Nia loved so many people and it's only right that we show that love back by keeping her name alive. In our records, we cuss, we talk about guns, but in all reality, this is just the play-play for us. This is just our personality. When you listen to our songs, just listen to us. Really listen to us.
MYLLY: A song that me and Nia liked was a YFN Lucci song, and he said he's always going to outshine. So I feel like she's always going to outshine. Whether the album is called All 4 Nia or whatever the case may be, her name is always going to be said. Regardless. Every day.