Working On Dying in real life
A Philly production family is bringing internet rap's most haunting sounds to the mainstream.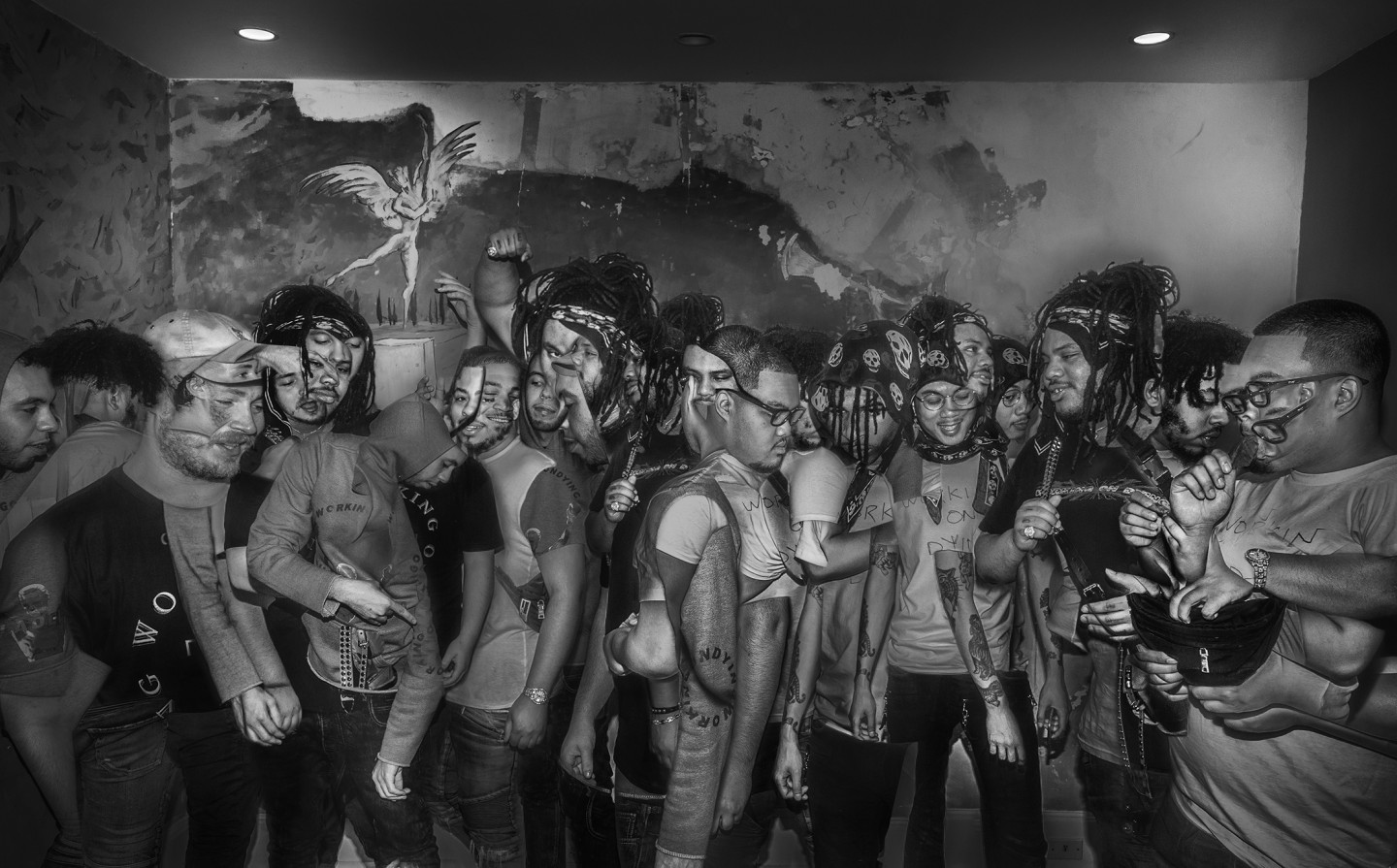 The Loosie Man has a small family of animals at his Northwest Philadelphia house, the same one where he grew up and where he now pays the bills. Right now, the 22-year-old producer and DJ takes care of two cats, two dogs, and two rats, one of which technically belongs to Lil Uzi Vert. The rapper sent his team to Petco to buy the rodent, along with an elaborate cage set-up, during a late night studio session but had to go on tour soon after, leaving him behind with Loosie. "Rats are social animals," Loosie says. "They get depressed when they're by themselves. They can actually die from loneliness."
As he explains this, Loosie sits about eight miles away in a studio surrounded by F1LTHY, Oogie Mane, Brandon Finessin, and Forza, the other members of the production collective Working On Dying. Walking in here is like entering into a time warp — minutes and hours seem to pass by unreasonably fast, with no regard for the events of the outside world. As the evening turns into night, the spot is full of activity: Oogie Mane sits in the middle of the room getting a haircut, F1LTHY fields phone calls, and Brandon is in the control room tweaking a hypnotizing loop that shakes the walls. Loosie moves to a couch off to one side, watching a Primitive Technology video on YouTube, where an Australian man builds a thatched-roof hut using nothing but stones and foraged materials.
For the last two years, the five of them have made this space, located in a cavernous building where Chinatown ends and North Philly begins, their nearly round-the-clock headquarters. During the first decade of the millenium, The Roots rented the same studio, and the walls are reminders of its history and its current function. On one side of the large entry room, there are plaques from Usher, Mariah Carey, Musiq Soulchild, and other major artists who recorded there and in the larger studio down the hall; the opposite wall is covered floor-to-ceiling in graffiti. There's still plenty of open wallspace, where, in the near future, the Working On Dying producers hope to mount their own plaques. But in the meantime, they've left their mark: in red paint, near the door to the control room, there's a tombstone painted with an upside down cross and the letters "WOD."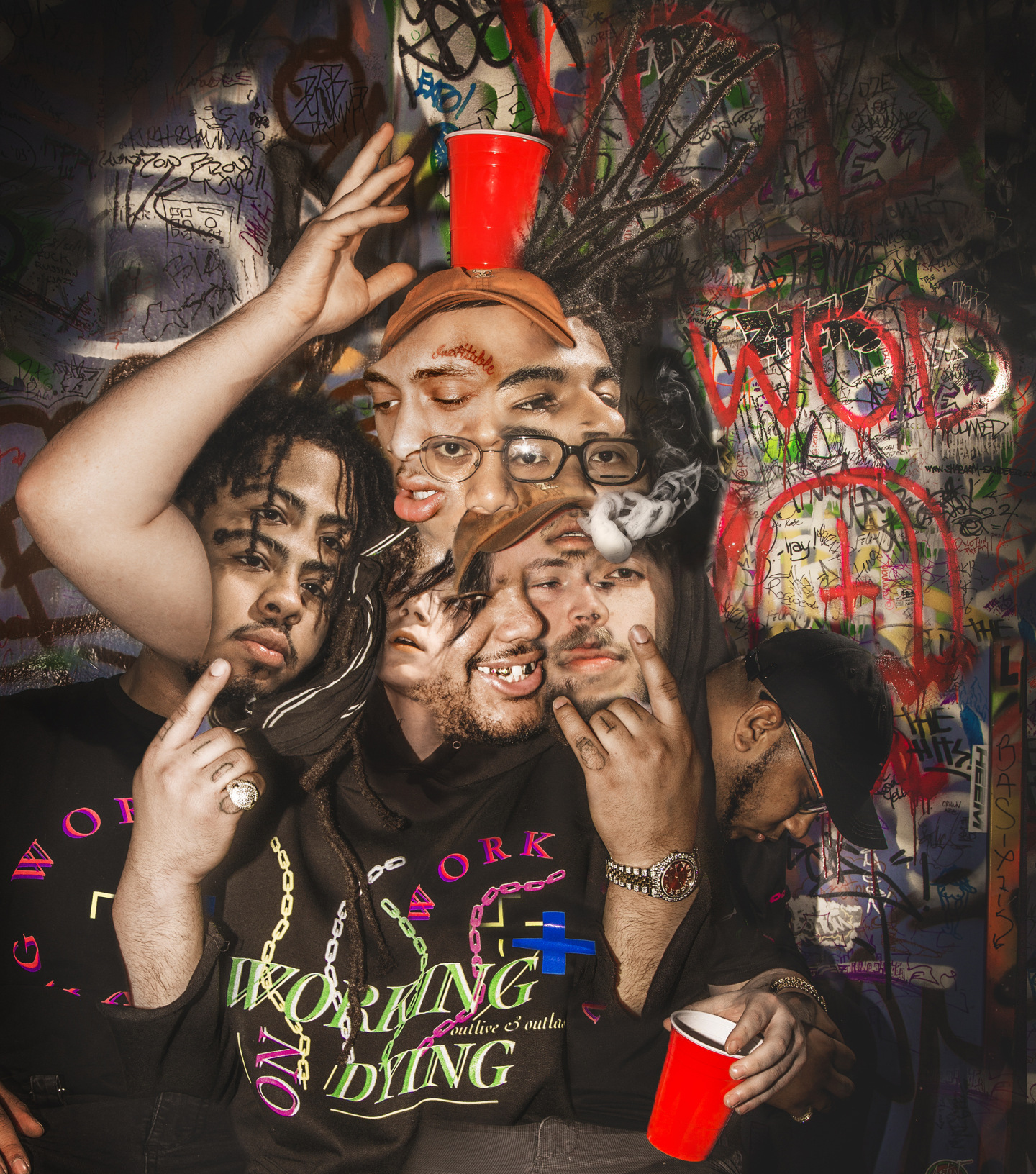 The members of Working On Dying have been gathering around computer screens and passing each other video game controllers for the last six years and, for some of them, much longer than that. F1LTHY, the oldest at 26, and Oogie, the youngest at 21, are brothers, and they share the same husky frame and rounded features. Early on, F1LTHY put Oogie on to music — Three 6 Mafia and Outkast, as well as Black Sabbath and Rise Against — and introduced him to skateboarding. In middle school, Forza moved a few houses down from them, and they all started skating together, later bringing in Brandon when Oogie and Forza met him in ninth grade at Northeast High School.
F1LTHY started making beats in 2012, inspired by SpaceGhostPurrp's Blackland Radio 66.6 and the constant output of overlooked internet rap pioneers Metro Zu. After half a year of working with FruityLoops, he taught Oogie the basic principles of the program. Brandon, who had been trying to make Philly party music instrumentals, and Oogie shared their knowledge with each other. Forza was still dedicated to skating and playing football at the time but came to them wanting to learn about a year later.
Making beats is usually a solitary activity, one that only yields worthwhile results after hours and hours spent alone in front of a computer. But the members of Working On Dying all learned their craft by committee and started creating in much the same way. As they saw Atlanta's 808 Mafia doing around the same time, they built off each other's growing knowledge and ideas together as a group. "Nothing was forced," F1LTHY says. "This was just regular friendship and we all ended up being good at what we do."

"I don't want them hustling, I don't want them working, I want music to be their job. I wanted to create an environment where they can really work freely because I know what it's like to be a part-time musician." —Finesse
Loosie, who was rapping at the time as Declan?, met F1LTHY and Oogie through their godbrother Jarek. They all began making music in the basement of F1LTHY and Oogie's mom's house, alternating between games of Super Smash Bros. and the one computer they shared between the five of them, with a propane heater and cases of Yuengling to keep them warm in the winter. "I would have strangers come through to the studio to record, we was getting drunk," F1LTHY says. "My mom was pregnant at the time and then had a baby. Looking back on it, she was real tolerant."
It was Loosie who came up with the name Working On Dying during one of the darkest times in his life. "My father died of cancer the day after I turned 18," he says. "I was in a car, I had a glass of whiskey, driving, and I was like, Shit, I'm really working on dying right now." The phrase became the title of a mixtape they made in the basement and released on SoundCloud at the beginning of 2014. It was full of airy synths — indebted to ambient composers like Klaus Schulze and Erik Wøllo, who they were listening to at the time — and rolling hi-hats paired with a capellas from Lil B, Gucci Mane, and a TED Talk about death in the 21st century by intensive care specialist Peter Saul. The name stuck, and though it came out of the depths of unhappiness, it was never meant to be flagrantly morbid. "It's like saying you're alive: living, breathing, drinking, smoking, working on dying," F1LTHY says. Loosie adds: "It's just a humble reminder."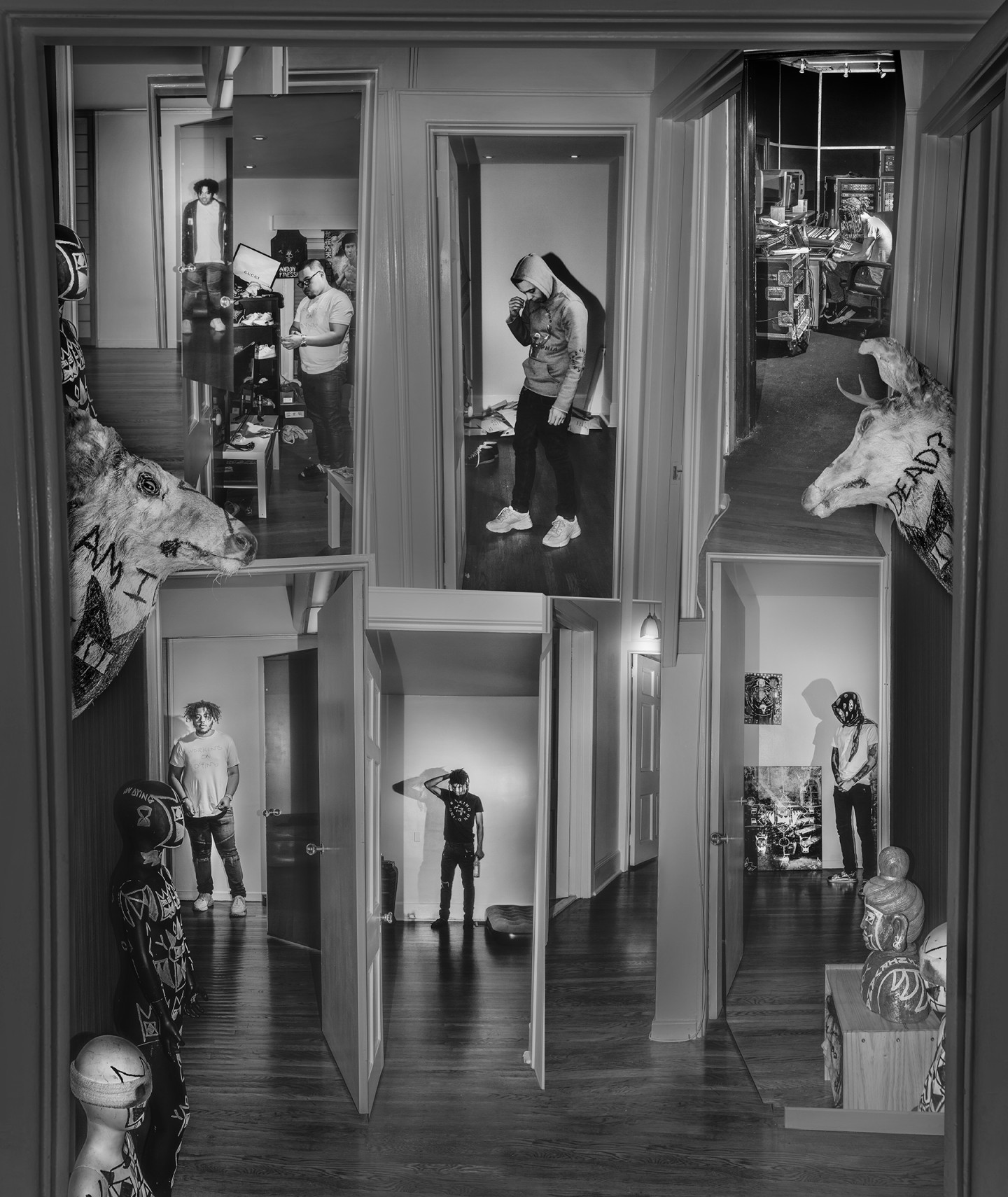 Around the same time that Working On Dying first started making music together, Meek Mill was rolling out his debut studio album and Philly's rap scene was still very much geared toward the cyphers where he had first cut his teeth. F1LTHY, Oogie, Loosie, Brandon, and Forza instead looked to the internet, where they found a community of like-minded collaborators and listeners. "People were so stuck in that Philly shit," F1LTHY says. "I was like, 'Fuck all that, I'm down to work with whoever.'"
F1LTHY reached out to Black Kray of Goth Money Records — the D.C. and Virginia-based label that draws inspiration equally from classic Cash Money and No Limit and the dark, lo-fi stylings proliferating on SoundCloud — and the tripped-out Miami group Snob Mobb. Though they would go on to work with Grande Marshall and Asaad, two Philly rappers who also harnessed the internet's budding rap scenes to reach beyond the city, it was those initial online connections that propelled Working On Dying forward. F1LTHY sent beats, booked Goth Money and Snob Mobb for shows in Philly, and, most importantly, pulled up to collaborate in person. "I had to be around and show face," he says. "People gotta see you're a real person — you can't just be an internet nerd sending shit over."
As the sound of their production evolved from spaced-out ambient to something more fast-paced and muddy, their frequent collaborator BOOTYCHAAAIN coined a new term for the type of music they were making: tread. The characteristics of the subgenre are slowed-down samples and melodies and high-tempo, often distorted, percussion. Tread began to catch on among SoundCloud's outsider rap circles, but it wasn't until they went out to L.A. in 2016 to stay at Lil Peep, Nedarb, and Lil Tracy's house, and played a warehouse show out there, that they started to realize they were having a real-life impact.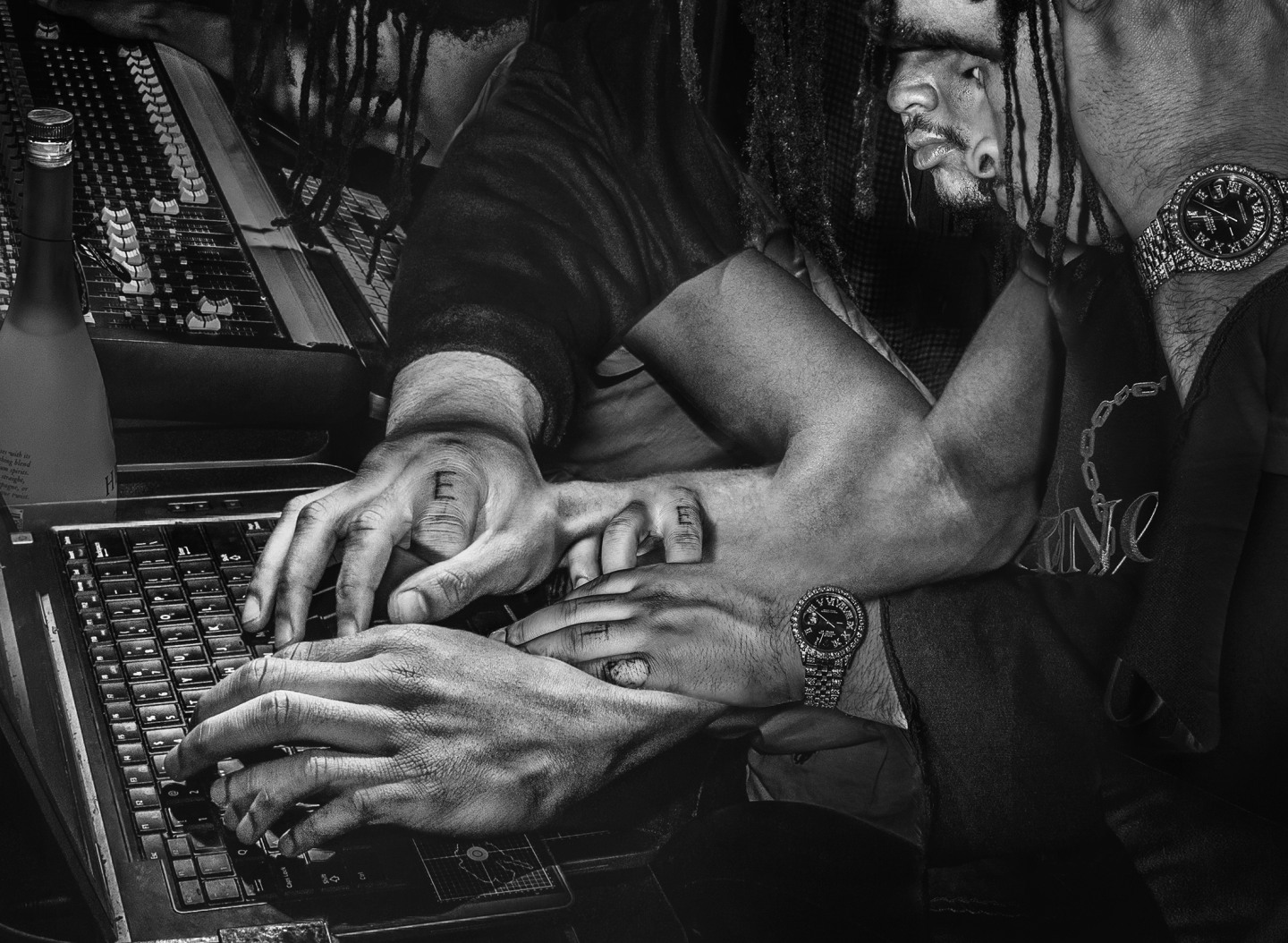 On the night I arrive in Philly, Tracy is performing at Working On Dying's monthly party series, Tear Drop, and the whole crew gets there around 9 p.m. The average age at the show seems to be about 16, and the wristband area, for the 21-and-over crowd, is nearly empty when we arrive. Backstage, Tracy and his manager greet them; Zubin, a singer and close Working On Dying associate, sits on the couch next to the producer and artist Fantasy Camp; and young Matt Ox paces around close by, a veil of blue hair sticking out below his hood and covering his face. But within 20 minutes of their arrival, Oogie gets a phone call and immediately takes an Uber back to the studio with Brandon and Forza while F1LTHY and Loosie stay behind. "They'd always rather be at the studio than out at shows or parties," F1LTHY explains.
Back at the studio a few hours later, the scene looks much the same as it did before, though it seems like each person in the room has rotated one seating position over. At midnight, someone realizes that "New Patek," the highly anticipated song that Lil Uzi Vert teased with a dance video on Instagram in June, was just released as a single. It feels like a moment: the song plays from the TV in the front room and from the speaker system in the studio at the same time.
Three-quarters of the way into the track, there are two loud bangs on the door and, as if on cue, Uzi bounds into the room. Wearing a cashmere purple turtleneck and studded black leather shoes, he's in full diva mode. He tells Brandon to cut the song off and then, after the room goes silent, decides he wants to hear it again. When Working On Dying's manager, Finesse, digs at him, asking why "New Patek," which is produced by Dolan Beats, dropped before their songs together, Uzi scrunches up his face. "Because it didn't make my album," he fires back, referring to the single. Irritated that when he came by earlier, the guys were at their show, he throws a heavy stack of yellow-banded bills on the floor with a powerful thud — it looks to be around $100,000 — and storms back to the larger studio down the hall. One of Uzi's associates trails behind him, stooping down to collect the pile of cash on the way out. It's time to get back to work.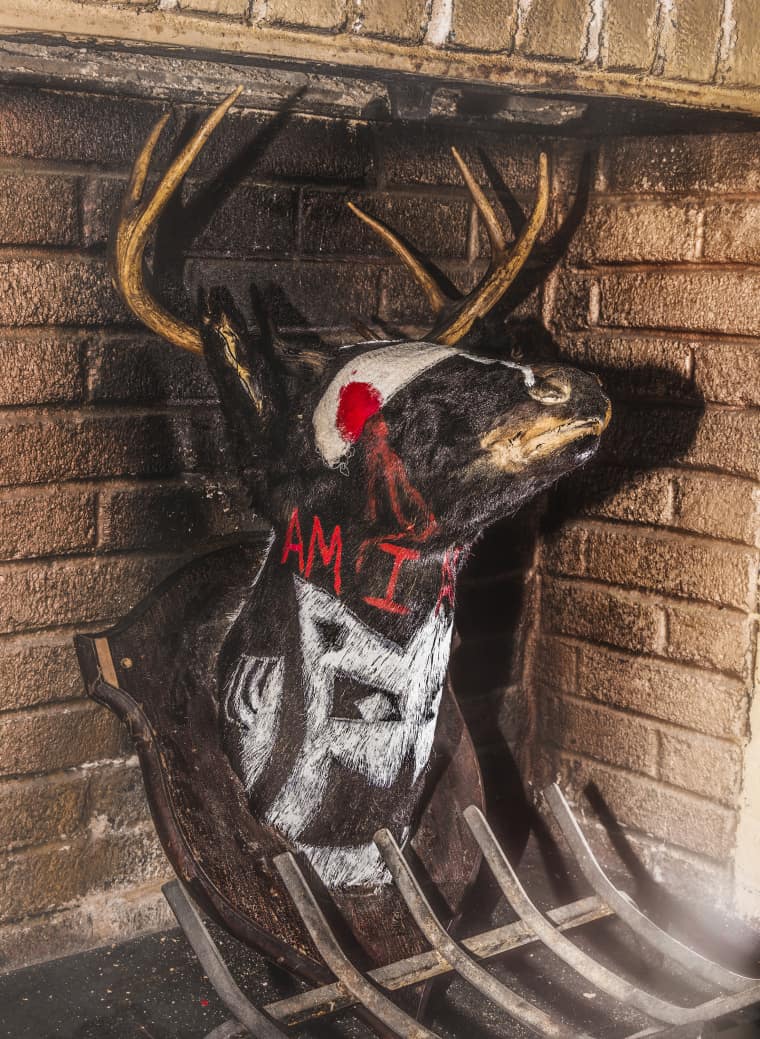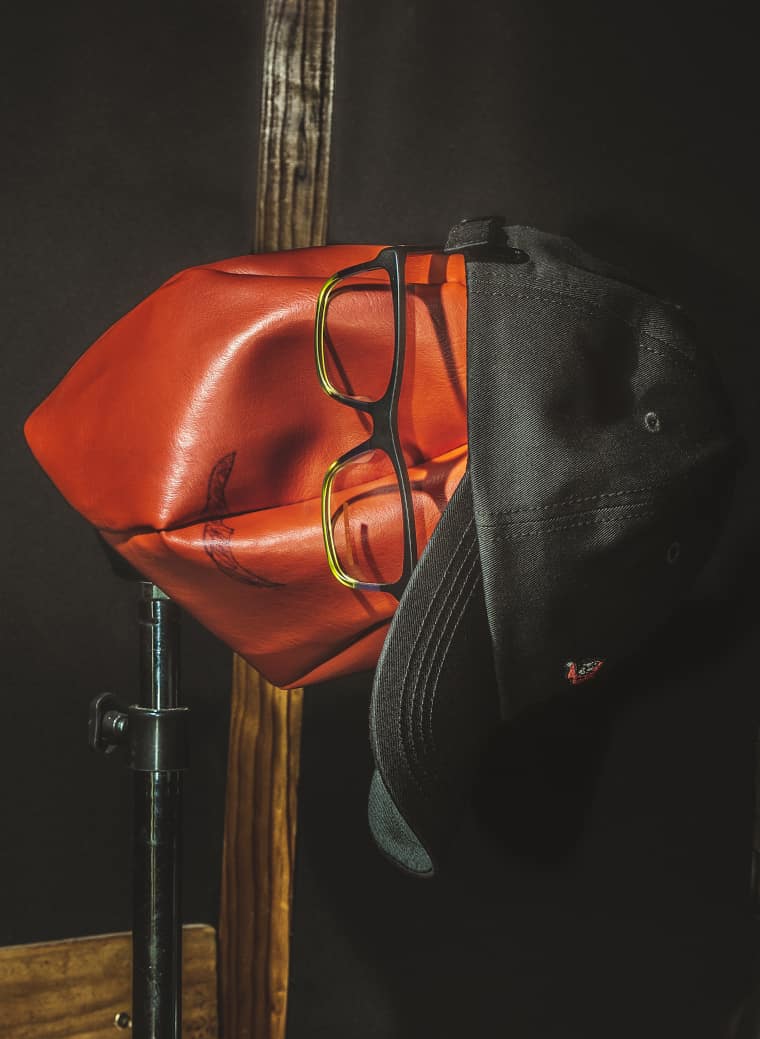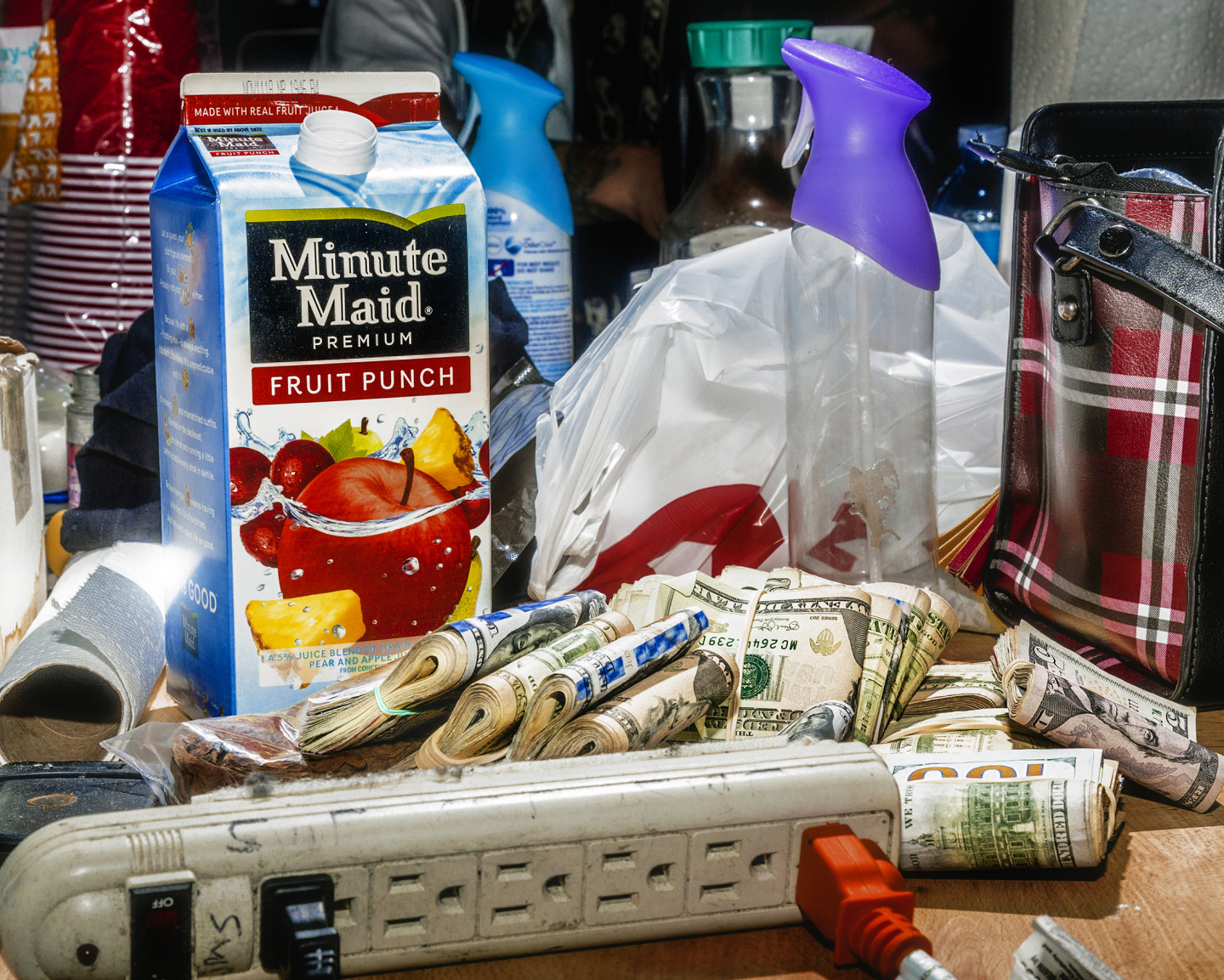 For the past year, when he hasn't been on the road touring, Uzi has spent his time recording here with the Working On Dying production team for his second studio album, Eternal Atake. Snippets of their music together, ripped from Instagram Live streams and remastered by dedicated fan pages, have been floating around the internet for much of 2018. Oogie says these fan accounts tag him in posts and spam him for updates on unreleased songs almost every day. Brandon estimates that they've recorded over 100 songs with the rapper in the last 12 months.
Oogie, Brandon, and Forza went to high school with Uzi at Northeast, and they remember him drawing crowds in the cafeteria during dance competitions at lunch. Forza played youth league football with him on the Northeast Outlaws and says he had the same disregard for what other people thought even then. "Uzi used to go to practice in Jeremy Scotts — like, actually play football in them jawns," he recalls. Oogie had production credits on the rapper's first two mixtapes and their recent work together is a sign that the relationship has come full circle. "I seen him when he ain't have shit, and he seen me when I ain't have shit, so it's different and it's special," he says. "I think he was waiting for niggas to make a name for ourselves."

The video for Matt Ox's song "Overwhelming," produced by Oogie Mane, was made to go viral: the fidget spinners and the preteen sing-song rapping about being "posted in the trenches" quickly added up to something that was beloved, reviled, and watched over and over. Forza first found Matt on a Philly rap promotion page on Twitter, and the rest of the group agreed that he had huge potential. They began sending him beats, helping him record, and shooting his videos. F1LTHY knew exactly the sort of phenomenon he had on his hands when he first saw the final cut for "Overwhelming" at the beginning of 2017. Matt was written about in The New York Times; two months later, he had signed to a major label.
For Working On Dying, Matt Ox became the bridge from internet cult hero status to the music industry. When the labels started calling, F1LTHY soon realized he was in over his head. He decided to reach out to Finesse, a former rapper who rented the studio next door to Working On Dying when they moved out of the basement and into a warehouse space in Philly's Kensington neighborhood. Finesse was signed to The Roots associate Dice Raw in the mid-2000s and has over a decade of experience in Philly's rap scene. He also has a masters degree in business, and he set about registering an LLC, hiring lawyers, and getting their paperwork in order. With F1LTHY as his partner, Finesse helped turn Working On Dying into a full-fledged company.
"Overwhelming," with its bubbly melody line and uptempo drum pattern, also propelled Oogie Mane forward as the crew's breakout talent. In contrast to his outgoing older brother, Oogie is much more reserved and introverted. The members of Working On Dying can easily identify each other's strengths — Brandon makes crazy melodies, Loosie is the most versatile, Forza has perfected the distorted 808, and F1LTHY is a relentless innovator. But they all agree that Oogie is good at everything. "I just like learning," Oogie tells me. "And I trust my output. You can't ever be wrong when you're trying shit."

"People gotta see you're a real person — you can't just be an internet nerd sending shit over." —F1LTHY
When OB O'Brien, a longtime member of Drake's inner circle, reached out to source beats for the Toronto rapper, Oogie thought the whole thing was fake, but he sent over a pack of old beats he had made in 2015. It all began to feel very real when Drake followed him on Instagram and sent him a DM, saying they had a hit together; Oogie no longer had the stems for the track and had to completely remake the beat to send to Drake and 40. "I'm Upset," the resulting collaboration and the third single from Scorpion, signified a quantum leap for Working On Dying as a whole. After years of producing for some of SoundCloud's most unconventional talents, they'd landed on a platinum-certified album from rap's biggest name.
Oogie now finds himself in a leadership role within the collective. He's the most sought-after Working On Dying producer at the moment, and he's been frequently traveling to L.A. to collaborate and record with Future, Key!, and more. Finesse refers to Oogie as Working On Dying's "head of production" and, when Oogie goes to studio sessions, he brings the whole crew's beats along with him. "It changes everything in a good way and it's a lot of pressure at the same time," he says of his expanded position. "I want to be able to put on and make sure everything goes right. It's good pressure."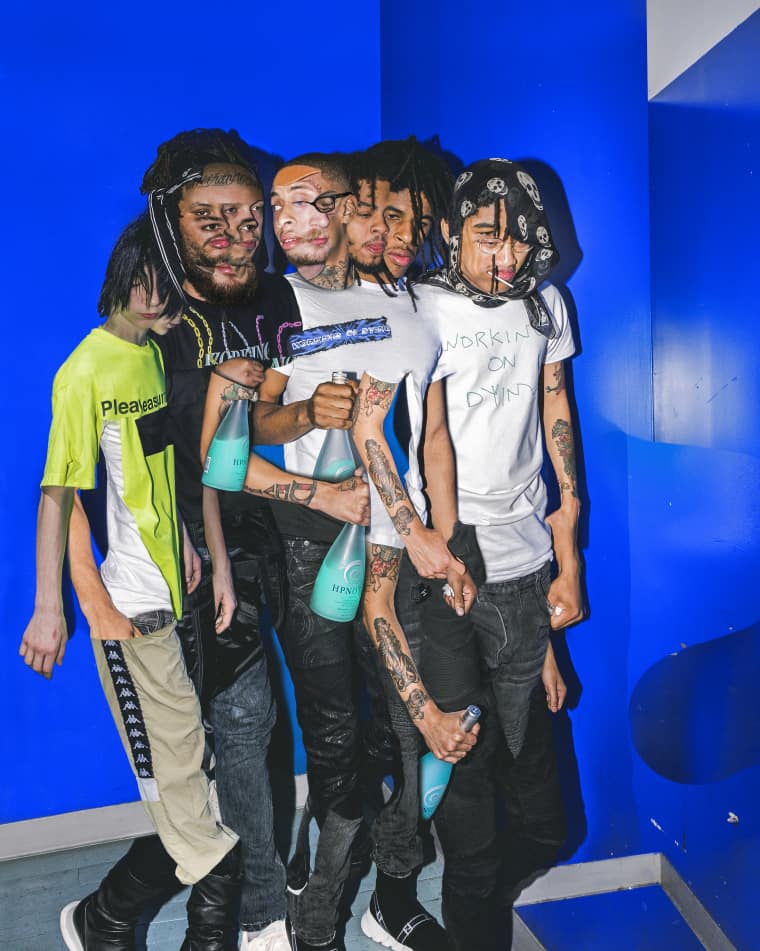 For almost 24 hours, there was a pair of green patent leather Prada sneakers hanging from a telephone wire on a desolate street in North Philly. As Loosie filmed the process on an iPad, Yola — a slim, heavily tattooed artist who's a consistent presence in the Working On Dying studio — tossed them up there on his second try, turning around to face the camera with a celebratory "Tuh!" Yola helps Jarek, Oogie and F1LTHY's godbrother, design the collective's ever-expanding line of clothing, and the collections they drop on their website usually sell out quickly. He had painted a character he calls "the Yola monster" in white on the shiny leather, putting his own mark on the designer shoes for the resourceful Instagram follower willing to make the 20-foot climb.
In Working On Dying, everyone brings their own creative flare to the table. Along with the clothing brand and production crew, Working On Dying is also a record label, a publishing company, and a management team. Finesse has made sure they're in full control of every piece on the board. "I don't want them hustling, I don't want them working, I want music to be their job," he says. "I wanted to create an environment where they can really work freely because I know what it's like to be a part-time musician."
Even as rap producers have increasingly become stars in their own right, battles over proper credit and compensation are more and more contentious in a digital age where many collaborators never meet face-to-face. Working On Dying have set themselves up for longevity, maintaining control of their studio and owning their own publishing. As the work they've done over the past year starts to get released, they've ensured that the infrastructure beneath them is rock solid so each of them can benefit. "Every check we ever got we bust like eight ways," Finesse explains.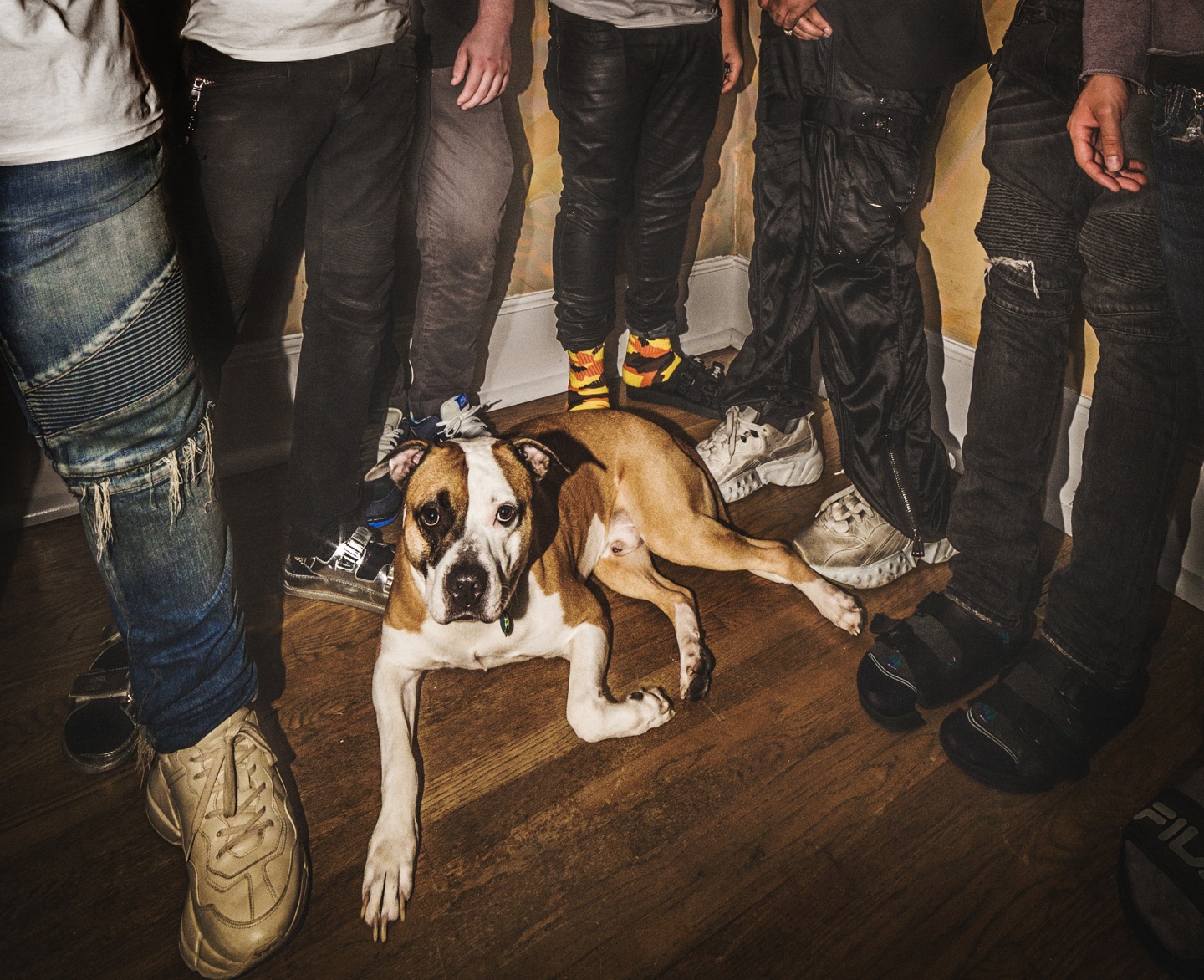 Early in Finesse's career, during The Roots's prime years, he was an intern at this same studio. He remembers their late manager, Rich Nichols, telling him about the most creative and exciting era of the group, when all the producers and musicians lived between two houses in South Philly, and how their jam sessions there led to all of The Roots's early hits. "I always said if I had the opportunity, I would keep it in that spirit," he says.
Finesse wants to keep the young core of the group living and working together in Philly for at least another year before they leave their hometown for L.A. or another city with more industry opportunities, if they so choose. "It's not a financial thing, it's an emotional thing," he says. "As long as they have personal space, and they have freedom, and they respect each other, it's gonna work. They still need each other. They're not ready to live by themselves yet and still live this life. This life is a lot."
Though there are more artists to work with in L.A., Oogie prefers the chemistry in Philly, where he can be close to the friends that have always been his best creative partners. The collective aspect of Working On Dying has always made each individual better at what he does, whether they were first teaching each other how to use FruityLoops or recording with Lil Uzi Vert. "If I didn't have these guys around me I probably would've forgot who I was already," Forza says. "I grew up with these people. I know them more than I know half my family."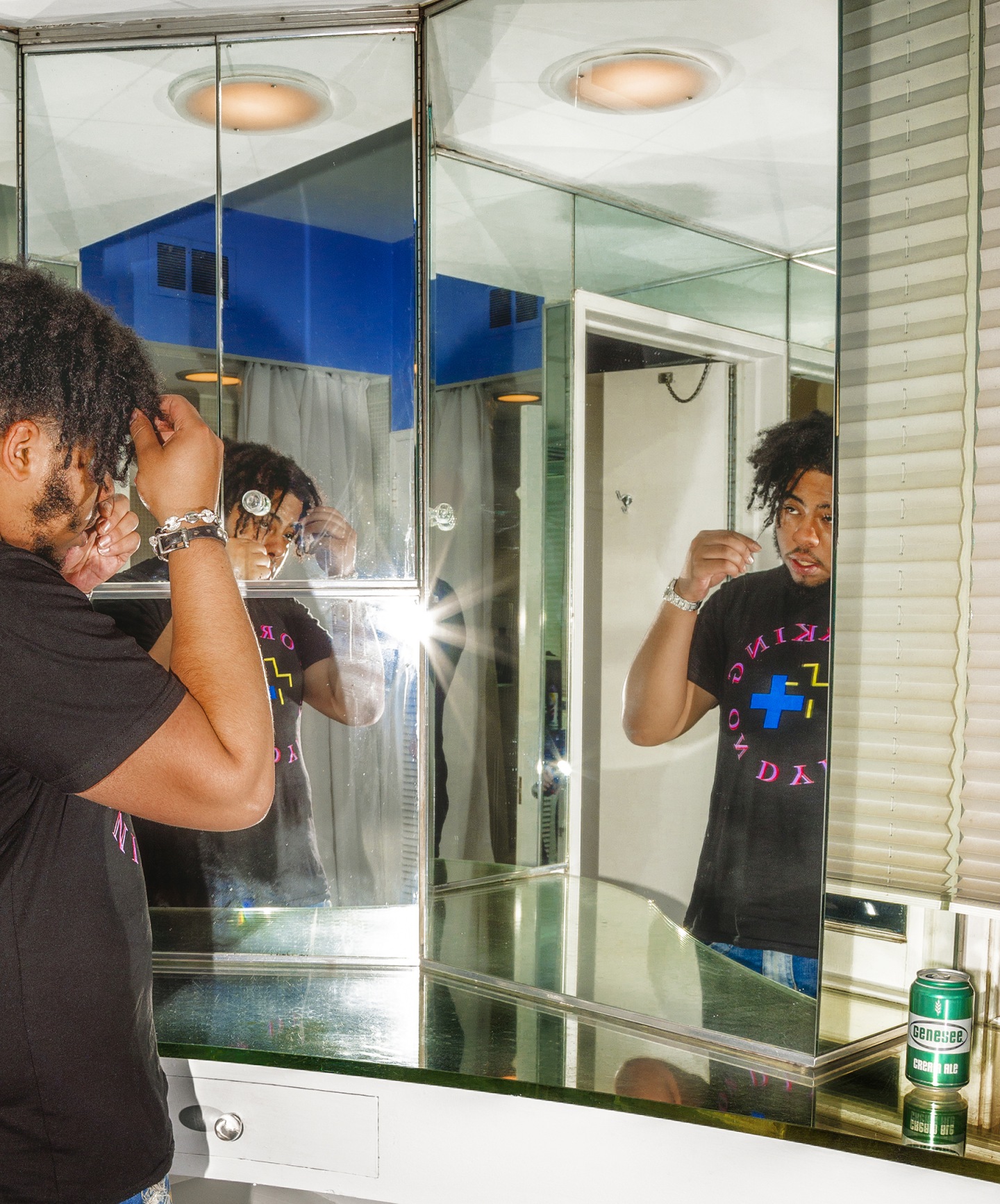 Oogie, Brandon, and Forza were already all living together when Finesse came into the picture — he just needed to find the funds to get them out of the rough area of North Philly where they were staying. They first moved to the quiet suburb of Manayunk and then, at the end of this past summer, found a new place in the upscale downtown neighborhood near Rittenhouse Square.
Between back-to-back trips to L.A. and Atlanta, and long hours in the studio, Oogie has hardly set foot in the new Working On Dying house, a three-story brick building on a quiet, tree-lined street. Inside, the large rooms are bare save for a few distinct touches: Tekken action figures still in their packaging in the living room, beds and air mattresses, a few TVs, and pieces of Yola's art — painted plaster Buddha heads and abstract characters on canvases — are placed intermittently throughout. Oogie is covering the considerable cost of rent on his own right now until the rest of them can help out.
The house was built 266 years ago and, in the second half of the 20th century, it belonged to the artist Emlen Etting. There's a mural painted by Etting that covers an entire wall on the top floor, depicting a large, colonial-style house and a big lawn filled with eerie white statues. Supposedly, the painting has something to do with a Philadelphia art world feud Etting had decades ago. "He was basically painting his opps," Yola explains. The woman they rent from told them that the house is haunted — doors will open and close at random and the lights go haywire at times — but none of them have seen any supernatural occurrences yet. And, besides, they're all pretty sure it's a friendly ghost.