Ebonie Smith probably engineered your favorite song
Talking shop with one of the most meticulous minds behind the boards.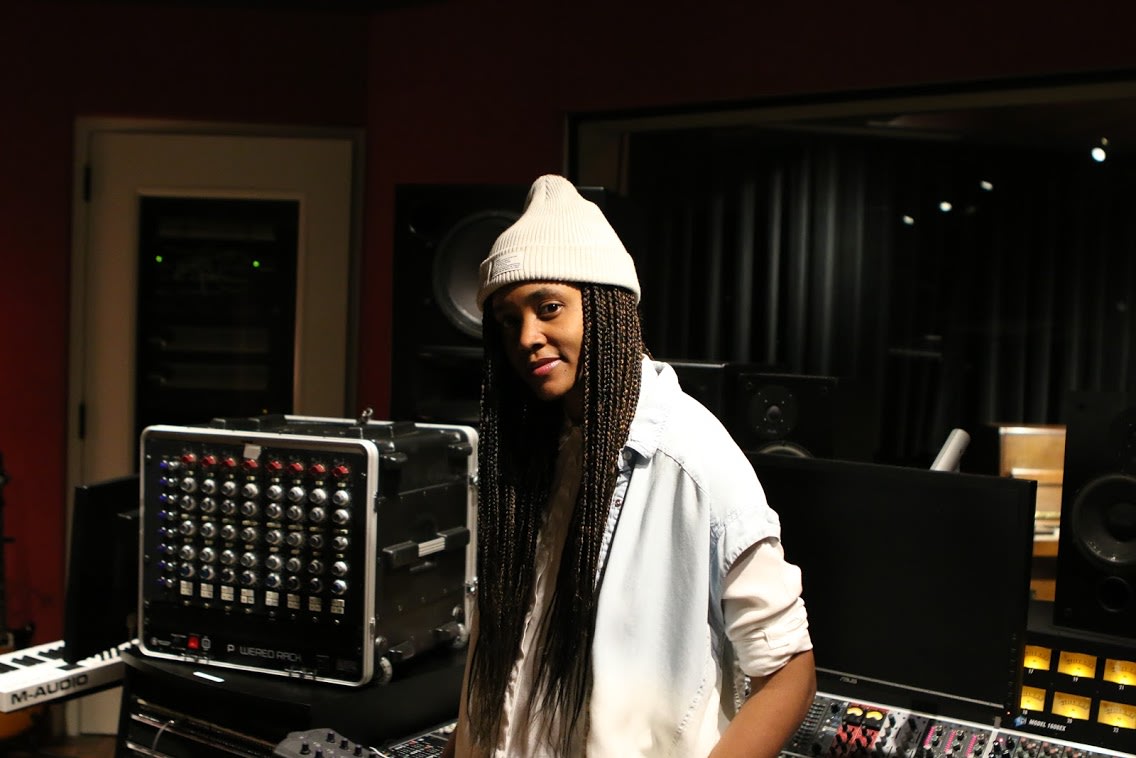 Every time a new song charts at No. 1, producer/engineer Ebonie Smith gets to work. "If you want to be a number one record-maker, then you have to know how it happens," she says, walking me through what she calls her "number one challenge." She gets to the studio in the morning — similar to the decked-out room at Hollywood's EastWest Studios where we meet — and fills out a thorough, organized document where she breaks down every detail of a hit. There's the bio data — the date it was released, the track name, the artist, the producers, the writers, the publisher, the label, and the genre — and the performance data: specifically, the chart positions and the streams.
"I studied how many streams mean a hit — usually it's in the hundreds of millions," Smith says ecstatically. Once she finishes her study, she moves on to what she calls the "dissecting" phase, where she looks at BPM (beats per minute), key, chord progression, arrangement, time signature, and length. "Then I'll go into how to remake it — a replicate section," she explains. Smith notes how long it took her to remake the song, what her workflow was like, and where she got stuck, even naming her own version of the track. "I'm not frivolously practicing," she insists. "The goal is to study and say, What is it in this record that makes people gravitate to it? You start to identify the same things over and over again."
As the senior engineer, producer, and studio coordinator for Atlantic Records, Smith is responsible for recording the label's artists, engineering their records, and producing them when needed. She spends countless hours creating and finessing some of the most recognizable sounds in popular music, working across genres with artists like Kelly Clarkson, Lin-Manuel Miranda, and Janelle Monae. While she says she learned most of what she knows in the Atlantic studios, Smith spent years honing her craft as a producer and engineer in college with an on-campus audio tech job, as well as part of a music-tech masters program. Since then, she's also founded Gender Amplified, a non-profit organization that celebrates and nurtures women, girls, and non-binary people producing music. Next year, she says, Gender Amplified will run "a series of professionalization camps for women to learn the art of production and to work with each other and to expand their networks."
We met in early November while she was in town to speak on a panel at Ableton Loop, a three-day conference dedicated to pushing the envelope in music and creative technology.
When did you first pick up an instrument?
Probably at two or three years old. The man who eventually became my mother's husband got me a Yamaha keyboard. I still have it somewhere. I was on that thing like white on rice for years. I also had a little white toy piano that I'd just bang around on. Eventually, it started to sound real and my parents felt the need to get me some lessons, which I hated and quit. But I still managed to play, miraculously. In my teen years, my mother got me my first guitar. I was obsessed with Jimi Hendrix. The first time I heard Jimi, I was at a friend's house — a huge sleepover. I was in my friend's room and her brother's cassette deck woke me up to "Crosstown Traffic." I remember thinking, What is this? The same day, I went out and bought the Are You Experienced?. From then, I had to learn how to play guitar.
How did you start learning your craft?
I started as an undergraduate student at Barnard, where I took an audiovisual technician job for lectures and bands that would come to campus. It wasn't really a recording gig, but a lot of the equipment was the same. In the meantime, I built my own little recording studio in my dorm room because I was trying to be a producer so bad. Sometimes I'd check out some of the microphones from my job and do very elementary recordings in my home studio. I was like, "I don't sound like Lil Jon. I need to figure out how to sound like Lil Jon." I had a babysitting job, stashed all my money, and bought equipment.
How did you find out what equipment artists were using?
I was reading books and Scratch, a producers' magazine. Also, there was a production club on campus — a student-run record label —and I was picking those guys' brains all the time. I went to a dorm party once where everybody was ready to dance, and then the vocals came in — it was the kids on campus. They had remixed a Chingy song or whatever. I was like, How did they do that? I wrote my thesis on sample-based hip-hop and women in music production. I did Africana Studies. That was the major, and my advisor gave me a long leash because she trusted my instincts. I wrote on hip-hop, production, and sample-based technology. I really got my bearings in terms of the history — Marley Marl and how he changed the game as one of the first people, if not the first person, to sample onto records. I learned about Rick Rubin and how he was making records with the Beastie Boys and Run-DMC. I learned about the 808 and the LinnDrum.
That's how I started to acquire the knowledge and understanding about the technology. There's so many different components to it. You have to be a musician of some sort. I've been playing instruments since the very beginning. I'm a church kid, so I started off with that training — singing in church, parochial school, choirs, all of that. Then I got to college and started to learn about the technology through my campus job. I took a few classes in recording technology and MIDI production, graduated, and went to NYU and got a masters in music tech. I also did some study abroad and lived in Africa for a while.
Where in Africa?
Cameroon. It was there that I learned a lot about production. I was studio-hopping the whole time, and I started a band. I met this guy who was dating a woman; she owned a pizza shop, and I became the musical entertainment on Thursday nights. I put together a trio — a guy on djembe, me on keys, and I think we had a guitarist. We'd just get up there and jam. It was fun. By way of that, I got introduced to the founder of this band called the Black Roots. I started mixing in with them and I learned a lot from their producers.
When I think about it, I probably put myself in harms way a few times just trying to learn. That was something that also influenced me to start Gender Amplified, because I did some pretty dangerous things and probably could have ended up dead — but I was just trying to learn. I'd get in a car with anybody and go anywhere. I could have been murdered a couple times. I always wanted to ensure that, for any young girls who were as hungry as I was to learn, they wouldn't have to learn the way I learned.
"I was like, 'I don't sound like Lil Jon. I need to figure out how to sound like Lil Jon.'"
What are some examples of features you get excited about playing with?
A space can be its own instrument. Every space has certain dimensions and materials that were used to give it a certain sonic character. If I were to record some drums in this room, I'd get one sound off of those drums. If I were to record those same exact drums in a cathedral or outside, I'd get a different sound. Using mics to record spaces, if you have the time, can be very fun.
What's the weirdest place you've recorded?
We have this interesting hallway in one of the studios I work for — it was a mistake that it wasn't treated, but we realized it was a happy accident because it functions as an echo chamber now.
How does Gender Amplified work? What kinds of programming do you offer?
I think of Gender Amplified as having three very important areas of focus, the first being representation and recognition. We want to shine a light on women who are doing incredible things that these young girls may not know. They need to have role models. They need to have women who they look up to and say, "I wanna be like Wondagurl. I wanna be like Kesha Lee. I wanna be like Tasha Catour. I wanna be like Gloria Kaba. I wanna be like Nova Wav. I wanna be like Patrice Rushen," or so many of the other women who have made records, are making records and will be making records. We want to highlight them. We usually do that using our social media as well as our website. We keep a blog where we profile all of these women that people need to know. It's becoming a bit of a database and an encyclopedia for talking about this history, this trajectory of women.
The second area of focus is education. As much as we want to see these women in the studios getting opportunities, especially young girls, we want to also make sure they're trained. And not that they're just trained in audio like, This is how you plug this up, this is how you make this beat, this is the type of gear you use. That's very important. But we also want to them to have a sense of, Gender is something that is not a hindrance. We want them walking into a room with all that they are and not downplay any aspect of their identity. We want them to understand that your gender is a component of who you are as a producer. You have to bring all of that to the table when you're making music. I like to say we don't want them to cut off their legs to walk through the door. Don't think that just because you're in a room full of men that you have to downplay your very unique perspective that is based on how you walk through the world. It's valuable. I've never once downplayed my womanhood.
Have you ever been in a situation where you've felt pressured to downplay your womanhood?
I don't play that — never have. My mother raised me to always believe in everything that I bring to the table, and I've used it all. It's gotten me where I am, and I'm proud of it. I try to make sure young girls recognize that, in terms of education, it's about the technical abilities and the technical development first and foremost. But I also envision building a curriculum that looks at how we think about the music business from a gender-based perspective — how technology and masculinity are inextricably linked. A lot of our technology in the audio world comes from the military. From microphones to tube technology to the internet, it comes from military intelligence, military development for the whole purpose of aggression.
I remember when I first learned about the "master" and "slave" terms in technology.
Girl. WTF, exactly. When I was learning in college, you just didn't think about it. "I need a quarter-inch male. XLR female." Like, why? Some people may bark at that because they say, "You know what. Does it matter? This is the terminology we use." And it's like, OK, in the audio industry, yes this is the technology we use. There's nothing wrong with informing people about why. Why are we still using this terminology? We just want them to be informed, that's all. I want these young ladies to be walking into the studio with everything. With all the knowledge. The knowledge that people don't tell them. And just letting them be action-oriented. I'm just giving them the knowledge. They're going to do what they want with it. So, education is the second area of focus. The third area of focus for us is professionalization. In 2019, we will be running a series of professionalization camps for women to learn the art of production and to work with each other and to expand their networks. That's something that I'm excited about.
"Don't think that just because you're in a room full of men that you have to downplay your very unique perspective that is based on how you walk through the world."
What does your job entail? What do you spend most of your time doing?
I work full-time for Atlantic Records. I am their in-house, senior music producer, engineer, and studio coordinator. We have an in-office studio that looks a lot like this. It's a small operation and essentially, when the artists come in, I'm responsible for recording them, engineering their sessions, and producing their records if they need a producer. Through that job, I've worked with a huge roster of people. When I walk around the office, and you know we have pictures of artists on the walls, there's not really too many people I haven't worked with at some point. I've worked with Kelly Clarkson, Janelle Monae, Jason Mraz, Lin Manuel Miranda, Sturgill Simpson,
in addition to some of our smaller artists who you may not know who are incredible.
I actually got to work on the Hamilton cast album. I was an assistant engineer on that, and it was an incredible experience. You never know who's going to walk into the studio. One day I was engineering and Babyface just walked in. Another day I'm engineering and Ciara just walks in. Missy [Elliott] just pops up. It's been an incredible ride as far as who I've gotten to work with and what I've learned. I've learned 70 to 80 percent of what I know in that time. Because I'm in the middle of a label I learn all the other cool things about digital marketing, about business and legal, about publishing. I get to learn everything about the business, all the way down to packaging and manufacturing. So, that's the day to day, which is really unpredictable.
Tell me about your work as an artist.
I put out an EP at the top of the year, just three songs. Everytime I put out a record, it's always an opportunity for me to try some production stuff. I wrote these songs — they're personal and real. I don't fret over lyrics, because I don't consider myself a songwriter. I have a song called "LGBT" that's literally a freestyle, but the [lyrics] are heartfelt, transparent and honest. As an artist, you have to want to connect your music with fans by any means. I don't necessarily have a temperament for all that. Maybe at some point, I'll get an opportunity to play my hand at really being an artist, but that's going to probably be at the expense of producing, and that makes me a little nervous. It's a business.
What are some of the challenges that you face in this line of work?
I'm obsessive, so it's hard for me to leave work at the studio. I'm in a relationship and sometimes my partner is like, "You know, I get the leftovers of you. You don't have time to be with me, but I love you, so I'mma try to fight through." That's a challenge for me. I'm not sleeping enough. I run Gender Amplified in addition to doing this, so I average 4-5 hours [of sleep a night]. That's not going to work over time, and I know that. People don't talk about the health of studio engineers. We're expected to work 20 hours a day if that's what's called for, and we might have meals provided. I've started cooking and taking supplements. I make sure I get so much water a day.
Emotionally, you get really connected to your work. Mentally, I have a tendency to beat myself up. If things aren't 100% perfect, I can get down on myself. Spiritually, I'm Christian and I love Jesus, but it's easy to make the studio an idol in your life. Sometimes between sessions, I'll go to chapel in the middle of the day to God and say, "Thank you for the life I've had, even if it's over tomorrow. You've been so good to me." In terms of being a woman, that's its own challenge — dealing with imposter syndrome. "I'm not qualified, I gotta stay here 10 hours more. I gotta move twice as fast." The anxiety it produces! But my faith is what keeps it straight for me.
What's one piece of advice you have for young women who are just getting into this industry?
Your spiritual self is your true self. For whatever industry you're trying to be in, none of it matters if you're not spiritually set. I struggle spiritually all the time — I do things that sometimes I don't think are the best representation of me. We all have those moments. A lot of the music business is what we put on ourselves, but you should be glowing from within. You can have money, fame, prestige, and awards, but that stuff chills on walls and in cases. You need that spiritual armor. It's not about being a Christian — it's about taking time to think about who you are and what you want in your life and what is the best, most humane way to go about getting it. It might take you longer, but it'll be worth it. Check your spirit first.