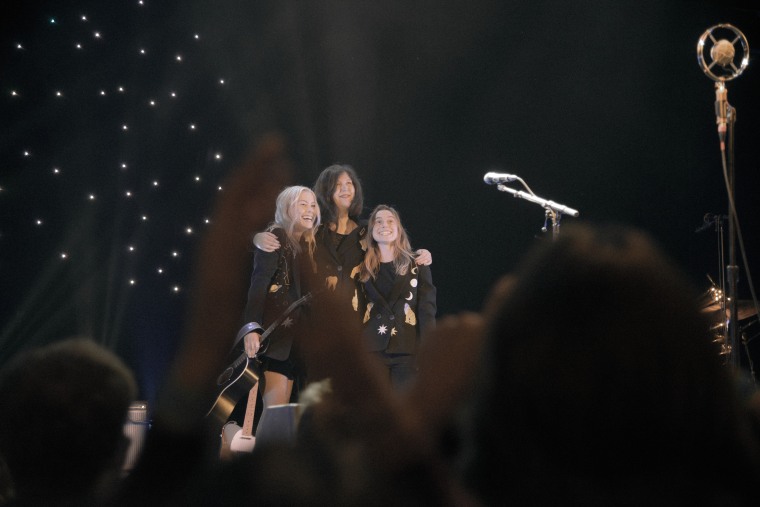 Some goodbyes are sadder than others, but the final stop on Julien Baker, Lucy Dacus and Phoebe Bridgers' tour as boygenius feels particularly poignant. On a Friday night at the Wiltern, fans of the supergroup packed the venue to watch rock musicians Phoebe Bridgers, Lucy Dacus and Julien Baker promote their critically acclaimed EP and then go their separate ways.
"The last time I was at the Wiltern I had bangs," Bridgers confessed wryly to her hometown crowd. "We don't talk about that time. It looks good on people, but not when you have a widow's peak."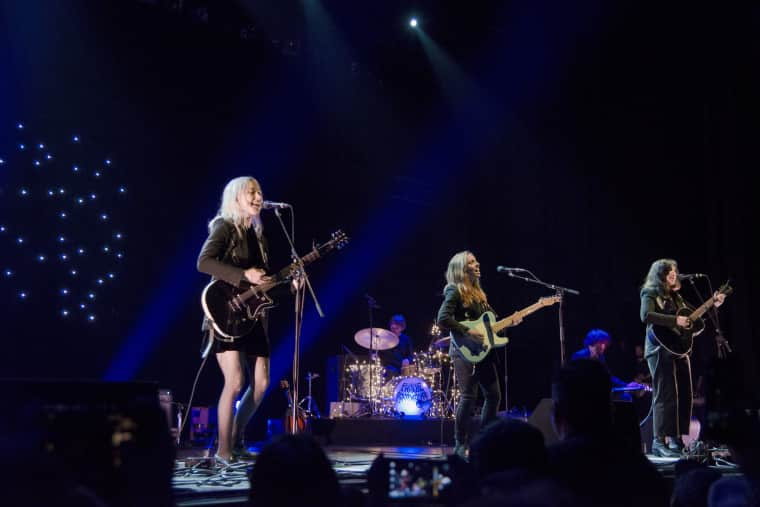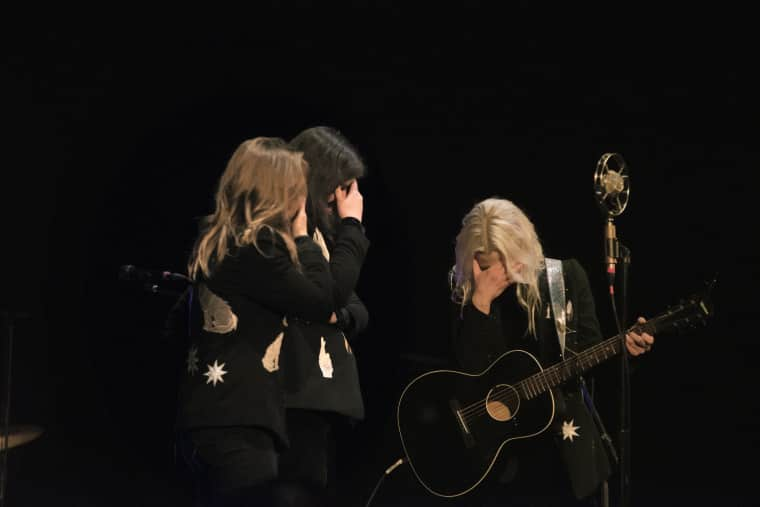 Bridgers began the night with "Smoke Signals," the first song off her solo album, Stranger in the Alps, a stunning debut that earned her, among other distinctions, a place on the cover of The FADER, this past fall. The last time she was at the Wiltern, she was opening for someone else.
Now, she, and her two collaborators, were performing for a sold-out crowd. When they released boygenius in October, it became almost instantly a fan favorite. The three singer-songwriters teamed up in June, holing up in a Los Angeles studio for four days, collaborating on lyrics and sound. "The best parts of recording were when we'd jump up and down with excitement, or cry in response to someone's lyric, or belly laugh at a dumb idea that would end up being a brilliant idea, or shout affirmations at each other," says Dacus.
Their resulting self-titled EP has only six songs, but it's packed tightly with brooding lyrics and extravagantly dark imagery. "I wanna be emaciated," they sing as a chorus on "Me & My Dog." "I wanna hear one song without thinking of you."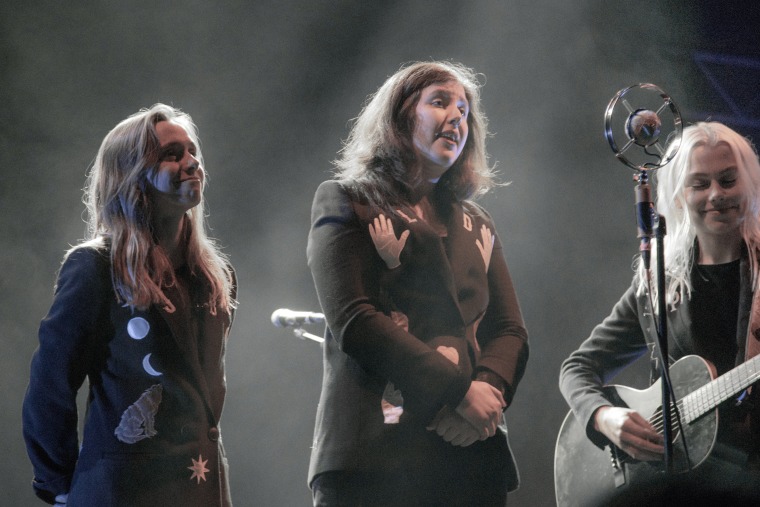 It is unsurprising that many members of the crowd were tearful—not only because it is regretful to see boygenius go their separate ways for a while, but because the content of their lyrics evoke such painful emotions. From her debut album, Baker played "Hurt Less," sang lyrics that describe an imagined car crash with velvety grace: "I hope the last thing that I felt before the pavement/ Was my body float/I hope my soul goes too."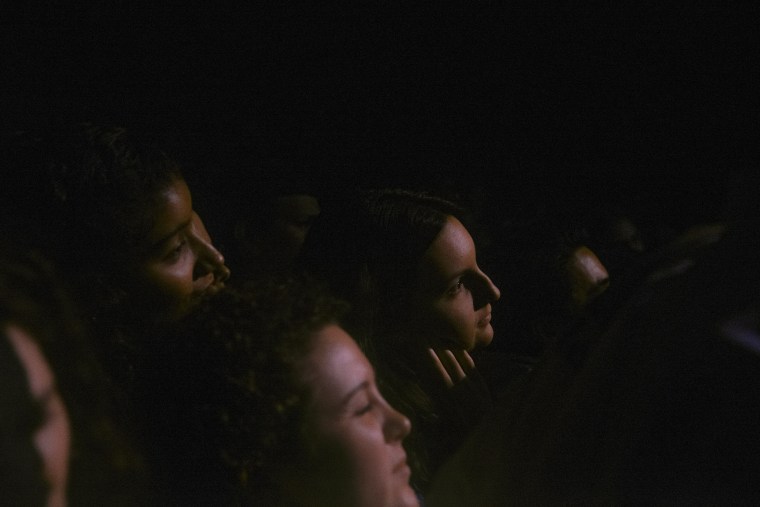 The women occasionally trotted out other collaborators for their solo performances. Dacus, singing from Historian, her sophomore album, invited violinist Camille Faulkner to the stage. Bridgers had her self-described "best friend" Harrison Whitford come join the performance. Baker played a song with The National's Matt Berninger, performing "All I Want." Proceeds from the song will be donated to Planned Parenthood.
But everyone was there to see the three women play together. At the end of the night, the trio reunited on the stage to an audience that was, so to speak, already deeply in their feelings. For each stop on their tour, boygenius has performed a number of notable covers. Their pick for Los Angeles was The Killers' "Read My Mind," an exquisitely moving rendition that lulled the audience into quiet repose.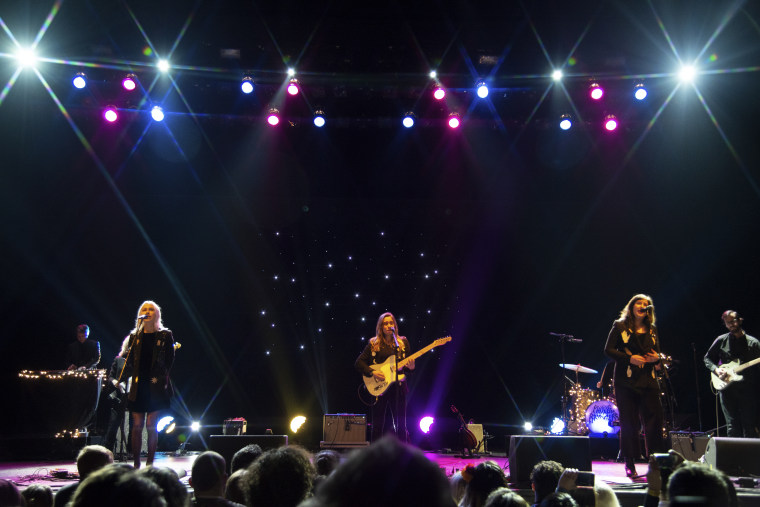 The highlight of the night came when they performed "Salt In the Wound." At the end of the song, as Baker executed an electrifying guitar solo, Dacus and Bridgers fell to the ground at each side of her, bowing endlessly at her feet. It was a fitting finale for a group that has demonstrated not just the acuity of their own creative talent, but the potential of their collaborative power.
Listen to boygenius on Spotify.