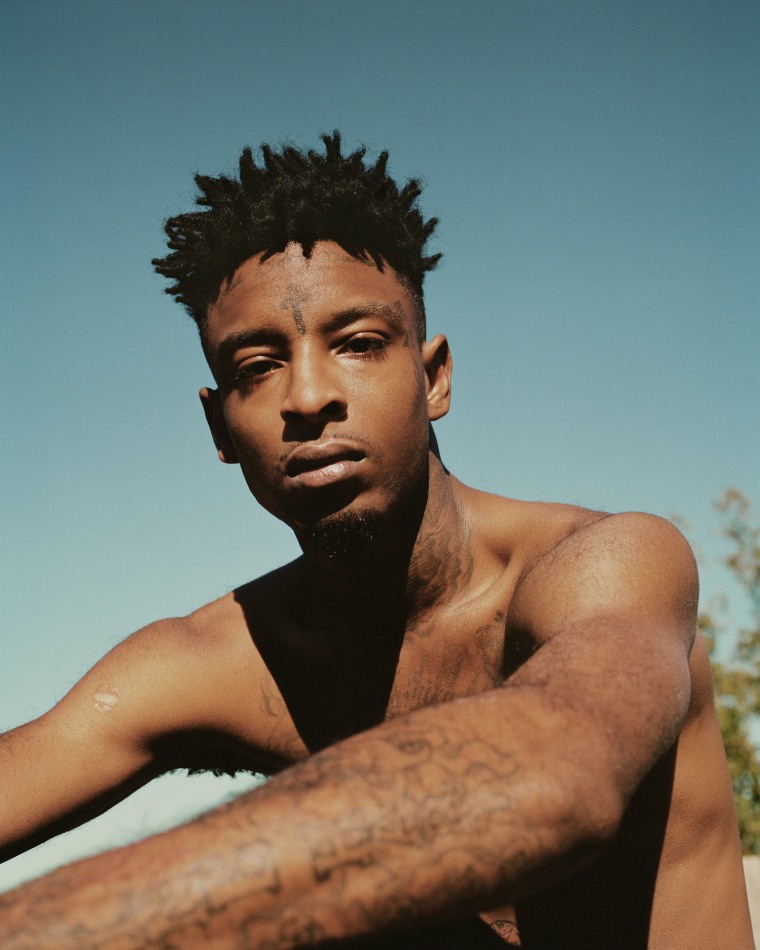 21 Savage surprised a lot of people last summer when, on Issa Album, he veered away from exclusively rapping about the terror he would inflict on people for whatever reasons he saw fit. For anyone that had been following the Atlanta rapper outside of just his music, the revelation that Savage had more to him than being a hip-hop horror villain wasn't a new one. In interviews, he'd discuss the consequences for actions he made in the streets, regardless of whether or not he had to face them just yet. But on Issa Album, what was most satisfying was that he talked about what led him down those roads in the first place on songs like "Nothin' New." This year, he's made it a point to go public with the other sides of himself. In August, through a documentary with Mic, he announced a financial literacy program for teens to learn how to operate bank accounts and budget. And on the first track of his newly released album i am > i was — an emphasis on his personal growth — he finds himself on the other end of guidance from one generation to the next.
The DJ Dahi-produced "a lot" loops a sweet sample of The Fuzz's 1971 track "I Love You For All Seasons" and it duplicates the feeling of Savage's southern storyteller forefathers like UGK, Scarface, and 8Ball & MJG. On it, Savage runs through the varied things in life that he's experienced in excess. Outside of having an abundance of money and being lawyered up, what 21 Savage lists on the song's hook are the challenging aspects of life that often get glossed over when people enter the public eye (internal issues, trauma from his youth, and how he's let people down). But, even through sharing his trials, he concludes with a sense of victory: "But the other side was sunny, I get paid to rap on beats."
He's then greeted by the unsuspecting voice of J Cole who enters to round out a story about constantly taking on life's challenges. In comparison to Savage, who is a lot less removed from the life he evaded to become a superstar rapper, Cole's contributions to "a lot" is more of a panoramic view of the state of hip-hop and where he fits within it all. He talks about labels assisting their artists by artificially fluffing streaming numbers and artists who place more value in instant gratification on social media as opposed to financially securing their future.

Those first few bars from an impatient listener could teeter on an elder being upset about the way young people conduct themselves, but the Fayetteville native also leaves space to critique the ways that he's responded to a shifting tide. "I been playing it back from a lack of promotions. I was never one for the bragging and boasting / I guess I was hoping the music would speak for itself, but the people want everything else," he describes coming to grips with the ways in which artists have to engage their audiences in 2018. At other points, J Cole sends prayers to the incarcerated Tekashi 6ix9ine, who he imagines is questioning whether or not his method of ascension was worth his current battle for freedom.
In some ways, "a lot" feels like Cole's chance to appeal to a younger audience, but chalking it up that way is a cheap reduction of what's at play. Right now, as far as southern rappers go, no two artists represent their sides of the coin better than J Cole and 21 Savage — Cole speaks to the college-attending kid who's familiar with struggle and Savage represents the people who are often completely ignored and vilified for circumstances they're usually not responsible for. But both find a common ground in how they are anchored by their perceived duties to inform and elevate people around them that are in need.
In November of 2017, in response to a twitter dialogue about today's rapper idolizing drug use, 21 Savage tweeted out a message from his notes app, pointing out that members of previous generations dodged accountability by not acknowledging that their drug-selling songs of the '90s and 2000s had no moral superiority over raps that encouraged usage. "Instead of judging how about y'all make a change," he said. The beauty of "a lot" is that J Cole seemed to have taken heed to Savage's plea and stepped up to the plate.