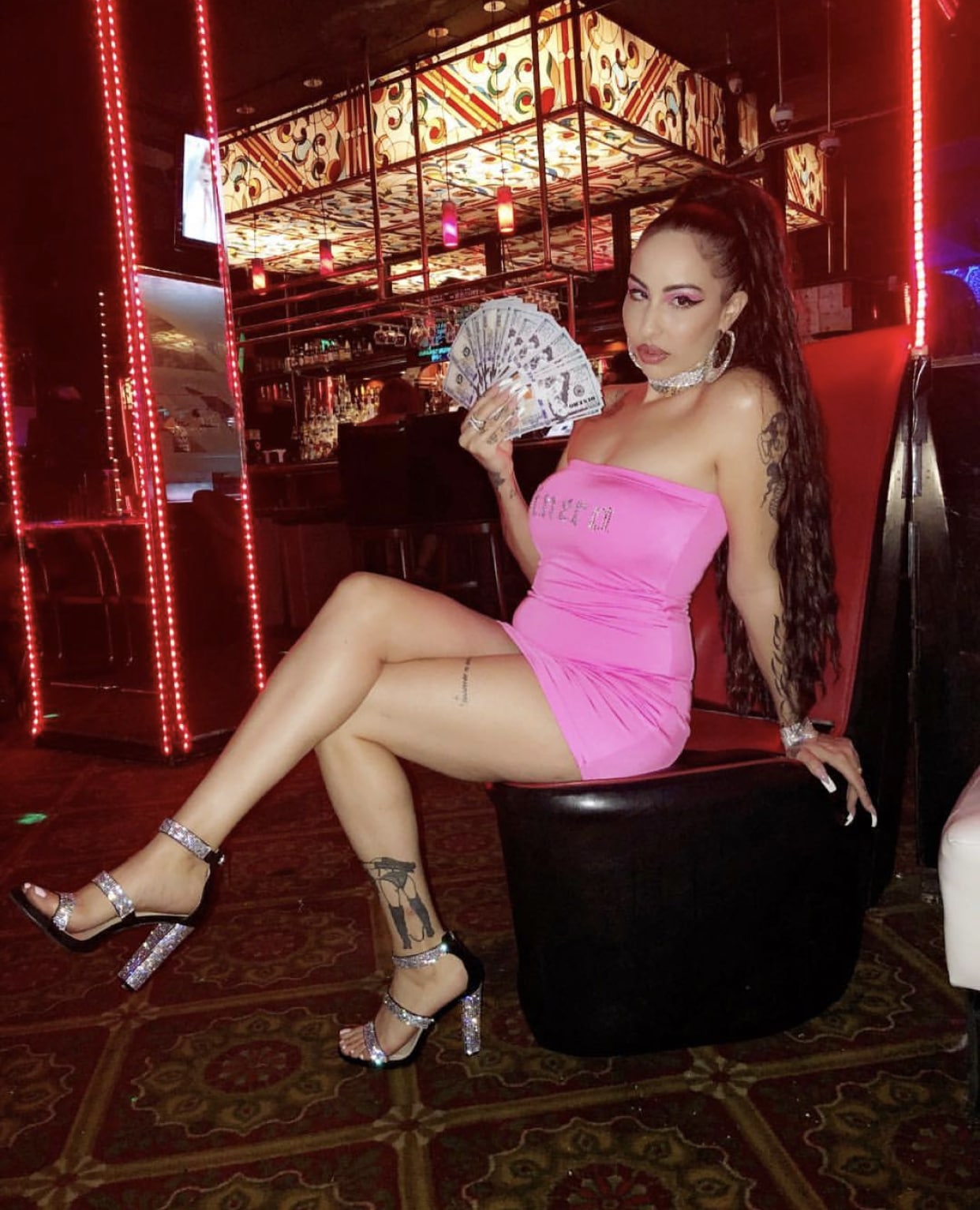 The Spanish-language raps of La Goony Chonga are hedonistic joy. The 26-year-old Miami MC, who now lives in Los Angeles, released her third LP, Dinero, this past September. The bass-heavy project sets reggaeton-inflected trap beats to lyrics about racking up dinero and dancing, mining inspiration from her past as a stripper in Miami and NYC clubs. The infectious hook of "Yo Trabajo," the second track on Dinero, commands, over and over again, "Ponte a trabajar, dale, ponte a trabajar," in her signature tone, an even timbre from which she rarely deviates.
La Goony Chonga doesn't dance anymore; she's busy taking care of her son, Mazi (who arrived a few months before Dinero dropped) and making music. Early fans may remember her as Twiggy Rasta Masta, the moniker she released music under with Miami rapper Bootychaaain; her first few projects, Santeria Pussy and Santeria Pussy 2, were recorded in English. Dinero represents a risky departure for the Cuban-American rapper, who decided to write the album in Spanish. The risk is paying off; this past November, Frank Ocean featured her "Tira Tira" on Blonded Radio, and this spring she's headed to Primavera Sound Festival in Spain to perform alongside artists like Janelle Monae, Empress Of, and Goony's idol, Puerto-Rican reggaeton legend Ivy Queen.
How did you get into music?

I was in college for advertising. I met some people that made music and had studios and stuff back in 2012, and I was like, "Alright. I'ma make a song." I was just on YouTube freestyling and fucking around. People were hating on me — "You didn't freestyle this." I was like, I must be good if they think that I wrote this. I stopped going to school because I took full-time music serious. I wish I would've started earlier. I used to think you had to know someone famous to get in a studio. I left Miami in 2013 and went to LA for a few months because I'd got booked for shows like Ham on Everything — that was my first show. Once I left Miami, I went to New York and danced out there. I was a stripper for four years.
Do you think living in LA's influenced your sound at all?

I have my own sound, especially [because] I rap in Spanish — instead of reggaeton I mostly do trap or the 808s, all of that. It's more Southern. At first, I only made music in English. At the end of 2015 or 2016, I was like, My first language is Spanish, so I might as well do Spanish music or try to rap in Spanish. I was nervous — I didn't know how my fans were going to react, but it actually turned out to be really good. It gave me fans from overseas. I was able to get a lot more people being in my audience than before.
How did Dinero come about?

When I first moved to LA, I got a call with Freak City, the producers. I liked their beats. They were like, "Let's do an album." Three days in a row, we made seven hits. It happened very smoothly and quickly. It was a vibe. I didn't drop the album for a whole 'nother year because I had got pregnant. I missed one of my release dates, which was supposed to be in the summer. I thought, It's not a good idea for me to drop this in the midst of being when I'm pregnant — I'm going to lose a lot of opportunities. So I held the project off. I had to turn down Fashion Week in Milan. I was so sad. That album was fun. It was overdue. I released it after the baby was born.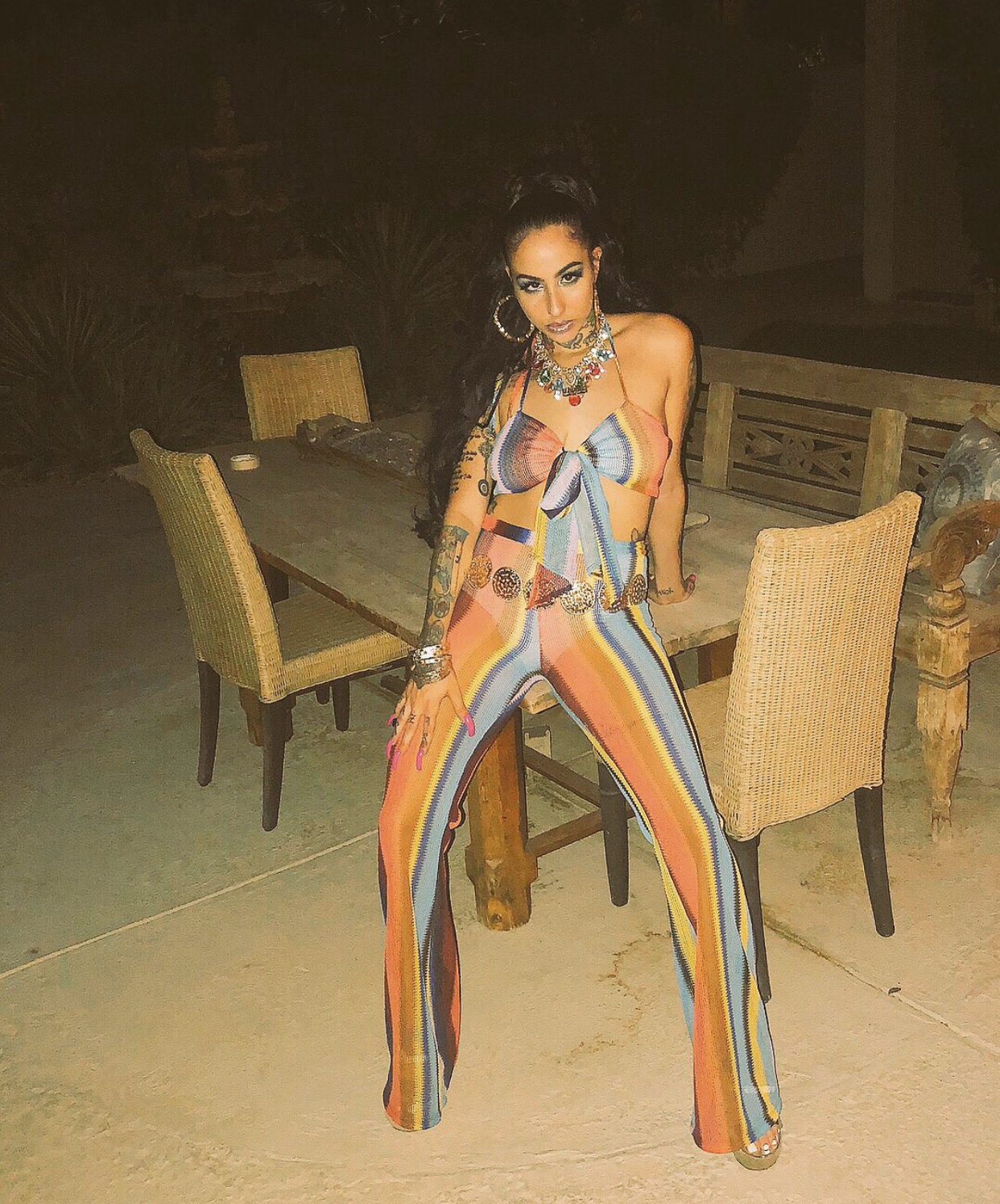 How do you feel being a new mom?

I didn't know this baby was coming. I was like, Oh my god, should I have the baby? But my heart told me yes. People look at me differently — they almost admire me more. I did the "No Effort" video eight months pregnant. I feel like I'm the first female artist to ever do a music video pregnant and show it off.
What kind of music influences you?

I like Skrillex. He invited us to his studio, which ended up being his house. His studio is huge. He's really cool. I actually have a picture with him. He was working out to my music. I'd love to make some Spanish EDM crazy shit. I been trying to get him to do that. I know he's a real busy guy.
Who's your dream collaborator?

I would love to collab with Pitbull. We're both from Miami, our stories are similar — We both started rapping in English and then started rapping in Spanish. The way his career went is something I want for myself. I wish I could've collabed with Shawty Lo before he died. Rest in peace. I want to collab with Ivy Queen. When you think of reggaeton artists — women — you think of her.

Tell me about the first song you ever made.

The first song I ever wrote was "I Don't Play With Fuckboys." I just broke up with this guy and that's really what motivated me to make music. I was on some "Fuck him, I'm going to fucking make music" shit. It was my way of escaping the toxic relationship I had with that person. It actually has a video, under the name Twiggy Rasta Masta. That's the name I came out with as a rapper — it was my Tumblr name. Then I changed to La Goony Chonga.
Why is La Goony Chonga more fitting?

Because I'm a chonga — a subculture in Miami of Latin girls. It's a certain swag. You know how the West Coast has cholas? It's an aesthetic, being a chonga: Hoop earrings, nameplate, lip liner. In middle school, everyone was a chonga. Then, people started getting preppy. I feel like I always had chonga in me. People would be like, "You're such a chonga."
What are you working on now?

I'm working on my reggaeton EP. I have 3 songs. I need to do two more and then I'll be done with that. I'm working on some singles. Me and Bootychaaain are going to release the music video "Bang." We have a whole project coming out — just me and her. We haven't done a project in two years. A lot of the songs have been done, we just haven't released it yet. I'm going to Spain in January. I'm already booked in two cities. I'm excited. I've never been overseas. I'm going all alone. I'm just going to miss my son.