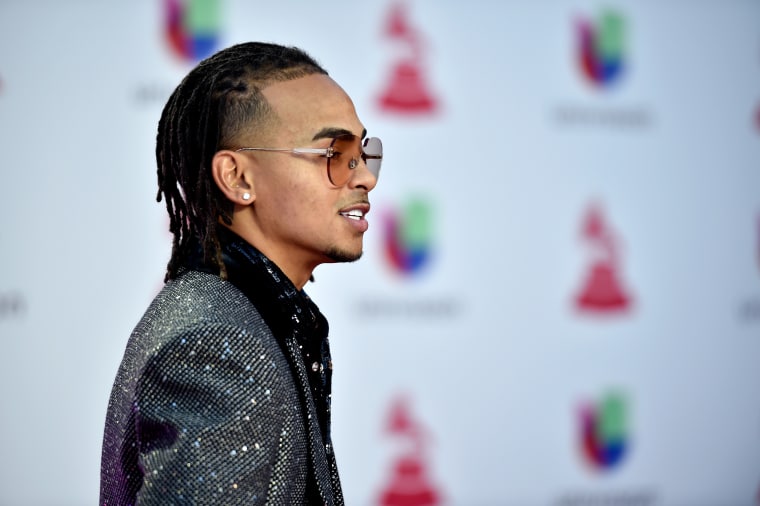 Puerto Rican reggaeton star Ozuna issued a statement Wednesday claiming to be the victim of an extortion attempt, as Billboard reports. The artist wrote that the extortioner was attempting to use an "intimate video" of the musician made when he was a minor.
Dimelo VI, label management for Ozuna, said that they had filed a complaint on Ozuna's behalf. Their statement reads: "Our attorney confirmed yesterday that urban artist Ozuna was extorted through an intimate video filmed when he was a minor. This video was edited with the objective of causing even more harm.
"At the time [of the alleged extortion], we filed a complaint and all the legal measures are being taken, as sending and publishing videos of minors is a state and federal offense."
Ozuna issued his own statement along with his management's. "What happened was a mistake of the past. Like many young people, I made a mistake, fueled by ignorance. Today, I'm not only sorry for what happened, but I condemn it. That's why I looked for help and I am certain everything will be cleared. Likewise, I'm following the process and am always willing to collaborate with authorities to prevent the evil that resulted from this big mistake. More importantly, I ask my family for forgiveness. They are my life's priority and I will continue to fight for them always."
The extortioner threatening Ozuna with the video was, according to Puerto Rican news outlet Primera Hora, local rapper Kevin Fret, who reportedly threatened Ozuna with the video over social media in 2017. Fret was shot and killed in Puerto Rico on January 10 – Ozuna's lawyer Antonio Sagardía insisted that Ozuna was not suspected by police in Fret's death.
Sagardía did, however, confirm that Ozuna paid Fret $50,000 in exchange for keeping the video hidden, before reporting the extortion to the F.B.I. "One thing is blackmail and another is murder," Sagardía told WAPA.tv, as pointed out by Remezcla. "Ozuna had nothing to do with this death."
The FADER has reached out to Ozuna's management for comment.