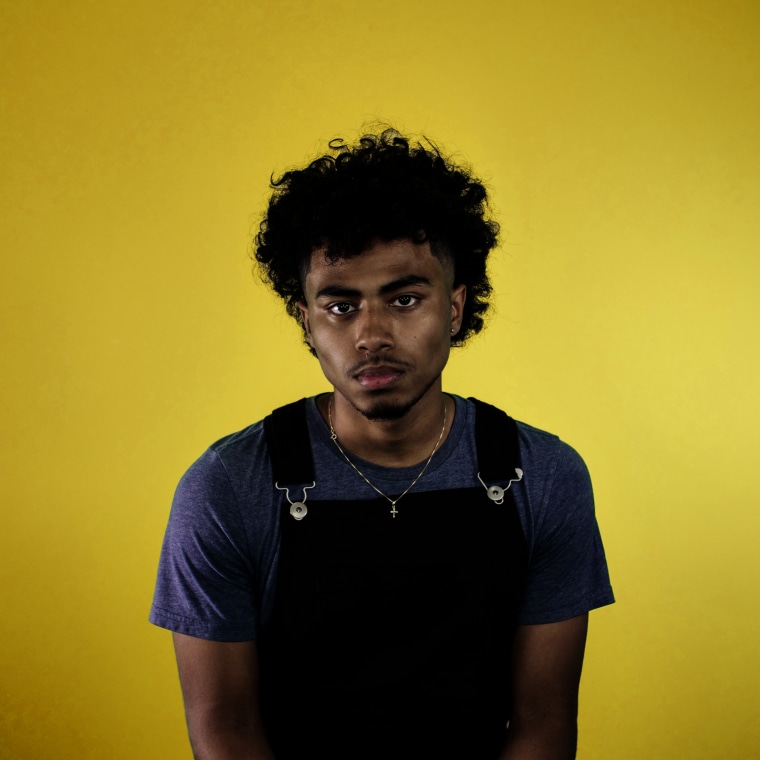 At just 17-years-old Houston rapper Aaron May sounds wise beyond his years. His voice is smokey yet rich with melody as he raps about wanting something real from his girl on new single "Let Go." The track is self-produced and uses a beautiful soul sample as added depth. May goes into depth about wearing his "heart on my sleeve 'til it's left on the kerb," and nodding to his tender years when he says, "If I ain't your man I don't want no hickey."
The "Let Go" video, filmed in Houston over a series of long nights, catches Aaron hanging with friends, smoking, and hanging out by an abandoned train. Speaking via email, he explained that the song comes from a place of feeling drained after the end of a relationship. The underlying message, he says, is to "not really worry about the negative going on around you but forget it instead." Read on for the full interview and check out "Let Go" below.
What does "Let Go" mean to you?
MAY: I've been in some situations where I was holding on to someone that was doing me no good and at some point you get tired of dealing with certain B.S., that's when you let go.
What are the ideal conditions to listen to ''Let Go?"
I feel like "Let Go" would be most relatable in a time of struggle, especially whenever someone feels emotionally, mentally, or even physically drained. I wrote this song in the midst of coping with some personal problems so I'd think people would feel it more while going through a difficult stage of life. Nonetheless i also think it's one of those songs that can be played anywhere, at anytime and people will still vibe and connect with it.
What is the significance of the "Let Go" video
Even while being in the process of writing the song I was coming up with visual ideas. I feel like visuals always have a huge effect on the impact of a song and this one deserved that. It took a lot to get it done from multiple days of shooting, rainy weather, late nights, long drives, etc. At the end of the day we made it work and shout out to everyone who was involved in this project.
You're currently balancing music with being a senior in high school. How is that going for you?
At the moment i'm playing catch up with school work. When I focus on something it's hard for me to keep other things in consideration so while i was working on my music I fell behind in school. It's all good though I'm still on track to graduate on time.
What does the rest of 2019 hold for you?
2019 is the year I turn heads and and make noise. I've put all of myself into my music all while going through personal struggles. I've stayed humble, patient, and focused which I'll continue to do. This is the year the world will take notice and appreciate who I am and what I do. Expect a lot of moves.