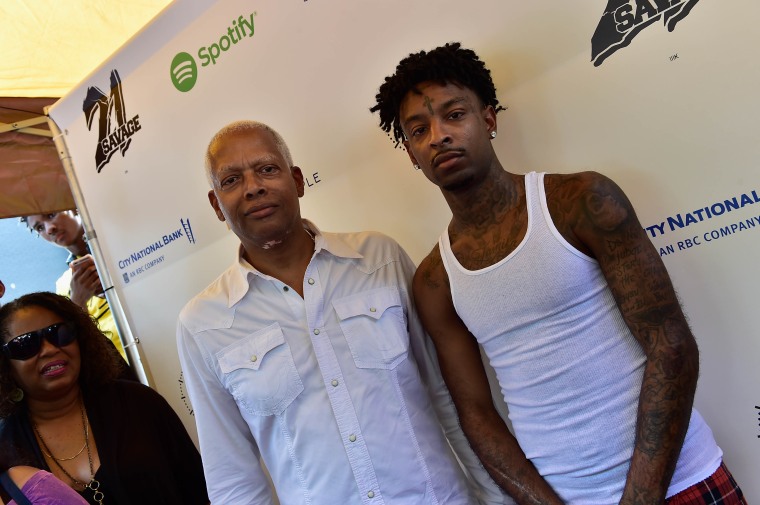 Representative Hank Johnson of Georgia's 4th district has written a letter in support of 21 Savage addressed to the judge overseeing the rapper's deportation proceedings. Savage was arrested on Sunday by I.C.E. and accused of being a U.K. national who had overstayed his visa.
Johnson calls Savage (real name She'yaa Bin Abraham-Joseph) a "remarkable young man" who has made a significant and positive difference in Atlanta's Gwinnett and DeKalb counties. "He spends his time giving back to the community and supporting and promoting the betterment of our youth," Johnson writes. "He has been an outstanding figure and influence within his family and within Atlanta."
In August, Savage invited Johnson to take part in his annual back-to-school supply drive. Johnson describes the event as "a wonderful charitable campaign and.a certain win for the community." He also praises Savage for his involvement in the "21 Savage Bank Account Campaign," and "the LIFE Community Development Corporation Back To School Block Party and Anti-Bullying Campaign focused on education in connection with anti-bullying and mental health identification and resources.
"He spends his time giving back to our community and has been living a life of paying it forward," Johnson says. "I believe that it would be a serious hardship to [Savage's] family and a loss for our community, if he is not allowed bail so that he can be released from detention."
21 Savage remains incarcerated awaiting trial. His attorney Charles H. Kuck has claimed the rapper's arrest was based "upon incorrect information" as the rapper's 2017 visa application is currently being processed.
Read Johnson's letter below via Complex: