Charly Bliss are a rad Brooklyn-based power-pop group that established themselves with the energetic and delightfully noisy debut Guppy in 2017. Today, they're announcing their sophomore LP, Young Enough, out May 10 via Barsuk — along with a new song and video, "Capacity," that highlights how they've grown in the time since, sounding like a natural continuation of their style taken in a new direction. "There's a lot of space in the song," lead singer Eva Hendricks told me over the phone last week. "But I think it still communicates a major feeling of joy and fun and excitement that is at the core of who we are as a band."
Fuzzed-out guitar is joined by twinkly synths that nicely compliment Hendricks' vocals, along with brutally honest lyrics that take a compassionate tone. "I'm at capacity, I'm spilling out of me," she acknowledges in the hook, taking a step back to prioritize her own needs — a sign of maturation that makes sense, following a debut that feasted on the volatile emotions of anger and frustration. It still hits hard, but "Capacity" blooms in its softness — a reminder that recovery can be as joyful and euphoric as self-destruction.
Hear "Capacity" above, along with the accompanying visual directed by Japanese Breakfast's Michelle Zauner — and read on for a chat with Charly Bliss about the new record.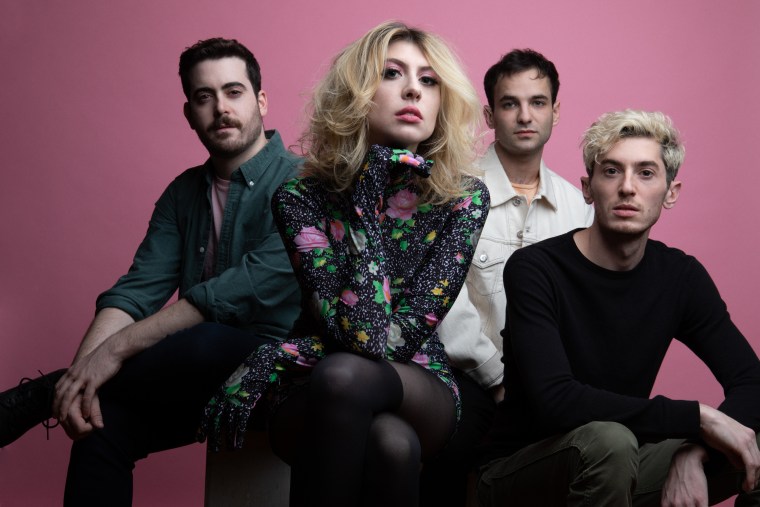 How was the creative process for this album compared to Guppy?

EVA: None of us had the opportunity to focus entirely on writing before. We've always either been in school or had other jobs. This time, we had the opportunity to spend time rewriting and revising, working on them together. The number one thing we cared about when we were making this record is not making the same record twice.
How did "Capacity" come together?

It was a demo that went through many different stages and we all left an impression on. It's an anti-people pleaser anthem, and the whole album is a celebration of extreme, expedited growth. The songs are about a really dark, difficult moment in my life, and how it feels to come out at the other end of something like that. Sometimes, in order to grow you have to take stock of your behavior and thought patterns, as well as people who once served you but don't anymore Feeling responsible for the happiness and feelings of my loved ones, as well as being extremely judgmental and self-deprecating towards myself to be more palatable, is a tendency that I wish I could surgically remove from my brain. I wrote this song hoping that I'd kill off the people-pleaser in me. It felt really freeing to repeat the line "It's got nothing to do with me" over and over again.
Did the band's tour cycle influence this new album?

Absolutely. Being part of a band is accepting the fact that you're never going to make everyone happy. Touring forced me to grow and confront that part of myself. As you get older, you realize there's a point in which being accommodating is actually a way of giving yourself away to other people and losing who you are. It's an aspect of my personality that takes over my brain if I let it. I often write lyrics in which, if I repeat them over and over again, I hope that they come true.
DAN SHURE: We're really excited that it's the first single. It shows a new direction that we're going in sound-wise, but it still communicates who we are as a band — the same fun pop songs we were always making.

What influenced the album's new sound?

SAM HENDRICKS: We know what we're good at: up-tempo, in your face, catchy pop-rock songs that are two and a half minutes. The last thing we wanted to do is write the same album again. We made a conscious effort to explore new instrumentation and arrangements outside of our comfort zone. It was great working with producer Joe Chiccarelli because he embraced that change and helped us achieve that new sound we wanted.
EVA: When you're high octane 100% of the time, it's a way of putting up a wall. I really love this record's sonic diversity. It showcases a lot more vulnerability from us.
What are you most excited about?

SAM: Our live show. On this last little tour that we went on, we added synth and a couple different elements. I'm really excited to showcase that new sound. It felt really good to not have to play 10 songs in a row that were all blistering, like we're shredding the entire sun. It's gonna be fun to have a little more space in the set — to be more dynamic and not just full-throttle the entire time.
SPENCER FOX: The pre-show playlist has come in handy. When we get to choose the music that plays in between each band, we put on a lot of bangers — a lot of Taylor Swift, an Ed Sheeran song or two, a few pop-punk cuts. Hearing those songs before our set gets us in the zone and fixes some of the exhaustion from the seven-hour car rides.

A previous version of the article mistakenly stated that Michelle Zauner co-directed the music video for "Capacity". It's been updated to reflect that she was the director of the video.