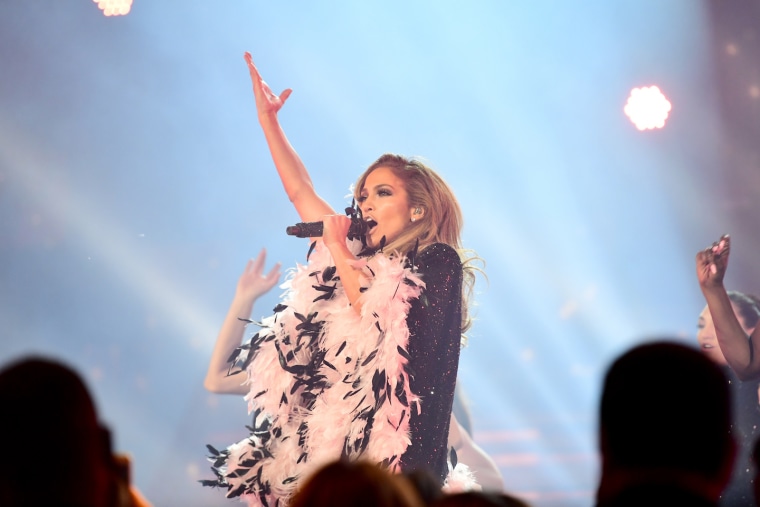 In 2001, Jennifer Lopez released her sophomore album called J. Lo, featuring a duet with Ja Rule that went on to become one of her biggest musical hits: "I'm Real," played at pool parties, middle school parties, and now '00s-throwback parties for years. It's become the subject of many retrospective pieces, and celebrated 15 years later by Entertainment Tonight. Problem is, most of J. Lo's parts on the "I'm Real" were sung by a then-unknown young songstress named Ashanti. According to an interview she did with Blogxilla in 2014, Ashanti sang a demo version of the song before she was signed to Murder Inc, and this version was given to Jennifer — who only sang about two lines in the finished version.
Lopez has been accused of stealing her hits before. Another one of her early hits, "If You Had My Love," was swiped from Chante Moore (by Diddy) in 1999. "Play," another single from J. Lo, was written by Christina Milian, whose vocals they kept in the finished version. So many had openly wondered why the hell Lopez was chosen to carry out a Motown tribute for the Grammys. The answer is simple: Jennifer Lopez remains a popular face on TV, a medium many Americans just don't watch or care about anymore. According to Insider, Lopez was worth over $350 million last year thanks to consistent television appearances, rom-coms, and a Las Vegas residency — the newest money-making machine for pop stars of the aughts. She was the third highest-paid American Idol judge of the entire series, right under Mariah Carey and Simon Cowell. Since the GRAMMYs have been on a rocky decline in viewership for years, it would make sense to hire one of the few faces people still tune in for to do a cute tribute to a cultural institution. It certainly doesn't hurt that she isn't white.
Lopez's Motown tribute was obviously a mistake. Her performance was as shiny and pedestrian as that Fox-produced Rocky Horror Picture Show reboot, and reactions on social media were mixed to negative. But it was also wildly tone-deaf, seeing as a non-black woman somewhat known for taking songs from black women was given the honor to salute a historically black institution (during Black History Month, no less!). The tribute would still have been a bad idea had it been produced in, say, October, but it really only adds another notch in an awards season littered with political misfires. 2018 was the year of #MeToo, in which notorious predators were outed — and, in some cases, convicted — for their crimes. But 2019 has so far seemed to hit a snag; the industry wants to appeal to the zeitgeist, which is more enamored with progressive politics than Trumpian conservatism, but they still aren't sure how to do so without affecting their bottom line. Or maybe they're just too lazy to learn.
What's the point of awards season, anyway? One could ask that of any year, but this round feels particularly devoid of meaning. Probably because of how polarized culture has become under the Trump administration. Before this point, most people could simply be categorized as red or blue; now, we're all varying degrees of for or against, and defining one's politics has started to resemble a game of jacks: picking up as many ideological stances as you can before the ball drops. Maybe that's why culture feels so chaotic right now. Just ten years ago, the public was largely apathetic to whatever politics their entertainment parsed. We keep digging up hideous old tweets by celebrities du jour because shock for shock's sake was the norm at the time. Sentiment and care were mocked by the pop cultural pantheon ruling over discourse at the time.
Shows like Family Guy and South Park treated controversies carelessly while proto-woke entertainers like Tina Fey and Jimmy Fallon used blackface for gags. Gwen Stefani turned Japanese girls into stage props and Chris Brown's assault became the subject of jokes. The pop culture at that point — at least a decade ago — demanded we sit back and enjoy it, no matter what. But you can't keep the people down for long.
Scholars and activists began pointing out dangerous undercurrents in popular culture. Between 2012 and 2015, the fallout from high-profile political storms bled into the entertainment sector, especially because creators from marginalized communities like Shonda Rhimes let their long-dormant political stances shine through their work. Others began to tire of watching the same (white) stories with the same (white) faces, and pushed to diversify entertainment. And for a while, it worked: We got Black-ish, Fresh off the Boat, Scandal, How to Get Away with Murder. We got feminist Beyonce and prison abolitionist Kendrick. Issues like sexual harassment and police brutality became talking points in celebrity interviews — for better or worse. A collective whisper turned into a scream amplified when the antithesis of the rising social justice movement became president.

But now we've reached an impasse. Much of what's discussed in popular culture are derived from progressive politics. Racism, sexism, gender identity, incarceration, policing, human rights in general — it's all trickled down from grassroots activists who'd been doing the footwork for years. Much of the discussion has been reformist: How can we change the industry to better prioritize the rights, safety, and opportunity of marginalized people within it? And how can they better serve the consumer who's too often misrepresented in the industry? This has made room for new and exciting albums, shows, and movies. It's also placed certain expectations that weren't there before — and highlighted deep-seated flaws and biases — that we hadn't noticed before.
This isn't, for example, the Recording Academy's only faux pas (to put it likely). Three of music's biggest artists — Kendrick Lamar, Drake, and Childish Gambino — all declined to perform at this year's ceremony thanks to how the GRAMMYs have treated hip-hop in the past. "When they don't take home the big prize," Ken Ehrlich, one of the show's producers, told Complex, "the regard of the academy, and what the Grammys represent, continues to be less meaningful to the hip-hop community, which is sad." This is a gross understatement, seeing as Kendrick Lamar provided the Academy with one of their most talked-about performances in years after losing Best Rap Album to Macklemore in 2014. They've also routinely ignored some of the biggest names in hip-hop for years, opting instead for the easiest albums to sell. They wouldn't even let Ariana Grande perform her quasi-rap anthem "7 Rings," so she boycotted the show, too.
It's no wonder that once musical juggernauts like Kendrick and Ariana pulled out, they were left scrambling to find recognizable faces to salvage their viewership. Now more than ever, visibility comes with strings attached, and the intense concentration granted through high-profile award shows has left many nervous or self-conscious about what their presence will bring. At least the GRAMMYs only had J. Lo's performance to deal with; as I write, the Academy Awards still don't have a host since Kevin Hart was fired for homophobic comments, and a mediocre film by a serial rapist has been nominated for Best Picture.
Soon enough we should start asking what the point of these awards shows is, and who they're for. It's still unclear what audience a Motown tribute starring Jennifer Lopez would appeal to. The Recording Academy clearly doesn't have its finger on the pulse if their creative direction wound up snubbing its black audience during such a politically-charged era, or they're too beholden to television executives to produce a compelling tribute. Maybe this, like Miss America, isn't quite compatible with where our culture is going. Maybe it never was all that important and we just fell for the hype. Maybe they'll get their act together next year. It's not like many are sticking around to find out.