Yoste's try to be okay EP is here for your Valentine's Day despair
The perfect soundtrack to you saying you totally don't even care about today anyway.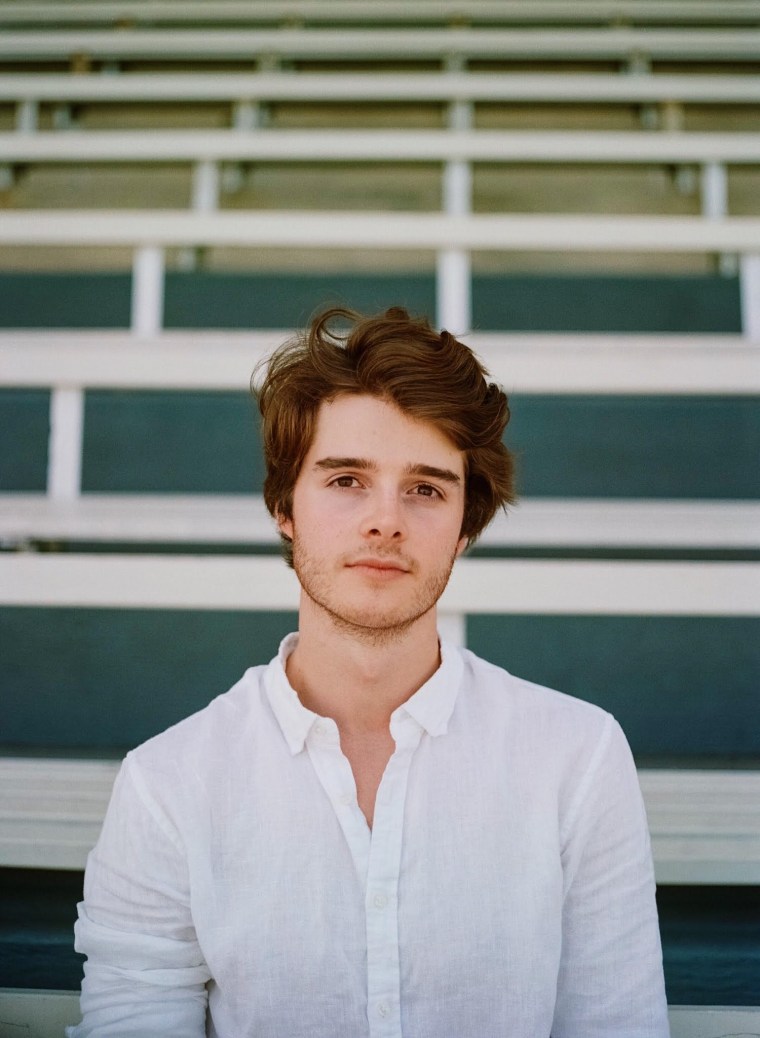 Brisbane-raised singer-songwriter Kurt Sines writes on his website that Yoste, his pseudonym, "RHYMES WITH LOST," which is just as much a poetic choice as it is a matter of pronunciation. His songs are mostly glacial — so unhurried that they'd seem ambient if they weren't broken up by muffled electronic beats and brooding, Auto-Tuned vocal lines. On his debut EP, try to be okay, the 23-year-old often sounds exhausted, even when he's seemingly trying to write himself out of what he calls "a severe sense of listlessness and general lack of purpose." On the downcast R&B-pop of "Blue," he croaks: "We try so hard but stay bereft." So, sure, Yoste also rhymes with "flossed," but dental hygiene doesn't convey existential anguish half explicitly enough.
It's not hard to pick out Sines's key influences—pianos and vocals from Blood Bank-era Bon Iver, a timbre from James Blake. It's music, then, for an extremely solo Valentine's Day—"Wake up / You're stuck on your own," he sings on "Moon." Add it to the playlist.
"This is my first EP, and I view it very much as a definitive example of the project's beginning... my beginning as a musician, really," Sines wrote in a statement. "The songs are built on and drawn from my concerns and experiences over the past couple of years, not only as a new artist but as a person on the cusp of adulthood. Thinking about it now, I suppose that's why most of the instrumentation is so ethereal, very much trying to capture a sense of nostalgia and childlike wonder. At the same time most of the lyrical content is quite adult. I was grappling with an overwhelming fear of mortality, questions of identity, alienation, inadequacy — all the fun stuff. What is lovely to reflect on, however, is that some of the songs make sense of some of those feelings, and even arrive at something resembling a solution. Where those moments exist, I'll leave to listeners to interpret."
Yoste US tour dates
3/16 - San Francisco @ Cafe Du Nord (w/Elder Island)
3/17 - Los Angeles @ The Moroccan Lounge (w/Elder Island)
3/19 - Nashville, TN @ Basement East (w/ Slow Magic and Shallou)
3/21 - Orlando, FL @ The Social (w/ Slow Magic and Shallou)
3/22 - Tampa, FL @ Crowbar (w/ Slow Magic and Shallou)
3/23 - Athens, GA @ 40 Watt (w/ Slow Magic and Shallou)
3/26 - Charlotte, NC @ Visulite (w/ Slow Magic and Shallou)
3/27 - Raleigh, NC @ Lincoln Theatre (w/ Slow Magic and Shallou)
3/29 - Boston, MA @ Middle East Downstairs (w/ Slow Magic and Shallou)
3/30 - Burlington, VT @ Higher Ground (w/ Slow Magic and Shallou)
4/2 - Syracuse, NY @ Westcott (w/ Slow Magic and Shallou)
4/3 - Columbus, OH @ Skully's (w/ Slow Magic and Shallou)
4/5 - Madison, WI @ Majestic (w/ Slow Magic and Shallou)
4/6 - Detroit, MI @ El Club (w/ Slow Magic and Shallou)
4/23 - Las Vegas, NV @ Bunkhouse (w/ Slow Magic and Shallou)
4/25 - Chico, CA @ El Rey (w/ Slow Magic and Shallou)
4/26 - Santa Cruz, CA @ The Catalyst (w/ Slow Magic and Shallou)
4/27 - San Luis Obispo, CA @ Fremont (w/ Slow Magic and Shallou)
5/1 - Phoenix, AZ @ Crescent Ballroom (w/ Slow Magic and Shallou)
5/2 - Seattle, WA @ Barboza (w/Running Touch)
5/3 - San Francisco, CA @ Popscene (w/Running Touch)
5/4 - Los Angeles, CA @ Moroccan Lounge (w/Running Touch)
5/9 - Denver, CO @ Larimer Lounge (w/Running Touch)
5/10 - Chicago, IL @ Chop Shop (w/Running Touch)
5/11 - Minneapolis, MN @ 7th Street Entry (w/Running Touch)
5/16 - Boston, MA @ Great Scott (w/Running Touch)
5/17 - Washington, DC @ U Street Music Hall (w/Running Touch)
5/18 - Brooklyn, NY @ Zone One at Elsewhere (w/Running Touch)
try to be okay is out via Akira Records on 02/15