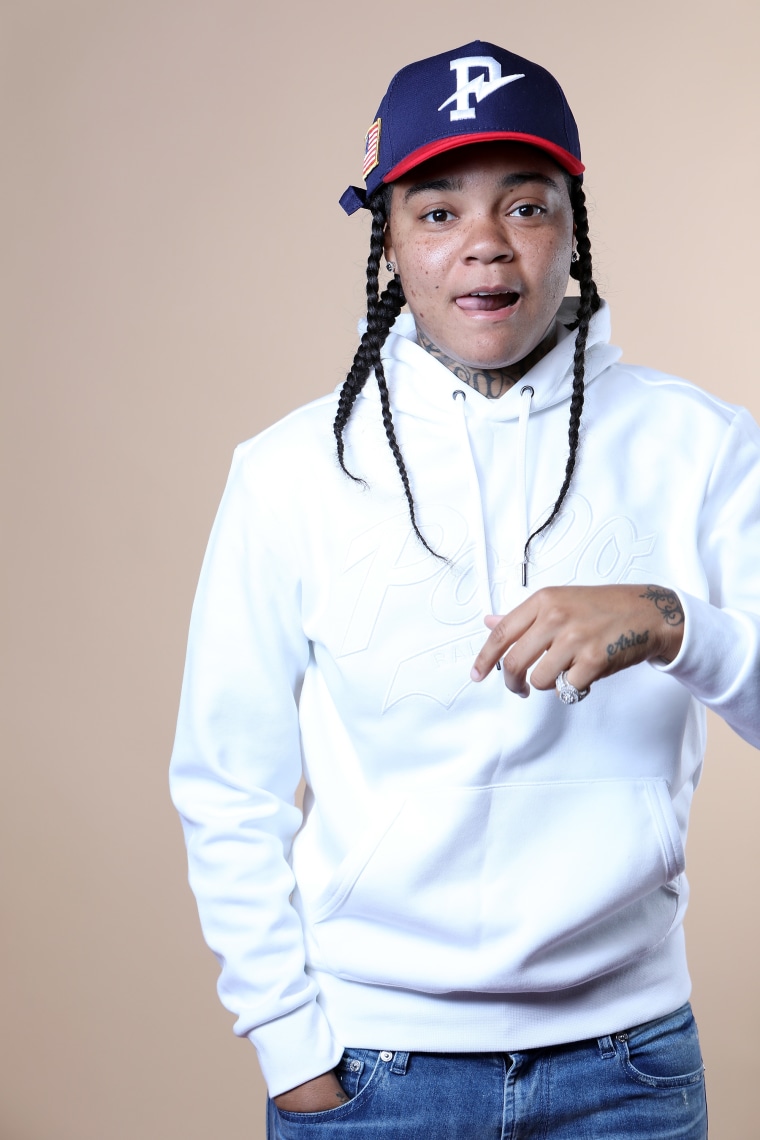 You've heard all the myths about "Grindin'" — the less-than-legal appearance fees the Clipse accrued because of the song, the way it reduced cafeteria tables to dust — because Pharrell tells them wistfully on Kimmel and Pusha scratches his chin on couches in Berlin while speaking in paragraphs about them. The beat was supposed to be Jay-Z's, but it went to two brothers who'd been shelved by Elektra instead. It made them stars, until they were shelved again. You know all this, but that doesn't mean it's replicable, in sound or in distribution, especially now.
One of the most disorienting things about music streaming platforms is the way they take a variety of records — recorded on different studio setups, in different languages, on different budgets — and flattens them into a grid of nearly-indistinguishable thumbnails. The internet is corrosive, but it's no longer particularly mysterious. It's hard to disappear, and you are increasingly encouraged to "monetize" whatever creative pursuit or idle hobby you might pick up. Which is what makes it so exhilarating when Young M.A, who's quietly become the most exciting New York rapper under 30, takes another creative leap over a beat she can never sell.
The Brooklyn-born, half-Jamaican/half-Puerto Rican M.A became unavoidable in 2016, before the half-life of the now-incarcerated Flatbush rapper Bobby Shmurda's breakthrough ran out. At points, it seemed like her breakout single "Ooouuu" leveraged "Hot Nigga" too much — the setup-punchline structure stretched to cartoon macro proportions — but it nonetheless dripped with M.A's raw charisma, the video opening with nearly a minute of footage where she drinks Hennessy and eats Chinese food.
The song peaked at #19 on the Hot 100, a year after she'd released the solid mixtape called Sleep Walkin' — a project that showcased her forceful vocals and relentlessly focused writing but was little-heard outside of New York and committed pockets of rap fans on the internet. "Ooouuu" didn't lead to a breakthrough album or mixtape — it was later included on the capable but anticlimactic 2017 EP Herstory. But over the last year or so, the Brooklyn rapper has reasserted herself as a massive talent, with original singles like "PettyWap" and "Praktice" as well as freestyles over records like Three 6 Mafia's "Who Run It," and Gucci Mane's "I Get the Bag." With her latest, "Bake," she takes on "Grindin.'"

The "Bake" freestyle sounds punishing because it's "Grindin'," and it's thrilling because that's exactly what listening to M.A is. Like most of her uploads from the last several months, it comes with an aggressively low-concept video: M.A gliding around a clean loft, grinning in the kitchen and donning cartoon crowns that get added in post. She raps "I'ma eat that pussy to the bone," then stops lip-syncing to deliver the line "M.A you nasty!"; she cheeses at the camera, gives a dismissive wave, and says "Shut up, bitch, I'm grown." She implores you to "stop promoting that violence" and then mimes lifting a rifle.
The story about MF Doom is that, when he's making an album, he carries an impossibly heavy duffle bag filled with notebooks, each of which is stuffed full of single lines and couplets, almost none of which are stitched together into full verses. This writing style, which would give most people migraines, is responsible for the momentum in Doom's verses: every bar hits you in the jaw; there are no respites. Young M.A's verses may have little in stylistic common with Vaudeville Villain, but they possess that same breathless forward push and sense of economy, as if she's tried six lines for every one that makes it onto the record: "Long as she know to open up and let me put it inside her/ White car, brown seats, look like a Henny Colada/ Make the Audi Matte black, license plate say Wakanda/ My bitch said she mad at me, I just bought her designer."
The video is broken up by title cards, white words on black backgrounds with a little crackling fuzz — "BOOM BOOM BOOM!", "OKAY!", "GGGGLLLLTTTT!" — like she's Charlie Chaplin with more expensive teeth. "Bake" doesn't attempt to outdo "Grindin'," or re-contextualize it or make you think differently about the Clipse or the Neptunes or Virginia, where M.A lived for some time as a child. But that beat is one of the pieces of pre- and early-internet rap culture that has become a pillar of its new, online ecosystem. It's there for the taking now, like "Impeach the President" use to be, but few are willing to stake their reputation on something they won't be able to invoice for directly. It's a vacuum begging M.A to fill it up.