Black Fortune is expanding the DMV's sound with his own rap language
The Landover, Maryland rapper is slowly perfecting a brand a fun, chaotic music to party to.
One of the first online sightings of Landover, Maryland rapper Black Fortune's talent came when he appeared in Kno-Effort's "PG County High School Cypher 2" in 2015, representing Parkdale High School. In that clip, Fortune put his harmonies on display, and since then he's been diligently working to craft a sound that's all his. He made some major headway last year around the release of his OsshRock mixtape. The OFFBUCKS-directed video for one of the project's lead singles "OsshWop" — an energetic and explosive record with an adrenaline-inducing wave of electrifying bass, winding synths, punchy drums, and dazzling flows — served as a significant precursor for what to expect in the future: Fortune's gift for thriving in controlled musical chaos.
Fortune's initial buzz in his home region was generated by the locally-uplifting loose track "DMV Anthem." In the song's accompanying video, the 22-year-old went from turning up at Bowie State University with friends to visiting his home community of Landover, to sections of inner city D.C.."I'm a Maryland ass nigga I put mumbo sauce on everything / Order carryout, get a small fry and chicken wings" is one way he asserted his area's cultural signifiers on the track. "DMV Anthem" was absent from the OsshRock tape, but in its place was a healthy chunk of fast- paced yet silky-smooth tracks like "Shake" and "Katrina." In the past few months, Fortune has began to spread his wings and network outside of the DMV. He's posted videos.of him working with rising producer Kenny Beats, hanging out with Justin Combs, and recently turning up to "Katrina" while in the studio with Diddy. Things are looking promising for the Maryland native, who recently spoke with FADER about his origins and everything he has planned for the rest of 2019.

The first time I heard about your music was back in 2017, when you did a song with L.I.F.E. XI. It was a totally different vibe you had going on back then. What inspired you to switch up your style? What made you make that drastic switch from making R&B type of music to making this really hard-hitting sound?

First of all, the DMV don't really accept nothing too different. If you come out doing R&B and stuff like that, they don't support it as much as they should. I was doing like that. I wasn't getting that much attention. I had a song on SoundCloud going viral a couple of years ago but it wasn't doing what I thought it should be doing. That's one reason. The second reason is that me, personally, I'm more of a rapper. I'm not really an R&B singer. I do it because I can do it, but I'm more of a rapper. When I rap, I'm speaking about stuff that I'm actually doing, stuff that actually going on into my life. With the R&B singing, I'm more so on a whole other type of vibe. You know what I'm saying? It's much easier. This rapping shit way easier for me. I really get to Express myself
Speaking of rapping, now, I really love the way that you put together your lyrics, especially on songs like "Katrina". The energy that you have on tracks, it's not really a lot of people bringing that sort of energy, especially from the DMV. What's your writing process like when you're putting together songs?

Actually, I don't write at all. I haven't for probably like four, five years. I literally just go in the studio and I let the beat take over. That's basically, how it go. I don't even know how to write no more at this point.
How long exactly have you been releasing music? How many years now?

I've been releasing music since I was like 16, 17. I'm 22 now. Do the math. It's probably six to five years, something like that.
What's your favorite song to perform?

Easily, my favorite song is hurricane "Katrina". "Katrina" for the simple fact that I picked the beat out for that song. I recorded myself doing that song. I was behind the camera shooting it and all that stuff. I came up with everything for that song like the concept for the video. I came up with everything. The song, all that shit. I recorded it all myself. That's probably my favorite joint.
One thing I love about you, is how well you represent the DMV. Like in the "DMV Anthem" music video where you shot the joint at Bowie State.

Yeah, shot it at Bowie. We shot some of it in Landover. We, shot some of it out the city. I tried to get all aspects you know? Bowie in the suburbs, Landover in the trenches, D.C, I try to add everything in there.
I haven't seen a lot of people since Gleesh put on for the DMV that much in their lyrics and in their visuals.

And that's why we ain't really popping like we should be. Everybody, they get on and they forget where they came from. I'm trying to make my city look sweet. Ain't no need to be stealing Atlanta culture, running off with this and that type of wave. We got our own culture and our culture is better than a lot of these muthafuckas.
I saw you put out a now-deleted tweet a while back talking about how you feel the DMV is the last area to really catch onto your music and show support. But I see so many rappers, producers, and people from the area show you support, so what makes you feel like that?

I feel like I said that wrong. I don't think that that's the last place to support me. I just feel like I should be treated more like an upper echelon artist or my views should be equivalent to a lot of people. You know what I'm saying? Coming from the DMV I'm good. I'm happy while I'm one of them but there's a lot of other artists in the DMV that's doing numbers. My shit should be at least up there, but I appreciate the numbers that I am doing.
Really, when I'm in the DMV, I'm treated like just another nigga from around the way. When I'm in L.A., I hang with elite people. I got drivers. I got these big rappers. Everybody love me. They treat me like how I'm supposed to be treated, like I'm an actual celebrity. They admire my work a bit better than the DMV do. A lot of people from the city, they be like, "Black Fortune, I ain't never heard of Black Fortune." You know what I'm saying? It's cool with me though, because they going to hear me regardless.

How did you link up with Kenny Beats? I see he's working with a lot of artists from the area. You see him with Rico Nasty, with Q Da Fool. How did you two connect and what is it like working with him?

Okay, I'll give you my perspective on how I linked up with him and I'll give you his perspective. I had a couple of people that I knew. Not even a couple, but my man Zenie. He's real cool with Kenny. I told him I want to work with him. That's how I got locked in with him.
Kenny Beats, he was telling me that he found out about me from Rico Nasty and Q Da Fool. I seen an interview. He was saying Rico Nasty hit him up like, "Black Fortune, I fuck with him the long way." Same thing for him. That's how he found out about me, I guess. It's really good working with Kenny Beats. He one of the producers that actually critiques you when you're in the studio.A lot of producers, a lot of engineers, they'll be in the studio, and they'll just record you and keep it moving. If he hears something, he'll say, "I think you should come on that joint a little harder or a little strong." You know what I'm saying? He give you that energy. He makes people want to go hard all the time. It's this real good vibe working with Kenny Beats. Shout out to my boy, man.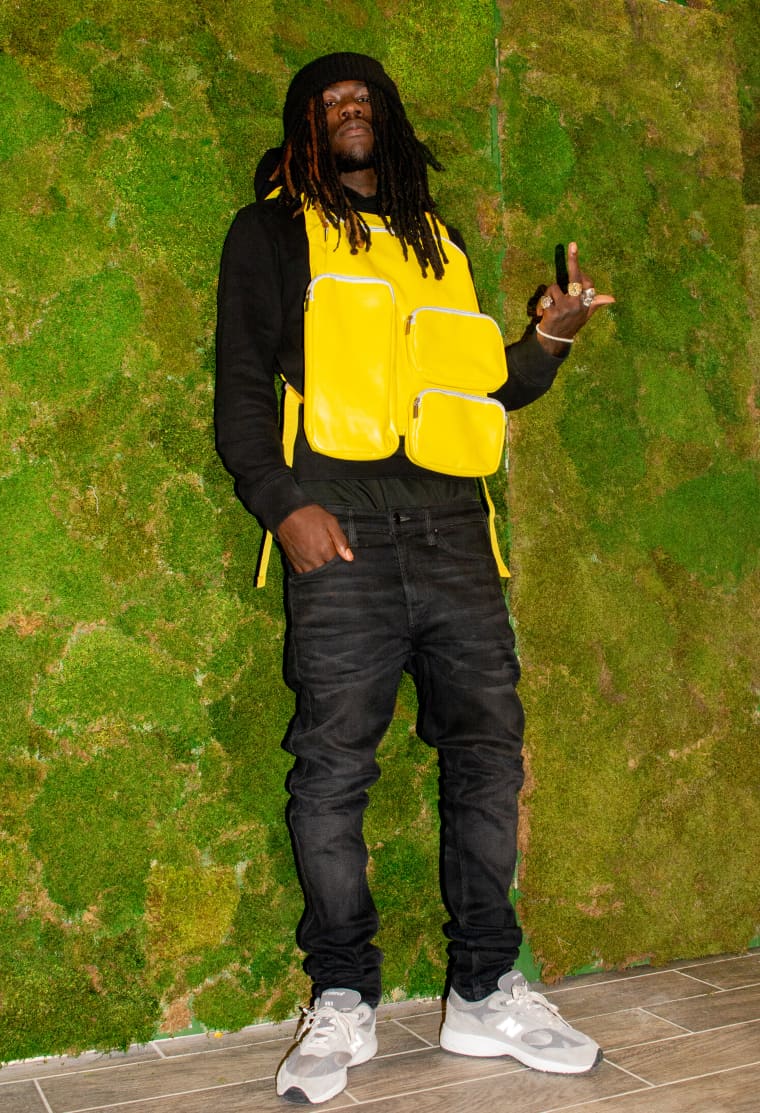 A few days ago, you posted a video of you with Diddy. Tell me how did that come together and how it felt.

To be honest with you, man it feels good. Feel real good. That's not my first time hanging with Diddy because I fuck with his sons the long way. I been linking with Diddy and talking with Diddy for kind of a while now, almost a couple of months now, maybe four or five months now. I stayed at his house a couple of times and all that.
How did you and his sons become cool?

Justin Combs, he'd seen me a couple of times on Say Cheese and he was just like, "I fuck with this guy. He go hard as hell." I got to lock in with him. He said he was hitting me up, but I really didn't believe that shit was true. I'm like, Nigga, little old me? I'm not thinking my shit touching nowhere else but the DMV. It turns out that he actually locked in. He heard my shit and he fucked with me heavy. I linked with him at Rolling Loud in LA and we took a tour bus together. We been locked in ever since then. He introduced me to a lot of people and got me in a lot of good situations.
Overall, what do you feel about the state of the DMV rap scene right now?

Man, I'm happy with the DMV scene. I'm really excited to see what the fuck is about to happen because we've been making a big impact. Man, Im trying to tell you whenever I go to any city, they'd be like, "DMV, they got some crank, they got some heat" Everybody know that we be stepping on shit, we crunching shit, and we making shit look sweet. You need to know that we're coming with that fire unlike a lot of other cities. I'm happy for the DMV's scene right now, man. Shout out to all these up-and-coming rappers just doing their thing, man. I'm happy for all these niggas, man. You know what I'm saying? I ain't no hater. I'm happy for every single rapper that's coming up in the game right now. That shit got me excited. These niggas motivate me so I motivate them. We about to take over the game on my kids.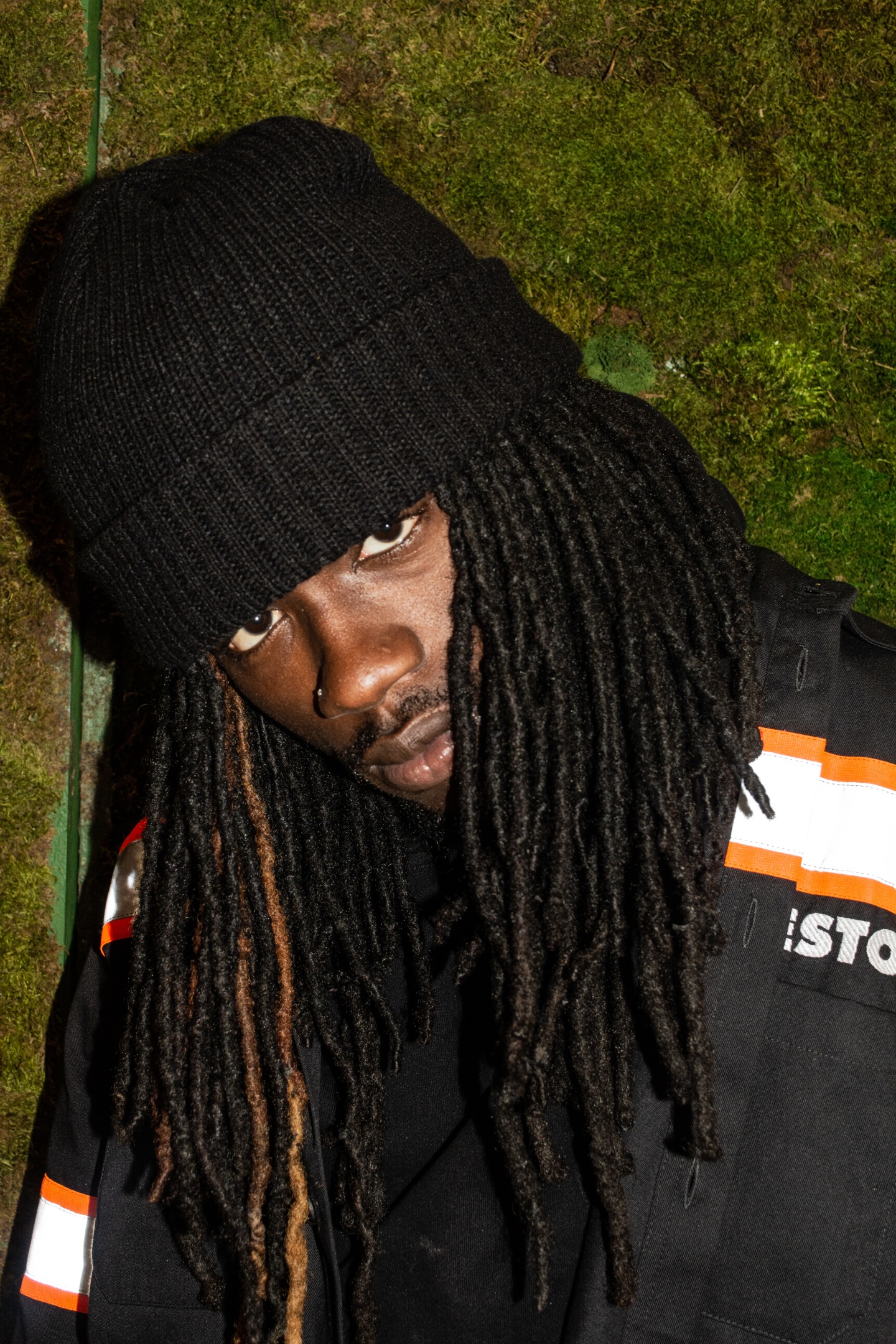 I've been dying to know what is OsshRock? Is OsshRock a genre in a similar way like how Rico Nasty had Sugar Trap?

I'm trying to tell you. Look, man, Ossh is a language. I can't tell you what OsshRock is. They're going to find out about that years from now.. Ossh is a whole name, it's a whole language, it's a whole lifestyle, it's a whole everything. I got a whole other world. Y'all going to see it once I start.I can't really explain it to y'all. It's like something y'all going to have to see as time goes by.
2018, of course, was a very big year for you in terms of you getting the spotlight on you. Out of all the things that went down that year, what moment made you really feel validated, like your career was taking off?

I'm going to be honest with you, the day I met Travis Scott, that let me know that shit was on the ups and that I'm really about to turn up, because Travis Scott is probably my favorite artist of today's time. I listen to a lot of old school rap with Biggie and all them motherfuckers. But today's time, Travis Scott is one of my biggest inspirations.. He dares to do different type of shit. When I met him, to know that he was a big fan of mine, he was excited like, "Nigga, I listen to your music every day. I was showing Kanye West your shit. I really fuck with you.". He's damn near my favorite rapper.. When I heard that, it was like, "Alright, bet, nigga I'm going up." Ain't nowhere to go but up from there. I stamped it right there. They put a battery in my back and trump me the fuck up.
Can you talk a little bit about your upcoming tape? Is there a release date? Is there a working title yet?

I can't tell you a release date. I can tell you the title: It's going to be called OsshLanguage. That's what I got, but I can't tell you a date. I can't tell you any of that right now. Just know I've got like four more tapes sitting in a vault right now just waiting. I just want to make sure, before I drop any other projects, I want to make sure OsshRock go. I don't want there to be others. I want OsshRock to be playing in Europe, somewhere. You feel me? I don't want to be a rapper that dropped seven tapes and then — no, this first tape I dropped, I want to see it blow up before I do anything else. They're going to put some respect on that OsshRock for real.